Featured product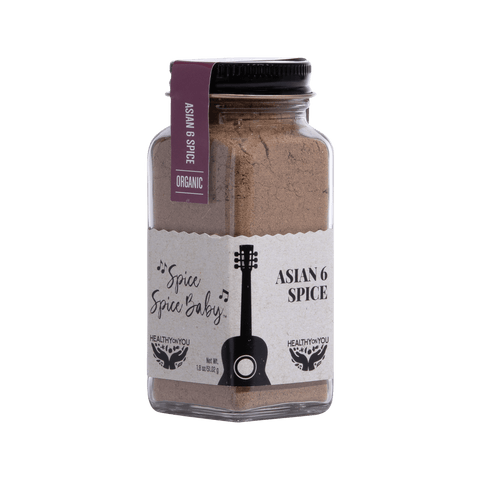 Spice Spice Baby
Asian 6 Spice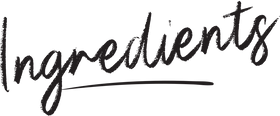 FOR THE TOFU
1 16 oz. extra firm tofu block
¼ cup soy sauce
2 tbsp pineapple juice
2 tbsp mirin (Japanese rice wine)
1 tsp Healthy On You® Spice Spice Baby Asian 6 Spice
2 tbsp coconut sugar
2 tbsp unseasoned rice vinegar
FOR THE GINGER-GARLIC MIXED MUSHROOMS
8 oz. fresh mixed variety mushrooms (Oyster, Shiitake, Beech, King, etc.)
1 tbsp olive oil
1 tbsp fresh ginger, grated
1 tbsp garlic, minced
½ tsp Healthy On You® Spice Spice Baby Asian 6 Spice
½ tsp Healthy On You® Cini in a Bottle Porcini Sea Salt
FOR THE BOWL
½ carrot, sliced into ribbons with a Y peeler and rolled up or shred if easier.
2 cups steamed kale
2 cups cooked ramen
Shredded purple cabbage
sesame seeds, minced red chiles and chopped cilantro for garnish
MAKE THE GRILLED TOFU
Make the sauce: Bring all the ingredients (except the tofu) to a boil over high heat. Reduce heat to low and stir until sugar is dissolved- about 3 minutes.
Coat the tofu block front and back with the teriyaki sauce (leave some remaining to brush the tofu after grilling and to serve with the bowl.)
Allow to marinate for 30 minutes to 1 hour.
Preheat grill to high 350-400 F
When ready, place the tofu on the hot grill and allow to cook for 8-10 minutes. Turn and sear the other side. Brush the top side with more sauce and cook for another 8-10 minutes. Remove from heat and set aside.
MAKE THE GINGER-GARLIC MUSHROOMS
Break apart mushrooms by slicing off the base and slicing them evenly.
In a skillet, add the oil and the mushrooms and allow them to sear on one side without turning for 5 minutes.
Add the garlic, ginger and Spice Spice Baby seasoning and stirfry together for an additional 5-8 minutes. Season with the Cini in a Bottle sea salt and set aside.
PUT THE BOWL TOGETHER
In the base of a bowl, add 1 cup of the steamed kale and spread out evenly.
Cut the tofu block along and place in the center.
Add the ginger-garlic mushrooms and the ramen noodles on either side of the tofu.
Add the fresh carrots and shredded cabbage in the remaining spaces.
Sam's Jamaican Jerk Chicken
When I have the time and only on a weekend, I love to make my Jerk Chicken recipe. From I was a child I would watch my mom make this delicious traditional Jamaican dish. It's easy and definitely a labor of love that she made only in the summer when she could slow cook it outside on a charcoal grill, on low. She would make pounds of it for backyard BBQ's and family events. Our whole neighborhood would have this amazing smell wafting through the streets.
View Recipe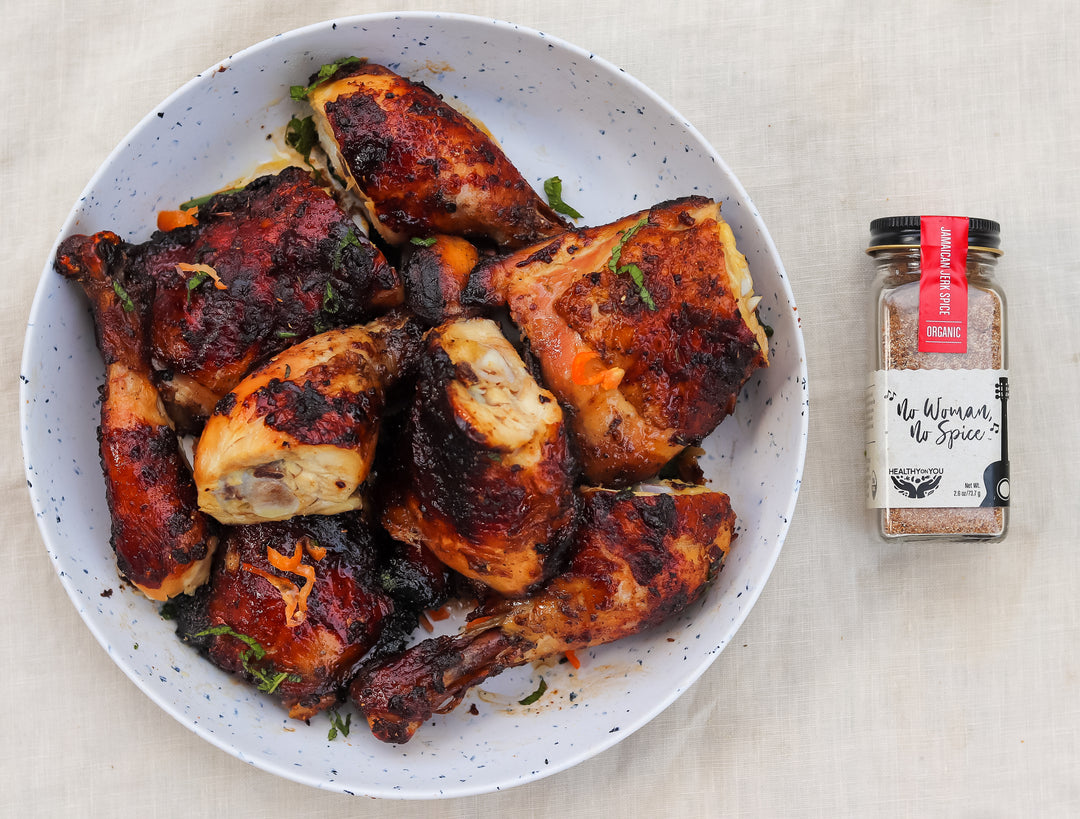 Spice-tastic Chicken Salad
This is the best chicken salad ever. We use our You're So Spain Spanish Spice Blend to turn up the flavor on the chicken. The recipe is simple, all you need is fresh organic chicken breast and a good oven-safe pan and you are all set.
View Recipe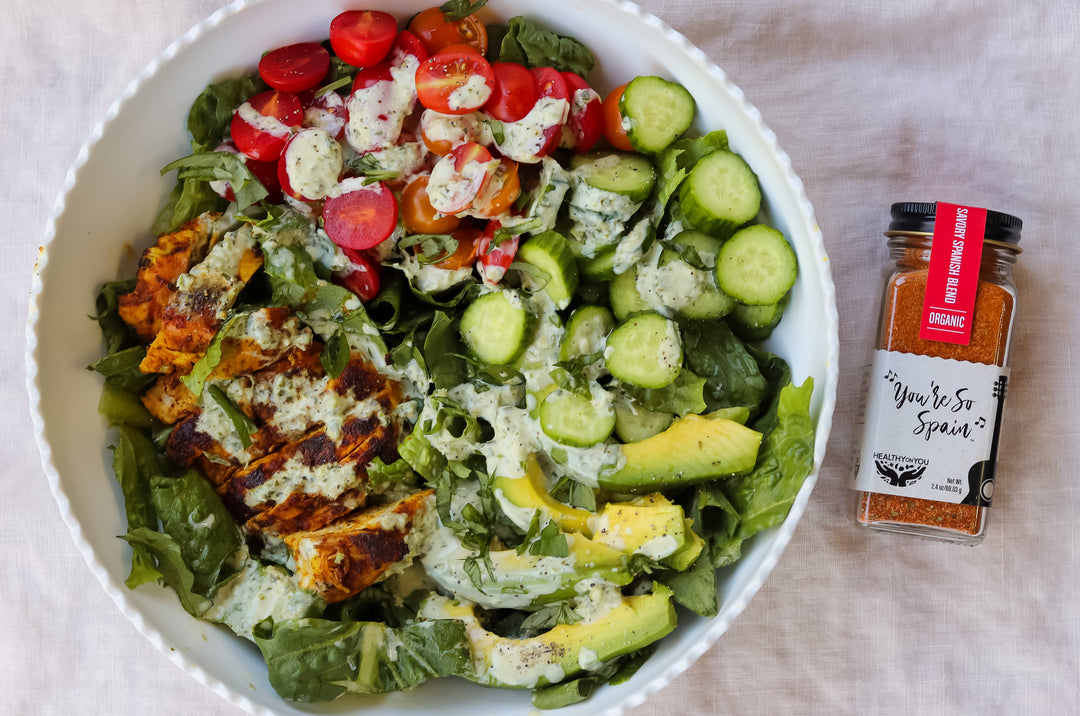 Stuffed Chicken Breast
The holidays are behind us and we're back with one of our easy and delicious weeknight meals! We're currently loving this dish and how versatile it is. Our Seasoning Beneath My Wings spice blend is the star of this recipes, but what you choose to stuff your chicken with can vary! In this version, we decided on mozzarella, asparagus and sun dried tomatoes. We'll be playing around with other delicious and nutritious combos to stuff our chicken with and would love to hear from you!
View Recipe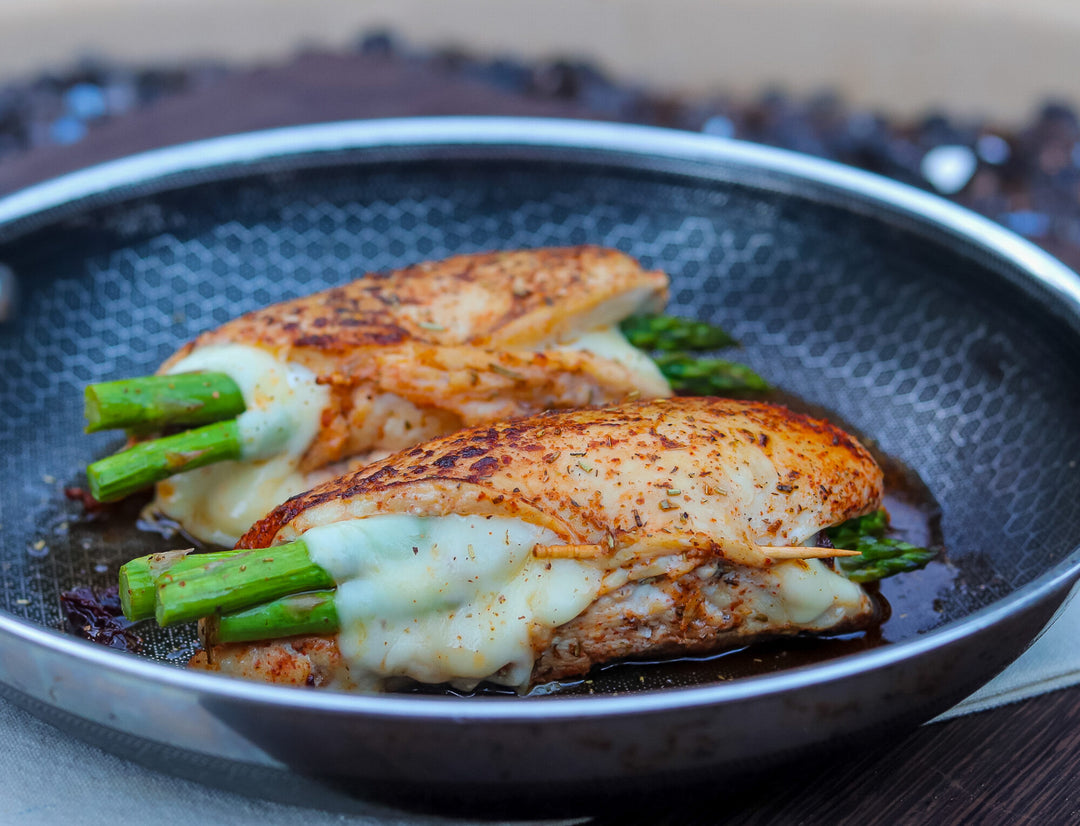 Learn How to Cook
With Our Blends

At Healthy On You®, we feel it is integral to give back to our communities and those in need. We have carried out this mission by offering donation-based cooking classes, we call our Cooking for a Cause series. All proceeds are donated to that classes's charity of choice, typically a cause fighting for social justice and equality. Join us to learn how to cook with your favorite Healthy On You® blends, support a great cause, and meet others who share a similar passion for flavorful, nutritious food!