Featured product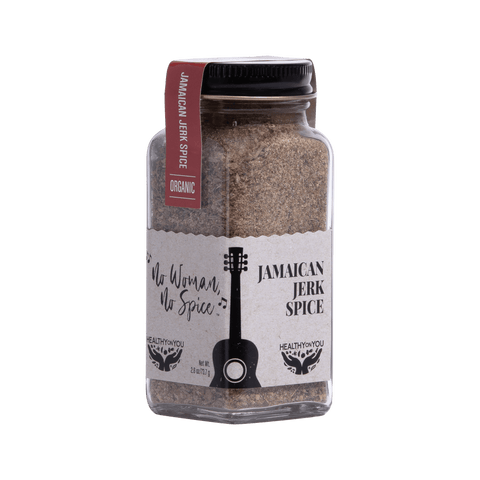 No Woman No Spice
Jamaican Jerk Spice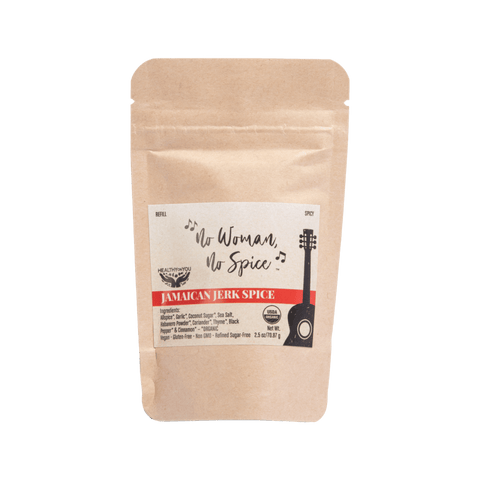 No Woman No Spice Refill
Jamaican Jerk Spice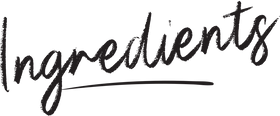 4 organic chicken leg quarters (legs and thighs attached)
1¼ cup pre-made Healthy On You® Jerk Marinade (see recipe)
1-2 tbsp Healthy On You® No Woman No Spice Jamaican Jerk Spice
Kosher Salt
Marinate the chicken: apply the marinade to the chicken leg quarters and rub it in (gloves are recommended.) Place in a zip lock back and refrigerate for up to 24 hours.
When ready to cook, set your grill on medium-high heat. Remove the chicken from the bag and remove the excess spices. Reserve the marinade.
Sprinkle the chicken all over with the Healthy On You® No Woman No Spice Jamaican Jerk Spice and kosher salt.
When the grill is hot-between 350-400˚F, add the chicken skin-side up. Reduce the heat to 325˚F and close.
In the meantime, use the reserved marinade to baste the chicken, but first, add it to a small saucepan and bring to a boil for 5 minutes. You need to do this since the marinade has come into contact with raw chicken.
Baste the chicken, turning occasionally until the internal temperature measures 160+ and the juices run clear-about 1 hour if you cook this low and slow which is preferred to minimize over-charring.
You can use the cooked marinade to make a sauce for the chicken of ½ cup sour cream/yogurt/ or mayonnaise + ¼ cup marinade + 1-2 tbsp lemon juice, and kosher salt to taste. Mix well and serve alongside the Jerked Chicken.

Your browser does not support the video tag.
Jamaican Jerk Grilled Salmon With Island Salsa
This recipe screams summer and we love a good summer recipe especially one that's fresh and healthy! This salmon is true perfection. Our No Woman No Spice Jamaican Jerk spice blend is absolutely hands down a star in this one. It imparts the key island flavors we love: allspice, cinnamon, garlic, habanero (scotch bonnet) and much more blended just right to give that authentic flavor.
View Recipe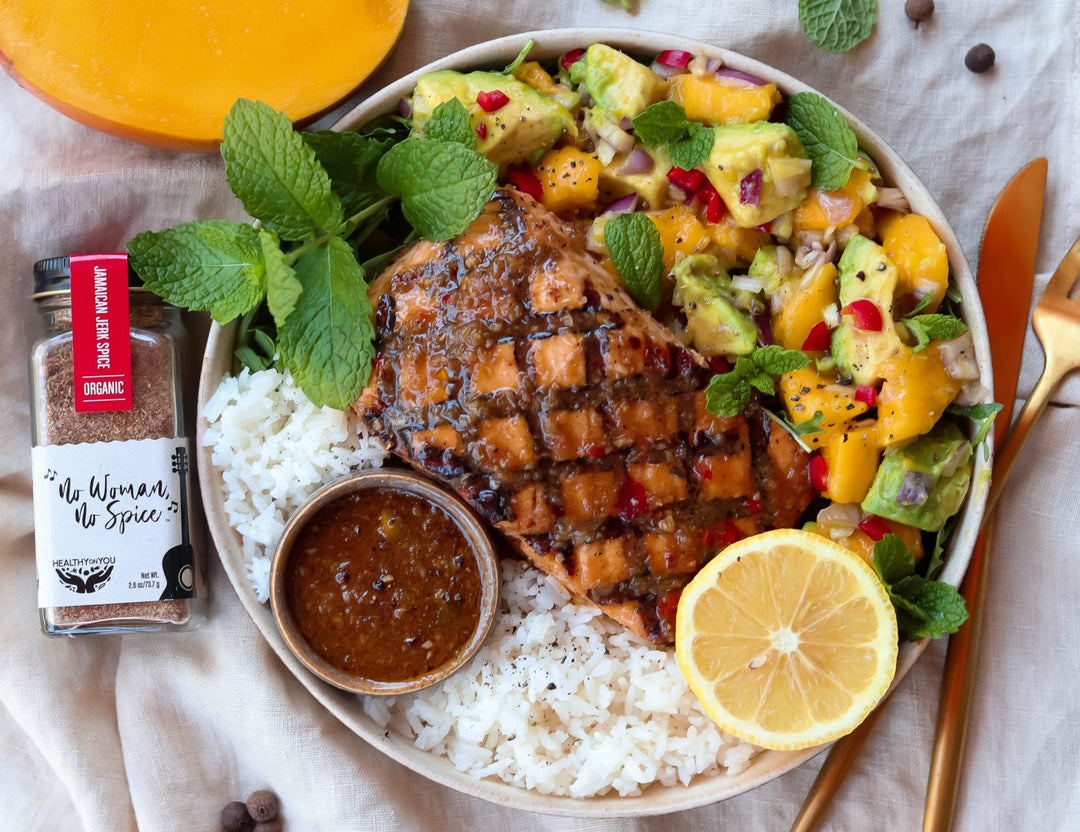 Jerked Hoisin Eggplant With Garden Fresh Broccoli And Fried Tofu
I'm getting into the healthy food bowl craze after all! I love this amazing bowl of incredible flavors to create a sweet and spicy hoisin sauce, fresh steamed broccoli, tofu and noodles. Homemade hoisin sauce is so much better when you make it yourself. It's free of preservatives and all the junk that's in the bottled version. Double the recipe and keep the remaining sauce in your fridge, It will keep for a month or more!
View Recipe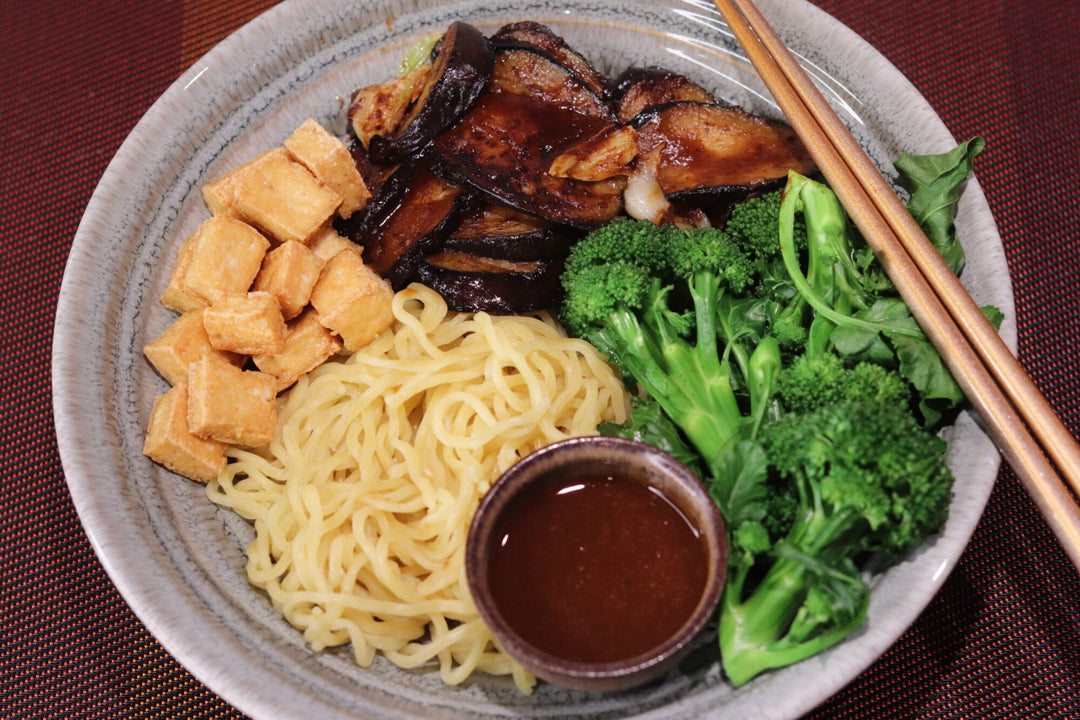 Jerk Chicken And Plantain Nacho Bowl
What a way to spice it up?! This INCREDIBLE Jerk chicken bowl is just what we need to start our week off on a spicy note. If you can't tell already, we really love plantains. Plantains are a trusted and most loved side in many Jamaican and Caribbean recipes, so we thought it was a perfect pairing with the jerked chicken-pairing spicy and sweet is always a good idea.
View Recipe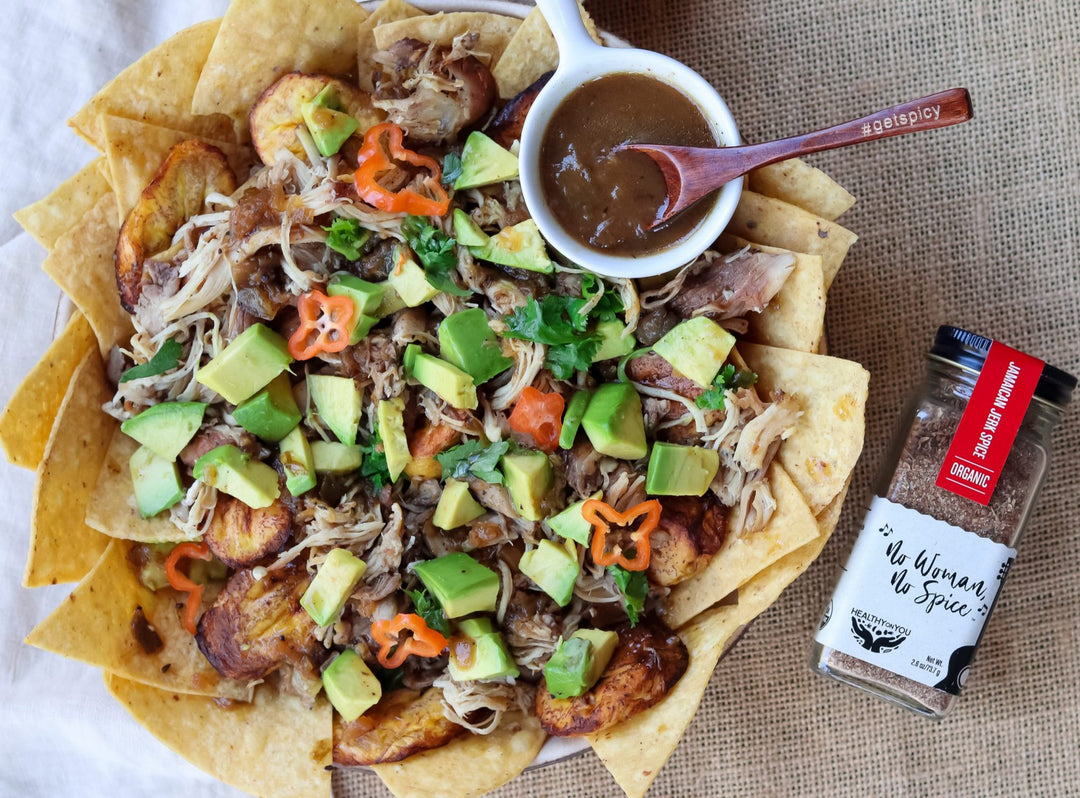 Learn How to Cook
With Our Blends

At Healthy On You®, we feel it is integral to give back to our communities and those in need. We have carried out this mission by offering donation-based cooking classes, we call our Cooking for a Cause series. All proceeds are donated to that classes's charity of choice, typically a cause fighting for social justice and equality. Join us to learn how to cook with your favorite Healthy On You® blends, support a great cause, and meet others who share a similar passion for flavorful, nutritious food!