Featured product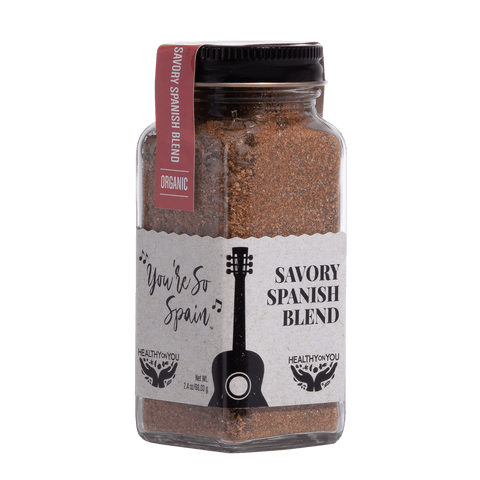 You're So Spain
Savory Spanish Blend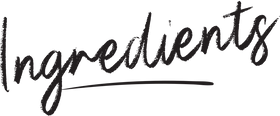 12 jumbo shrimp in their shells 16 mussels or clams, scrubbed and de-bearded
16 mussels or clams, scrubbed and de-bearded
1 bag frozen seafood mix from Trader Joe's (shrimp, calamari & scallops (thawed)
4 skin-on chicken legs
1 large onion, finely chopped
3 tbsp olive oil
2 cloves garlic, crushed to a paste or finely chopped
2 large tomatoes, peeled and chopped
½ tsp tsp sugar
½ cup frozen green peas
1 red pepper sliced thin
3 tbsp Healthy On You® You're So Spain Savory Spanish Spice separated
A good pinch of saffron threads
1½ cups medium-grain Spanish paella rice
2 cups fish/seafood stock, plus more if needed
1 cup dry white wine
lemon wedges for serving
fresh cilantro or parsley for garnish
MAKE THE CHICKEN
Preheat your oven to 375 F. Prepare a small baking tray with parchment paper. Season the chicken legs with the 1 tbsp of the You're So Spain spice blend, sea salt and pepper.
Spray or rub olive on the legs and work the spices in. Place on the baking tray and into the oven when ready. Bake uncovered for 25 minutes.
MEANWHILE, START THE PAELLA:
Sauté the onion in the oil in a 16-inch paella pan until soft, stirring often. Stir in the garlic, and before it begins to color, add the tomatoes.
Add the sugar, salt to taste, 1 tbsp You're So Spain Savory Spice Blend, and saffron, stir well, and cook until the tomatoes are reduced to a jammy sauce and the oil is sizzling.
Add the rice and stir well until all the grains are coated. (You can prepare the dish to this point up to an hour in advance.
Bring the stock and wine to a boil in a saucepan then add last tbsp of paella spice and stir.
Pour over the rice, bring to a boil, and add salt to taste (even if the broth tastes a bit salty, it will not be salty when it is absorbed by the rice). Stir well and spread the rice out evenly in the pan (do not stir again)
Cook the rice over low heat for 18 to 20 minutes, moving the pan around and rotating it so that the rice cooks evenly.
Uncover and add the cooked chicken legs evenly around the pan.
Sprinkle the seafood mix and frozen peas around the pan. Lay the shrimp & sliced red peppers on top and cover. After 10 minutes and they are starting to turn pink, turn them.
Add a little more hot stock toward the end if the rice seems too dry and you hear crackly frying noises before it is done. Steam the mussels/clams with a finger of water in a pan with a tight-fitting lid. As soon as they open, they are cooked. Throw away any that have not opened. Arrange the mussels on top of the paella. Sprinkle with cilantro or parsley and add lemon wedges. Serve hot or warm.
NOTE: The rice is done when tender and still a bit moist; if the mixture has stuck to the bottom of the pan, you have socarrat, a characteristic of good paella!
Mushroom Risotto With Pan-seared Scallops
What better way to show the special people in your life you love them than with a home-cooked meal this Valentine's Day?! You'll have that special someone's heart singing with this Healthy On You meal! BONUS: check out our special Spotify playlist that serves up all the loving feels!
View Recipe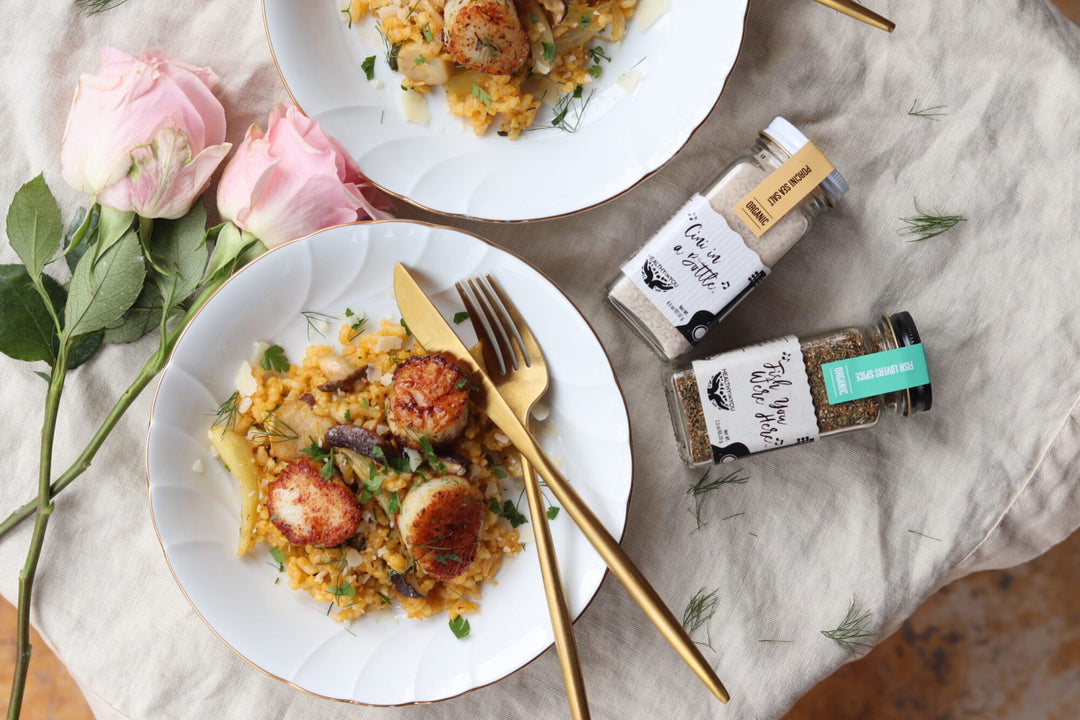 Creole Shrimp And Corn Sheet Pan Dinner
Sometimes quick and easy is best but NEVER without sacrificing flavor! This delicious and simple sheet pan dinner is perfect for those nights where keeping nice and easy, easy and satisfying is what we are looking for. This dish can serve 6-8 people especially if you add cooked rice.
View Recipe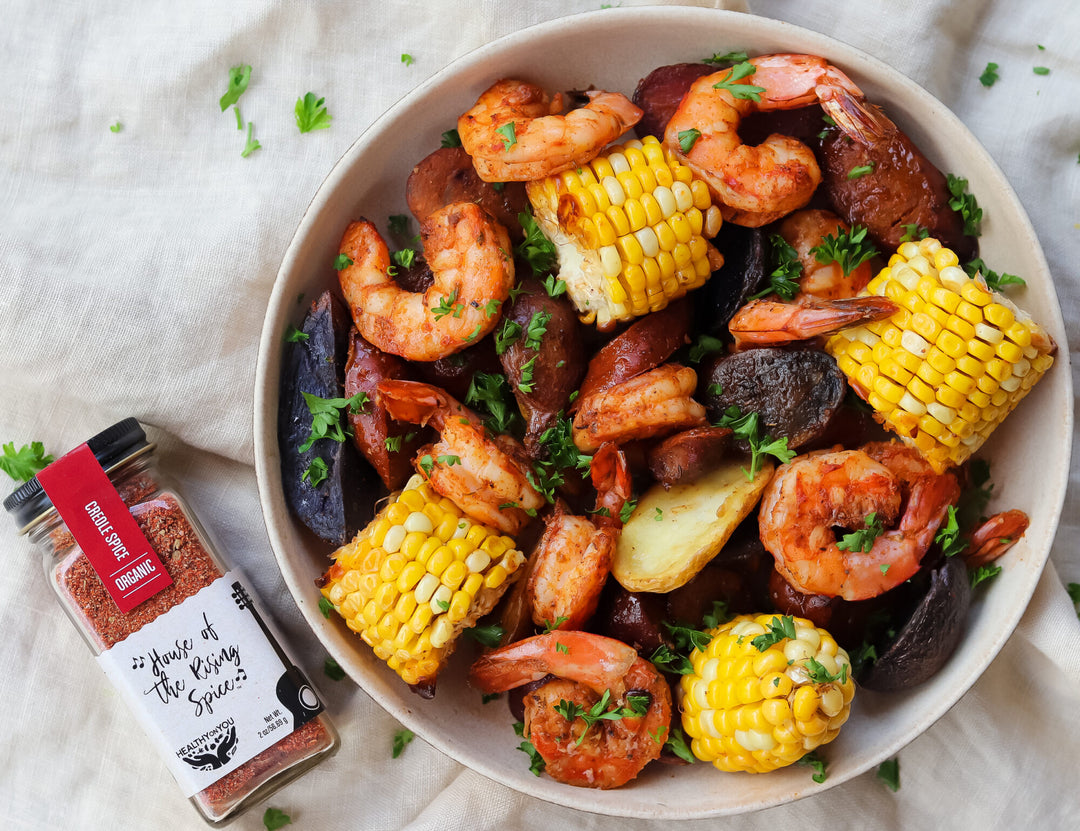 Tomato & Saffron Risotto With Shrimp
I was at a complete loss on what to cook for dinner last night but I had my two workhorse spice blends, the Healthy On You You're So Spain and Saffron & Winding Road Sea Salt. I put them to work on this Tomato & Saffron Risotto with Shrimp and it was amazing. No cream in this Milanese version. Just a little parmesan at the end which makes it perfect for warm summer meals.
View Recipe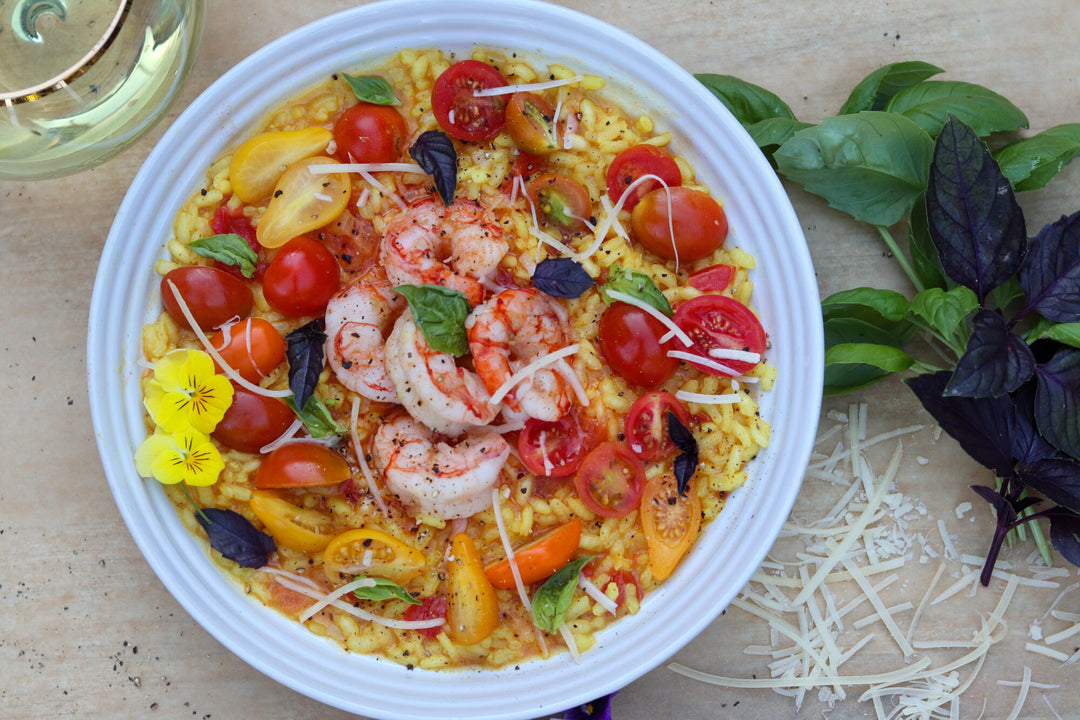 Learn How to Cook
With Our Blends

At Healthy On You®, we feel it is integral to give back to our communities and those in need. We have carried out this mission by offering donation-based cooking classes, we call our Cooking for a Cause series. All proceeds are donated to that classes's charity of choice, typically a cause fighting for social justice and equality. Join us to learn how to cook with your favorite Healthy On You® blends, support a great cause, and meet others who share a similar passion for flavorful, nutritious food!