Featured product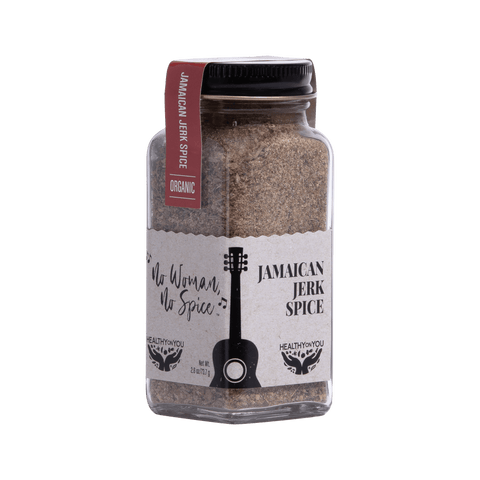 No Woman No Spice
Jamaican Jerk Spice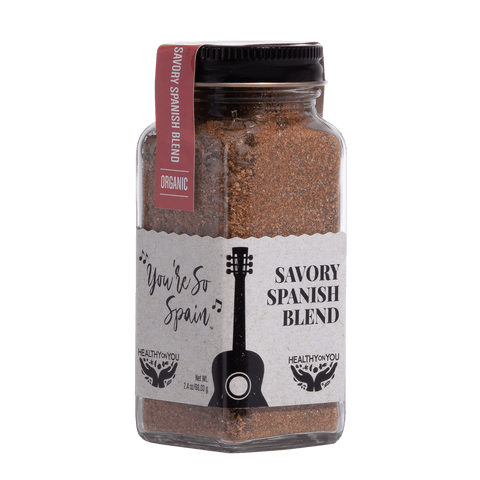 You're So Spain
Savory Spanish Blend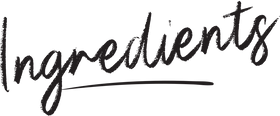 1 4 to 5 lb. organic chicken whole
1 tbsp olive oil, separated
1 bunch (10-12) garlic scapes
4 sprigs, fresh rosemary, stems removed and leaves chopped.
2 tbsp Healthy On You® You're So Spain spice blend
1 tbsp Healthy On You® No Woman No Spice Jamaican Jerk Spice
2 tsp kosher salt
SPATCHCOCK THE CHICKEN (REMOVE THE BACKBONE)
Preheat the oven to 425°F
Place chicken breast-side down, with the legs towards you. Using sturdy scissors or poultry shears, cut up along each side of the parson's nose and backbone to remove it, cutting through the rib bones as you go. Open the chicken out and turn over. Flatten the breastbone with the heel of your hand so that the meat is all one thickness.
SEASON AND BAKE THE CHICKEN
Rub the chicken skin and open cavity all over with 1/2 the olive oil.
In a small bowl mix the two seasonings and salt together.
Rub the seasoning all over the chicken cavity and on the skin side..
In a dutch oven or cast iron skillet (as pictured) add the remaining olive oil, garlic scapes and half the rosemary to the base of the pan.
Lay the seasoned chicken on top of the scapes and rosemary. Open the cavity down first, then position the legs inward so they almost touch each other.
Bake in the oven for 40 minutes, checking once or twice to turn the pan and baste the chicken with its juices. Sprinkle on the remaining Rosemary and bake for another 5 minutes.
Allow to rest for 10 minutes before cutting and serving with the garlic scapes alongside.
Holiday Spatchcock Turkey
Do you know people whose least favorite dish at Thanksgiving is the turkey? Well, we're here to change that! Even if you love turkey, this recipe is a must. Presenting our Holiday Spatchcock Turkey! We used our Healthy On You® I'm Still Brining holiday spice blend and it was the best turkey we've ever had… no joke. The turkey was perfectly juicy and filled with unique flavors. No one at the table even touched the gravy, a rare occurrence in our family. ⁠
View Recipe
Spatchcock Roast Chicken
We love spatchcock chicken for so many good reasons. It is full of flavor, presents beautifully, and bakes much faster than a traditional whole bird. You do not have to be intimidated by the process either. If you buy your whole chicken from a butcher, they are usually very happy to remove the backbone for you when you are buying or you can remove it yourself.
View Recipe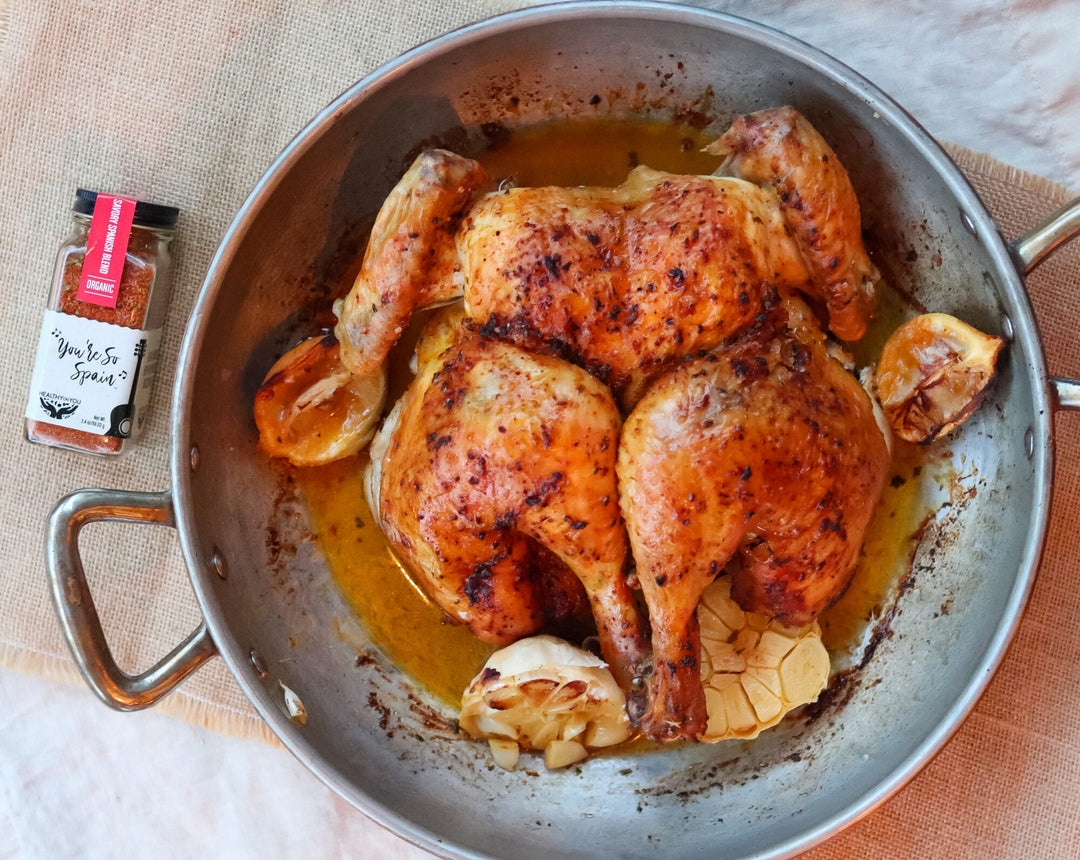 Learn How to Cook
With Our Blends

At Healthy On You®, we feel it is integral to give back to our communities and those in need. We have carried out this mission by offering donation-based cooking classes, we call our Cooking for a Cause series. All proceeds are donated to that classes's charity of choice, typically a cause fighting for social justice and equality. Join us to learn how to cook with your favorite Healthy On You® blends, support a great cause, and meet others who share a similar passion for flavorful, nutritious food!