Featured product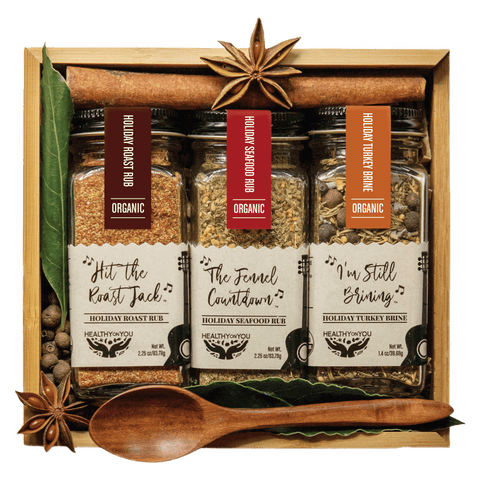 Edible Playlist - Spice Up The Holidays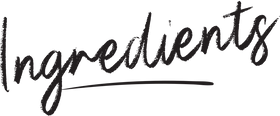 FOR THE TURKEY BRINE
9 lbs organic turkey
1 Healthy On You® I'm Still Brining Spice Blend, whole bottle
1 cup kosher sea salt
3/4 cup brown sugar
2 gallons water (1 gallon hot water, 1 gallon cold water)
FOR ROASTING THE TURKEY:
1 brined turkey
1 tbsp extra virgin olive oil
1 tbsp Healthy On You® Seasoning Beneath My Wings Spice Blend
1 orange, sliced
10 garlic cloves, peeled
fresh thyme and tarragon
sea salt and pepper, to taste
FOR THE TURKEY BRINE
In a large stockpot, add 1 gallon hot water, I'm Still Brining, brown sugar and kosher salt. Stir until sugar and salt have dissolved.
Add the additional gallon of cold water and allow the entire mixture to cool (about 10 minutes).
Gently place turkey in stockpot (should be fully submerged). Refrigerate for 12 hours or more (we did ours for 24 hours).
FOR ROASTING THE TURKEY
Preheat the oven to 450F.
Remove the turkey from the brine mixture. Rinse under cold water and pat dry.
To spatchcock the turkey: Put the turkey on a large cutting board, breast side down and cut out the backbone. Flip your turkey over and press down to flatten. Pat the side currently facing up with Seasoning Beneath My Wings. Place the turkey breast side up on a roasting pan.
Brush the turkey with the olive oil. Place the sliced oranges, garlic and herbs underneath the turkey. Sprinkle the turkey with salt and pepper.
Roast for 20 minutes (do not open the oven during this time). The turkey should be browning when you remove after 20 minutes to baste it with the pan juices. Return to the oven and lower the temperature to 400F (if your turkey is browning too quickly, reduce heat to 350F).
Roast for 15 more minutes before you begin checking the turkey's temperature. The turkey is cooked when the thigh meat reaches 165F. Check in a couple of places to confirm.
Let turkey rest for a few minutes before carving and serving. Enjoy!
Herb-Brined Roast Turkey
I love this time of year because being with family and enjoying all my favorite holiday foods is, well…comforting. Growing up we didn't eat much turkey. My mom opted for our island tradition of cooking indo-carribean food on Thanksgiving and her Jamaican curried goat is what we enjoyed most.
View Recipe
Dairy-Free
dinner
Gluten-Free
low-crab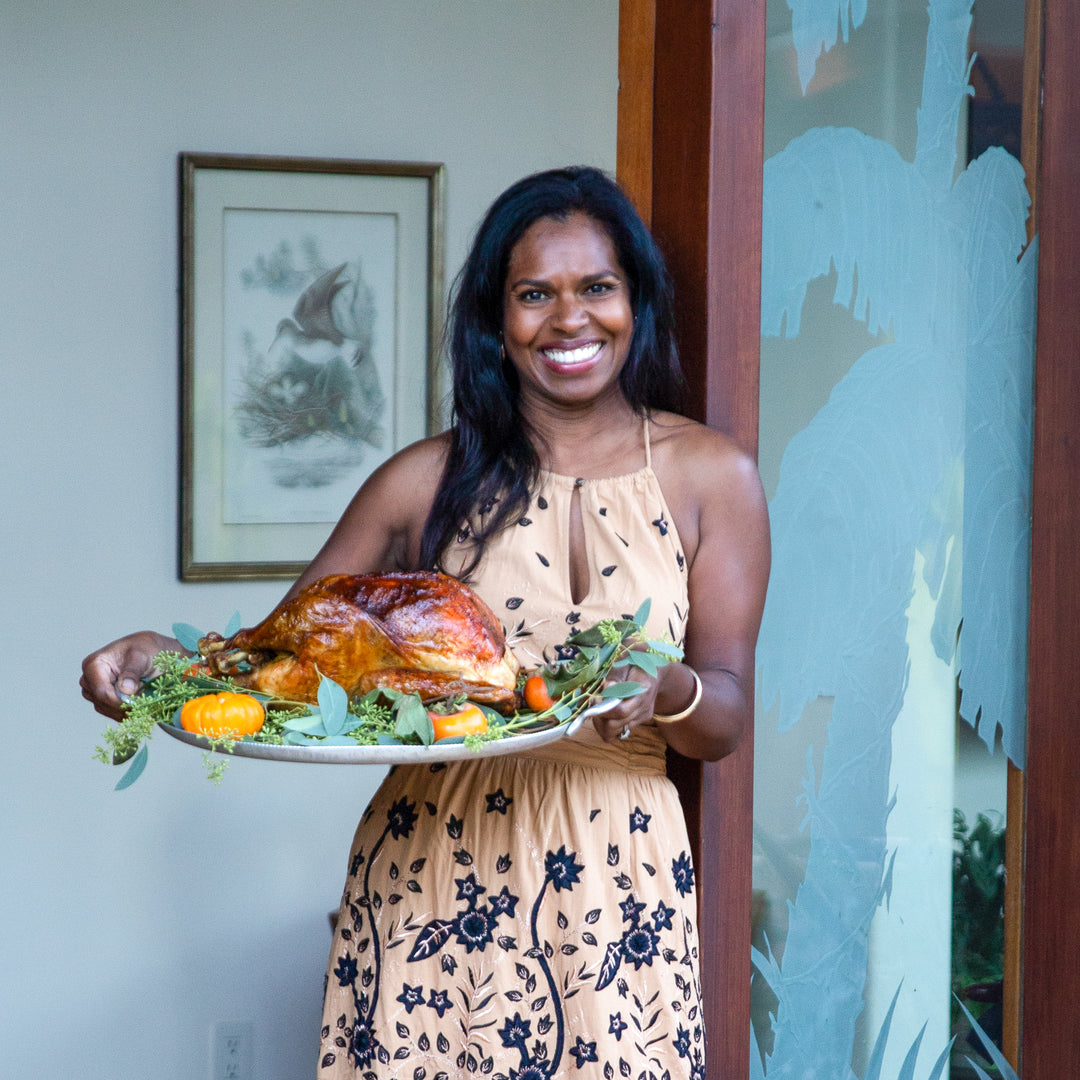 Holiday Pot Roast
Wherever you are, this time of year is perfect for cooking comfort foods! This recipe is naturally gluten-free, has lots of delicious vegetables and is full of flavor. Typically, pot roasts take quite some time to cook. However, in this recipe we used our Instant Pot to speed things along! This recipes is great for a cozy meal and is perfect for the holidays!
View Recipe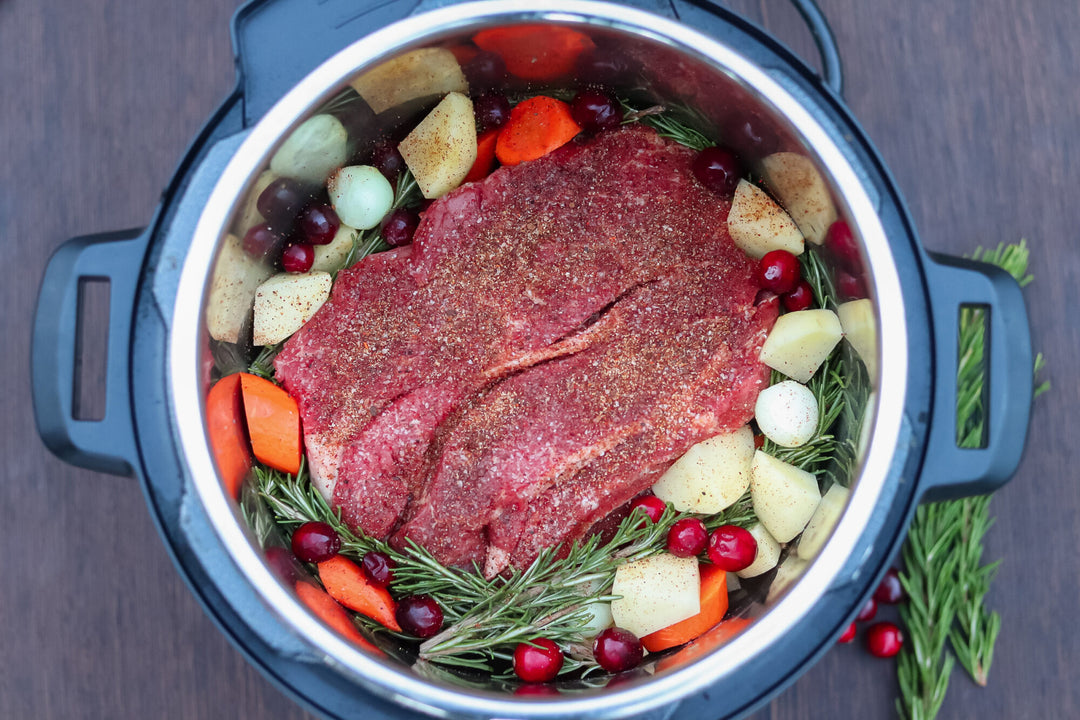 Holiday Cranberry Chicken with Grapes & Tomatoes
It's cranberry season! I love the tartness of these berries and experimenting with new ways to add them to my recipes is always fun and challenging. This delicious-and I stress, delicious recipe is a keeper! I prepared it last night for dinner guests and everyone was asking for the recipe after and there was not even a cranberry left in the pot. So here it is below. This recipe uses my Healthy On You® Seasoning Beneath My Wings spice blend to create a flavorful herb texture that makes the chicken irresistible. Pair it with wild rice, farro or quinoa for a delicious anytime meal.
View Recipe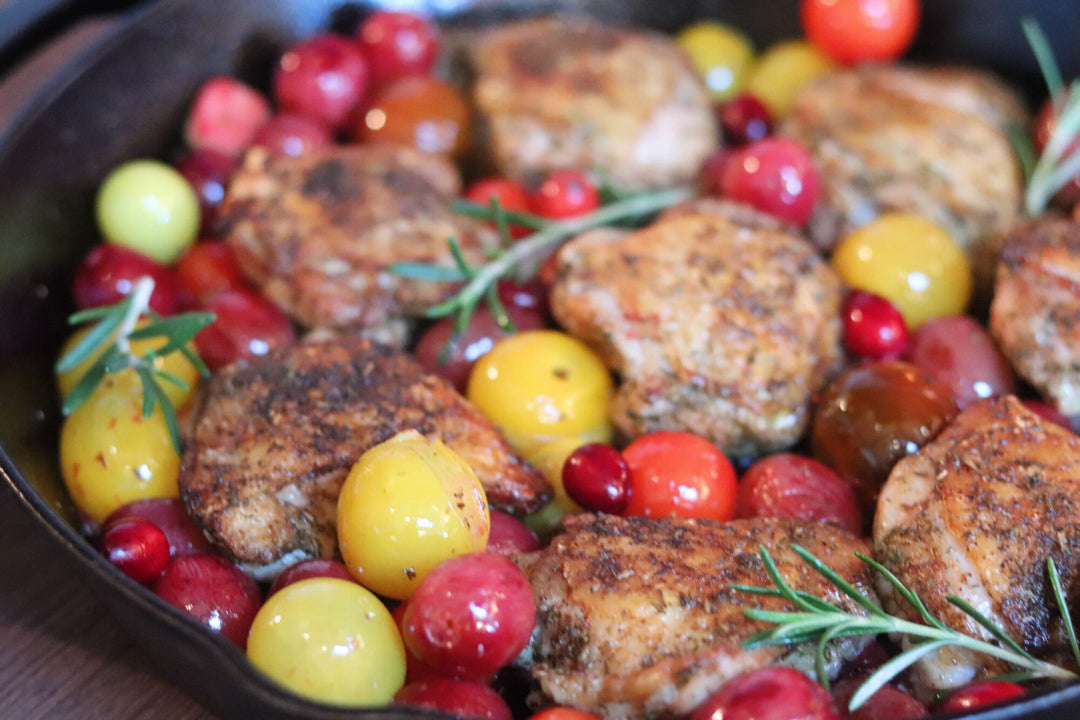 Learn How to Cook
With Our Blends

At Healthy On You®, we feel it is integral to give back to our communities and those in need. We have carried out this mission by offering donation-based cooking classes, we call our Cooking for a Cause series. All proceeds are donated to that classes's charity of choice, typically a cause fighting for social justice and equality. Join us to learn how to cook with your favorite Healthy On You® blends, support a great cause, and meet others who share a similar passion for flavorful, nutritious food!