Featured product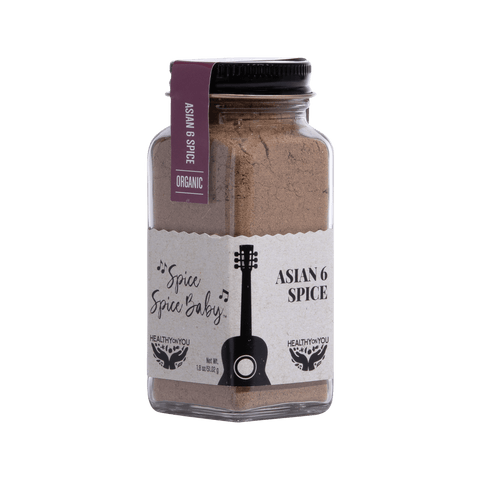 Spice Spice Baby
Asian 6 Spice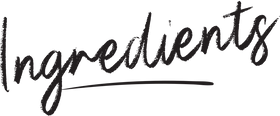 1 ½ lbs jumbo wild shrimp, peeled and deveined (16-20 count)
1 12 oz bag frozen cauliflower rice (here I used a premade blend of riced cauliflower and sweet potato)
2 medium-sized Japanese eggplants, sliced on the round
1 bunch swiss chard, chopped
6 tbsp tamari sauce
6 tbsp tomato paste
1 tbsp Healthy On You® Spice Spice Baby, Asian 6 Spice spice blend
4 tbsp chili paste (I used sambal oelek)
2 tbsp sugar
2 tbsp sesame oil
3 tbsp olive oil, divided
1 large onion, finely chopped
4 cloves garlic, minced
4 tbsp fresh ginger, grated
2 scallion, sliced thinly on the diagonal
sea salt and pepper for taste
MAKE THE SPICE SPICE BABY CHILI SAUCE
In a bowl, whisk together the tamari, tomato paste, chili paste, sugar, sesame oil, Spice Spice Baby spice blend and two cups of water. Set aside.
MAKE THE CAULIFLOWER RICE
In a large skillet, add 1 tablespoon of olive oil and heat over medium heat. Add the frozen cauliflower rice and allow to cook/thaw in the pan.
Add sea salt and pepper. Continue to cook for 5-7 mins until lightly golden. Then transfer to a bowl and set aside.
MAKE THE SWISS CHARD
In the same large skillet, add 1 tablespoon of the olive oil and heat over medium heat. Add the chopped swiss chard and saute until wilted, but still bright green. Cook for 5 minutes adding a tbsp of water halfway through. Remove from pan and set aside.
MAKE THE EGGPLANT
In the same large skillet, add 1 tablespoon of olive oil and heat over medium heat. Add ½ the onion, garlic, and ginger to the pan stirring frequently.
Add the eggplant sliced and stir-fry until they begin to soften. Then add ½ the marinade and cook for 3-5 minutes until the sauce thickens. Remove from heat and place in a bowl.
MAKE THE SHRIMP
In the same large skillet, add 1 tablespoon of olive oil and heat over medium heat. Add the remaining onion, garlic, ginger, to the pan and stir frequently.
When the onions begin to soften, add the shrimp and stir together.
Cook until the shrimp begin to turn opaque in color, about 3-5 minutes.
Add the remaining sauce and combine. Allow the sauce to thicken.
PUT THE BOWL TOGETHER
In a deep wide pasta bowl, put a generous scoop of cooked cauliflower in the middle. Moving clockwise in the bowl, add the swiss chard, eggplant and shrimp.
Garnish with chopped scallions and serve!
Asian 6 Spice Granola Mix
I love granola mix and it's so easy to make at home and probably more cost-effective too! There's a lot of creative ways to jazz up this healthy delight, but I really love adding spices. The best one I've tried so far is Healthy OnYou® Spice Spice Baby Asian 6 Spice mostly because of the pronounced cinnamon and ginger flavors. It's perfect for granola because the cinnamon imparts a sweet and comforting tone to the whole experience.
View Recipe
Dairy-Free
Gluten-Free
snack
vegan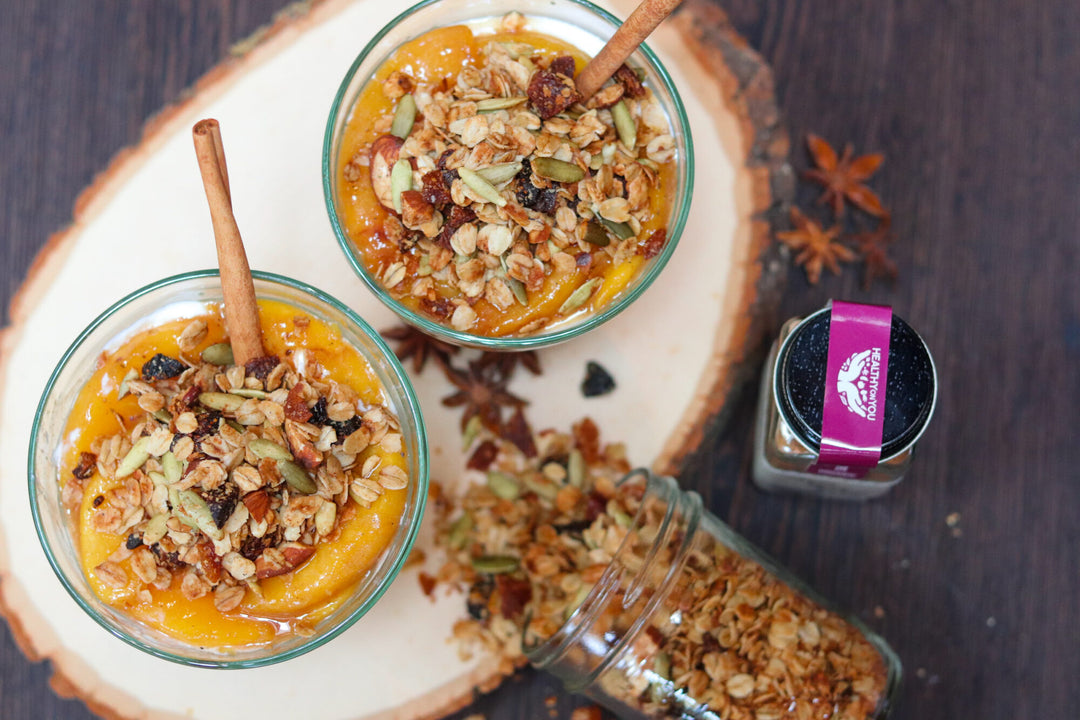 Creole Shrimp
This recipe is long and coming on this blog and soon to be a favorite in your kitchen. Creole Shrimp is a classic southern recipe with its roots firmly in Louisiana but squarely in the crossroads of cutures from the Caribbean and West Africa. This "stew" has the holy trinity of Creole cooking with onions, bell peppers and celery. But it has a secret ingredient that makes it spectacular-Healthy On You® House of the Rising Spice Creole spice blend.
View Recipe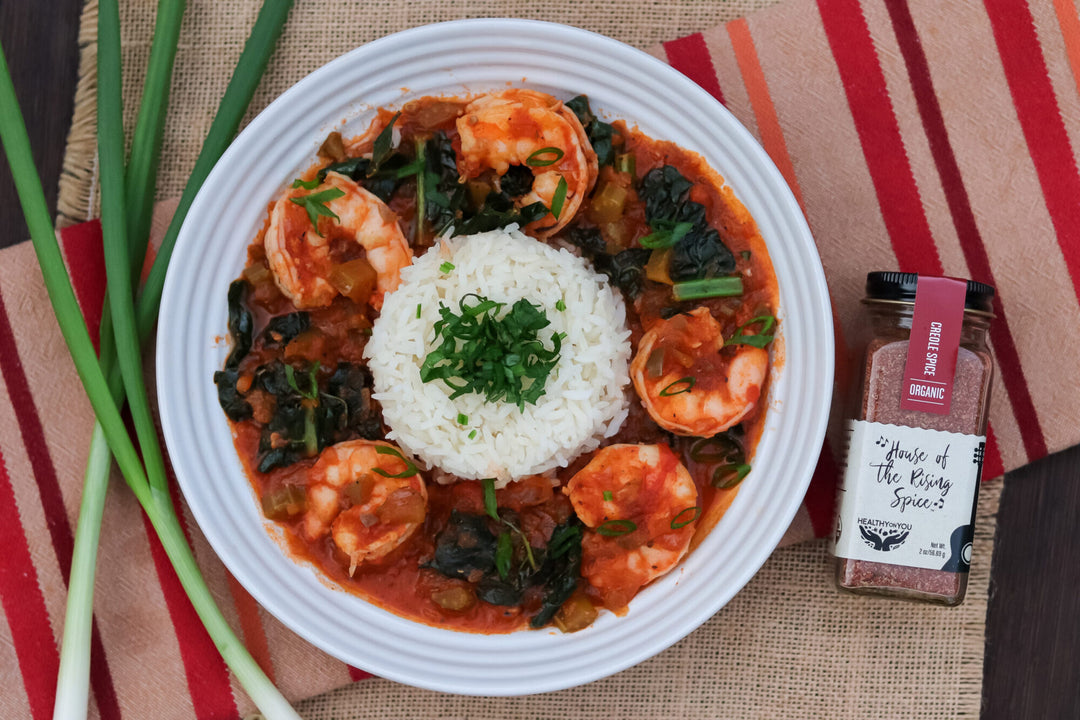 Jamaican Jerk Shrimp Tacos
This is one of my favorite recipes, and it's perfect for any night of the week. The spicy shrimp combined with the fresh crunch of the spiralized beets and fennel create a taste sensation that's like a reggae party in your mouth! If you like extra spicy, feel free to add more Healthy On You® No Woman No Spice spice blend to the marinade.
View Recipe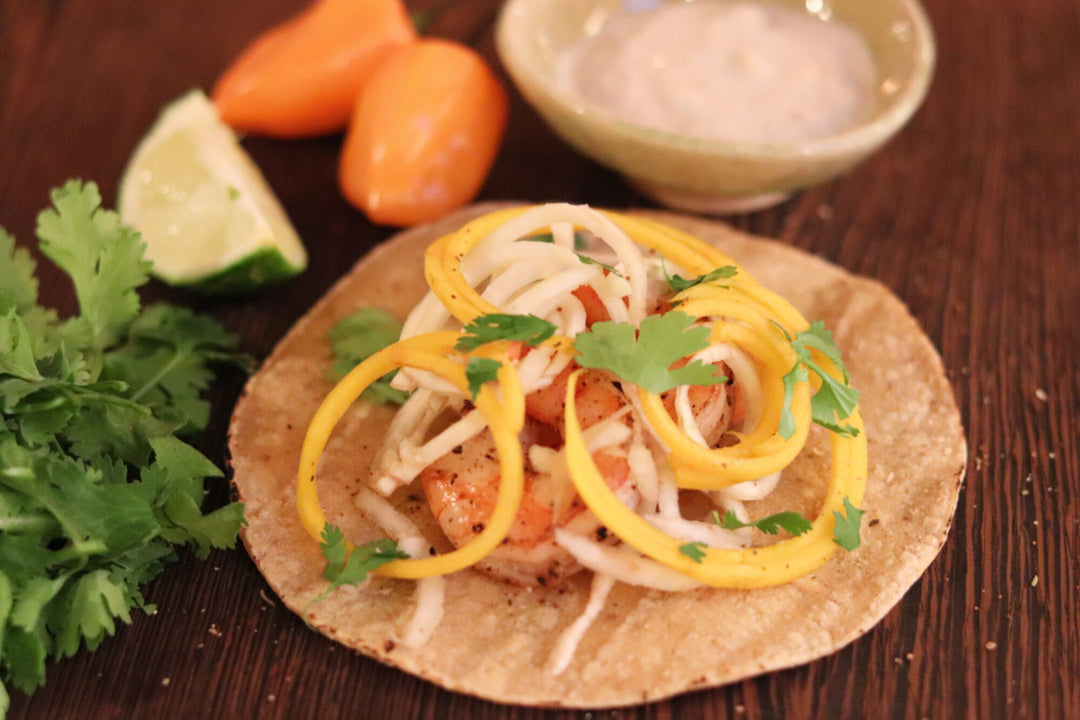 Learn How to Cook
With Our Blends

At Healthy On You®, we feel it is integral to give back to our communities and those in need. We have carried out this mission by offering donation-based cooking classes, we call our Cooking for a Cause series. All proceeds are donated to that classes's charity of choice, typically a cause fighting for social justice and equality. Join us to learn how to cook with your favorite Healthy On You® blends, support a great cause, and meet others who share a similar passion for flavorful, nutritious food!