Featured product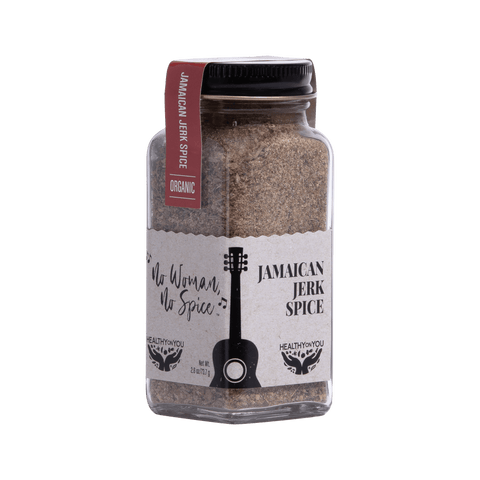 No Woman No Spice
Jamaican Jerk Spice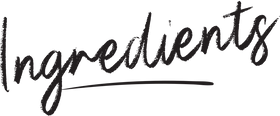 TO MAKE THE TACOS
1 lb. wild shrimp peeled and deveined (21-30 count)
1½ tsp Healthy On You® No Woman No Spice Jamaican Jerk spice
1 tbsp olive oil
1 small sized beet julienned or spiralized
1 fennel bulb julienned or spiralized
8 small corn tortillas
TO MAKE THE JERK TACO SAUCE
2 tsp (or more) Healthy On You® No Woman No Spice Jamaican Jerk spice
1 cup plain low-fat yogurt/sour cream
1 tbsp fresh lemon juice
¼ cup chopped cilantro
1 tsp sea salt and fresh ground pepper
PREPARE THE SHRIMP
In a medium-sized bowl, combine the shrimp and No Woman No Spice spice blend and olive oil. Cover and refrigerate for two hours.
PREPARE THE BEETS AND FENNEL
These are couple quick suggestions for evenly cutting: If using a spiralizer, spiralize the beets and fennel and set aside.
If using a mandolin, thinly shave red or yellow beets into thin rounds. Stack the rounds one inch thick, and cut thinly to make julienned strips, set aside.
Cut the fennel down the center and core the center out with a sharp knife. With the outer white parts only, julienne the fennel into thin strips.
TO MAKE THE JERK SAUCE
combine the yogurt/sour cream, "No Woman No Spice" spice blend, lemon juice and salt in a small bowl. Refrigerate until ready to use.
MAKE THE TACOS
pre-heat broiler to 500°F. Line a baking tray with foil and add the shrimp in one layer. Broil for 10 minutes turning once. Remove from oven when the shrimp begin to turn opaque. Be careful not to overcook.
Build the tacos by warming small corn tortillas. First, add a generous spread of the prepared jerk sauce to the center of the tortilla, add the shrimp on top of the sauce and top the shrimp with fennel, beets and cilantro.
Serve immediately with jerk sauce on the side.
Vegan Cauliflower Pineapple Tacos
What a perfect way to introduce our Something to Taco 'Bout Taco Spice Blend to you! This delicious and unique recipe for a meatless taco is perfect for when you are craving Mexican flavors and looking for a healthy twist. The cauliflower is used as a substitute for pork in this tiki-style, sweet and savory taco using pineapple chunks that are roasted to perfection with the cauliflower and our Something to Taco 'Bout spice blend.
View Recipe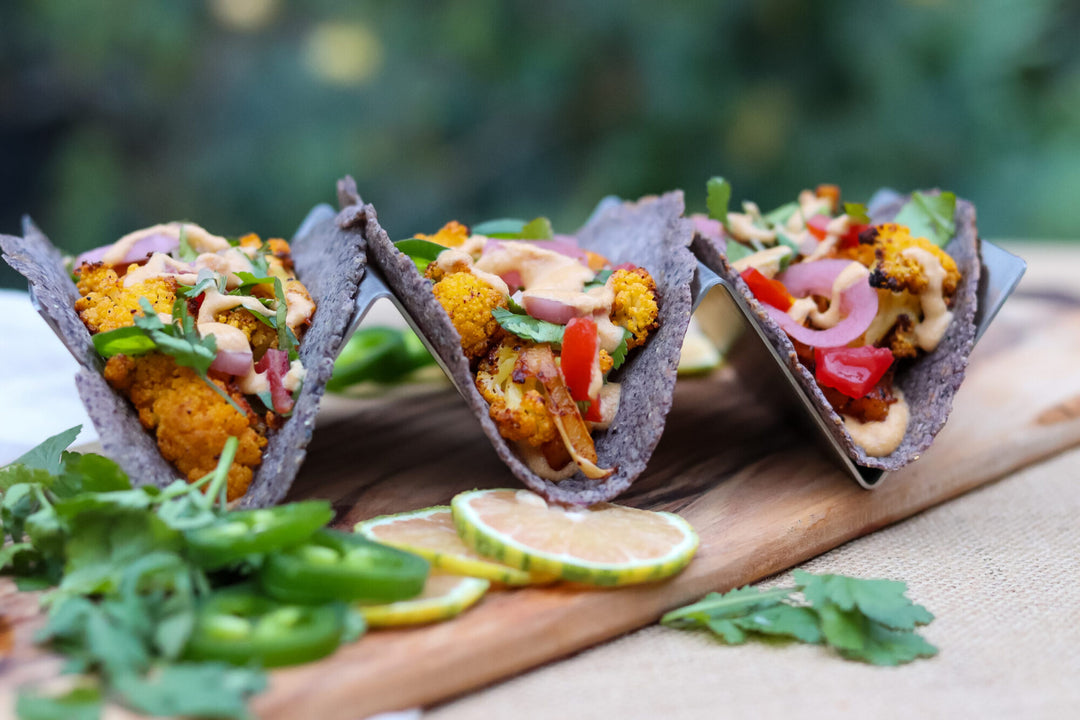 Za'atar Spiced Eggplant Tacos
One of our favorite ways to use our Middle Eastern Spice is on eggplant. When you combine that with tortillas it is perfection! If you are in the mood for tacos, but want to avoid the heavy, saucy stuff, try these. You won't be disappointed.
View Recipe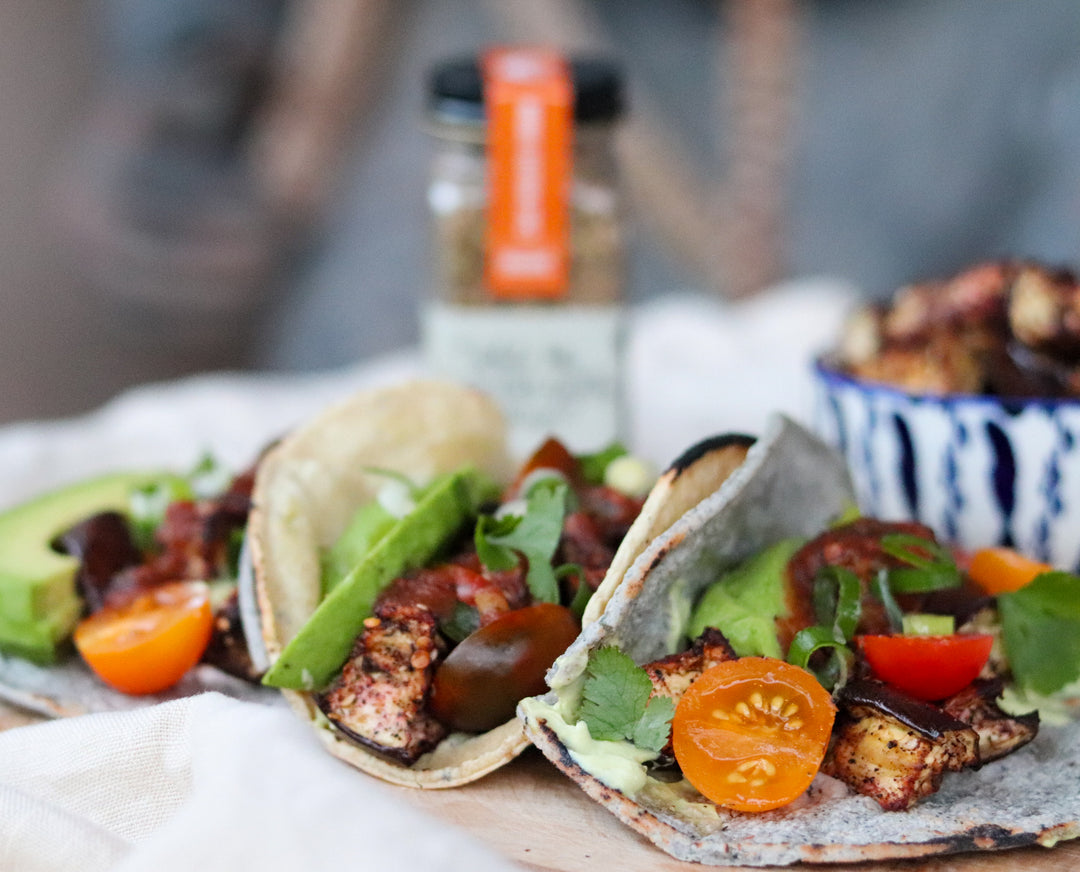 Jerk Chicken And Plantain Nacho Bowl
What a way to spice it up?! This INCREDIBLE Jerk chicken bowl is just what we need to start our week off on a spicy note. If you can't tell already, we really love plantains. Plantains are a trusted and most loved side in many Jamaican and Caribbean recipes, so we thought it was a perfect pairing with the jerked chicken-pairing spicy and sweet is always a good idea.
View Recipe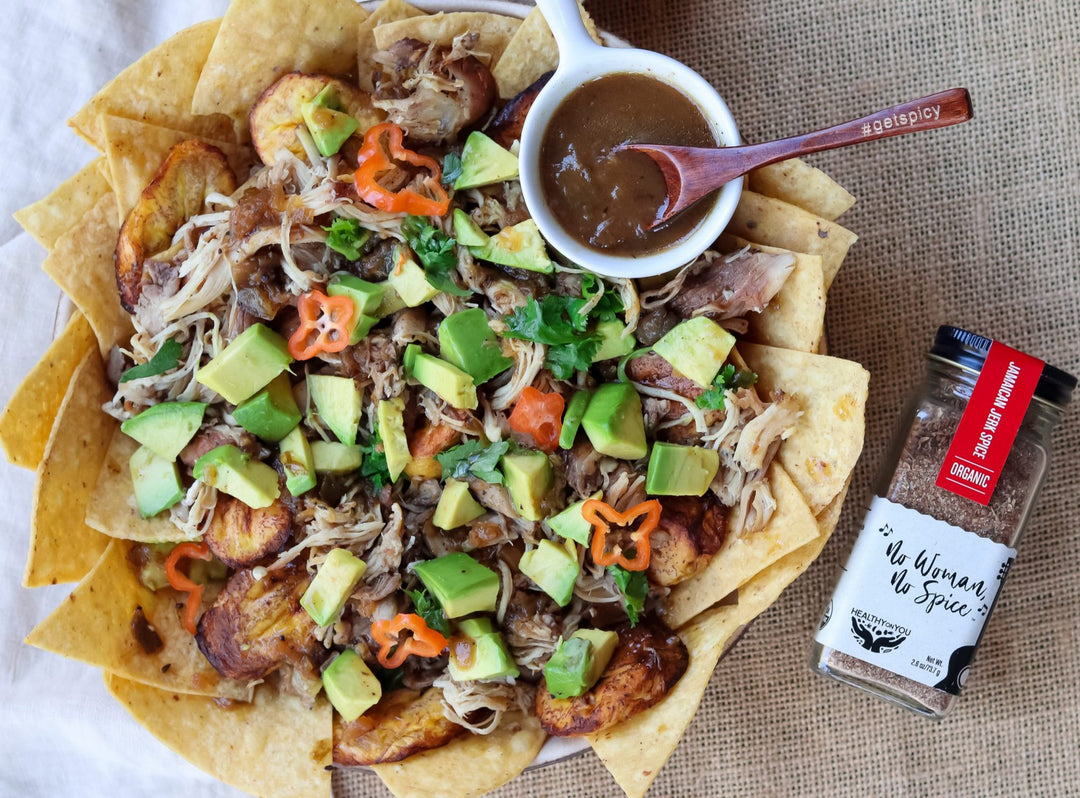 Learn How to Cook
With Our Blends

At Healthy On You®, we feel it is integral to give back to our communities and those in need. We have carried out this mission by offering donation-based cooking classes, we call our Cooking for a Cause series. All proceeds are donated to that classes's charity of choice, typically a cause fighting for social justice and equality. Join us to learn how to cook with your favorite Healthy On You® blends, support a great cause, and meet others who share a similar passion for flavorful, nutritious food!