Featured product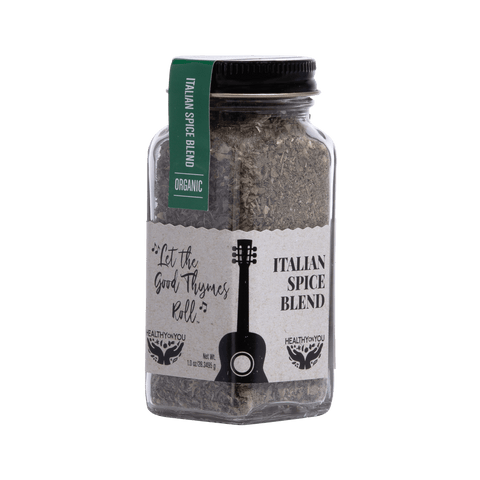 Let The Good Thymes Roll
Italian Spice Blend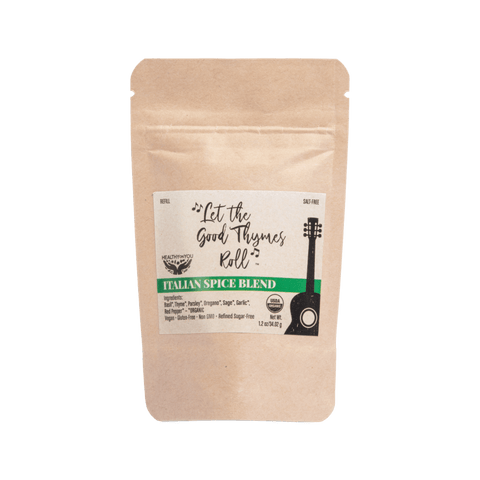 Let The Good Thymes Roll Refill
Italian Spice Blend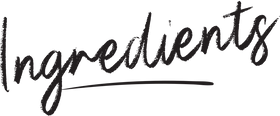 1½ lbs. butternut squash, peeled and cubed
8 oz block feta cheese
1 lb. Banza pasta (gluten-free)
¼ cup olive oil
4 cloves garlic, minced
12 thyme spriggs + more for garnish
2 tbsp Let the Good Thymes Roll Italian Spice Blend
1 tsp sea salt
¼ tsp black pepper
1 cup vegetable or chicken stock (more if needed)
2 links, chicken sausage, removed from casing and chopped
1 small bunch kale, chopped
Preheat the oven to 400˚F.
Remove the thyme leaves from the stems.
In a 13x9 baking dish, add the butternut squash cubes, garlic, thyme, Let the Good Thymes Roll Italian spice blend, olive oil, sea salt and pepper. Mix well and coat the squash with the seasoning and oil. Make a space in the center and add the block of feta cheese.
Bake in the oven for 30 minutes turning the squash half way through.
While the squash and feta roast, make the sausage and kale mixture. In a skillet add a tip of oil and sauté the chopped sausage for 3-5 minutes until hot, add the chopped kale on top and cover and turn off the heat. Allow to it steam and wilt for 5 minutes.
Make the Banza pasta- you can also use regular pasta if you are not avoiding gluten. Follow package instructions. Reserve the pasta water if you are not using stock but make sure it is salted to your taste.
When the squash is ready, allow to cool for a 10 minutes, then add the contents to a high powered blender. Add the stock or the pasta water. If the blender gets stuck, add more liquid. You want a saucy consistency. Taste and adjust the seasoning, if needed.
Spread the pasta in the same 13x9 dish. Add the sausage and kale mixture, pour on the squash and feta sauce. Stir well and serve immediately.
Orecchiette Pasta with Velvety Carrot Miso Sauce
I taught this recipe in one of my cooking classes and boy oh boy was it a hit! The velvety carrot-miso sauce was so flavorful with our You're So Spain Savory Spanish blend adding a nice smoky flavor. The sauce can be repurposed for other dishes as well; a sauce for chicken and made into a soup. Another thing to note is that you can use bans pasta to make it gluten-free like in the video.
Give it a try and see what I mean about this to die for sauce!
View Recipe
Dairy-Free
dinner
Gluten-Free
Savory Spanish Spice
Side
vegan
vegetarian
You're So Spain
dinner
Herbes de Provence
Provence You've Been Gone
Side
vegetarian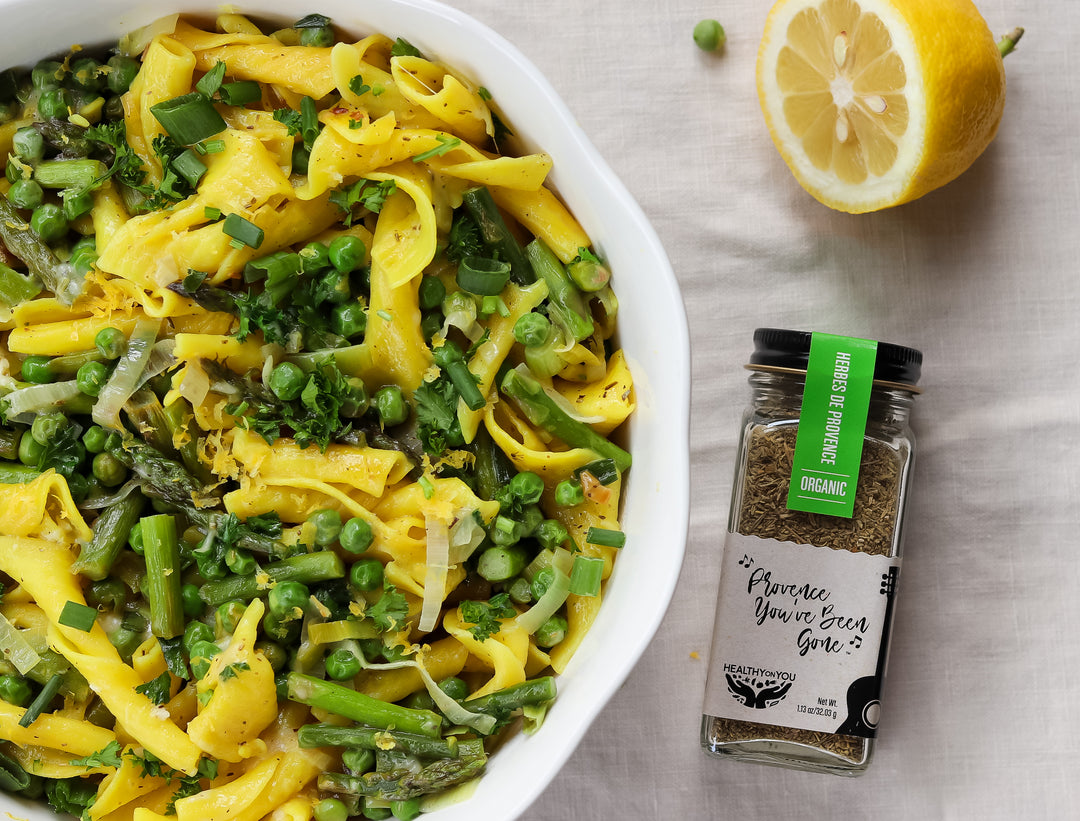 Pasta With Sausage, Squash, And Sage
Looking for a quick weeknight meal? Well look no further! This recipe will soon be in your fall recipe rotation. There are certain foods I always try to keep in the fridge or freezer to help me create delicious, healthy and flavorful meals all week long. The key ones are frozen shrimp, corn, peas and chicken apple sausages. I never have a specific recipe for them at the time I buy them, but find they are just great with everything.
View Recipe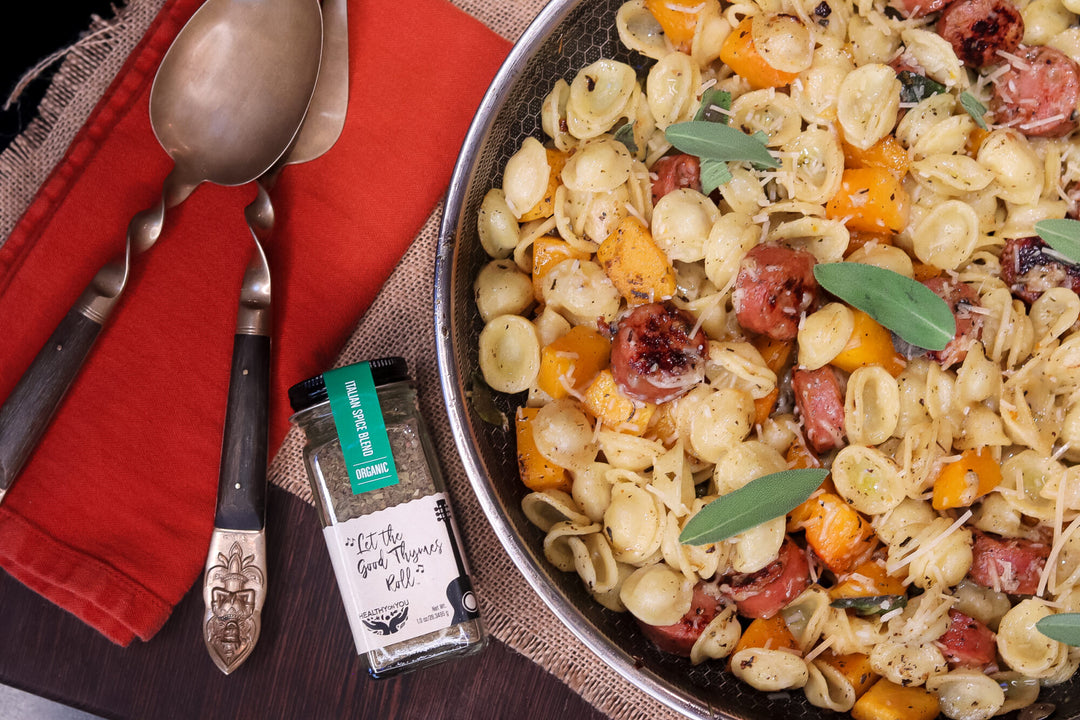 Learn How to Cook
With Our Blends

At Healthy On You®, we feel it is integral to give back to our communities and those in need. We have carried out this mission by offering donation-based cooking classes, we call our Cooking for a Cause series. All proceeds are donated to that classes's charity of choice, typically a cause fighting for social justice and equality. Join us to learn how to cook with your favorite Healthy On You® blends, support a great cause, and meet others who share a similar passion for flavorful, nutritious food!