Featured product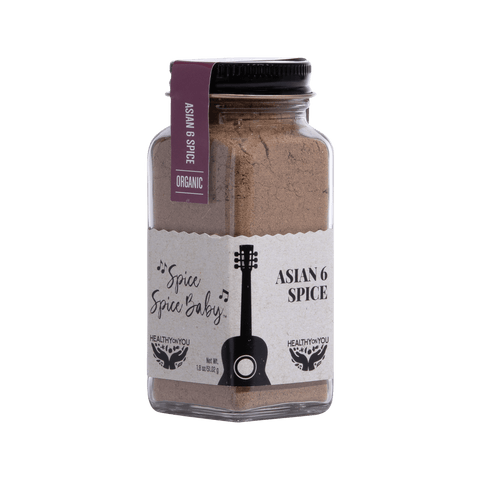 Spice Spice Baby
Asian 6 Spice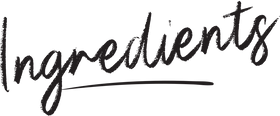 FOR THE SAUCE
¼ cup flavorless oil such as grapeseed oil/vegetable oil or ghee
4 tbsp coconut sugar
3 tbsp soy sauce
3 tbsp fish sauce
2 tbsp rice vinegar
2 tbsp tamarind concentrate dissolved in 1½ tablespoons boiling water
1 tsp chili paste
1 tsp fresh lime juice
FOR THE NOODLES
1 lb boneless chicken thighs, diced into 1 inch cubes
8 oz dried pad thai noodles
8 oz fresh shiitake mushrooms, sliced
1 cup shredded red cabbage
1 cup carrots, julienned
½ cup frozen green peas
2 eggs, slightly beaten
¼ cup peanuts, chopped + more for garnish
2 tsp Healthy On You® Spice Spice Baby Asian 6 Spice, divided
small bunch of Thai basil, cilantro and sesame seeds for garnish
MAKE THE SAUCE
In a small bowl, add the sauce ingredients and whisk together. Set aside.
MAKE THE PAD THAI
In a medium saucepan, bring 4-5 quarts of water to a boil. Add the noodles and stir well. Allow to boil for 5 minutes. Drain in a colander, rinse and set aside.
Heat a wok or a medium saucepan and add the oil. When hot and shimmering, add the mushrooms and sprinkle with 1 tsp of the Spice Spice Baby seasoning. Stir fry the mushrooms for 5 minutes and remove to a paper towel to drain.
Keep the wok heated and add the chicken to the remaining oil. Add the remaining tsp of the Spice Spice Baby seasoning. Stir fry the chicken for 8-10 minutes. Remove from the pan and set on a paper towel.
In the same pan, add the eggs and scramble in the pan. When the eggs come together into a soft scramble, add the noodles and ½ of the sauce. Stir well and continue to cook for 2 minutes.
Add the peanuts, peas, cabbage and carrots and combine. Allow to cook for 2 additional minutes until the cabbage and carrots soften.
Add back in the mushrooms and chicken and the additional sauce. And stir well until heated.
Served with chopped Thai basil, cilantro, chopped peanut, and sesame seeds on top. Enjoy!
Dahl And Rice
I'm focusing on the Dhal in this recipe because it is hands down, delish. This is a spin on my mom's dahl recipe. She used yellow split peas but I use red lentils. They cook much faster and have a more creamy texture.
View Recipe
Dairy-Free
dinner
ginger
Indian food
plantain
turmeric
vegan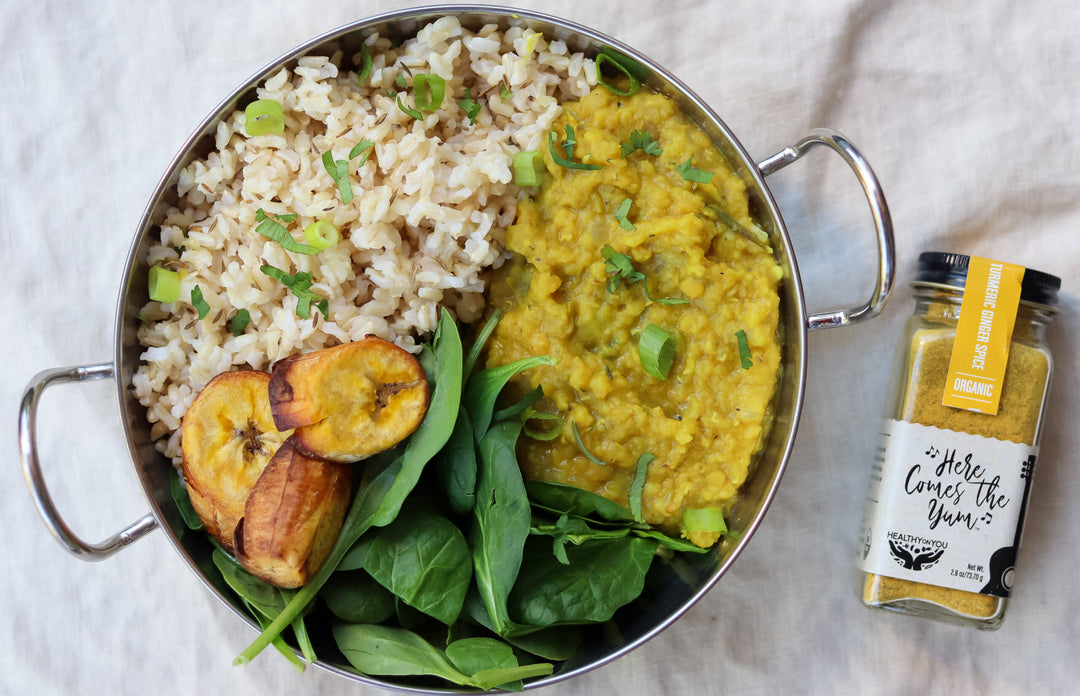 Herby Popovers
These popovers are easy, yummy and simple! They make the perfect snack or appetizer. You can also get creative with the flavors, since the popovers themselves are a blank slate for experimentation. In this version, we used our Healthy On You® Bohemian Rosemary Sea Salt and Let the Good Thymes Roll Spice Blend. We have so much fun making this recipe as a family, you'll want to give this a try!
View Recipe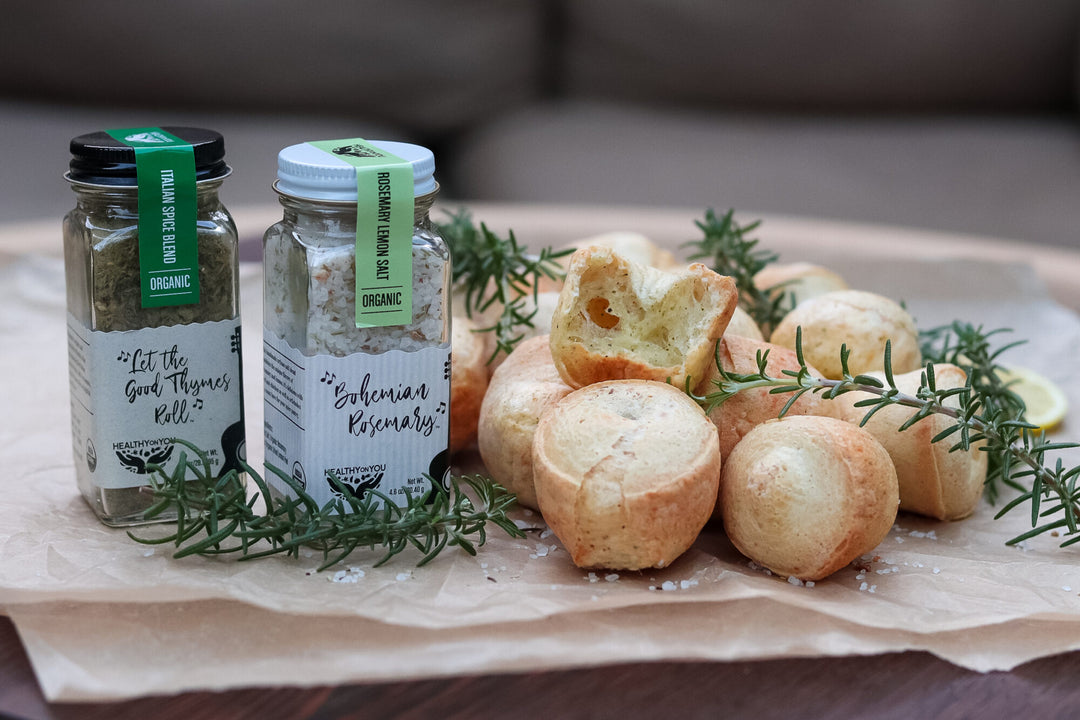 Heirloom Tomato And Leek Tart
It's tomato season! If you have a garden, growing tomatoes are a test of patience that can sometimes make you want to pull your hair out. Luckily, local farmer's markets are overflowing with tomatoes so sweet ripe tomatoes should be easy to come by. This tart is perfect for a main course at brunch and also works well with a side salad for a light dinner -with a glass of vino (wink, wink!)
View Recipe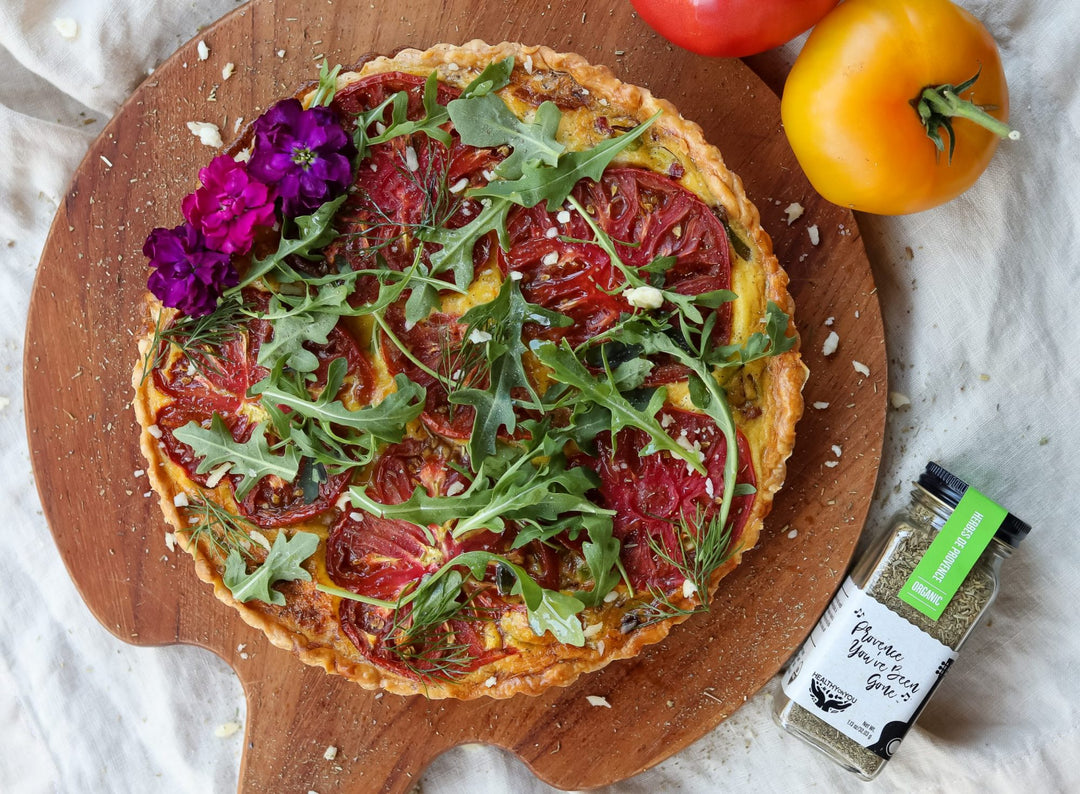 Learn How to Cook
With Our Blends

At Healthy On You®, we feel it is integral to give back to our communities and those in need. We have carried out this mission by offering donation-based cooking classes, we call our Cooking for a Cause series. All proceeds are donated to that classes's charity of choice, typically a cause fighting for social justice and equality. Join us to learn how to cook with your favorite Healthy On You® blends, support a great cause, and meet others who share a similar passion for flavorful, nutritious food!