Featured product
Here Comes The Yum
Turmeric Ginger Spice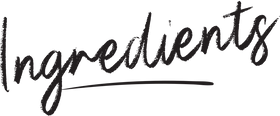 1 lb. boneless, skinless chicken thighs cleaned and cut into strips
2 cups coconut milk
1 tbsp red curry paste
2 tbsp Healthy On You® Here Comes the Yum turmeric ginger spice blend.
2 cups tatsoi greens, spinach or bok choy, chopped
1 cup shiitake mushrooms sliced
1 small zucchini cut into spheres
2 cups cooked ramen
1 cup water, separated
2 tbsp flavorless oil like grapeseed oil, separated
2 tbsp fish sauce (I like red boat brand)
¼ tsp sea salt
Chopped cilantro and/or chopped scallions/green onion for garnish
PREPARE THE VEGETABLES
In a medium-sized skillet, add one tbsp of oil and heat over medium-high heat. Add the mushrooms and a ¼ tsp of sea salt. Saute for 5-7 minutes until mushrooms absorb the oil and begin to color. Remove from pan and set aside.
In the same pan, add the zucchini spears and a ¼ cup of the water and allow it to steam with a cover on top for 5 minutes. Remove from the pan and set aside.
To cook the greens, simply add another ¼ cup of water to the same pan and allow it to boil slightly. Add the vegetables and more water if needed. Allow the greens to wilt slightly in the hot water and then remove from the pan and set aside.
MAKE THE CHICKEN CURRY
Heat a large saucepan or dutch oven over medium heat. Add the last tbsp of oil and add the curry paste and chicken and saute for 5 minutes until the chicken begins to turn opaque.
Add the Here Comes the Yum spice blend and cost the chicken entirely. Saute under medium heat for 2 minutes.
Add the coconut milk, remaining ½ cup of water and the fish sauce. Stir well and reduce the heat from medium to low and allow to simmer for 20 minutes.
MAKE THE BOWL
In a wide soup or pasta bowl, add the cooked ramen in the center and fill in all around it with the zucchini, greens, and mushrooms.
Gently scoop the hot coconut curry chicken on the side and add additional broth to the vegetables and ramen.
garnish with chopped cilantro and chopped green onions.
Braised Chicken & Chickpeas In Lemony Coconut Sauce
This recipe is in my permanent weeknight meal rotation because it's so incredibly mouth-watering. It's a take on a Kitchn recipe that omits the chicken and uses only the sweet potato. Good thing to keep in mind if you are vegan. This recipe is bright, tasty, and surprisingly light.
View Recipe
Dairy-Free
dinner
Gluten-Free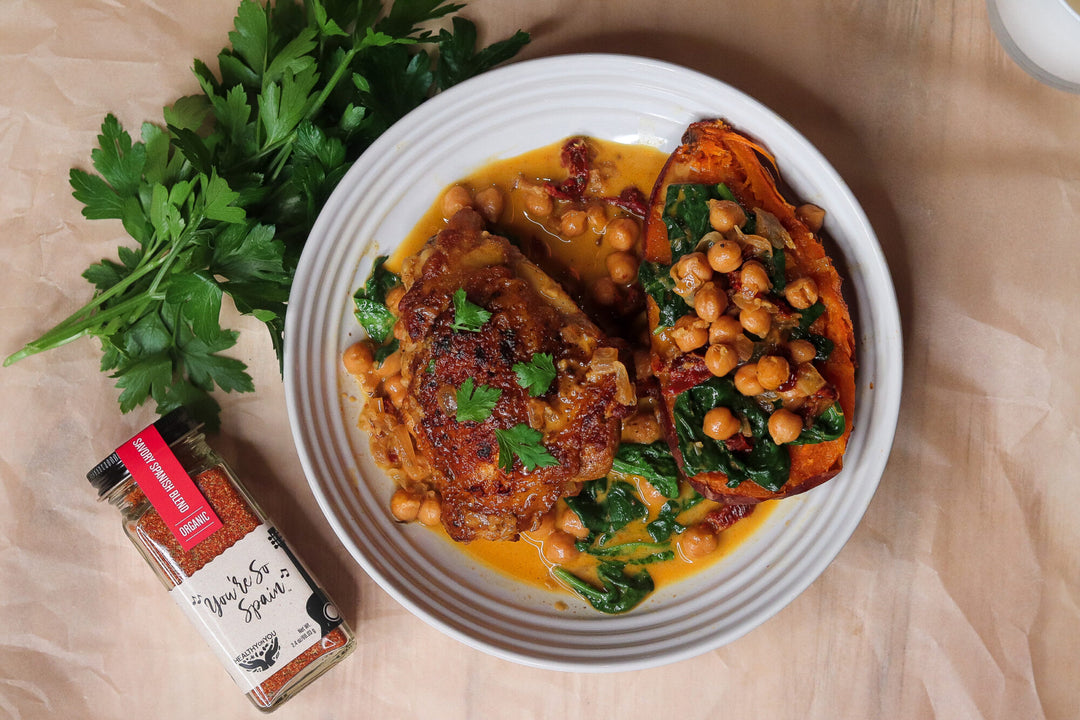 Creole Shrimp in a Creamy Coconut Tomato Sauce
With Mardi Gras coming up, I thought this would be a good recipe for you to try. It's so tasty with the creole shrimp and the dairy-free tomato sauce. I really like shrimp because they are great grilled, pan-seared or broiled and they cook quickly which makes this recipe perfect for a weeknight meal.
View Recipe
Dairy-Free
dinner
House of the rising Spice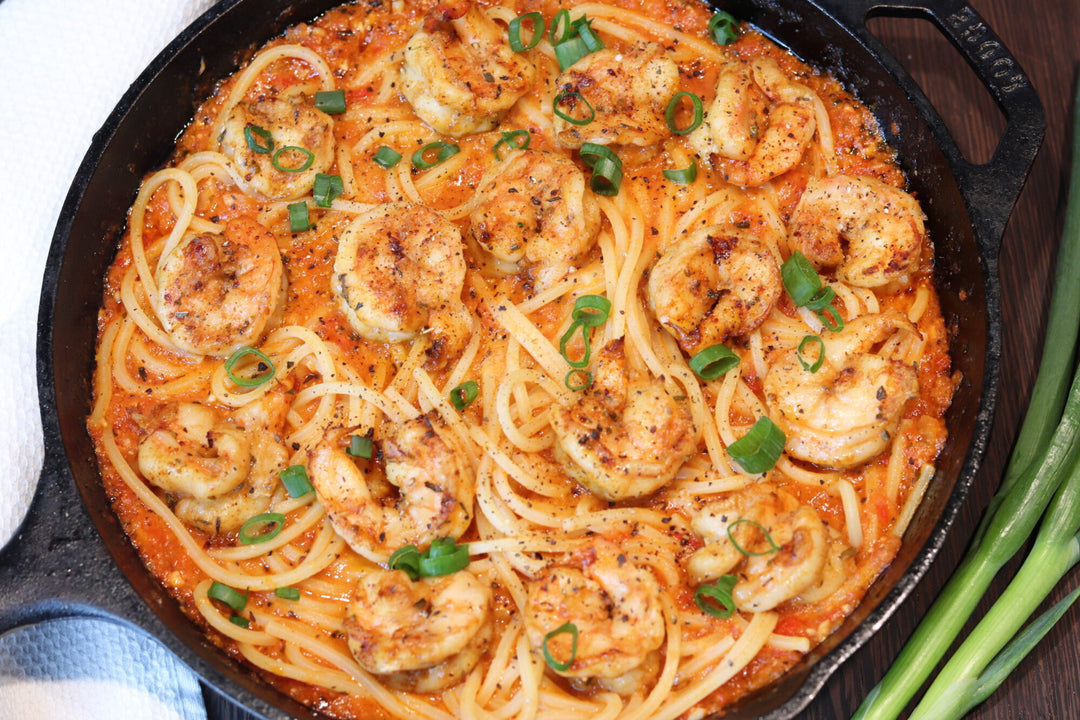 Gingery Turmeric Meatball Soup
These days, I'm eating and drinking a lot of turmeric and ginger-spiced food and drinks. The health benefits are undeniable so it's no surprise I am posting quite a few recipes recently with these incredible ingredients. This gingery turmeric meatball soup is super for both sunny days and rainy days alike when you are needing a little immune booster.
View Recipe
Dairy-Free
dinner
Gluten-Free
Here Comes the Yum
Low Carb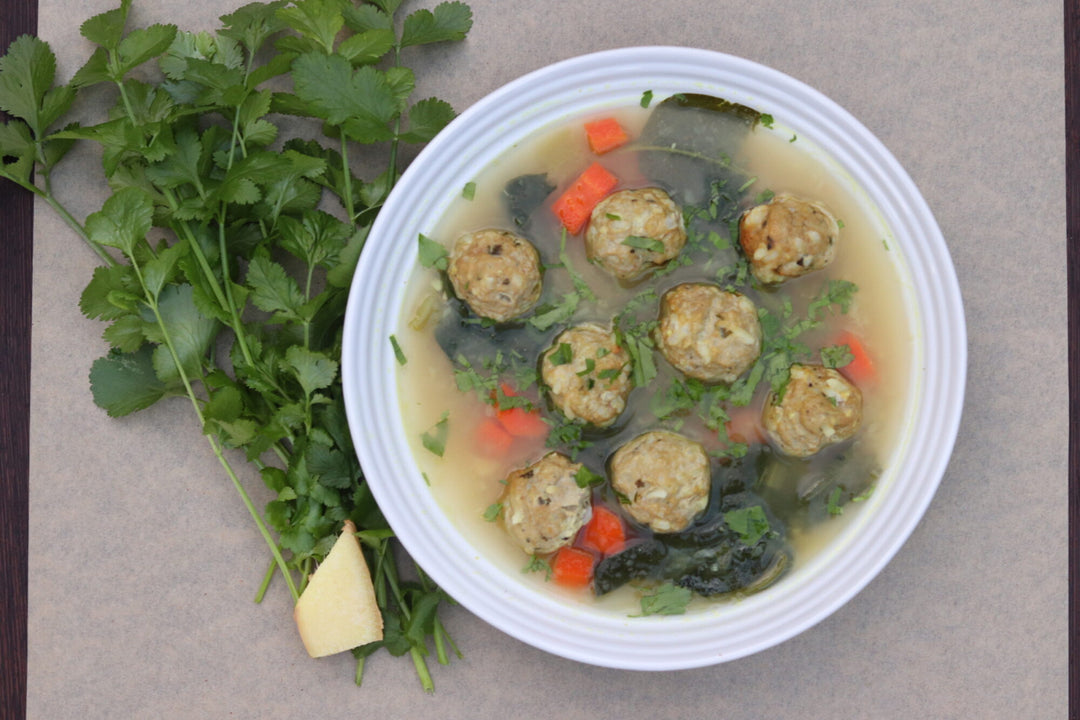 Learn How to Cook
With Our Blends

At Healthy On You®, we feel it is integral to give back to our communities and those in need. We have carried out this mission by offering donation-based cooking classes, we call our Cooking for a Cause series. All proceeds are donated to that classes's charity of choice, typically a cause fighting for social justice and equality. Join us to learn how to cook with your favorite Healthy On You® blends, support a great cause, and meet others who share a similar passion for flavorful, nutritious food!