Featured product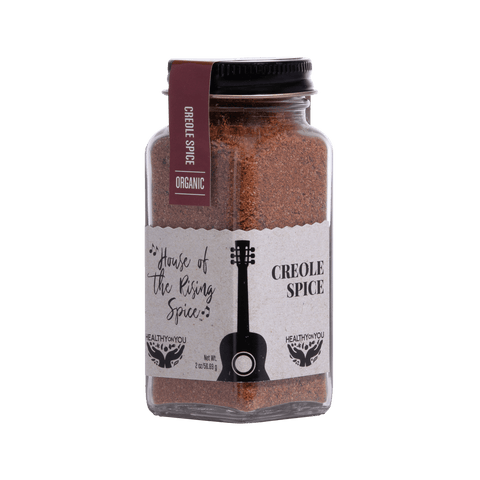 House of the Rising Spice
Creole Spice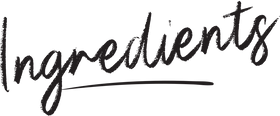 FOR THE SHRIMP
1 lb. peeled and de-veined shrimp, 16-20 count
1 tbsp olive oil
2 tbsp Healthy On You® House of the Rising Spice Creole Spice blend
½ tsp sea salt
FOR THE SAUCE
½ lb. linguini or spaghetti pasta
2 tbsp olive oil
½ large onion, diced
4 garlic cloves, minced
1 cup fire roasted peppers, chopped (you can buy these already roasted)
1 28 oz. can of tomato puree (I use Pom brand)
1 cup coconut cream
1 tsp sea salt and fresh ground pepper to taste
green onions, chopped for garnish
In a medium-sized bowl, coat the shrimp with olive oil and season with salt and the House of the Rising Spice Creole Spice Blend, set aside for while you start the sauce.
In a 12 inch cast iron pan, heat the olive oil over medium heat and add the onions. Cook until translucent 3-5 minutes.
Add the garlic and cook another two minutes; add the chopped roasted peppers, tomato sauce, a tsp of sea salt.
Bring to a boil, reduce the heat, cover cook for 15 mins
In the meantime, cook the shrimp. If sauteeing, add the shrimp to a hot skillet and sear on both sides, 2-3 minutes. If using a grill or indoor grill, skewer and add to a hot grill for 2 minutes per side. When finished set aside.
When done, whisk the coconut cream into the sauce and continue cooking for 5 additional minutes.
In the meantime, cook the pasta per instructions, drain and set aside.
Taste the sauce and adjust the salt and pepper if needed. Add the cooked, drained pasta and toss. Cover completely with the sauce.
Add the shrimp to the top of the sauce and garnish with the chopped green onions.
Creole Shrimp
This recipe is long and coming on this blog and soon to be a favorite in your kitchen. Creole Shrimp is a classic southern recipe with its roots firmly in Louisiana but squarely in the crossroads of cutures from the Caribbean and West Africa. This "stew" has the holy trinity of Creole cooking with onions, bell peppers and celery. But it has a secret ingredient that makes it spectacular-Healthy On You® House of the Rising Spice Creole spice blend.
View Recipe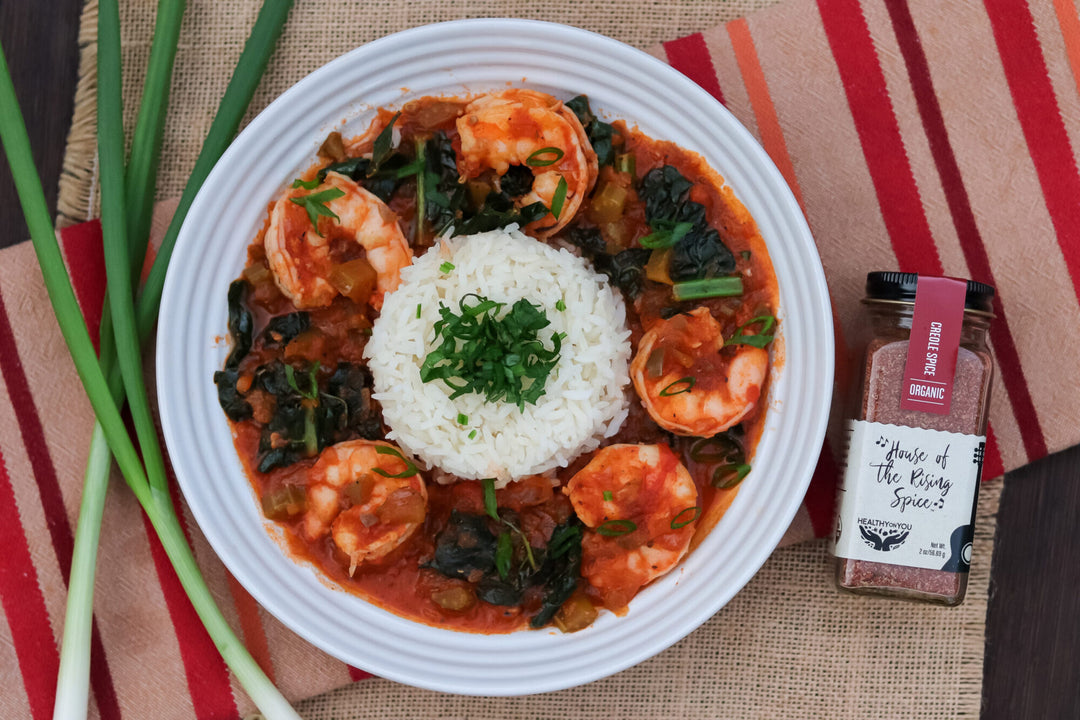 Creole Shrimp And Corn Sheet Pan Dinner
Sometimes quick and easy is best but NEVER without sacrificing flavor! This delicious and simple sheet pan dinner is perfect for those nights where keeping nice and easy, easy and satisfying is what we are looking for. This dish can serve 6-8 people especially if you add cooked rice.
View Recipe
Creole
dinner
House of the rising Spice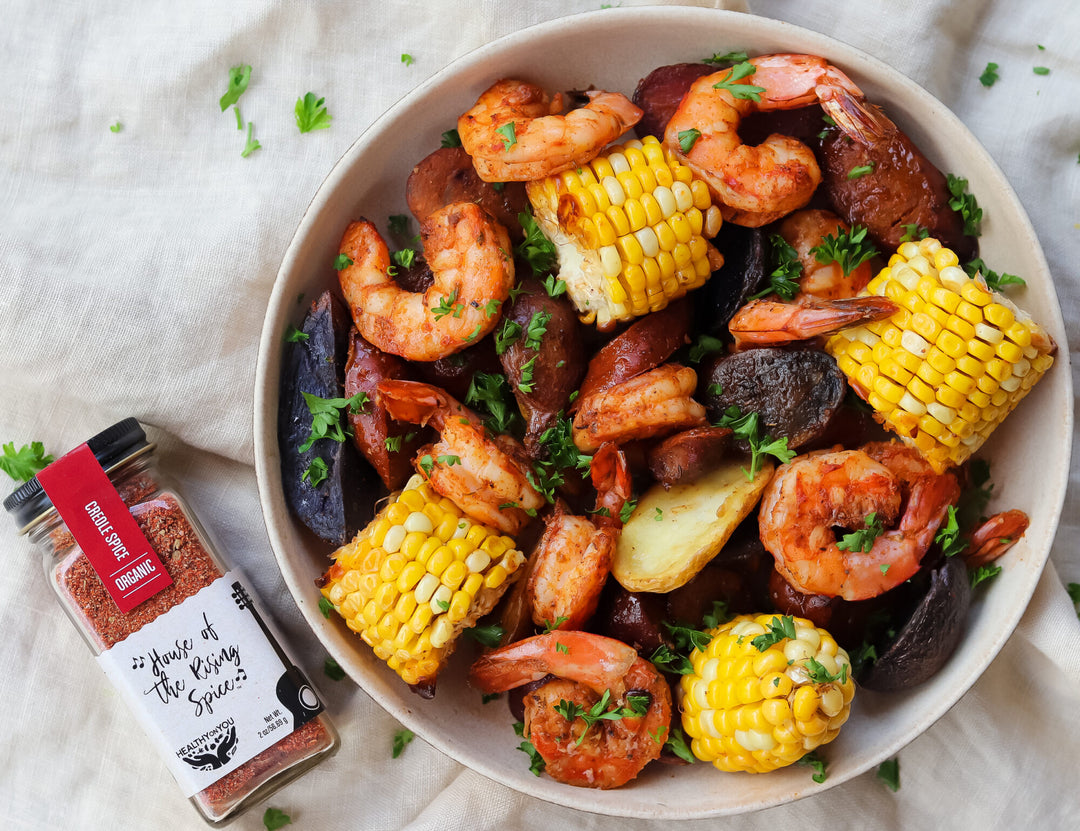 Vegan Crab Cakes with Creole Aioli
It's crazy to think this recipe is crab-free, gluten-free and dairy-free…but it is, and it's absolutely delicious. I'm a big fan of crab cakes but when I can find a way to make them meat-free and healthier, I am all for it.
View Recipe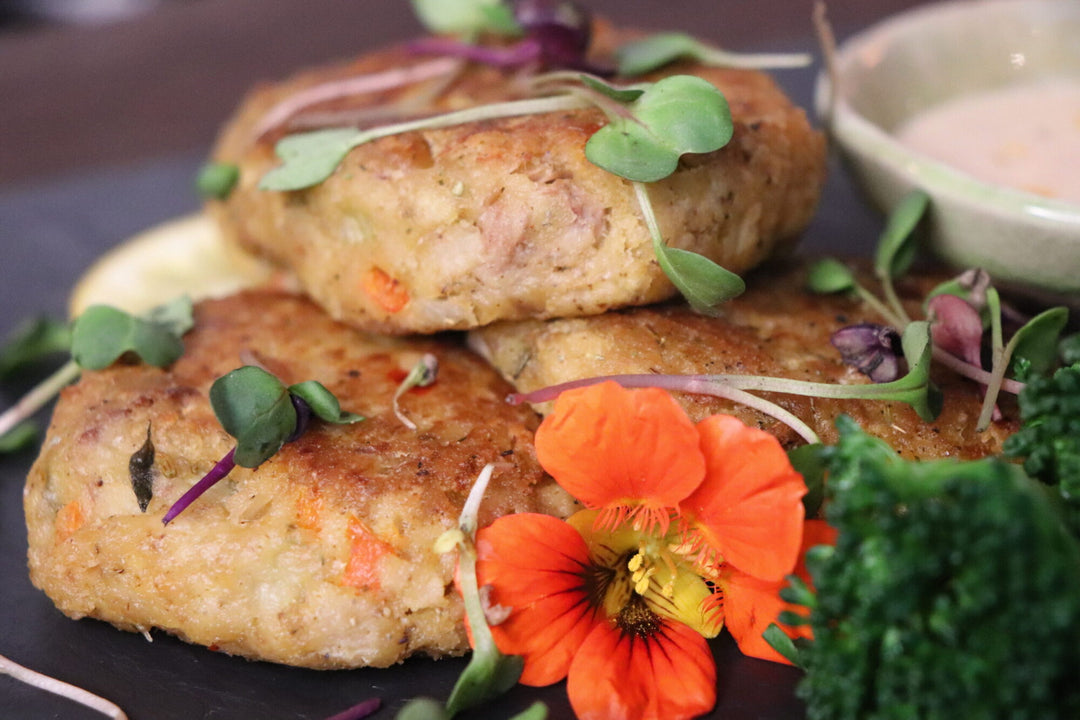 Learn How to Cook
With Our Blends

At Healthy On You®, we feel it is integral to give back to our communities and those in need. We have carried out this mission by offering donation-based cooking classes, we call our Cooking for a Cause series. All proceeds are donated to that classes's charity of choice, typically a cause fighting for social justice and equality. Join us to learn how to cook with your favorite Healthy On You® blends, support a great cause, and meet others who share a similar passion for flavorful, nutritious food!