Featured product
Here Comes The Yum
Turmeric Ginger Spice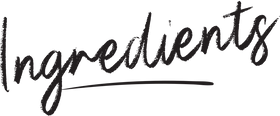 1 lb. skinless halibut (Cod, or your favorite white fish) fillet
1 tbsp Unsalted butter
1 tbsp olive oil
2 medium sized carrots, diced
1 large leek washed and white parts chopped into rings
2 small or one large yukon gold potato, diced
2 cloves garlic, minced
2 tbsp Healthy On You® Here Comes the Yum Turmeric Ginger spice blend
¼ cup fresh chopped dill plus more for garnish
½ cup dry white wine
8 oz or one bottle clam juice (Bar Harbor is the brand I use)
2 cups canned coconut cream
4 cups seafood or fish stock
sea salt and fresh cracked pepper
In a large soup pot, over medium heat, add the olive oil and butter. Allow the butter to gently melt and stir until well combined with the olive oil.
Add the carrots, leeks, and potatoes. Cook stirring frequently for 8-10 minutes.
Stir the garlic in with the vegetables and cook and soften for 2 minutes.
Reduce the heat to a simmer and add in the Healthy On You® Here Comes the Yum Turmeric Ginger Spice blend. Coat the vegetables with the spice and allow them to sauté for another 2 minutes. Be careful not to burn.
Add in the white wine and deglaze the pan while allowing the alcohol to burn off-about 2 minutes more.
Add in the coconut milk, stock, fresh dill. Stir and cover the pot. Increase the heat back to medium and bring to a boil.
Reduce the heat and simmer for 20 minutes.
Add in the halibut fish whole and allow it to gently cook in the soup for 10 minutes or until it turns opaque and breaks apart.
Season with salt, pepper and more sprigs of fresh dill.
Creole Shrimp in a Creamy Coconut Tomato Sauce
With Mardi Gras coming up, I thought this would be a good recipe for you to try. It's so tasty with the creole shrimp and the dairy-free tomato sauce. I really like shrimp because they are great grilled, pan-seared or broiled and they cook quickly which makes this recipe perfect for a weeknight meal.
View Recipe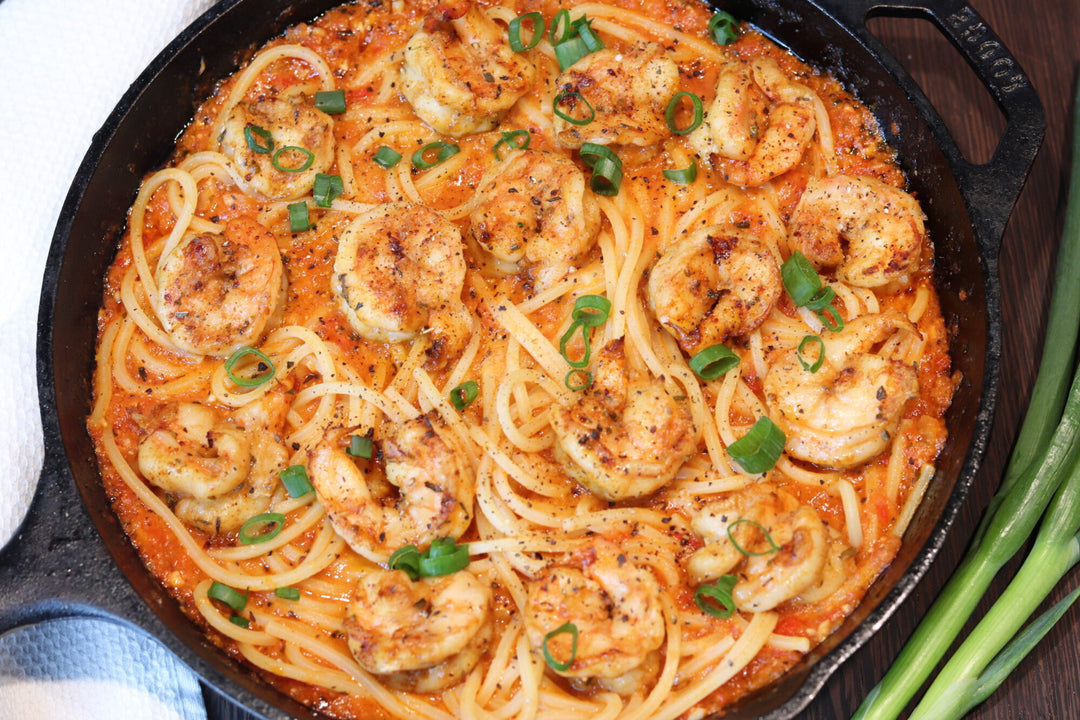 Flavorful Fish Bake with Roasted Vegetables
We are taking your average fish dinner to an all-new level! This delicious sheet pan-roasted fish and vegetables is just what the doctor ordered for busy families who are keeping it healthy on a weeknight timeline! This sheet pan is full of flavor with red onions, garlic, fennel, potatoes and leeks-all of our favorite savory veggies in one meal. We used rockfish fillets in this photo. Rockfish is very similar to snapper fish. Any skinless white fish fillet will work well in this recipe.
View Recipe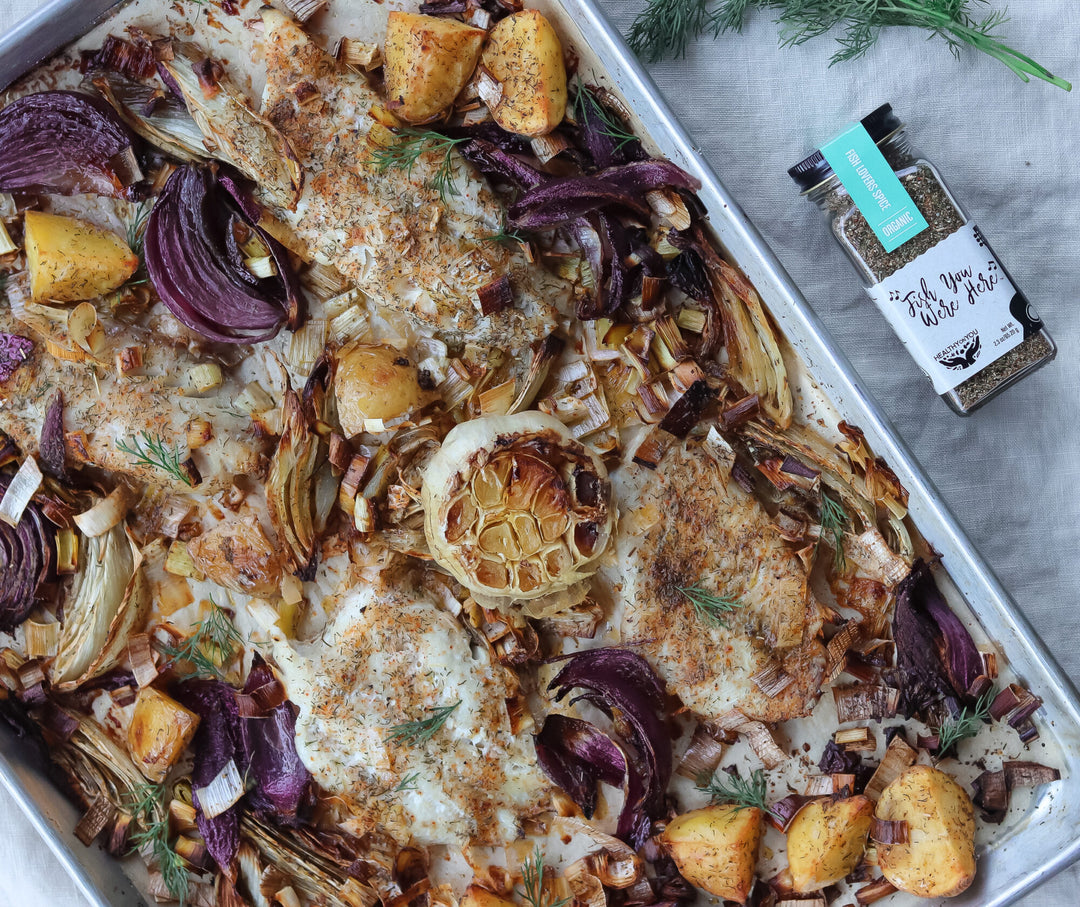 Vietnamese Turmeric Fish With Dill
Wow, talk about an explosion of flavors! We love this unique way to make fish in our house. It's a break from the usual salmon dinner but still keeping with the fresh umami flavors we love.
View Recipe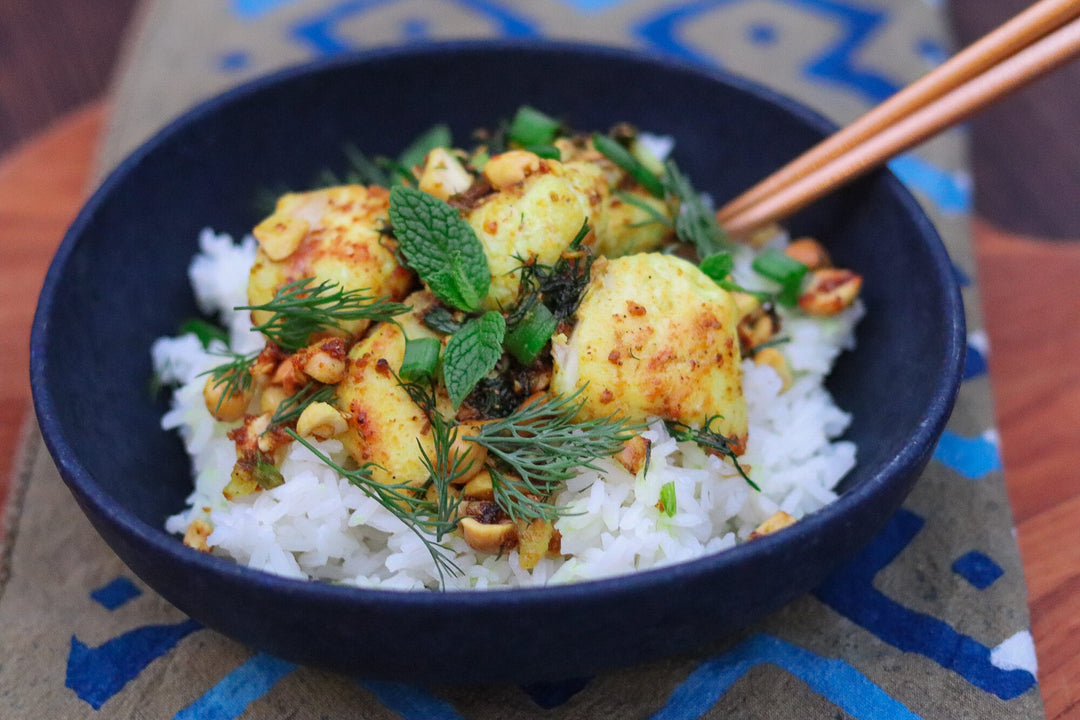 Learn How to Cook
With Our Blends

At Healthy On You®, we feel it is integral to give back to our communities and those in need. We have carried out this mission by offering donation-based cooking classes, we call our Cooking for a Cause series. All proceeds are donated to that classes's charity of choice, typically a cause fighting for social justice and equality. Join us to learn how to cook with your favorite Healthy On You® blends, support a great cause, and meet others who share a similar passion for flavorful, nutritious food!