Featured product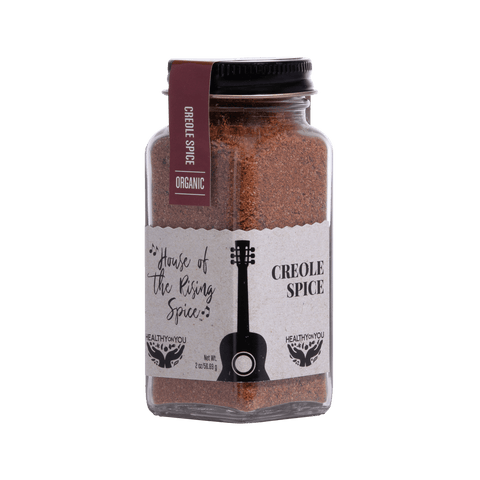 House of the Rising Spice
Creole Spice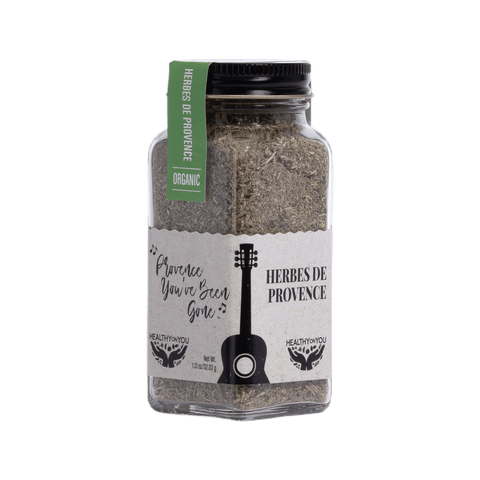 Provence You've Been Gone
Herbes de provence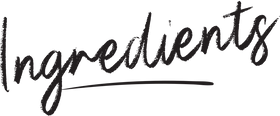 VEGAN CRAB CAKES ( MAKES ABOUT 12-14 3" DIAMETER PATTIES)
2 tbsp olive oil, separated
1 small onion, diced
½ cup celery, diced
4 cloves garlic, minced
1 cup canned green jackfruit, broken up with a wooden spoon
1 small red bell pepper, diced
1 tsp Healthy On You® Provence You've Been Gone spice blend
2 tbsp Healthy On You® House of the Rising Spice Creole spice blend
4 sprigs, fresh thyme, leaves ony
1 cup water chestnuts chopped fine (one 8 oz can)
½ cup bamboo shoots, chopped fine
1 15 oz can chickpeas drained and crushed
1 cup Sir Kensington Fabanaise (vegan mayo)
1 cup paleo flour or almond flour
1 tsp sea salt
zest of one lemon
FOR THE CREOLE AIOLI
½ cup Sir Kensington Fabanaise
2 tbsp Healthy On You® House of the Rising Spice spice blend
3 dashes of Tabasco sauce
zest of one lemon
juice of one lemon
TO MAKE THE VEGAN CRAB CAKES
Line a 9x13 baking sheet with parchment paper and set aside.
Heat ½ the olive oil under medium heat. When hot, add the onions, garlic, celery and Jackfruit and salt.
Sweat the onions and break up the jackfruit as it cooks and softens.
Remove from the stove when the onions are translucent and the jackfruit is soft about 5-7 minutes.
In a large bowl, add the crushed chickpeas, bell pepper, water chestnuts, bamboo shoots, thyme, the Provence You've Been Gone, House of the Rising Spice, lemon zest, and almond flour.
Stir to combine all ingredients.
Add the Fabanaise and fold in the cooked jackfruit mixture.
Form the mixture into small patties, place on the baking sheet and place in the refrigerator for 30 minutes or more.
TO MAKE THE CREOLE AIOLI
Whisk all the Creole Aioli ingredients in a bowl and refrigerate while you complete the vegan crab cakes.
FINISH THE CRAB CAKES
Preheat oven to 375 F.
When 30 minutes is up, remove the fab-cakes from the fridge and pre-heat a large frying pan and add a ½ tbsp of olive oil per batch.
Working in batches, add 4-5 fab cakes at a time and cook for about 5-8 minutes on each side. Set back onto the baking sheet.
When finished, add them to the sheet pan and bake for 12-15 minutes.
Remove from oven and serve hot with the Creole Aioli.
Lemon Sole Pinwheels Stuffed with Fresh Crab, Artichoke and Spinach
This delicious and surprisingly simple fish recipe is from a class I taught earlier this year. It was beautifully paired with Halter Ranch Vineyards 2015 Grenache Blanc wine. If you enjoy fish as a part of your healthy lifestyle, this recipe is a game changer. It's low calorie, visually impressive and of course, healthy.
View Recipe
Dairy-Free
dinner
low-crab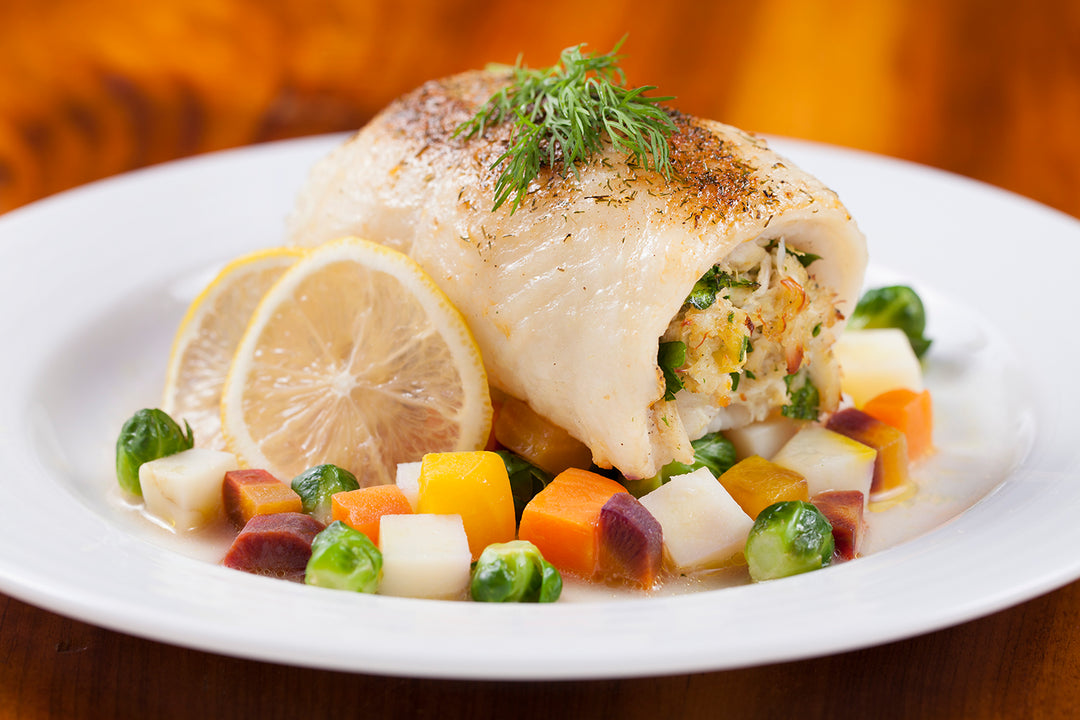 Creole Shrimp
This recipe is long and coming on this blog and soon to be a favorite in your kitchen. Creole Shrimp is a classic southern recipe with its roots firmly in Louisiana but squarely in the crossroads of cutures from the Caribbean and West Africa. This "stew" has the holy trinity of Creole cooking with onions, bell peppers and celery. But it has a secret ingredient that makes it spectacular-Healthy On You® House of the Rising Spice Creole spice blend.
View Recipe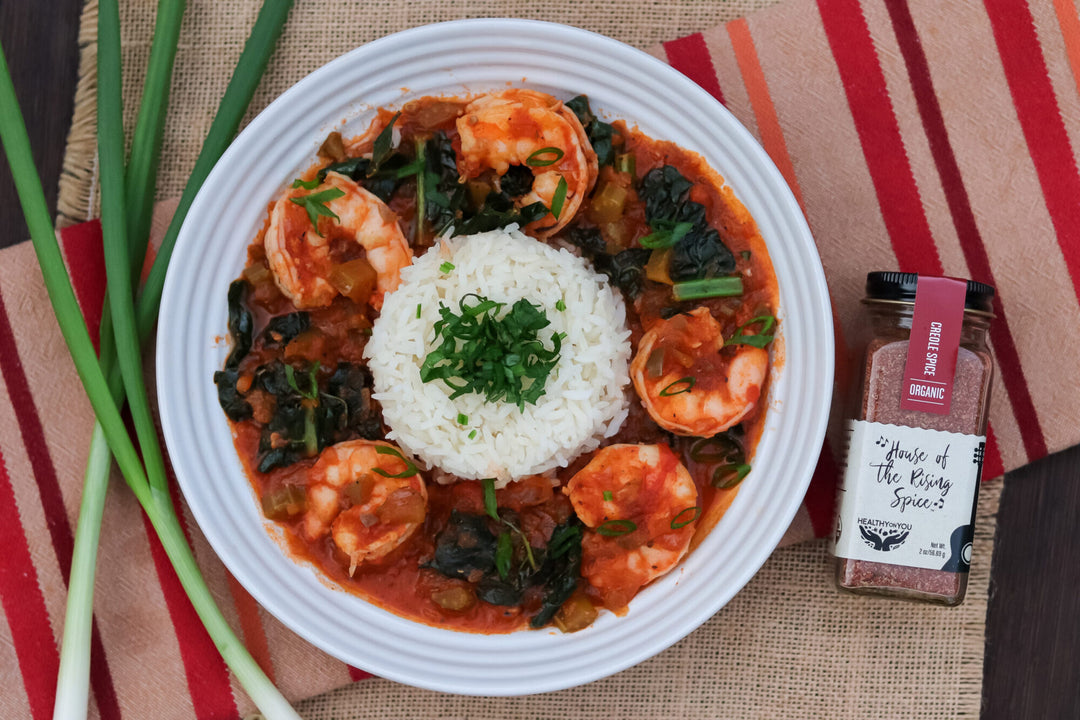 Creole Shrimp And Corn Sheet Pan Dinner
Sometimes quick and easy is best but NEVER without sacrificing flavor! This delicious and simple sheet pan dinner is perfect for those nights where keeping nice and easy, easy and satisfying is what we are looking for. This dish can serve 6-8 people especially if you add cooked rice.
View Recipe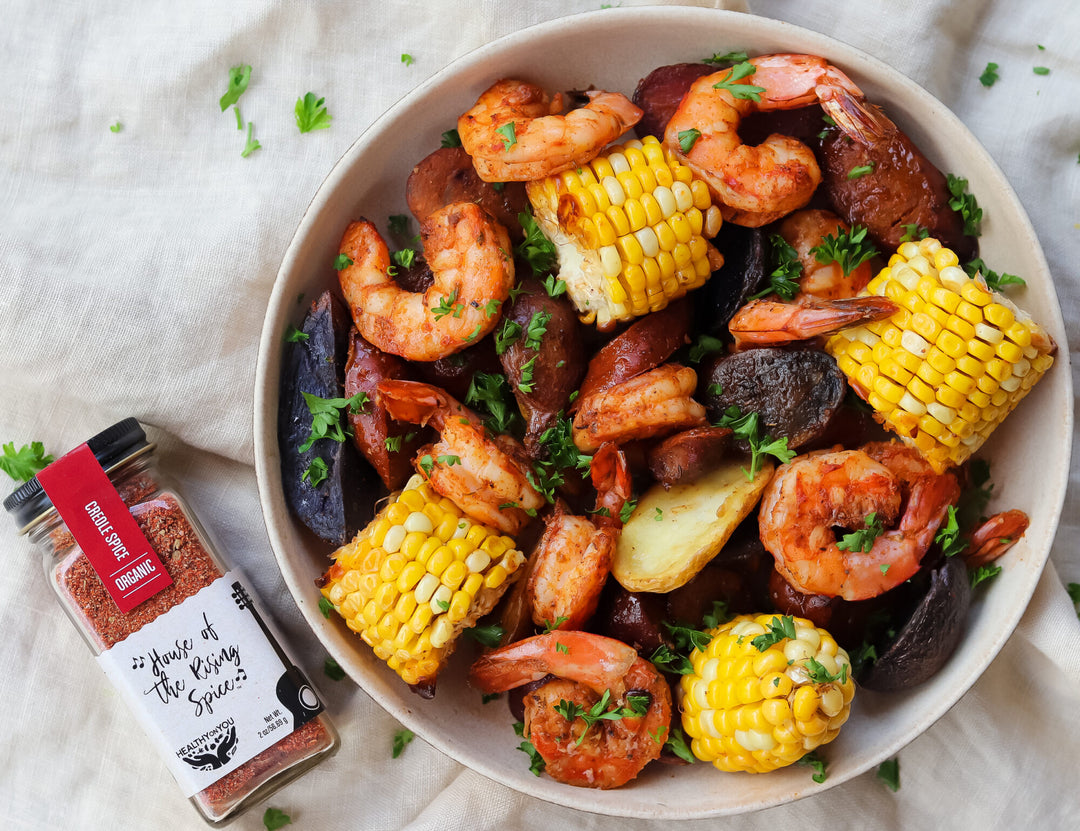 Learn How to Cook
With Our Blends

At Healthy On You®, we feel it is integral to give back to our communities and those in need. We have carried out this mission by offering donation-based cooking classes, we call our Cooking for a Cause series. All proceeds are donated to that classes's charity of choice, typically a cause fighting for social justice and equality. Join us to learn how to cook with your favorite Healthy On You® blends, support a great cause, and meet others who share a similar passion for flavorful, nutritious food!