Featured product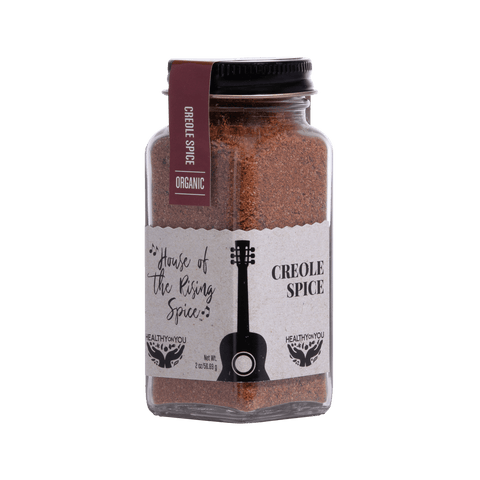 House of the Rising Spice
Creole Spice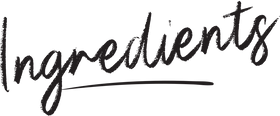 FOR THE WINGS
3 lbs organic chicken wings
2-3 tbsp Healthy On You® House of the Rising Spice Creole Spice Blend
1 tsp sea salt
FOR THE DIPPING SAUCE
½ cup Greek yogurt
½ cup sour cream
2 tsp Healthy On You® House of the Rising Spice Creole Spice Blend
2 tsp fresh lemon juice
1 clove garlic, minced
¼ tsp cayenne pepper (optional if you want more spice)
sea salt to taste
MAKE THE CHICKEN WINGS
Pre-heat air fryer to 360°F and spray with a small amount of olive oil to prevent sticking.
In a large ziplock bag, add the chicken, House of the rising spice, and sea salt. Shake the bag, making sure to coat the chicken wings with the seasonings.
When heated, add the chicken to the air fryer. Cook the chicken for 18 minutes, flipping the wings every 6 minutes or so.
In the last 6 minutes, increase the heat to 390°F and cook until crispy.
MAKE THE DIPPING SAUCE:
In a bowl, combine all the dipping sauce ingredients. Divide into two smaller sipping bowls and serve with the wings.
Coffee Roast Rub
dinner
Hit the Roast Jack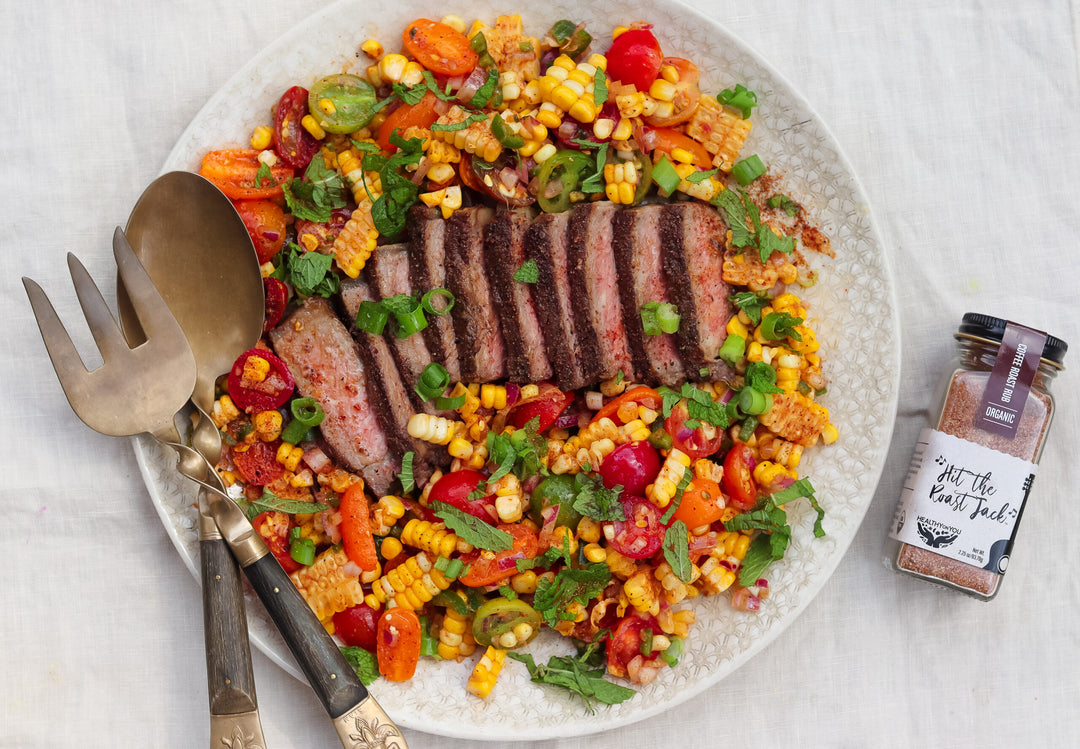 Creole Shrimp And Corn Sheet Pan Dinner
Sometimes quick and easy is best but NEVER without sacrificing flavor! This delicious and simple sheet pan dinner is perfect for those nights where keeping nice and easy, easy and satisfying is what we are looking for. This dish can serve 6-8 people especially if you add cooked rice.
View Recipe
Creole
dinner
House of the rising Spice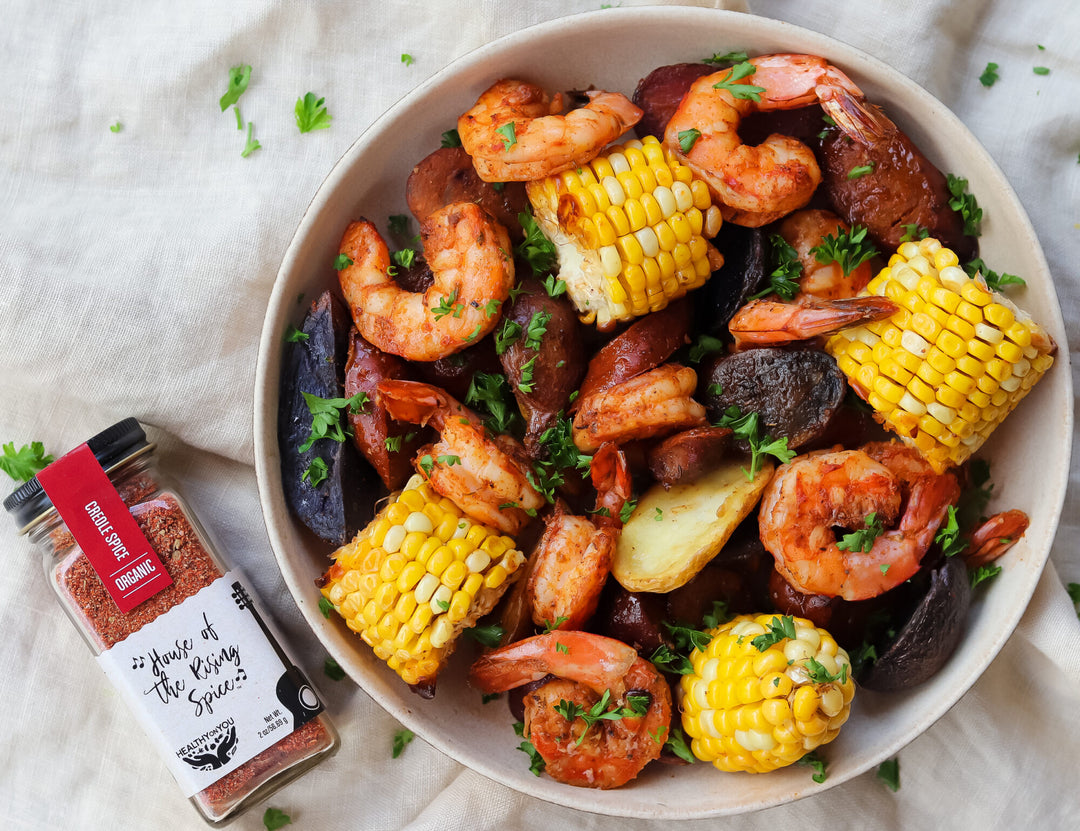 Vegan Crab Cakes with Creole Aioli
It's crazy to think this recipe is crab-free, gluten-free and dairy-free…but it is, and it's absolutely delicious. I'm a big fan of crab cakes but when I can find a way to make them meat-free and healthier, I am all for it.
View Recipe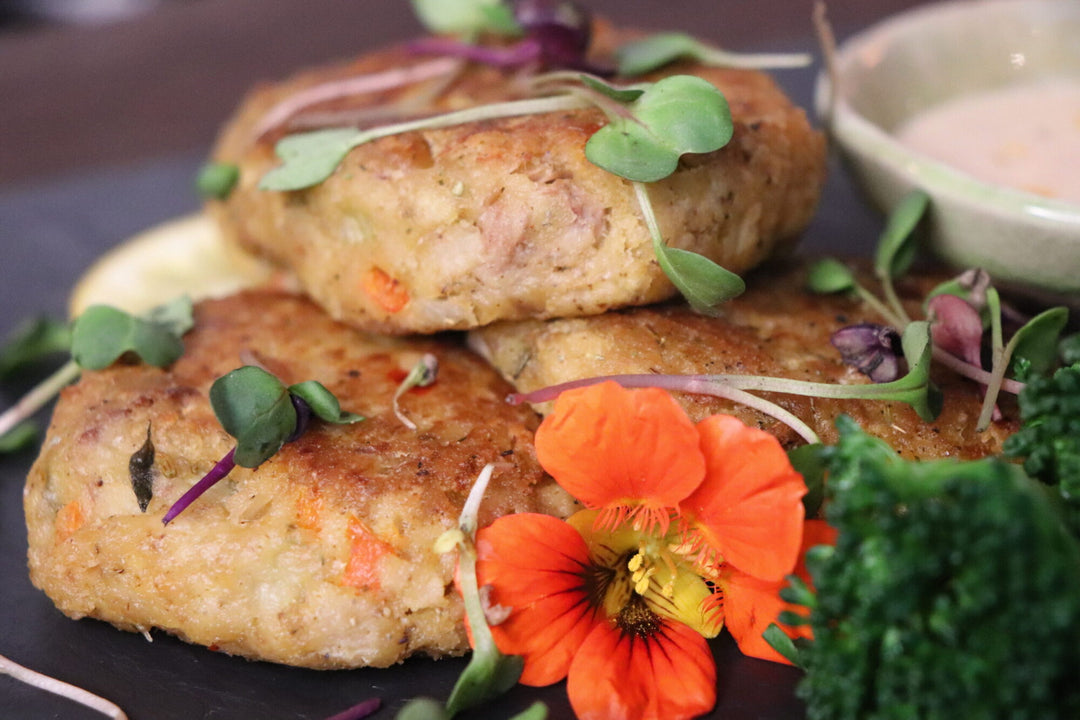 Learn How to Cook
With Our Blends

At Healthy On You®, we feel it is integral to give back to our communities and those in need. We have carried out this mission by offering donation-based cooking classes, we call our Cooking for a Cause series. All proceeds are donated to that classes's charity of choice, typically a cause fighting for social justice and equality. Join us to learn how to cook with your favorite Healthy On You® blends, support a great cause, and meet others who share a similar passion for flavorful, nutritious food!