Featured product
Here Comes The Yum
Turmeric Ginger Spice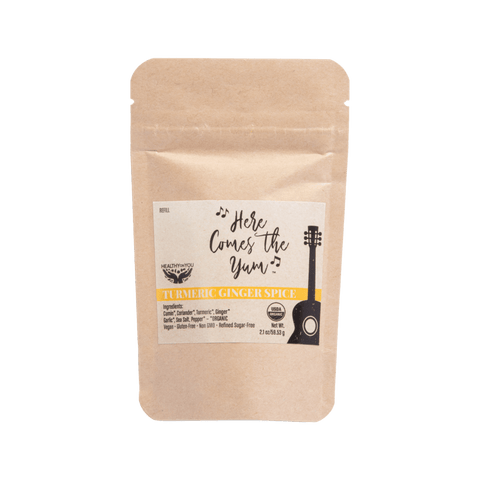 Here Comes The Yum Refill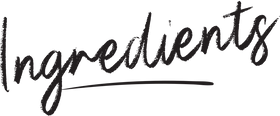 2 medium-sized Delicata squash, peeled, seeded and cut into cubes
1 sweet potato, peeled and cut into cubes
3 tbsp olive oil
1 medium yellow onion, chopped
3 garlic cloves, minced
2 tbsp Here Comes the Yum Turmeric Ginger Spice
4 cups vegetable broth
1 15 oz. can unsweetened coconut milk
1 tbsp fresh lime juice
sea salt
black pepper
Fresh mint leaves for garnish
For the topping
½ cup pumpkin seeds
¼ cup unsweetened coconut flakes
1 tbsp Here Comes the Yum Turmeric Ginger Spice
Zest of one Lime
pinch of cayenne pepper
Start with the topping: add all the topping ingredients to a small baking sheet and bake in the oven at 350˚F for 10 minutes, watching carefully and turning halfway. Keep a close eye on them-they can scorch quickly. When golden brown, remove from the oven and set aside.
Use a dutch oven or large soup pot to make the soup. Over medium high heat, add the olive oil. When hot, add the onion and allow to sweat for 2-3 minutes until translucent. Add the garlic, and sauté for one minute then add the Here Comes the Yum Turmeric Ginger Spice. Sauté the vegetables and allow the spices to cook for 2 minutes.
Add the Delicata squash, sweet potato and vegetable broth. Bring to a boil, cover and cook for 25 minutes.
When cooked, use an immersion blender to puree in the same pot. Alternately, transfer the soup to a high powered blender and puree, then carefully return to the same soup pot.
Add the coconut milk to the soup, bring back to a gentle boil. Season with salt and black pepper to taste. Remove from heat and add the lime juice.
Ladel the soup into individual bowls and sprinkle with the roasted nut mixture and fresh mint.
Carrot and Asian Pear Soup with Mint Pistou and Walnuts
On Orcas Island where I spend time during the summer and fall months, we have an Asian pear tree. The pears are ripe late August to mid-September and I love finding delicious ways to eat them. Carrot and ginger soup is one of my favorites but I wondered how I could incorporate Asian pears into the mix. If you can't find Asian pears try using a Anjou pears instead.
View Recipe
Dairy-Free
dinner
Gluten-Free
Here Comes the Yum
lunch
Soup/Salad
Turmeric Ginger Spice
vegan
vegetarian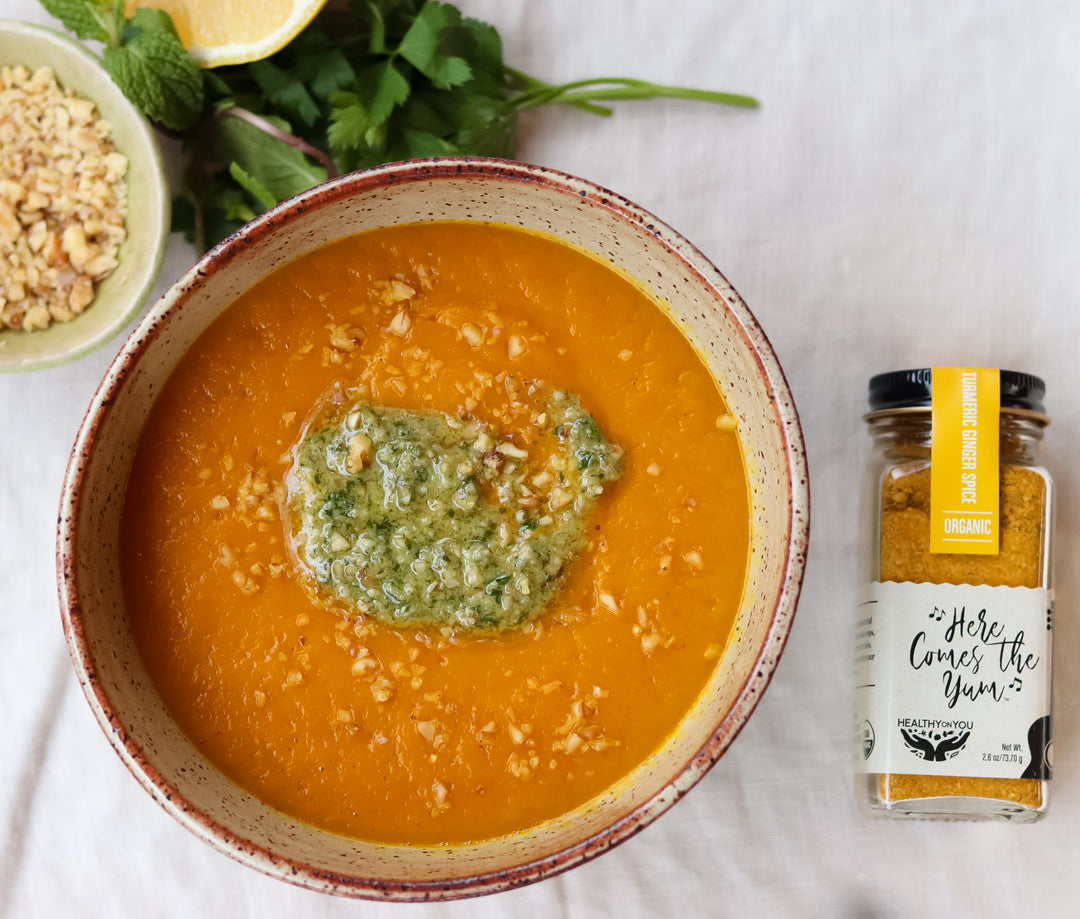 Gingery Turmeric Meatball Soup
These days, I'm eating and drinking a lot of turmeric and ginger-spiced food and drinks. The health benefits are undeniable so it's no surprise I am posting quite a few recipes recently with these incredible ingredients. This gingery turmeric meatball soup is super for both sunny days and rainy days alike when you are needing a little immune booster.
View Recipe
Dairy-Free
dinner
Gluten-Free
Here Comes the Yum
Low Carb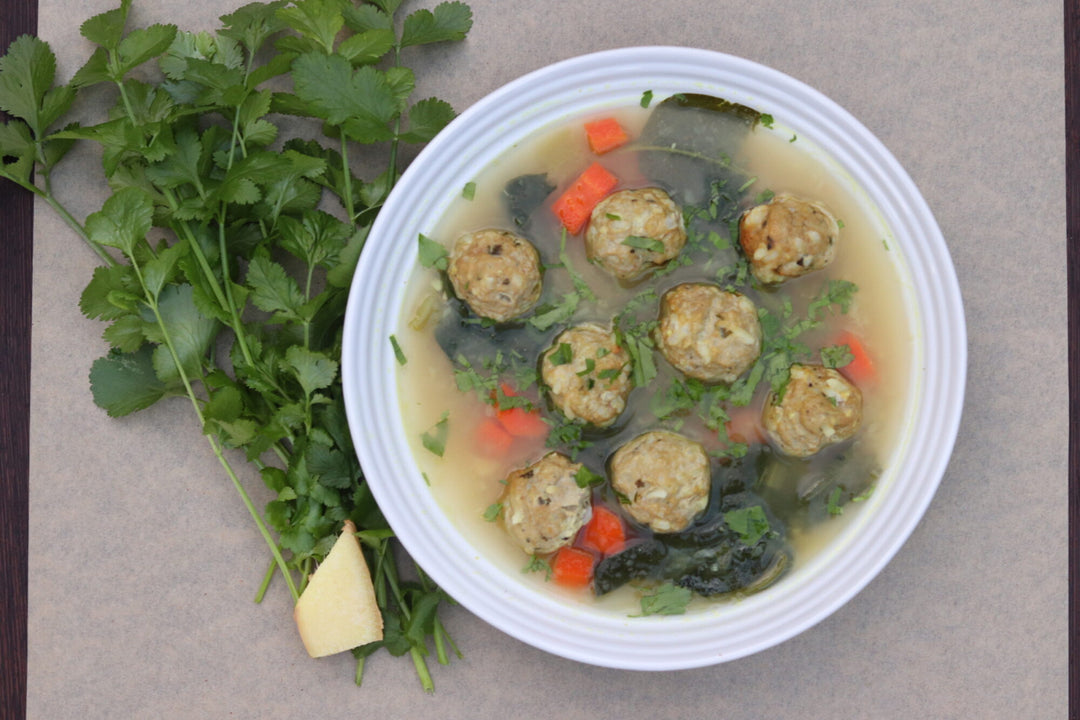 Apple Fennel & Turmeric Soup
Looking for the perfect fall soup for Thanksgiving and beyond? Look no further than our Apple Fennel and Turmeric Soup! This recipe is great to make in batches for meal prep. It can be fancy if you want to add it into a roasted pumpkin bowl or paired with a salad and it's a delicious starter at your Thanksgiving table.
View Recipe
dinner
Here Comes the Yum
Turmeric Ginger Spice
vegan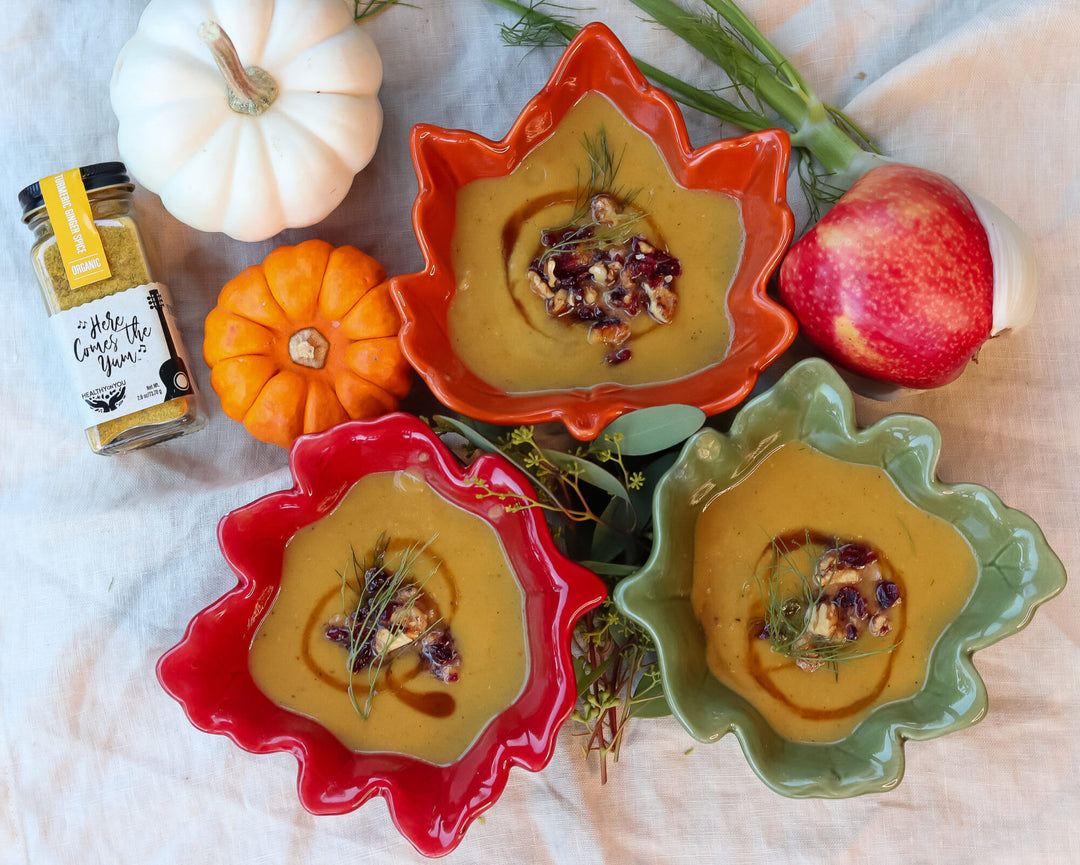 Learn How to Cook
With Our Blends

At Healthy On You®, we feel it is integral to give back to our communities and those in need. We have carried out this mission by offering donation-based cooking classes, we call our Cooking for a Cause series. All proceeds are donated to that classes's charity of choice, typically a cause fighting for social justice and equality. Join us to learn how to cook with your favorite Healthy On You® blends, support a great cause, and meet others who share a similar passion for flavorful, nutritious food!