Featured product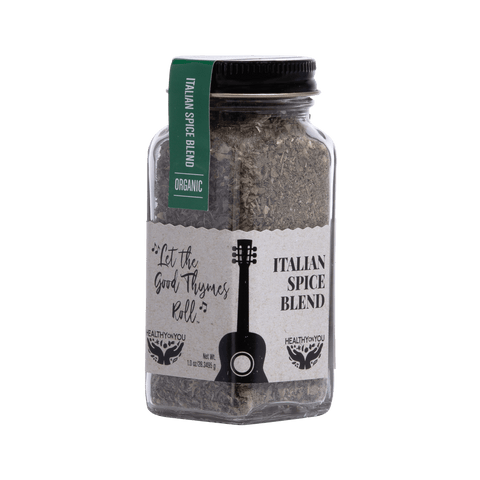 Let The Good Thymes Roll
Italian Spice Blend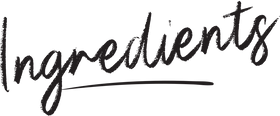 1 lb. chicken thighs cut into strips
2 medium Italian eggplants, cut lengthwise into 10 (¼-inch thick) slices
1 tbsp Healthy On You® Let the Good Thymes Roll spice blend.
1 ½ cups marinara sauce
1 large egg
½ cup part skim ricotta cheese
½ cup grated Pecorino Romano cheese, plus more for serving
8 ounces frozen spinach, heated through and squeezed well
1 garlic clove, minced
1 cup shredded part-skim mozzarella
sea salt and fresh black pepper, to taste
fresh parsley for garnish
Cut the 2 ends off of the eggplants. Cut the eggplants lengthwise, into ¼-inch thick slices until you have a total of 10 slices about the same size. It's easiest to do this with a mandolin. My mandolin is from OXO
Preheat oven to 400°F. Season the eggplant with salt and pepper, then arrange on two parchment-lined baking sheets. Cover tightly with foil and bake until eggplant is tender and pliable but NOT fully cooked, about 8 to 10 minutes.
Season the chicken strips with salt and pepper, and the Healthy On You® Let the Good Thymes Roll Italian spice and set aside.
Spread ¼ cup marinara sauce on the bottom of a 13 x 9-inch baking dish
In a medium bowl, beat the egg then mix together with ricotta, Pecorino Romano, spinach, garlic, a pinch of salt and pepper.
Pat eggplant dry with paper towels. Dividing the ricotta-spinach mixture (about 2 generous tablespoons each) evenly and spoon onto one end of each eggplant slice, spreading to cover. Add 1-2 strips of chicken on top of the mixture.
Starting at the short end, roll up slices and arrange them each seam side down in the prepared dish. Top with remaining marinara sauce and mozzarella cheese and tightly cover with foil.
Bake until the eggplant is very tender and the chicken fully cooked about 60 minutes.
You can remove the foil 10 minutes before to allow the top to brown.
Remove from oven and let cool 5 minutes before serving with additional Pecorino Romano if desired.
Zucchini Pinwheel Enchiladas
This lighter version of enchiladas is not only delicious but really fun to make. Its also a great way to use leftovers. I had some leftover black beans that I made because I was all out of any bean in a can and decided to draw from the dried beans I had collected at the beginning of the pandemic. So here I am with these dried beans and I decided to pressure cook two cups in my Instant Pot and it was a lot. I used some of the beans for tacos and the leftovers I used for this incredible dish.
View Recipe
dinner
Gluten-Free
Low Carb
lunch
Something to Taco 'Bout
Lemon Sole Pinwheels Stuffed with Fresh Crab, Artichoke and Spinach
This delicious and surprisingly simple fish recipe is from a class I taught earlier this year. It was beautifully paired with Halter Ranch Vineyards 2015 Grenache Blanc wine. If you enjoy fish as a part of your healthy lifestyle, this recipe is a game changer. It's low calorie, visually impressive and of course, healthy.
View Recipe
Dairy-Free
dinner
Fish You Were Here
Low Carb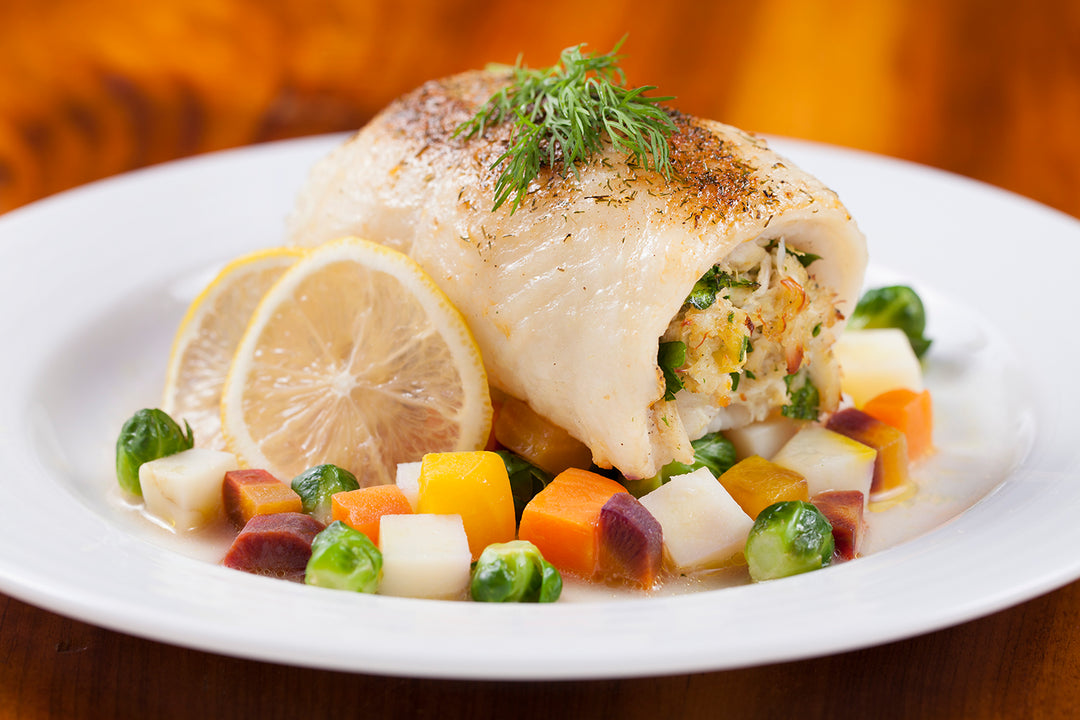 Roasted Chicken Thighs with Tomato and Eggplant
This dish is a crowd-pleaser and great for a dinner party. Freeze the leftovers and have the perfect meal at the ready on weeknights when time is of the essence. I always peruse the fridge for vegetables and foods that should be used up, honoring my pledge this year of reducing our food waste. So, eggplant and tomatoes were plenty and needed to be used. That's how this delicious recipe came about.
View Recipe
Dairy-Free
dinner
Gluten-Free
Italian Spice Blend
Let the Good Thyme Roll
Low Carb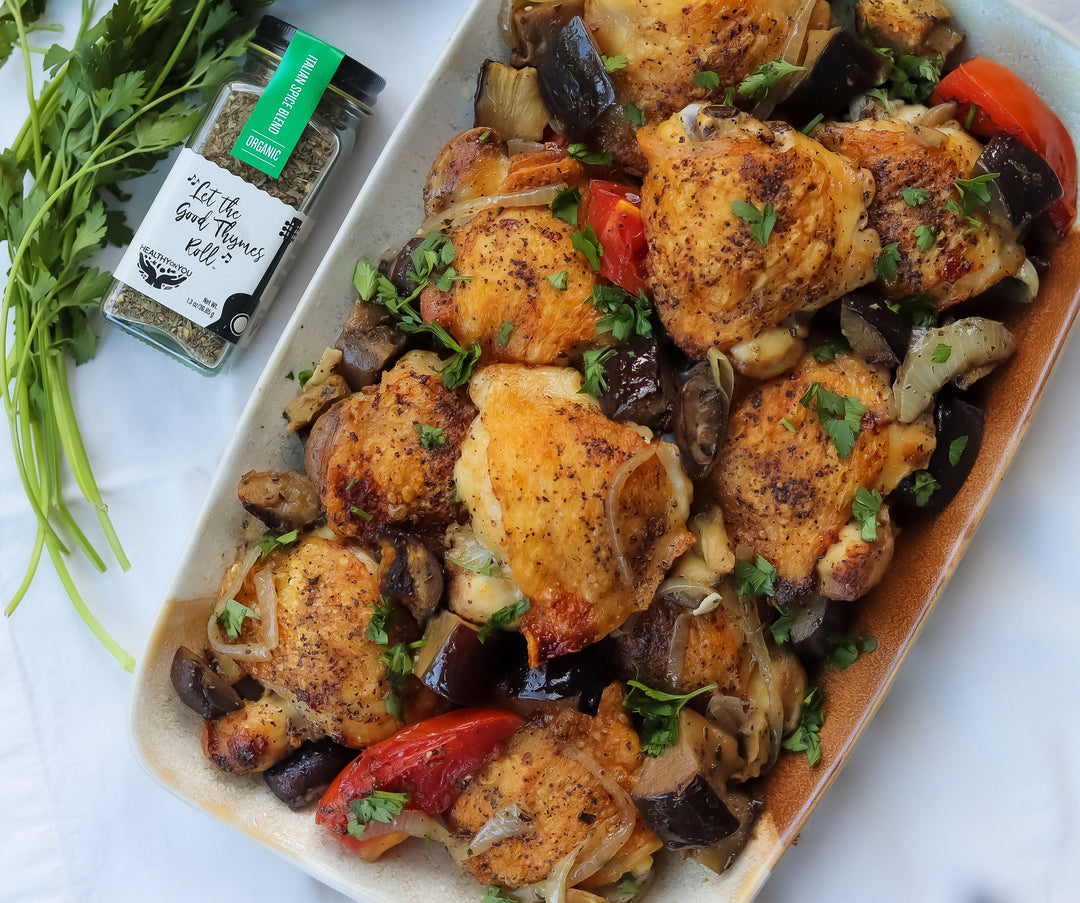 Learn How to Cook
With Our Blends

At Healthy On You®, we feel it is integral to give back to our communities and those in need. We have carried out this mission by offering donation-based cooking classes, we call our Cooking for a Cause series. All proceeds are donated to that classes's charity of choice, typically a cause fighting for social justice and equality. Join us to learn how to cook with your favorite Healthy On You® blends, support a great cause, and meet others who share a similar passion for flavorful, nutritious food!