Featured product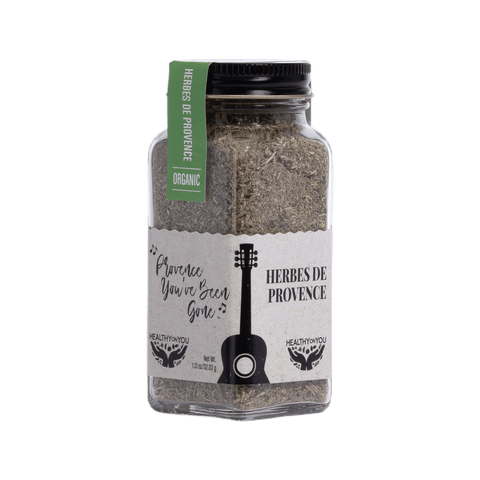 Provence You've Been Gone
Herbes de provence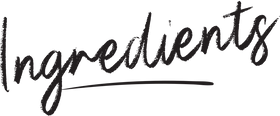 1 lbs. ground chicken
4 tbsp olive oil, separated
1 cup peeled and diced apples
1 medium onion, diced and separated
2 tsp Healthy On You® Provence You've Been Gone spice blend
¼ tbsp crumbled feta
1 tsp sea salt
1 cup cracked Freekeh grain
4 cups chicken stock
1 14 oz. can chickpeas, drained
2 medium carrots, chopped
1 celery stalk, diced
more sea salt and black pepper to taste
fresh marjoram leaves
MAKE THE MEATBALLS
Heat a frying pan over medium heat and add 2 tbsps of the olive oil. Add ½ the onions and cook until transparent and soft. about 3 minutes.
Add the apples, Provence You've Been Gone spice blend and the sea salt and combine. Sauté for 5 minutes and remove from heat and allow to cool.
In a medium-sized bowl, add the ground chicken. Using a wooden spoon, break up the meat and add the cooled onion/apple mixture. Stir to incorporate.
Gently roll in the feta cheese crumbles and combine well.
break off small pieces of the chicken mixture and roll into meatballs and set aside.
MAKE THE SOUP
Heat the last 2 tbsp of olive oil in a soup pot over medium heat.
Add the other ½ of the onion, celery, and carrots and cook over medium heat until the onions soften about 5-7 minutes.
Add the chicken stock, chickpeas and Freekah grains.
Cover and cook for 35 minutes, until the Freekah is soft.
Add in the meatballs and cook for 10 additional minutes.
Remove from the stove adjust the seasoning withs alt and pepper, needed and garnish with fresh marjoram leaves.
Fire Roasted Tomato Soup with Turkey Meatballs
I'm loving this delicious, healthy and little spicy spin on your typical minestrone soup. First, I skip the regular canned tomatoes and use organic fire roasted tomatoes to give this dish an extra kick. Instead of pasta, chickpeas do the trick here to add a nice texture and a dose of fiber. Ground turkey is my go to when making meatballs but you can all always substitute with another organic, grass-fed meat of your choice.
View Recipe
dairy
Dairy-Free
dinner
Gluten-Free
low-crab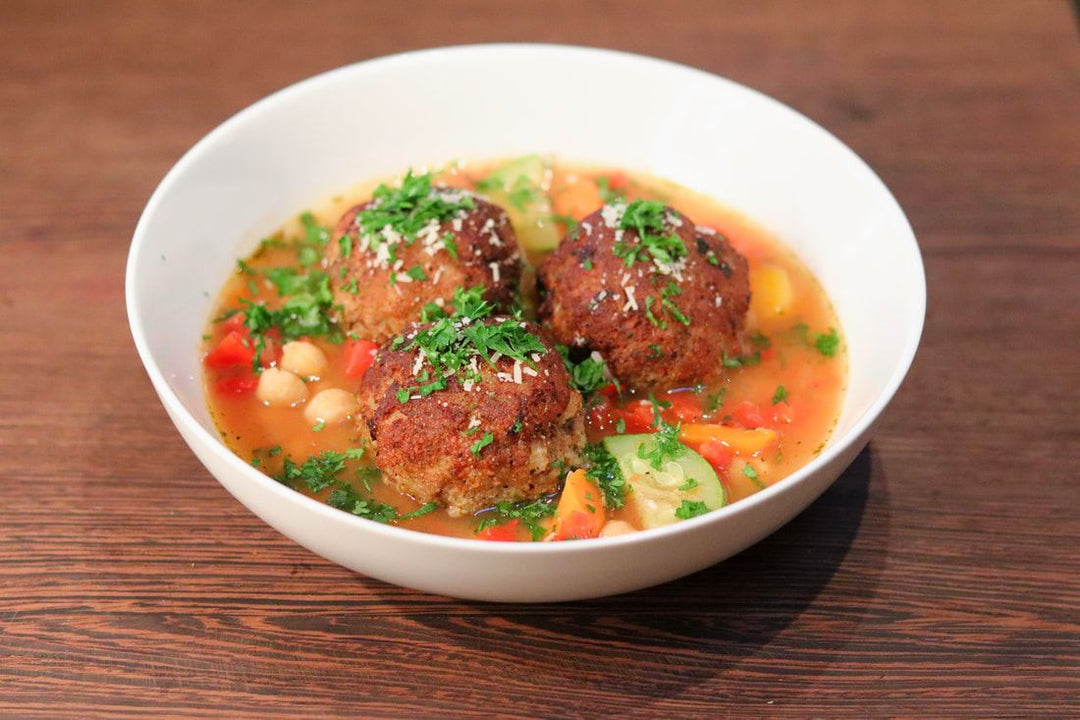 Gingery Turmeric Meatball Soup
These days, I'm eating and drinking a lot of turmeric and ginger-spiced food and drinks. The health benefits are undeniable so it's no surprise I am posting quite a few recipes recently with these incredible ingredients. This gingery turmeric meatball soup is super for both sunny days and rainy days alike when you are needing a little immune booster.
View Recipe
Dairy-Free
dinner
low-crab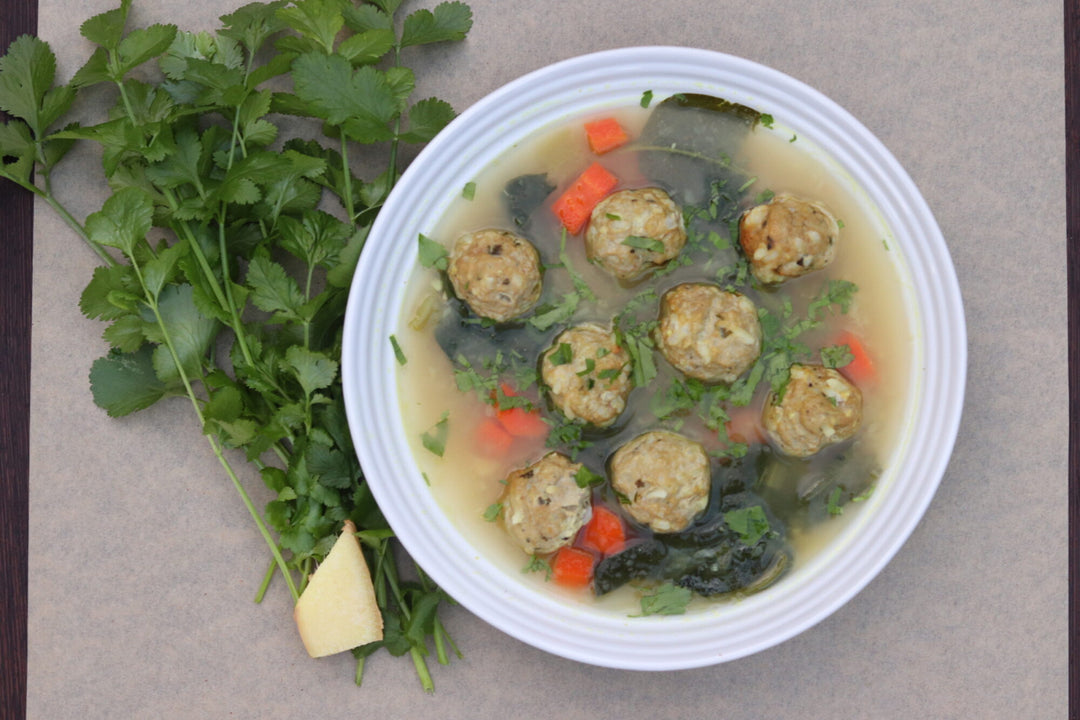 Za'atar Spiced Lentil Meatballs With Sweet Potato Noodles
This is such a yummy and versatile recipe for any time of the year. The lentil mixture is wholesome and nutritiously packed with fresh vegetables. This recipe has quite a few ingredients, but my suggestion would be to double the recipe and freeze half of the lentil balls on a metal tray individually before putting them together in the freezer. They can last months and you will have these meatballs at the ready!
View Recipe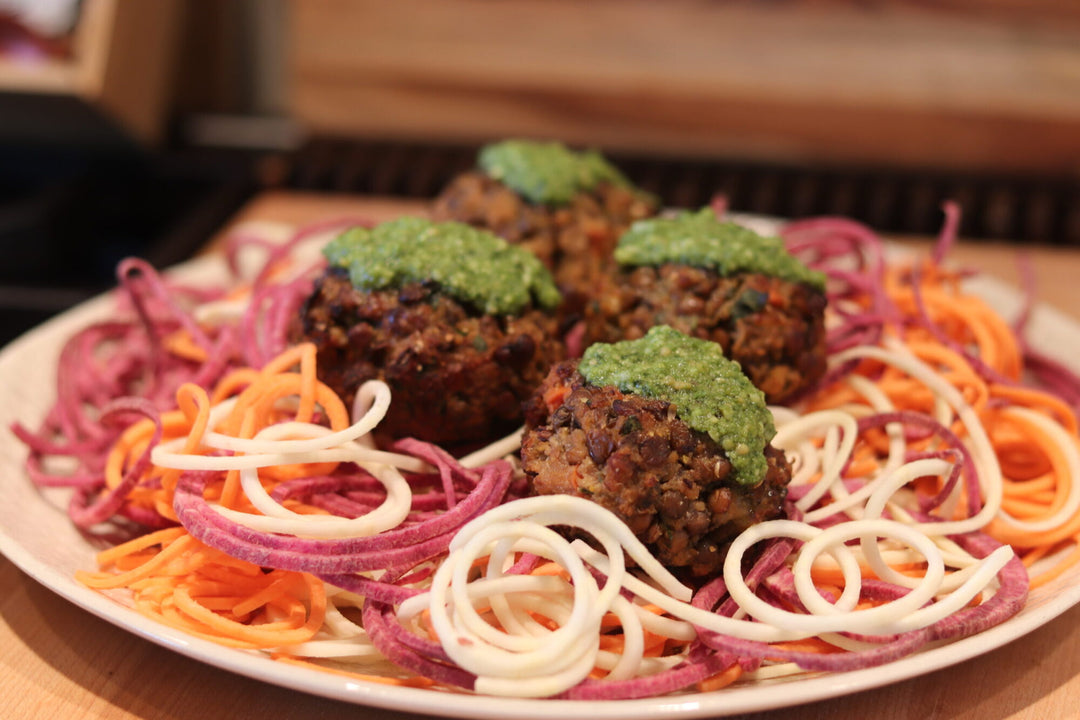 Learn How to Cook
With Our Blends

At Healthy On You®, we feel it is integral to give back to our communities and those in need. We have carried out this mission by offering donation-based cooking classes, we call our Cooking for a Cause series. All proceeds are donated to that classes's charity of choice, typically a cause fighting for social justice and equality. Join us to learn how to cook with your favorite Healthy On You® blends, support a great cause, and meet others who share a similar passion for flavorful, nutritious food!