Featured product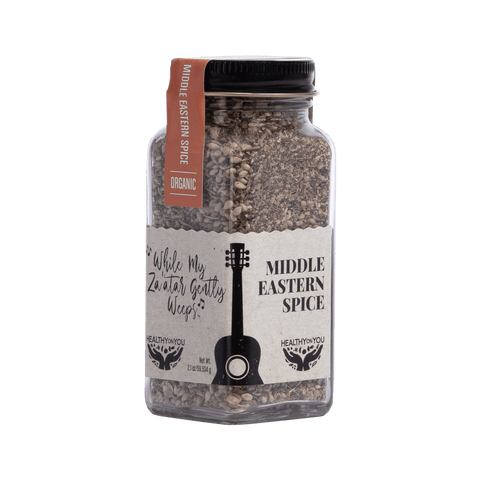 While My Za'atar Gently Weeps
Middle Eastern Spice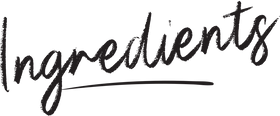 TO MAKE THE LENTIL MEATBALLS AND SWEET POTATO NOODLES
1½ cups cooked lentils (I use Trader Joes precooked steamed lentils)
3 small sweet potatoes (purple, orange, white) spiralized
¼ cup olive oil
2 cups or 2 medium sized carrots, diced
2 cups celery diced
1 large onion
2 cloves garlic, peeled and minced
½ cup gluten-free breadcrumbs
1 cup crimini mushrooms, diced
3 organic eggs, beaten
2 tbsp Healthy On You® While My Za'atar Gently Weeps spice blend
½ cup parmesan cheese
2 tsp sea salt
fresh cracked pepper
TO MAKE THE MINT PISTOU
¼ cup mint leaves
¼ cup parsley leaves
3 cloves peeled garlic
½ cup raw walnuts
2 tbsp lemon juice
½ tsp sea salt
PREPARE THE LENTIL MEAT BALLS
Preheat the oven to 400 F.
Prepare a 9x13 baking sheet with parchment paper and set aside.
In a medium saucepan, heat the olive and add the onions; Saute for 2 minutes and add the garlic, carrots, celery, sea salt and While My Za'atar Gently Weeps spice blend. Saute the mixture for 5 minutes; add the mushrooms and cook until the mixture reduces and there is very little water remaining in the pan.
Remove from the heat and add the lentils, bread crumbs, eggs and mix thoroughly until combined. If the mixture is wet, add more breadcrumbs.
Scoop about two tablespoons of the mixture into your palm and roll into a ball and place on the baking sheet. Repeat for the remaining mixture.
Place into the oven and bake for 30 minutes.
MAKE THE PISTOU
In a small food processor, add the olive oil, parsley, mint, walnuts, garlic, lemon juice and sea salt.
Blend until the mixture is smooth. with a rubber spatula, scrape the contents from the processor and set aside.
PREPARE THE SWEET POTATOES
In a large steamer, bring 2 cups of water to a boil and add the spiralized sweet potatoes. Allow to cook for 2-3 minutes. Do not cook for too long otherwise, the noodles will break apart.
PUT IT ALL TOGETHER
Place the sweet potato noodles on a plate, add the cooked meatballs and top with the mint pistou.
Fire Roasted Tomato Soup with Turkey Meatballs
I'm loving this delicious, healthy and little spicy spin on your typical minestrone soup. First, I skip the regular canned tomatoes and use organic fire roasted tomatoes to give this dish an extra kick. Instead of pasta, chickpeas do the trick here to add a nice texture and a dose of fiber. Ground turkey is my go to when making meatballs but you can all always substitute with another organic, grass-fed meat of your choice.
View Recipe
dairy
Dairy-Free
dinner
Gluten-Free
Italian Spice Blend
Let the Good Thyme Roll
low-crab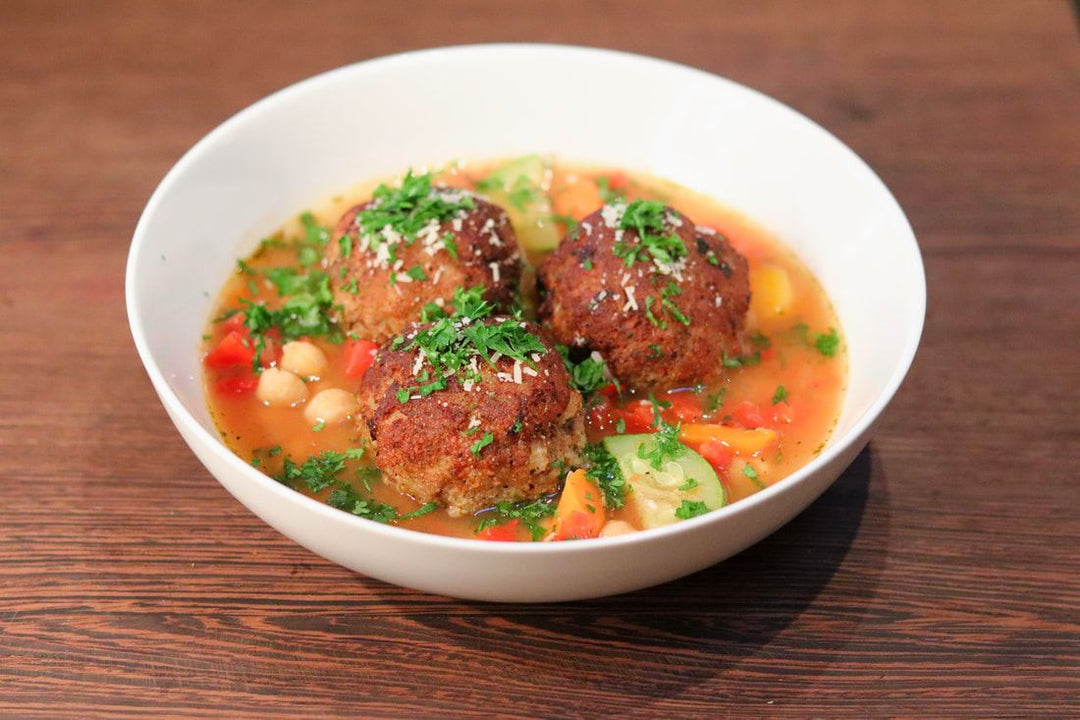 Freekeh Soup with Herby Chicken Apple Meatballs
This is one amazing bowl of soup. It's hearty with chunks of vegetables and loaded with Freekeh, a middle eastern grain that is smoky and savory on its own. This soup is perfect for meal prepping because you can prepare a large pot and have plenty left over for the freezer and weekday lunches. Don't skip the fresh marjoram, it makes the soup really fragrant and gives it even more flavor the next day.
View Recipe
Gingery Turmeric Meatball Soup
These days, I'm eating and drinking a lot of turmeric and ginger-spiced food and drinks. The health benefits are undeniable so it's no surprise I am posting quite a few recipes recently with these incredible ingredients. This gingery turmeric meatball soup is super for both sunny days and rainy days alike when you are needing a little immune booster.
View Recipe
Dairy-Free
dinner
Gluten-Free
Here Comes the Yum
Low Carb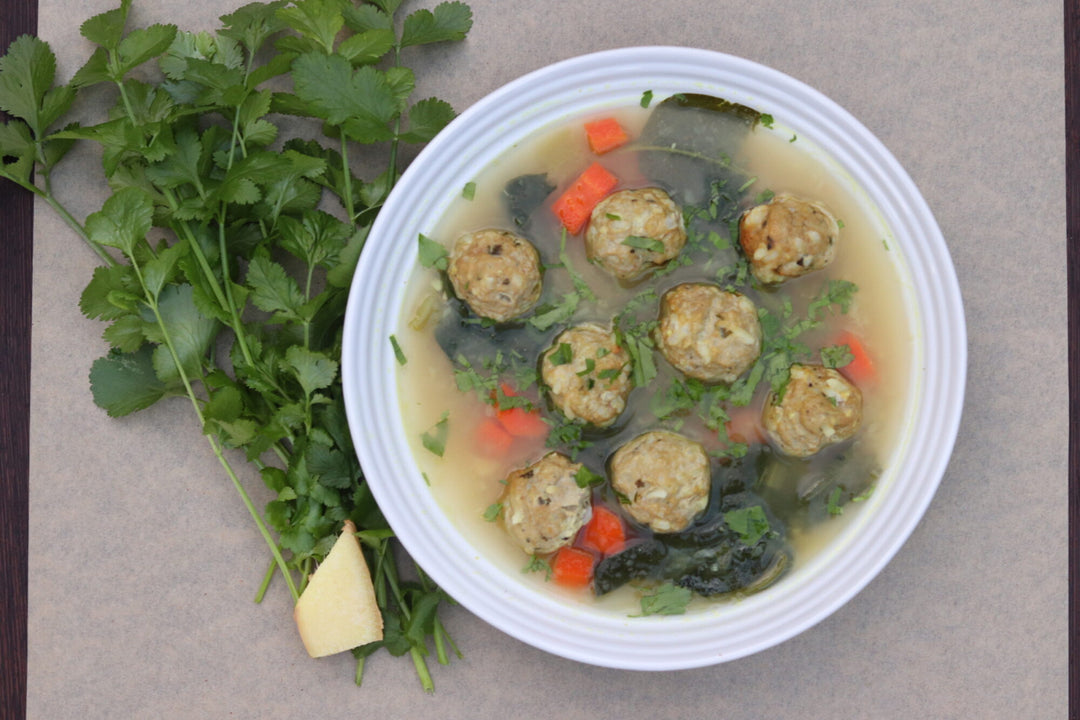 Learn How to Cook
With Our Blends

At Healthy On You®, we feel it is integral to give back to our communities and those in need. We have carried out this mission by offering donation-based cooking classes, we call our Cooking for a Cause series. All proceeds are donated to that classes's charity of choice, typically a cause fighting for social justice and equality. Join us to learn how to cook with your favorite Healthy On You® blends, support a great cause, and meet others who share a similar passion for flavorful, nutritious food!