Featured product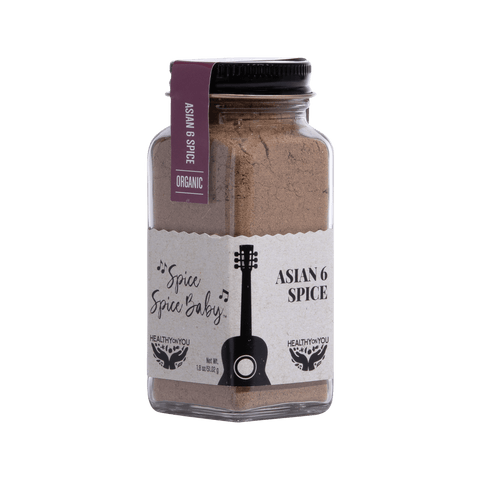 Spice Spice Baby
Asian 6 Spice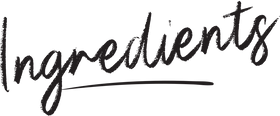 1 ½ lbs. chicken wings
2 cups shishito peppers
¼ cup grapeseed or another flavorless oil
¼ cup sesame oil
½ cup fresh lemon or lime juice
2 tsp Healthy On You® Spice Spice Baby Asian 6 Spice
1 large shallot minced
2 tbsp soy sauce
2 tbsp honey
½ tsp sea salt
¼ tsp black pepper
fresh herbs for garnish: mint, scallions, thai basil chopped
MAKE THE MARINADE
In a bowl, add the shallots, oils, lemon juice, soy sauce, honey, Spice Spice Baby spice blend, salt, and pepper. Mix well until the oil and ingredients are well combined.
MARINATE THE CHICKEN
In a large zip lock bag or container with a lid, add the chicken wings and pour ½ the dressing on top. Shake well and marinate for 1 hour or overnight.
Reserve the leftover marinade in an airtight container and refrigerate until ready to use.
GRILLING TIME!
Pre-heat your grill to medium-high. Remove the chicken from the marinade and discard the bag and juices.
Remove the extra dressing from the fridge and set aside.
When the grill is hot, add the chicken and cook for 10 minutes, turning occasionally so each side cooks evenly.
When finished, set aside on a platter and cook the shishito peppers.
In a small bowl, season the shishito peppers with salt and pepper and set on the grill turning occasionally for 5-8 minutes until they begin the bloat and blister. remove from the grill and add to the chicken.
Add the remaining dressing all over the chicken and shishito peppers, then scatter the fresh herbs over the platter. Enjoy!
Creole Spiced Dry Rubbed Wings
Nothing like nice crispy chicken wings for your Sunday afternoon game. These wings were seasoned with our House of the Rising Spice Creole spice blend and cooked in the air fryer with minimum oil to prevent sticking and then cooked to perfection. These wings were simple and come in under 30 minutes in the air fryer. You will love the bold flavors of paprika, celery, onion and garlic, and herbs that make this spice blend a total standout. Some may even say these are a total touchdown in flavor…
View Recipe
appetizer
Gluten-Free
low-crab
snack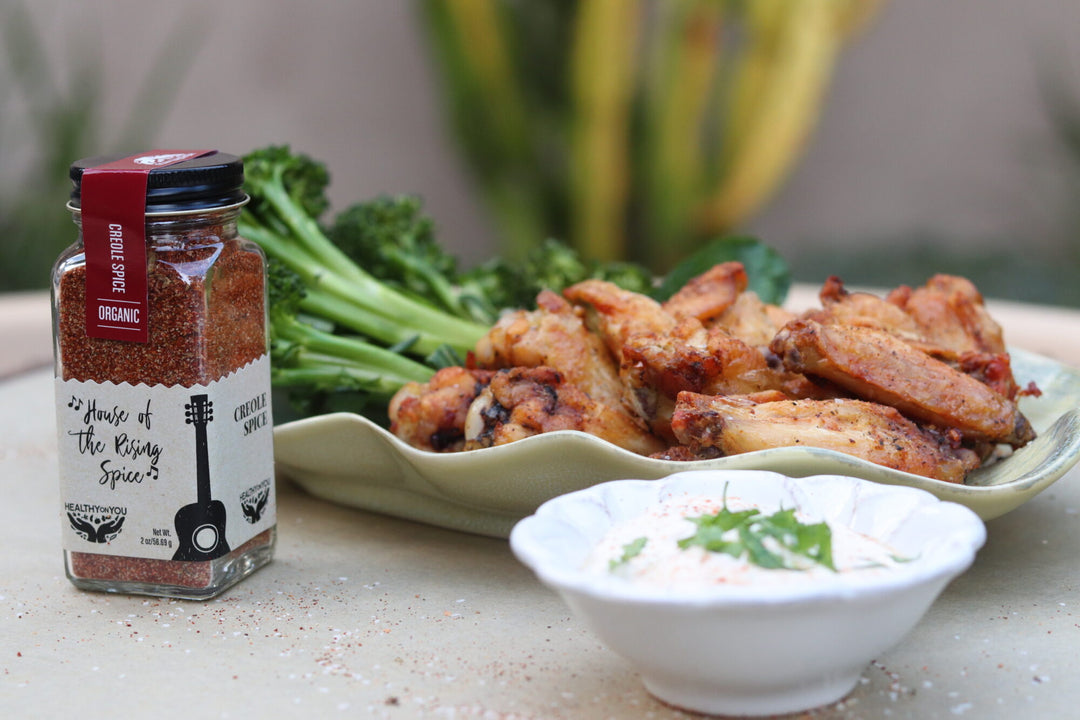 Jamaican Jerk Grilled Salmon With Island Salsa
This recipe screams summer and we love a good summer recipe especially one that's fresh and healthy! This salmon is true perfection. Our No Woman No Spice Jamaican Jerk spice blend is absolutely hands down a star in this one. It imparts the key island flavors we love: allspice, cinnamon, garlic, habanero (scotch bonnet) and much more blended just right to give that authentic flavor.
View Recipe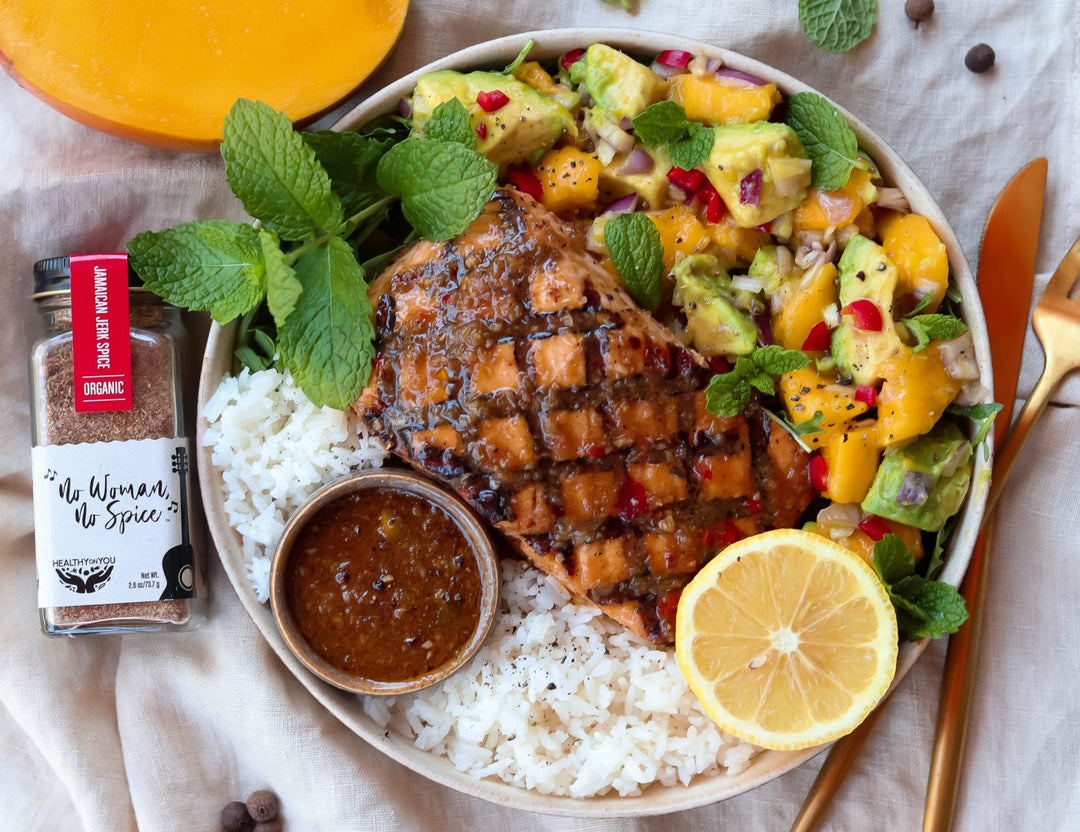 Grilled Stone Fruit & Halloumi Salad with Za'atar Spiced Vinaigrette
Happy Memorial Day! BBQs and cookouts in big groups are not happening where we are but we are thankful that in the year of a pandemic, we can still quietly acknowledge and be grateful for the service of our veterans.
View Recipe
Dairy-Free
dinner
Gluten-Free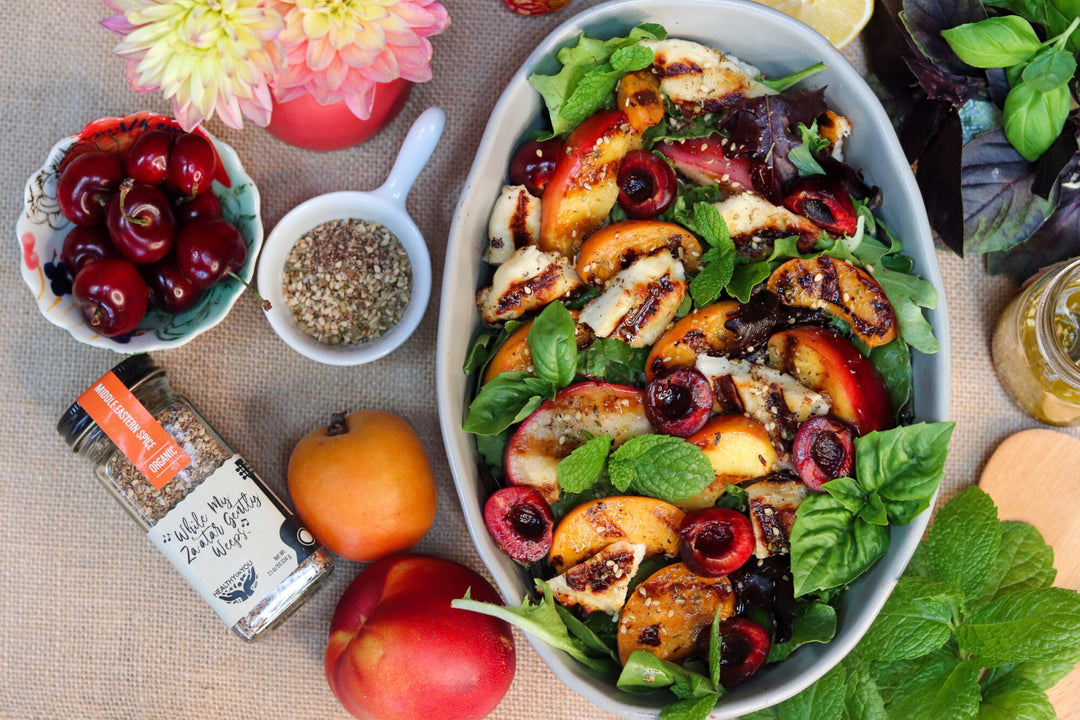 Learn How to Cook
With Our Blends

At Healthy On You®, we feel it is integral to give back to our communities and those in need. We have carried out this mission by offering donation-based cooking classes, we call our Cooking for a Cause series. All proceeds are donated to that classes's charity of choice, typically a cause fighting for social justice and equality. Join us to learn how to cook with your favorite Healthy On You® blends, support a great cause, and meet others who share a similar passion for flavorful, nutritious food!