Featured product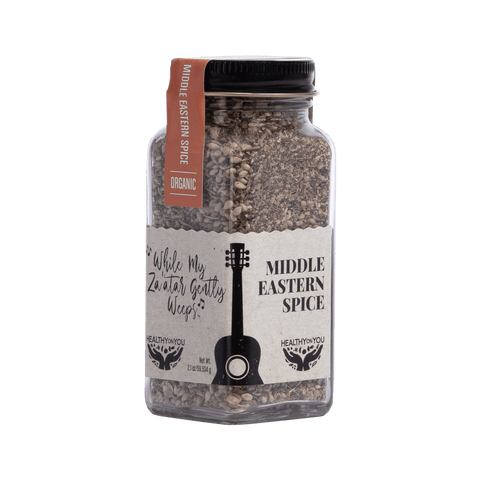 While My Za'atar Gently Weeps
Middle Eastern Spice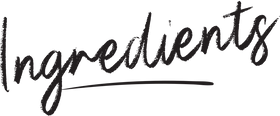 4-5 stone fruit: a variety of peaches, nectarines, apricots, plums, and a handful of cherries
2 thin slices of halloumi cheese (about 6 oz)
4 cups mixes greens
2 tbsp olive oil
2 tbsp Healthy On You® While My Za'atar Gently Weeps Middle Eastern Spice
1 tbsp Sherry vinegar
1 tbsp lemon juice
1 tsp honey
fresh herbs like basil and/or mint
Make the vinaigrette: In a small bowl, add the olive oil, sherry vinegar, While My Za'atar Gently Weeps spice blend, lemon juice, and honey. Whisk and set aside.
Half the cherries, if using and remove the pits, and set aside.
Grill the stone fruit: Cut the stone fruit into quarters and remove the pits. Be careful not to cut them too thin because you don't want to lose them through the BBQ grates.
Spray or brush the fruit and cheese with olive oil and grill over low heat for five minutes per side. Don't overcook or the fruit will become mushy. The cheese should take a few minutes longer to get the nice grill marks.
Remove the fruit and cheese from the heat and set aside to cool for 5-10 minutes. Chop the halloumi into 1-inch pieces.
Put the salad together: In a medium-sized bowl, add the salad greens and dress with half the za'atar dressing and toss well.
Top with the grilled fruit, cheese, fresh herbs, and cherry halves.
Drizzle the salad with the rest of the za'atar dressing and serve immediately. Enjoy
Coffee Spiced Corn Salad
This delicious easy side dish will be your new summer favorite! Our Healthy On You® Hit the Roast Jack Coffee Roast Rub is truly versatile giving a whole new dimension to this tasty, sweet and savory corn salad. This goes beautifully with our Coffee Rubbed Grilled Steak recipe for a delicious summer dinner.
View Recipe
Coffee Roast Rub
dinner
featured recipe
Hit the Roast Jack
lunch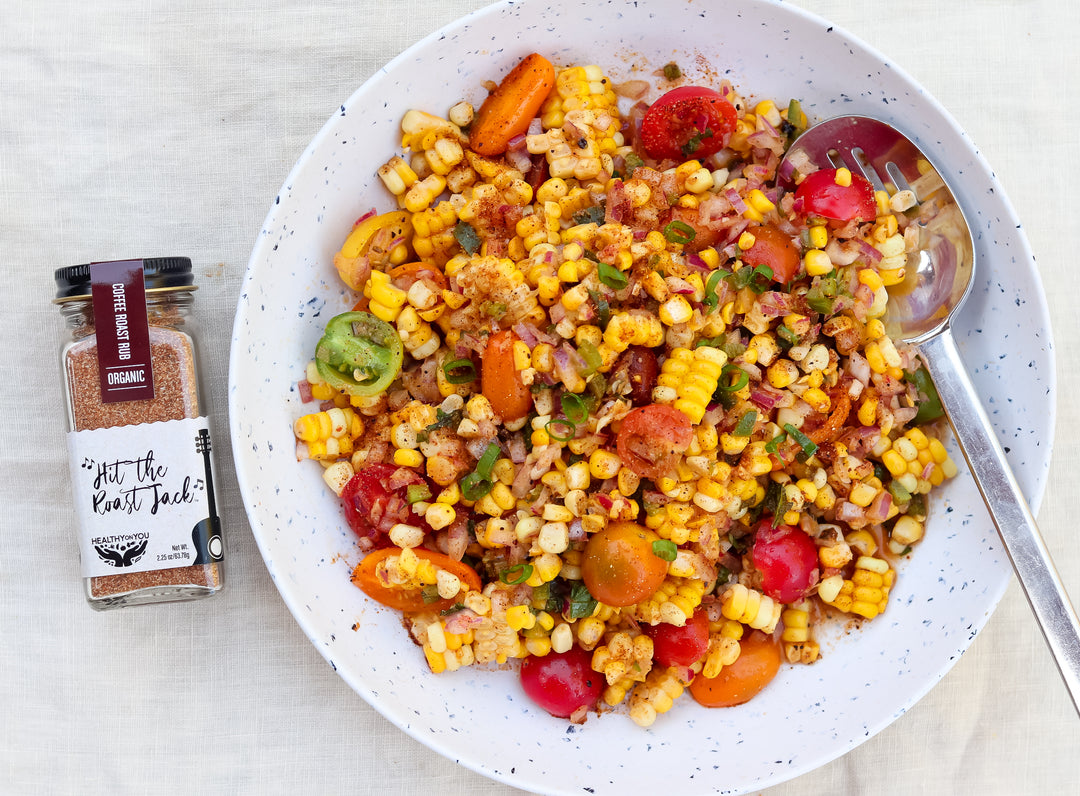 Crispy Kalette Salad with Garlic and Pomegranate
Years ago I had a few Kalette plants that outlasted every other vegetable in my garden and grew like trees. It's been difficult to find that particular variety these days, but I am lucky enough to have a great organic farm nearby and when I stopped in, they had kalettes. Kalettes are also known as kale sprouts and they are delicious when seasoned and roasted.
View Recipe
dinner
low-crab
Side
vegetarian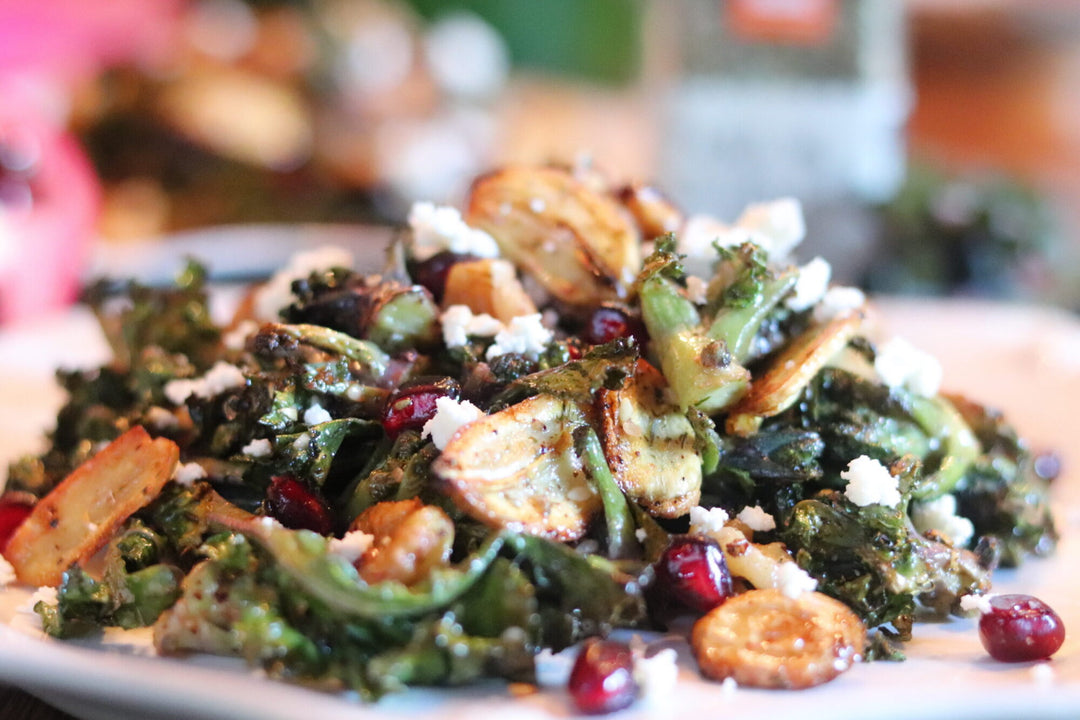 Harvest Quinoa Salad
One word… nutritious! This recipe is FULL of nutrients and fall flavor! Whether it's on your Thanksgiving table or enjoyed as a weeknight meal, it will not disappoint. Once again, we're finding delicious ways to incorporate squash into our recipes while it's in season. When roasting squash, the go-to is always our Healthy On You® Spice Spice Baby Spice Blend. The warm sweetness of the squash paired with the crisp apple, makes for a bite that screams fall. Take advantage of all the incredible produce that is in season right now and get cooking!
View Recipe
Dairy-Free
dinner
Gluten-Free
Side
vegan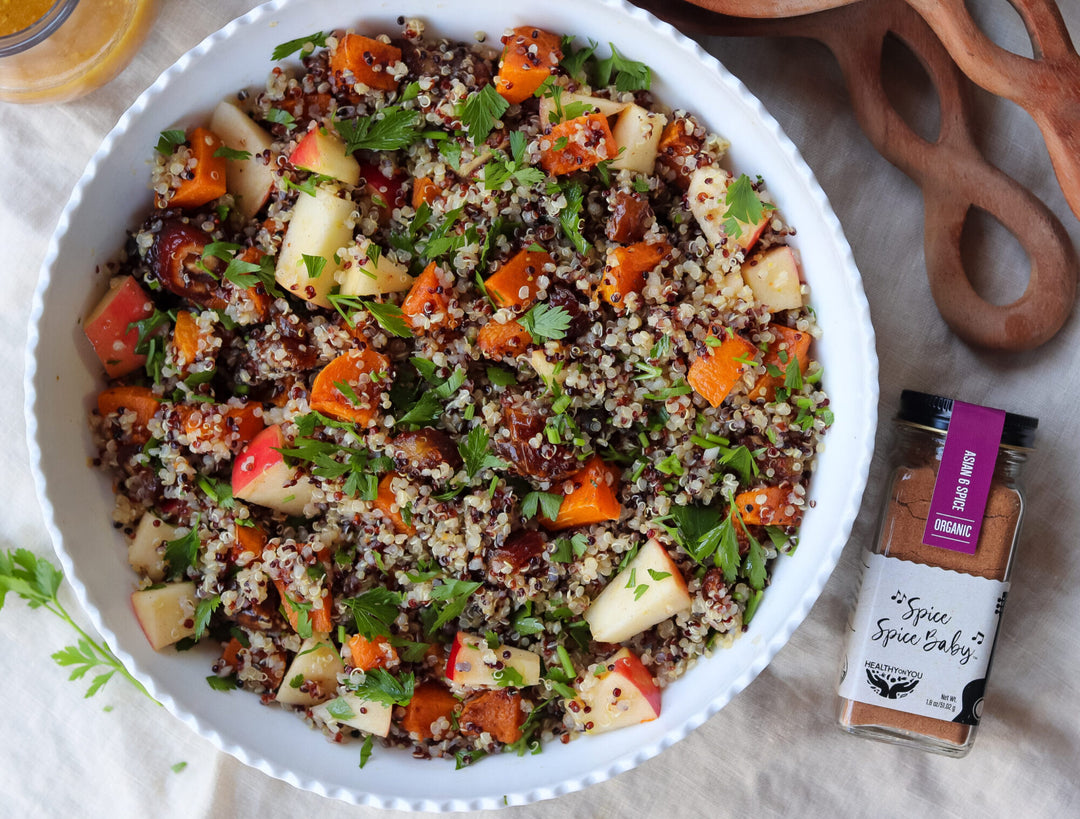 Learn How to Cook
With Our Blends

At Healthy On You®, we feel it is integral to give back to our communities and those in need. We have carried out this mission by offering donation-based cooking classes, we call our Cooking for a Cause series. All proceeds are donated to that classes's charity of choice, typically a cause fighting for social justice and equality. Join us to learn how to cook with your favorite Healthy On You® blends, support a great cause, and meet others who share a similar passion for flavorful, nutritious food!