Featured product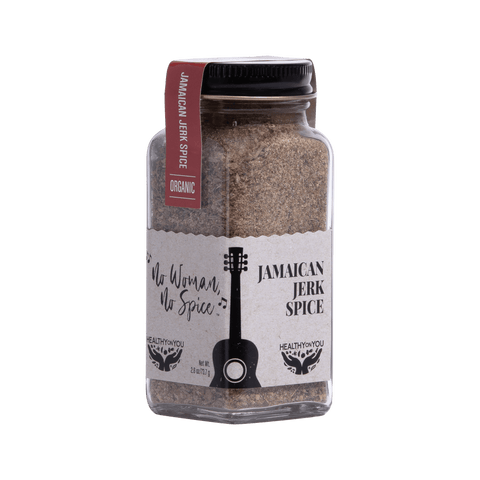 No Woman No Spice
Jamaican Jerk Spice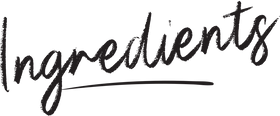 2 6 oz salmon fillets, skin on
1 tbsp olive oil
2 tsp Healthy On You® No Woman No Spice Jamaican Jerk spice blend, separated
½ medium onion, diced
2 garlic cloves, minced
2 scallions, white and green parts, chopped
¼ cup sweet chilli sauce
1 tbsp soy sauce
1 tsp oyster sauce
½ cup flavorless oil (canola, grapeseed, etc)
1 tbsp lemon or lime juice
½ tsp sea salt and fresh cracked pepper to taste
pinch of cinnamon
1 cup cooked rice
FOR THE ISLAND SALSA
½ medium avocado, diced
1 cup ripe mango, diced
¼ cup red onion, diced
1 tbsp fresh lemon juice
1 scotch bonnet or jalapeno pepper, seeded and diced
2 sprigs fresh mint leaves
sea salt and pepper to taste
PREPARE THE SALMON
Preheat the grill to 425˚F. Brush the salmon filets with the olive oil and season the salmon fillets with 1 tsp of the No Woman No Spice Jamaican Jerk spice blend. Set aside.
Make jerk sauce: In a small food processor, add all the next nine ingredients and blend for 20 seconds. Transfer the mixture to a small saucepan and bring to a gentle boil. Add the remaining teaspoon of No Woman No Spice blend. Taste and adjust the seasoning (spice level), if needed. Remove from heat.
Oil the grill grates and place the salmon on the hot grill, flesh side down/skin side up. Sear the salmon, pressing down gently to get the nice grill marks. after 2 minutes or so, slightly turn to get the grill marks. If you have X grates, no need to turn.
Allow the salmon to sear for another 2 minutes then gently flip. Brush with the jerk spiced dressing. Cook on the skin side for 3-4 minutes and remove from heat. Depending on thickness, you may want to cook longer, but be careful not to over-cook.
Make the Salsa: Add the salsa ingredients to a medium-sized bowl, gently toss.
Plate the dish by adding the cooked white rice first, then the fish on top and the island salsa on the side. Brush the fish one more time with the sauce and place a small container of it on the side for dipping.
Garnish with the mint and serve. YUMMM
Spring Charred Vegetables with Roasted Salmon
This delicious and nutritious recipe is perfect for brunch, lunch, or dinner using the Herby Melodies Edible Playlist spice blends. Here you have all you're favorites in one dish! This recipe was a winner for the Tone it Community! Check out the live cooking class @toneitup and get inspired!
View Recipe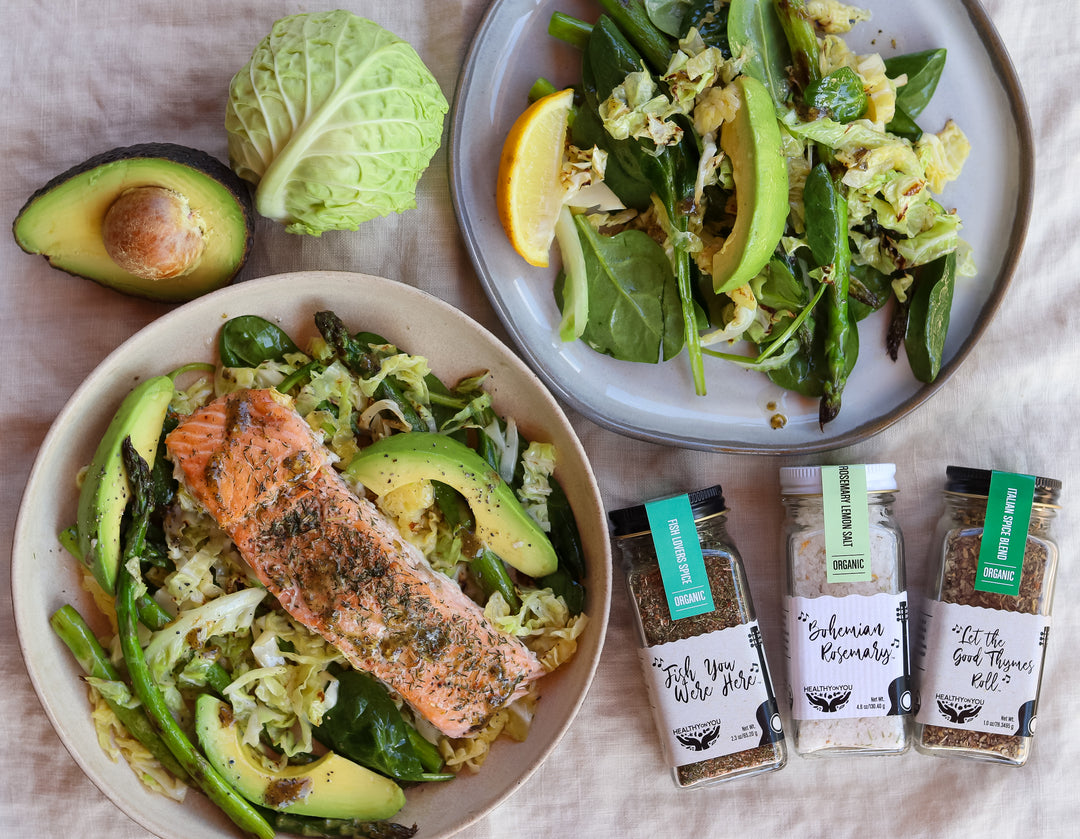 Sam's Jamaican Jerk Chicken
When I have the time and only on a weekend, I love to make my Jerk Chicken recipe. From I was a child I would watch my mom make this delicious traditional Jamaican dish. It's easy and definitely a labor of love that she made only in the summer when she could slow cook it outside on a charcoal grill, on low. She would make pounds of it for backyard BBQ's and family events. Our whole neighborhood would have this amazing smell wafting through the streets.
View Recipe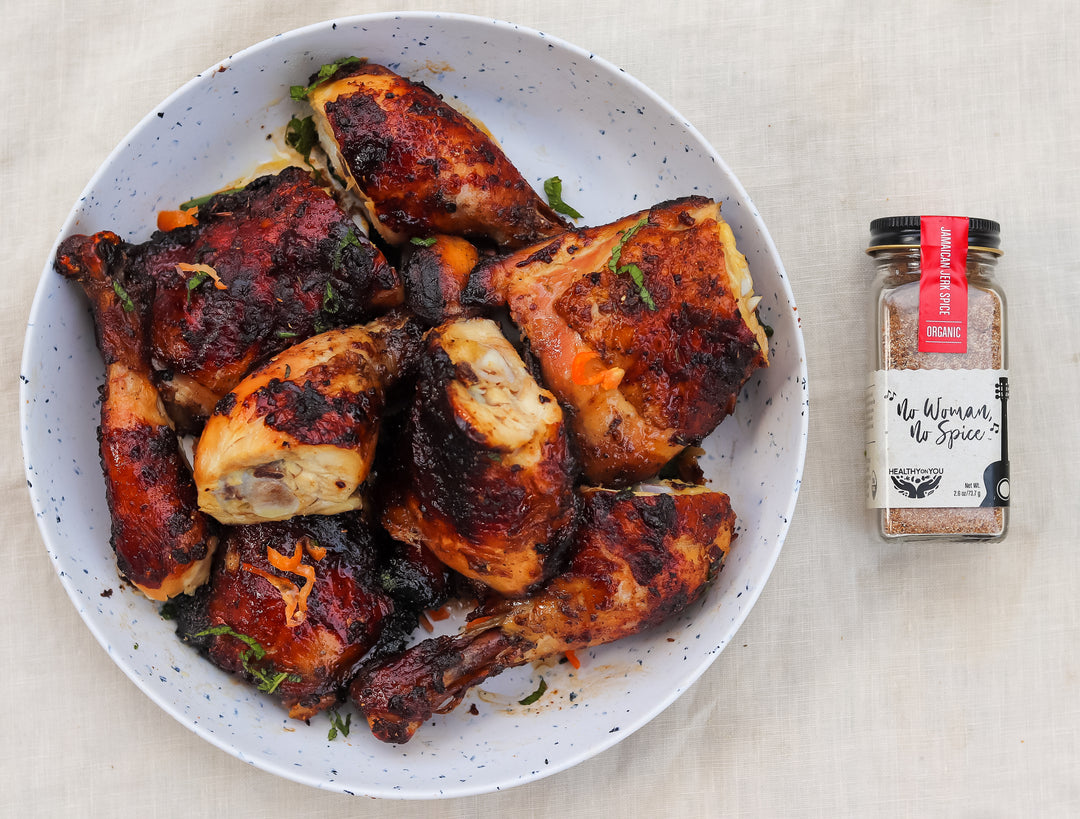 Jamaican Jerk Spice Wet Marinade
I love wet marinades and this one is special! It encapsulates all the great flavors of Jamaican cuisine. Our Healthy On You® No Woman No Spice Jamaican Jerk Spice rounds out the flavors and kicks up the heat. I use this marinade on chicken, pork and fish.
View Recipe
Dairy-Free
dinner
Gluten-Free
low-crab
vegan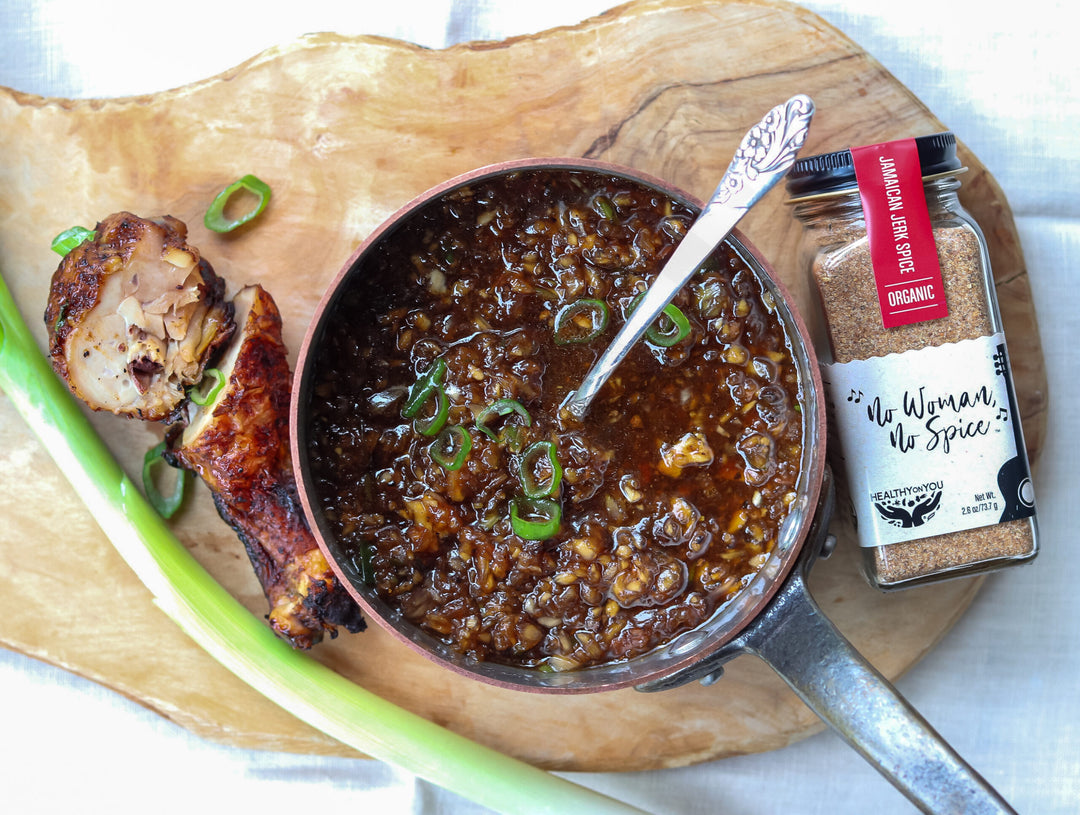 Learn How to Cook
With Our Blends

At Healthy On You®, we feel it is integral to give back to our communities and those in need. We have carried out this mission by offering donation-based cooking classes, we call our Cooking for a Cause series. All proceeds are donated to that classes's charity of choice, typically a cause fighting for social justice and equality. Join us to learn how to cook with your favorite Healthy On You® blends, support a great cause, and meet others who share a similar passion for flavorful, nutritious food!