Featured product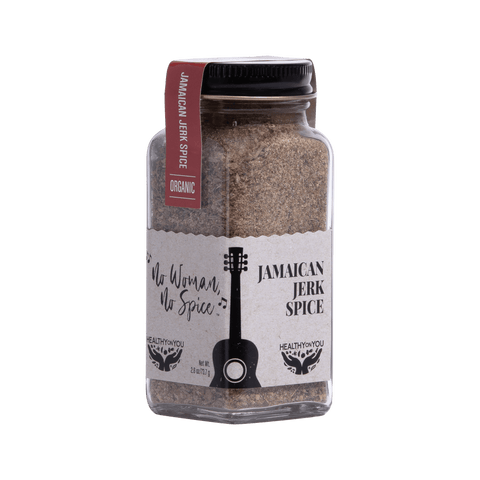 No Woman No Spice
Jamaican Jerk Spice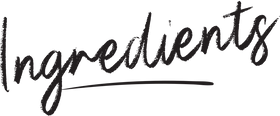 2 tbsp olive oil + more for baking the plantain
2 lbs chicken thighs (bone-in, skin-on)
2 ripe plantains
1 medium onion, diced
1 small bunch scallions, chopped
4-6 cloves garlic, minced
1 scotch bonnet pepper, seeded and sliced
1 tbsp Healthy On You® No Woman No Spice, Jamaican Jerk Spice
1 cup pineapple juice
1 cup chicken stock
1 tbsp soy sauce
2 tbsp cornstarch
Nachos for lining the bowl
¼ cup cilantro, chopped
1 medium avocado, diced
sea salt and pepper
Season the chicken with the No Woman No Spice Jamaican Jerk Spice. If you are planning ahead, place it in the fridge for up to 24 hours.
Use the sauté mode on the instant pot. Add 2 tbsp olive oil. When hot add chicken, skin side down, and brown for 5 minutes, then turn and cook for an additional 3 minutes. Remove from pan and set aside on a paper towel. If necessary, work in batches to cook all of the chicken.
Add the onion to the same bowl and cook until transparent. Add the garlic and scallions, stirring frequently for 3 minutes.
Add in the stock and pineapple juice, soy sauce and bring to a boil. Reduce the heat and add the chicken back in.
Place the cover on and lock the lid. Pressure cook on high for 25 minutes. Allow 10 minutes for it to naturally de-pressurize.
Meanwhile, bake the plantains: preheat the oven to 350°F. Line a baking sheet with parchment paper and spray/coat with olive oil.
Peel and slice the plantains into ½ inch rounds. Place them on the baking sheet with no overlapping between them.
Spray with olive oil. When the oven is ready, place inside and bake for 15 minutes.
When the chicken has had 10 minutes to de-pressurize in the Instant Pot, let the remaining pressure out, open and shred the chicken with two forks, remove the skin and bones and discard.
In a small bowl, add the cornstarch and mix in 1/4 cup of water to make a slurry and stir it into the chicken. If the mixture is still not thick enough, use the sauté mode to reduce the liquid until the jerk chicken has a thick gravy.
Taste and adjust the seasoning adding more sea salt, pepper.
ASSEMBLE THE NACHO BOWL
In a serving bowl (4 small ones or one large), spread out the nacho chips to create a nice base of chips on the bottom.
Using a slotted spoon, add the jerked chicken on top of the nachos. Add the plantains next. Sprinkle with the avocados and garnish with the scotch bonnet pepper and cilantro. Save the sauce and drizzle over the bowl and reserve the rest for dipping. Enjoy!
Jamaican Jerk Grilled Salmon With Island Salsa
This recipe screams summer and we love a good summer recipe especially one that's fresh and healthy! This salmon is true perfection. Our No Woman No Spice Jamaican Jerk spice blend is absolutely hands down a star in this one. It imparts the key island flavors we love: allspice, cinnamon, garlic, habanero (scotch bonnet) and much more blended just right to give that authentic flavor.
View Recipe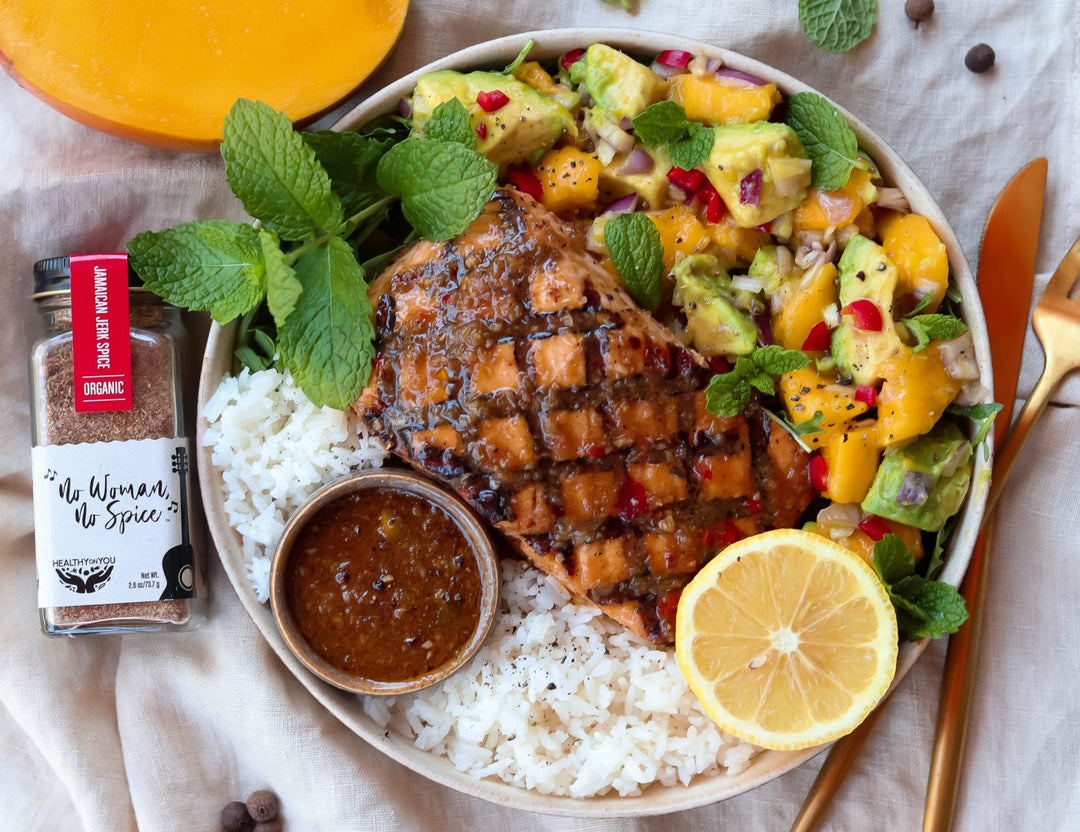 Jamaican Jerk Spice Wet Marinade
I love wet marinades and this one is special! It encapsulates all the great flavors of Jamaican cuisine. Our Healthy On You® No Woman No Spice Jamaican Jerk Spice rounds out the flavors and kicks up the heat. I use this marinade on chicken, pork and fish.
View Recipe
Dairy-Free
dinner
Gluten-Free
low-crab
vegan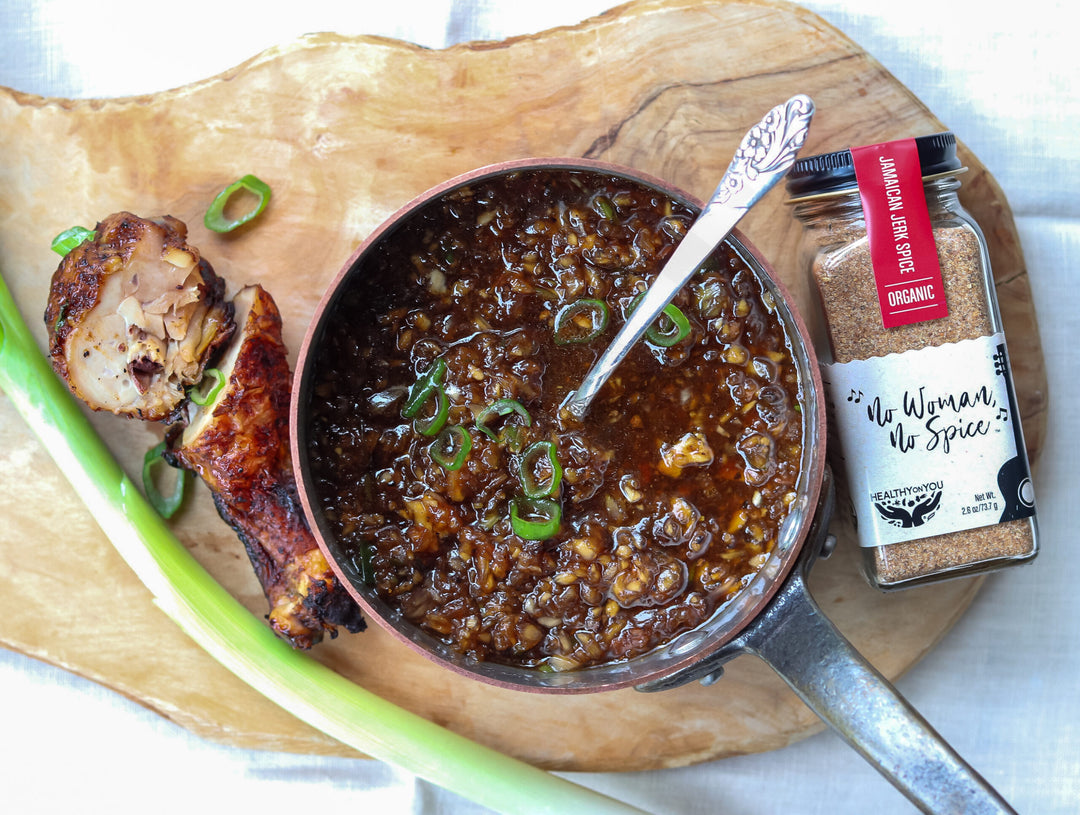 Sam's Jamaican Jerk Chicken
When I have the time and only on a weekend, I love to make my Jerk Chicken recipe. From I was a child I would watch my mom make this delicious traditional Jamaican dish. It's easy and definitely a labor of love that she made only in the summer when she could slow cook it outside on a charcoal grill, on low. She would make pounds of it for backyard BBQ's and family events. Our whole neighborhood would have this amazing smell wafting through the streets.
View Recipe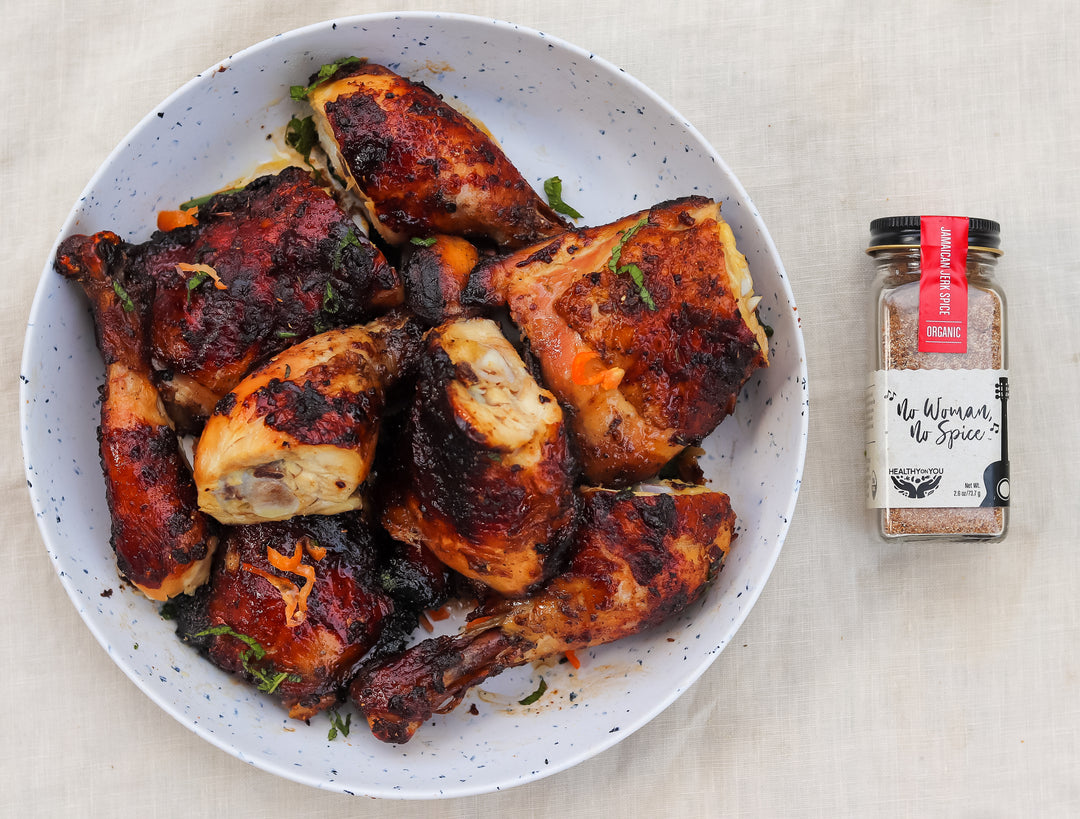 Learn How to Cook
With Our Blends

At Healthy On You®, we feel it is integral to give back to our communities and those in need. We have carried out this mission by offering donation-based cooking classes, we call our Cooking for a Cause series. All proceeds are donated to that classes's charity of choice, typically a cause fighting for social justice and equality. Join us to learn how to cook with your favorite Healthy On You® blends, support a great cause, and meet others who share a similar passion for flavorful, nutritious food!