Featured product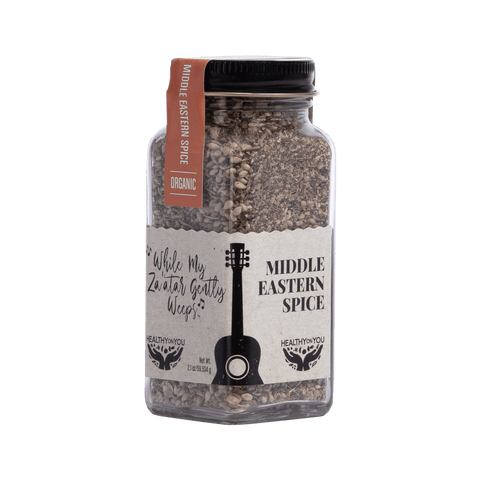 While My Za'atar Gently Weeps
Middle Eastern Spice
While My Za'atar Gently Weeps Refill
Middle Eastern Spice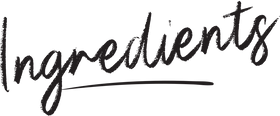 FOR THE AVOCADO CREAM
½ cup Labneh or plain full fat Greek Yogurt
1 medium avocado, peeled, pitted and roughly chopped
juice of one lime
1 cup cilantro
2 green onions, white and green parts roughly chopped
sea salt and pepper
FOR THE TACOS
8 corn tortillas
1 large eggplant- can be of any kind, roughly 1 lb, diced into 2" pieces
1 tbsp Healthy On You® While My Za'atar Gently Weeps Middle Eastern Spice Blend
½ tbsp ground sumac spice
1½ tbsp sesame oil
½ tsp sea salt
1 cup cherry tomatoes halved
1 avocado, pitted, peeled and sliced
cilantro and chopped green onion for garnish
½ cup prepared salsa
MAKE THE AVOCADO CREAM
In a small food processor, add all the ingredients except the salt and pepper and puree until smooth. Season with salt and pepper and give a quick pulse. Scoop into a small bowl and refrigerate.
MAKE THE TACOS
Preheat the oven to 400˚F and prepare a baking sheet with foil and parchment paper.
Add the eggplant to the baking sheet and drizzle the sesame oil all over. Sprinkle the While My Za'atar Gently Weeps spice blend and the ground sumac all over the eggplant. Stir with a wooded spoon and add to the oven. Cook for 20-25 minutes stirring halfway through. The eggplant should be brown and fragrant.
Meanwhile, heat the tortillas: you can add them directly onto of the grates of a gas stove over medium high heat (you will get nice char marks on the edges) turning with metal thongs every 10-15 seconds; Or heat a flat surface griddle and place them on top. Alternately, you can use a large cast-iron pan to do the job. Set the tortillas on top over medium-high heat and watch carefully turning every 15 seconds or so.
When the tortillas are finished, place them on top of each other and set them aside. When the eggplant is ready, remove them from the oven and get the avocado cream from the fridge.
Begin building the tacos: Lay the tacos flat and add a schmear of the avocado cream in the middle. Top with a scoop of the roasted eggplant. Then top with the cherry tomatoes. Add the slices of avocado and sprinkle with cilantro and green onions. Add salsa on top and serve immediately.

Your browser does not support the video tag.
Grilled Stone Fruit & Halloumi Salad with Za'atar Spiced Vinaigrette
Happy Memorial Day! BBQs and cookouts in big groups are not happening where we are but we are thankful that in the year of a pandemic, we can still quietly acknowledge and be grateful for the service of our veterans.
View Recipe
Dairy-Free
dinner
Gluten-Free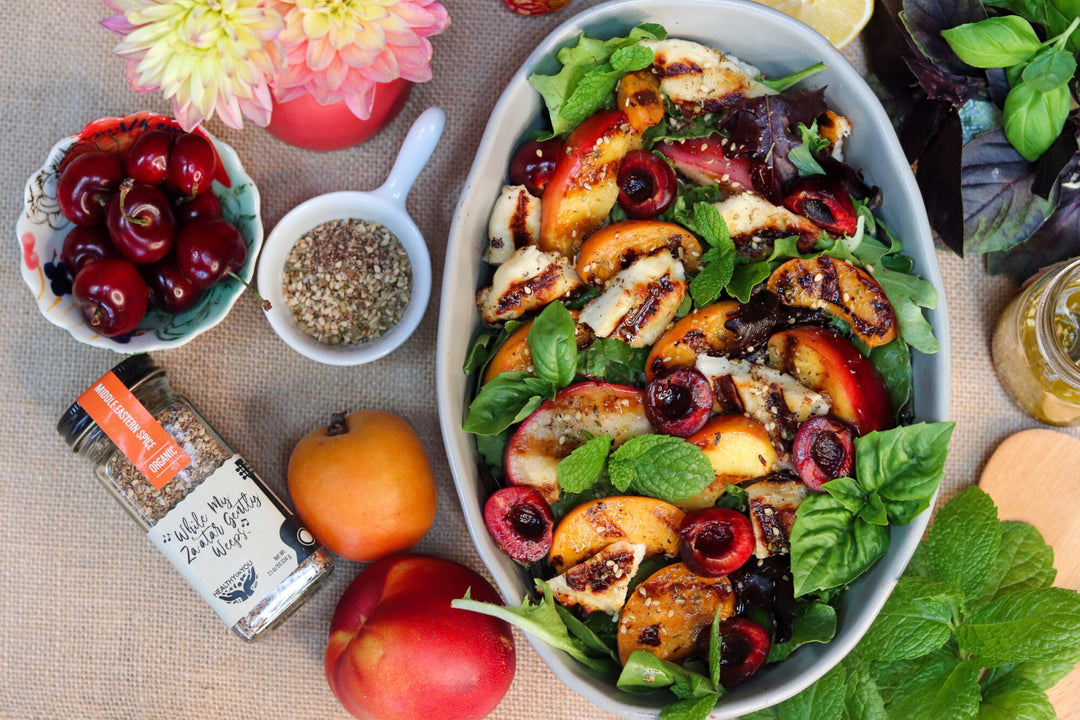 Salmon Salad with Summer Vegetables and Za'atar Dressing
The za'atar strikes back in this amazing grilled salmon salad with fresh farmers market vegetables! I taught this fantastic recipe in our Healthy On You® online cooking class today and we had so much fun cooking together. I am still in awe of everyone cooking away in their own kitchens. It's hard enough cooking sometimes, but having to keep up with me, well, that can be challenging. You have to do some prep work ahead of time but it is soooo worth it!
View Recipe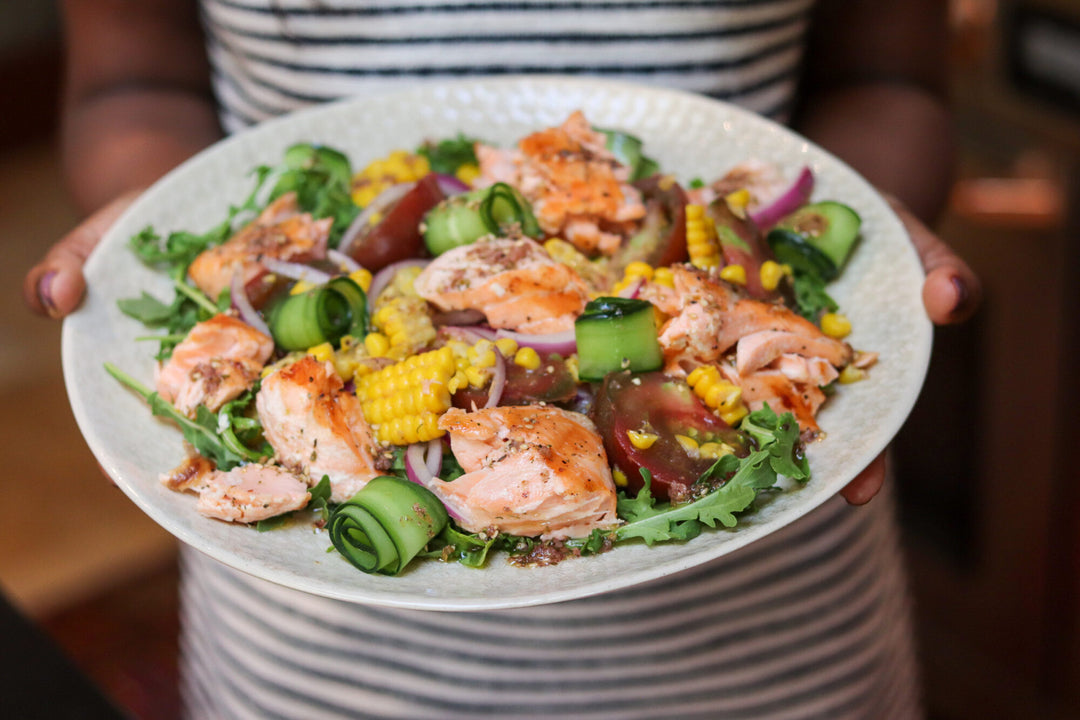 Za'atar Spiced Quinoa Salad
We are loving this quinoa salad for it's simplicity but it's a whole other thing with our Healthy On You® While my Za'atar Gently Weeps Middle Eastern Spice. You can't go wrong. It's the perfect lunch or side dish with a protein of your choice.
View Recipe
Learn How to Cook
With Our Blends

At Healthy On You®, we feel it is integral to give back to our communities and those in need. We have carried out this mission by offering donation-based cooking classes, we call our Cooking for a Cause series. All proceeds are donated to that classes's charity of choice, typically a cause fighting for social justice and equality. Join us to learn how to cook with your favorite Healthy On You® blends, support a great cause, and meet others who share a similar passion for flavorful, nutritious food!