Featured product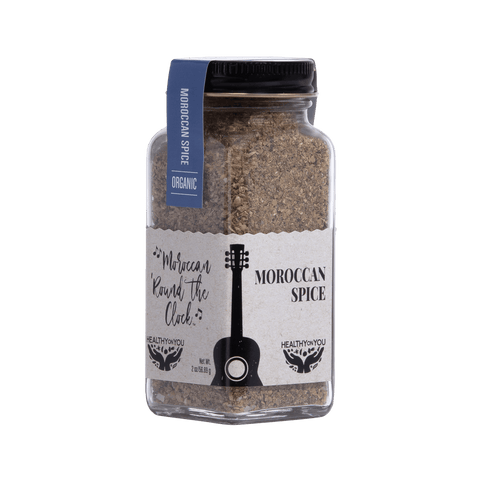 Moroccan 'Round the Clock
Moroccan Spice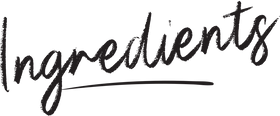 1 unpeeled medium-sized sweet potatoes (I used white, but orange and purple work great too)
1 tbsp Healthy On You® Moroccan 'Round the Clock spice blend
2 tsp olive oil
pinch of sea salt
Preheat the over to 250°F.
Line a large baking sheet with parchment paper and set aside.
Using a mandoline slicer on the first notch setting for the thinnest whole slices, begin cutting the vegetables into rounds. Practice mandoline safety-use a no-cut glove on the hand you use to slice.
If you don't have a mandoline slicer, you will need to use a very sharp knife, slicing the potatoes extremely thin and evenly.
Spray each batch with olive oil, add the Moroccan 'Round the Clock spice blend and a pinch of salt.
Evenly lay out each individual slice to fill the tray. Do not overlap.
Bake for one hour and allow to cool and crisp for 10 minutes before serving.
Moroccan Spiced Cabbage Slaw
This classic slaw recipe just got a flavor blast using our Healthy On You® Moroccan Round the Clock Moroccan Spice Blend. It's perfect for the warm weather and a colorful side for the Smoked Ribs recipes for Labor Day.
View Recipe
brunch
Dairy-Free
dinner
Gluten-Free
low-crab
Side
vegan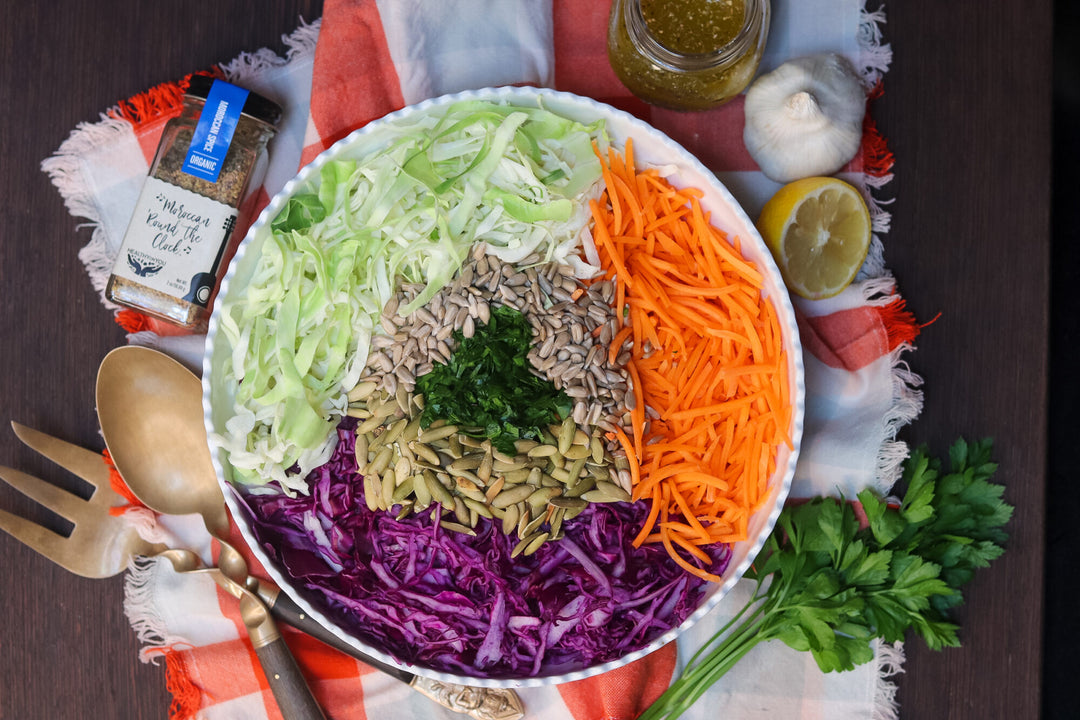 Moroccan Spiced Cauliflower and Lentils
Turn up the spice with this delicious and easy weeknight stew! We love this because we double up on flavors with our Healthy On You® Moroccan 'Round the Clock and Here Comes the Yum spice blends. That's the beauty of our blends-you can combine them for a unique blast of flavor that is hard to forget. This will be your go-to, we promise!
View Recipe
Dairy-Free
dinner
Gluten-Free
Side
vegan
vegetarian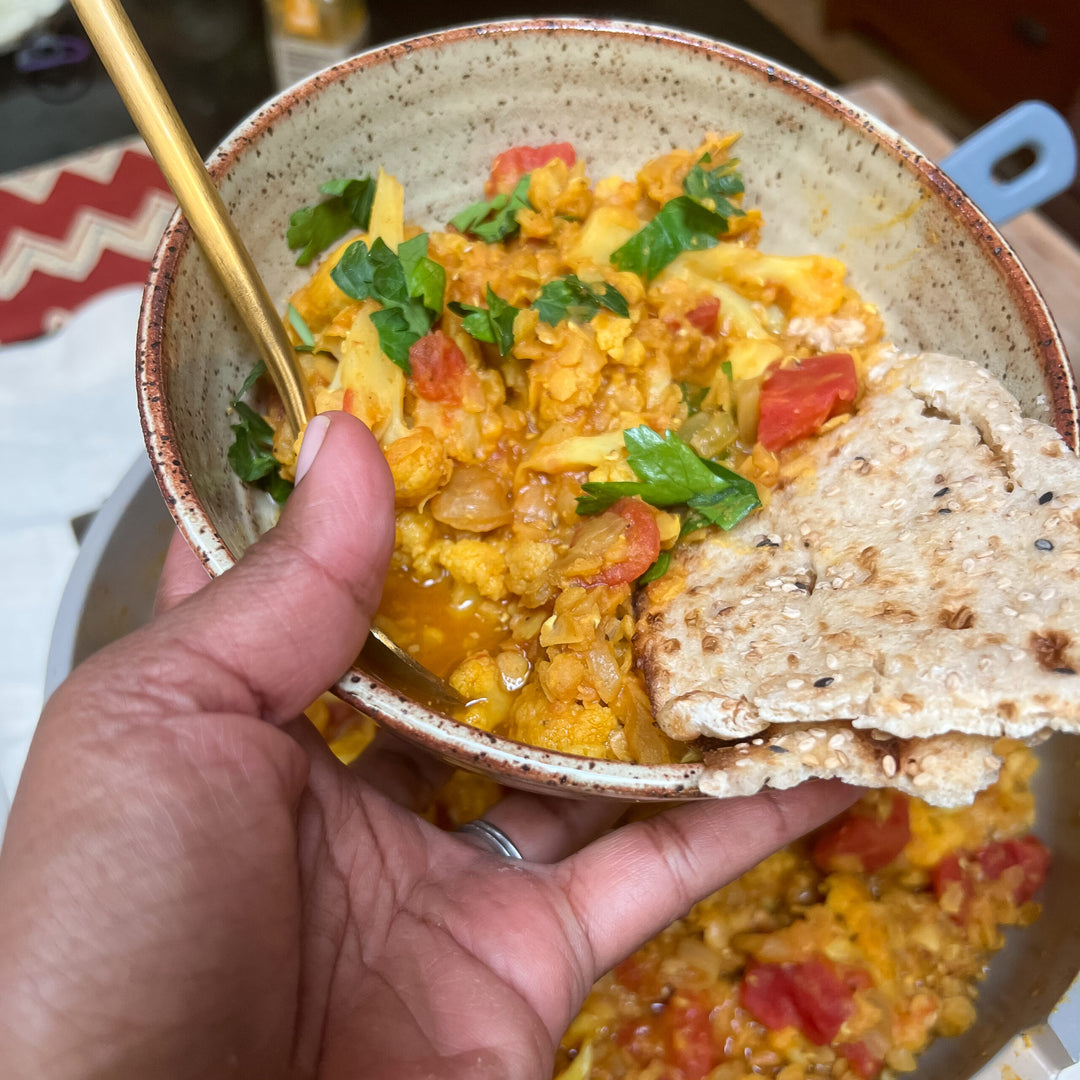 Roasted Moroccan Spiced Carrots and Chickpeas
Fall is around the corner and food-wise, I think it may be my favorite season. It's a time when we can enjoy rich fall spice flavors that make you feel all cozy inside, you know? I like that food can comfort you that way and still be healthy for you. This delicious recipe eases me into the fall season with bright colors and healthful attributes. I am never out of chickpeas or carrots in my home. They are a staple! Finding new ways to enjoy them is a weekly activity. This recipe is a good one to keep in your repertoire especially with the Healthy On You® Moroccan Round the Clock spice blend.
View Recipe
Dairy-Free
dinner
Gluten-Free
low-crab
Side
vegetarian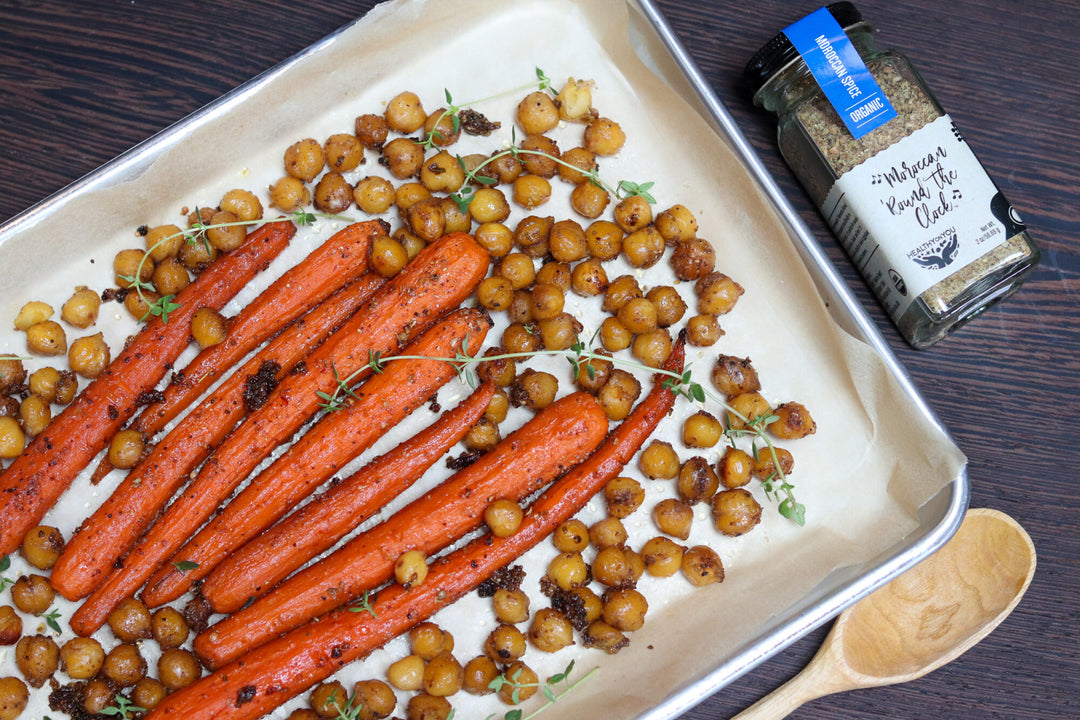 Learn How to Cook
With Our Blends

At Healthy On You®, we feel it is integral to give back to our communities and those in need. We have carried out this mission by offering donation-based cooking classes, we call our Cooking for a Cause series. All proceeds are donated to that classes's charity of choice, typically a cause fighting for social justice and equality. Join us to learn how to cook with your favorite Healthy On You® blends, support a great cause, and meet others who share a similar passion for flavorful, nutritious food!