Featured product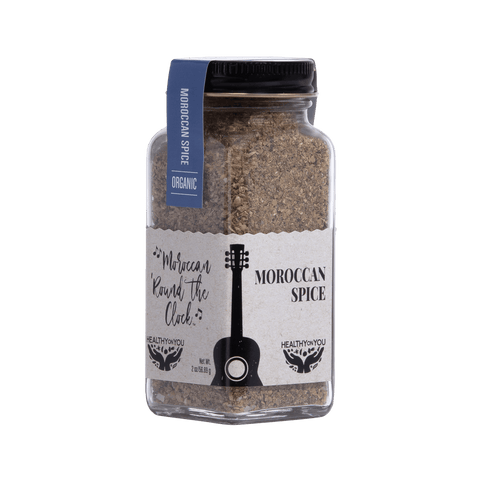 Moroccan 'Round the Clock
Moroccan Spice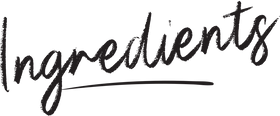 4 fresh turkey leg quarters
2 tbsp olive oil, divided
2 tbsp Healthy On You® Moroccan Round the Clock spice blend (divided)
½ cup white wine
1 cup turkey stock
1 medium onion, sliced into quarters
4 cloves garlic, crushed
1 bay leaf
2 medium carrots chopped into 1" pieces
½ cup golden raisins
½ cup dried apricots, roughly chopped
Cilantro for garnish
Preheat the oven to 350°F.
Rub the turkey quarters with 1 tbsp olive oil.
Sprinkle with 1 tbsp of the Moroccan 'Round the Clock spice blend. Rub some of the spice under the skin for better flavor penetration. Refrigerate for 30 minutes or as much as overnight.
Heat a large Dutch oven over high heat and add olive oil. Add turkey quarters, skin side down, working in batches, if necessary. Cook, turning until turkey legs are browned on all sides, about 5 minutes per side. Transfer leg quarters to a plate and discard all but 1 tablespoon of rendered fat from Dutch oven.
Deglaze the pan with the turkey stock, scraping up all the brown bits that have stuck to the bottom of the pan. Add the wine and cook for 3 minutes.
Add the onion, garlic, carrots, raisins, apricots, bay leaf and Moroccan 'Round the Clock spice blend to the pan and cook for about 5 minutes.
Turn off the heat and nestle the turkey quarters into the pan between the vegetables and fruits.
Cover the pan and cook for 1 hour, remove from pan and baste with the pan juices. If the pan looks dry, add more stock or water.
Remove the cover and cook for an additional 40 minutes.
Transfer to a serving platter, skim the fat from the pan juices, season with salt and pepper and garnish with cilantro. Spoon the liquid, vegetables, and fruit over the turkey.
Fire Roasted Tomato Soup with Turkey Meatballs
I'm loving this delicious, healthy and little spicy spin on your typical minestrone soup. First, I skip the regular canned tomatoes and use organic fire roasted tomatoes to give this dish an extra kick. Instead of pasta, chickpeas do the trick here to add a nice texture and a dose of fiber. Ground turkey is my go to when making meatballs but you can all always substitute with another organic, grass-fed meat of your choice.
View Recipe
dairy
Dairy-Free
dinner
Gluten-Free
low-crab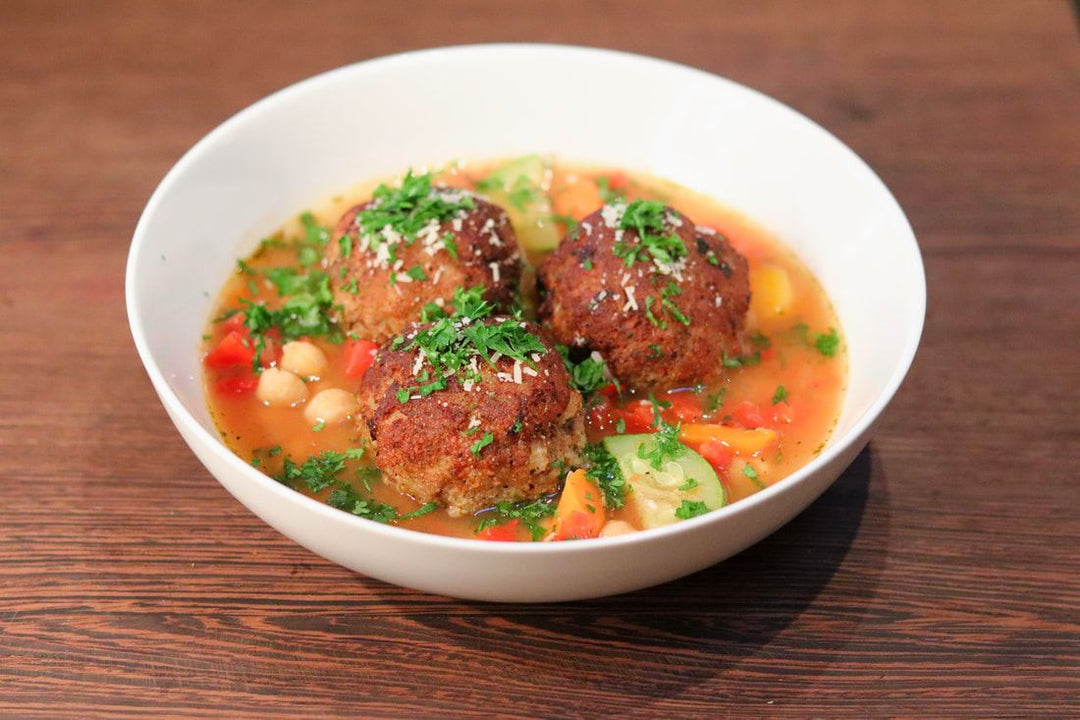 Herb-Brined Roast Turkey
I love this time of year because being with family and enjoying all my favorite holiday foods is, well…comforting. Growing up we didn't eat much turkey. My mom opted for our island tradition of cooking indo-carribean food on Thanksgiving and her Jamaican curried goat is what we enjoyed most.
View Recipe
Dairy-Free
dinner
Gluten-Free
low-crab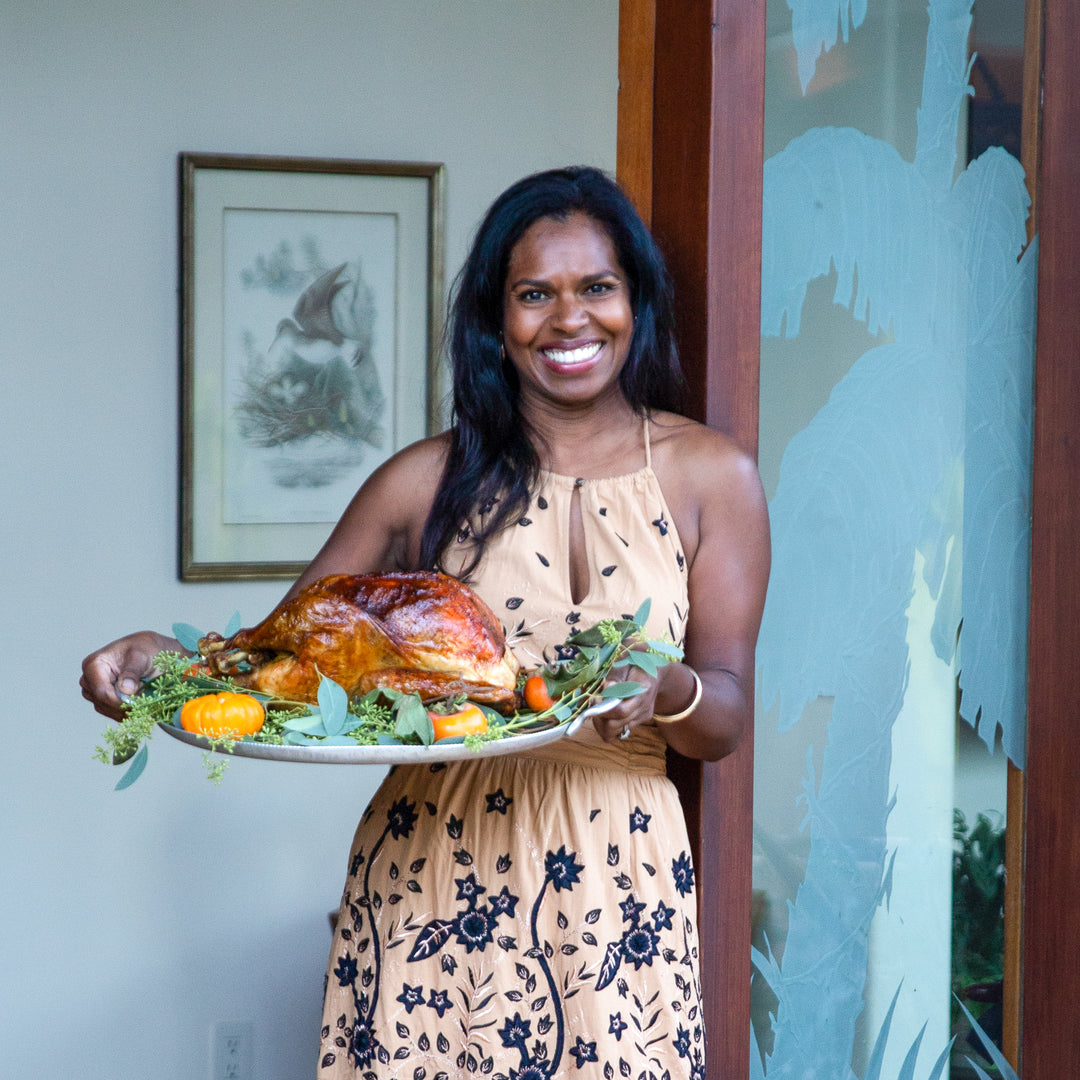 Holiday Spatchcock Turkey
Do you know people whose least favorite dish at Thanksgiving is the turkey? Well, we're here to change that! Even if you love turkey, this recipe is a must. Presenting our Holiday Spatchcock Turkey! We used our Healthy On You® I'm Still Brining holiday spice blend and it was the best turkey we've ever had… no joke. The turkey was perfectly juicy and filled with unique flavors. No one at the table even touched the gravy, a rare occurrence in our family. ⁠
View Recipe
Learn How to Cook
With Our Blends

At Healthy On You®, we feel it is integral to give back to our communities and those in need. We have carried out this mission by offering donation-based cooking classes, we call our Cooking for a Cause series. All proceeds are donated to that classes's charity of choice, typically a cause fighting for social justice and equality. Join us to learn how to cook with your favorite Healthy On You® blends, support a great cause, and meet others who share a similar passion for flavorful, nutritious food!