Featured product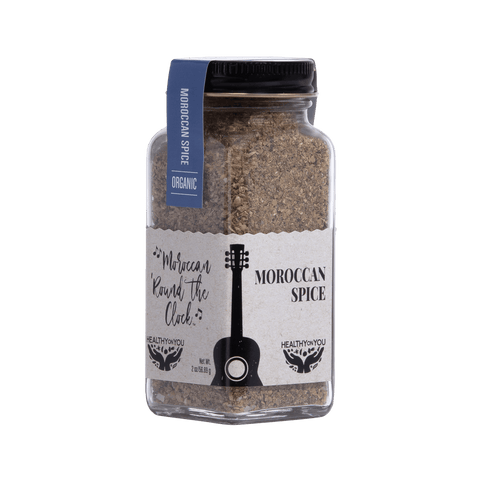 Moroccan 'Round the Clock
Moroccan Spice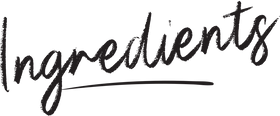 FOR THE VEGETABLES
1 head cauliflower, cut into florets
1 yellow onion quartered
3 small sweet potatoes, cubed
12 small tri-colored carrots halved longways
FOR THE MARINADE
¼ cup extra virgin olive oil
¼ cup Healthy On You® Moroccan 'Round the Clock Spice Blend
1 tbsp honey
1 tbsp sea salt
FOR THE TOFU & CHICKPEAS
1 14 oz package firm tofu, cubed
1 15 oz can of chickpeas, rinsed and drained
1 tbsp extra virgin olive oil
2 tbsp Healthy On You® Moroccan 'Round the Clock Spice Blend
FOR THE RICE:
1 ½ cup brown rice
3 ¾ cups vegetable broth
1 tbsp extra virgin olive oil
1 tsp sea salt
FOR THE CHERMOULA SAUCE
½ tbsp Healthy On You® Moroccan 'Round the Clock Spice Blend
½ cup fresh parsley
½ cup fresh cilantro
¼ cup extra virgin olive oil
1 lemon, juiced
4 cloves garlic, whole
GARNISH
slivered almonds, raisins (pre-soaked), cilantro leaves
FOR THE MOROCCAN BAKE
Preheat the oven to 375. Prepare 2 large baking sheets, by lining them with tin foil. Layer a sheet of parchment paper on top for easy cleanup.
Make Moroccan marinade: combine olive oil, honey, salt and Moroccan 'Round the Clock in a small bowl. Whisk until a glaze consistency is achieved.
Place the chopped cauliflower, onion, carrots and sweet potato into a large bowl. Add the Moroccan marinade and stir until all vegetables are coated evenly.
Spread glazed vegetables across 1 baking sheet so vegetables don't touch. Use an extra sheet pan if needed.
Next, place the chickpeas and cubed tofu in a bowl. Add 2 tbsp olive oil, 2 tbsp Moroccan 'Round the Clock, salt and pepper for taste and stir until tofu and chickpeas are evenly coated.
Transfer tofu and chickpeas to the 2nd baking sheet.
Place both baking sheets in the oven and set a timer for 30-40 minutes, occasional stirring. Vegetables should be tender and golden. Tofu and chickpeas should be browned and crisp.
While the vegetables and tofu roast, begin the rice. Heat olive oil in a saucepan over medium/high heat. Add rice (without water) and toast for approximately 30 seconds. Pour vegetable broth into the pan and bring to a boil. Once boiling, cover and turn down to low heat. See package for cook time (generally 40 minutes). Do not take off the top/release steam until cooking is complete.
Additions: If you feel like adding some greens, I sautéed a few cups of spinach with olive oil and salt.
FOR THE CHERMOULA SAUCE
Place all ingredients into a food processor and pulse until ingredients are finely chopped and a sauce-like consistency is achieved.
PLATING
Add the brown rice to your bowls. Add vegetables, tofu, chickpeas and drizzle chermoula sauce on top. Sprinkle raisins, almond slivers and top with a few cilantro leaves for garnish. Enjoy!
Shrimp and Baby Artichoke Broccolini Bowl
We've got an easy, delicious, and healthy midweek bowl for you that SCREAMS spring! Added bonus: we're doubling up on the Healthy On You® blends. But seriously, how beautiful is our Shrimp and Baby Artichoke with Broccolini Bowl?! Our Let the Good Thymes Roll is not alone in spicing this dish up. We sprinkle on some of our incredible Bohemian Rosemary to really get this dish humming with flavor
View Recipe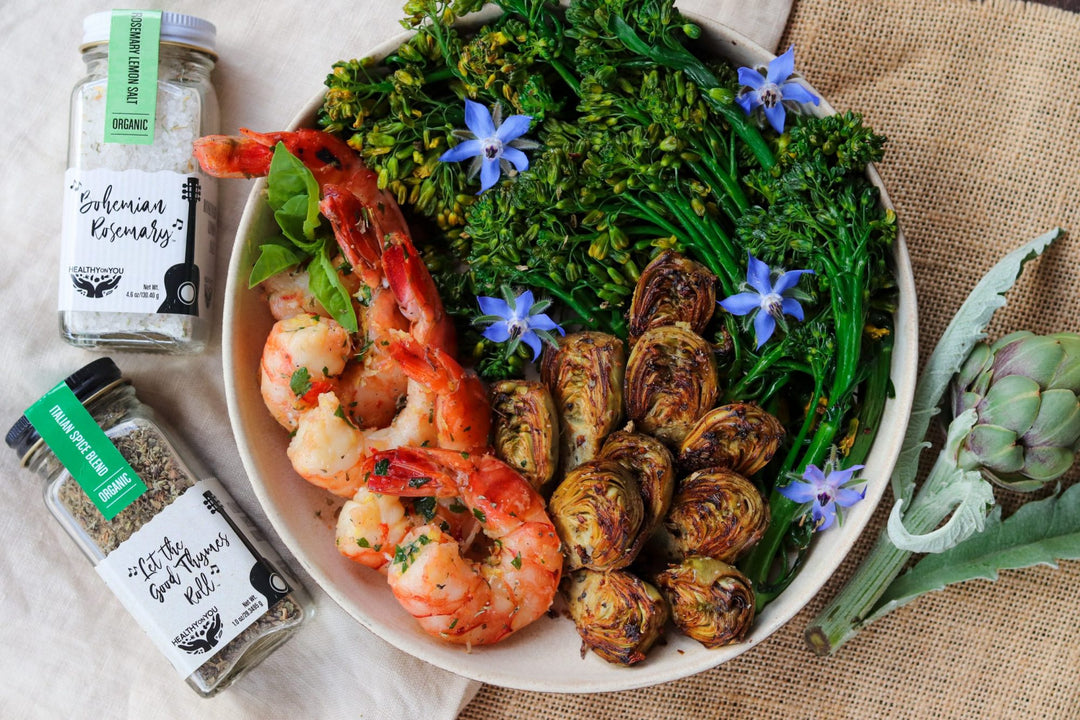 Turmeric Ginger Tofu Bowl
Looking for a delicious and nutritious weeknight meal? Look no further with this delicious tofu bowl recipe using our winning spice blend Here Comes the Yum. This turmeric and ginger blend is the perfect match for tofu. The flavors soak in and you are left with a flavorful infusion of spices in this bowl.
View Recipe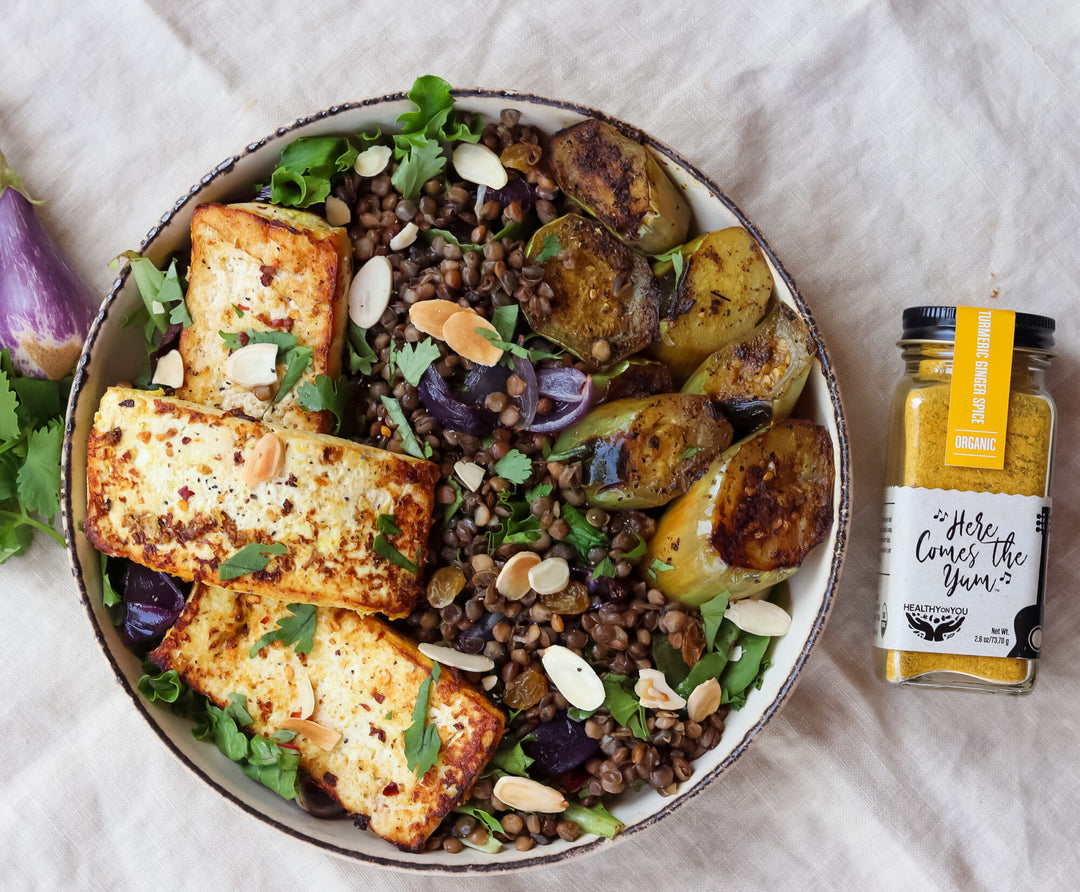 Coconut Turmeric Ginger Chicken Glow Bowl
I always tell people, healthy doesn't have to mean flavorless or boring. This is my coconut turmeric ginger chicken glow bowl with tatsoi greens from the garden, zucchini spheres, shiitake mushrooms, and ramen noodles.⁠
View Recipe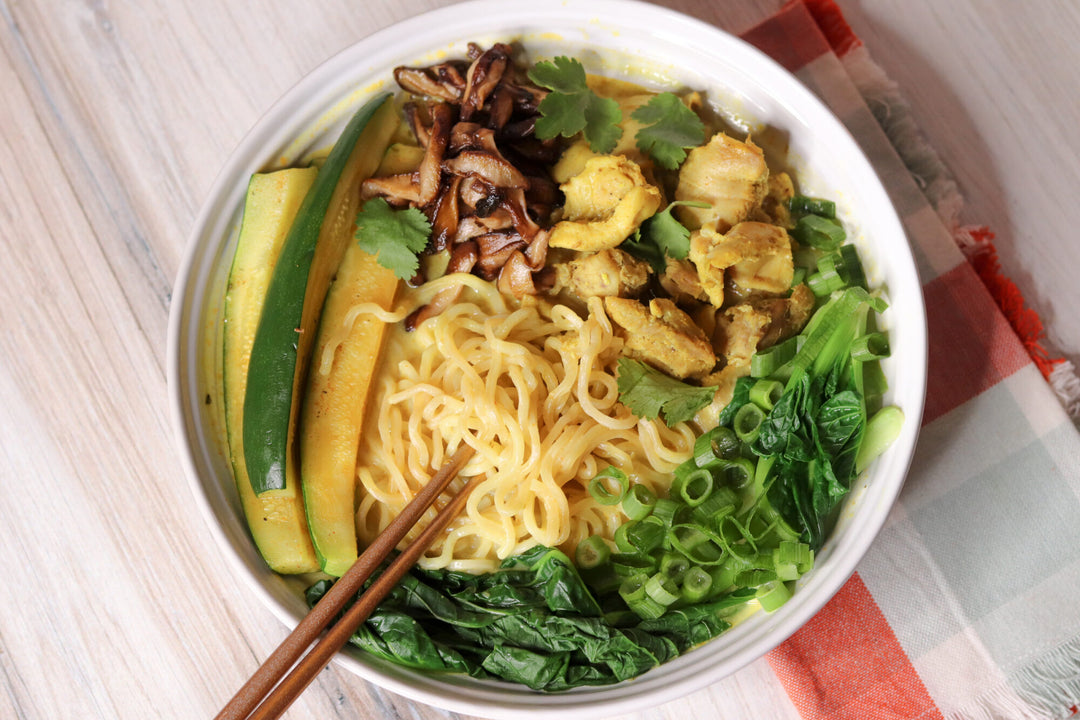 Learn How to Cook
With Our Blends

At Healthy On You®, we feel it is integral to give back to our communities and those in need. We have carried out this mission by offering donation-based cooking classes, we call our Cooking for a Cause series. All proceeds are donated to that classes's charity of choice, typically a cause fighting for social justice and equality. Join us to learn how to cook with your favorite Healthy On You® blends, support a great cause, and meet others who share a similar passion for flavorful, nutritious food!