Featured product
Here Comes The Yum
Turmeric Ginger Spice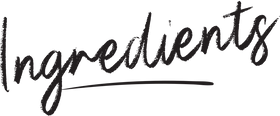 FOR THE TOFU
1 16 oz block extra firm tofu rinsed and drained, and sliced into 8 pieces* (see note)
½ cup Greek Yogurt
1 tbsp Healthy On You® Here Comes the Yum Turmeric Ginger Spice Blend
2 tbsp lemon juice
FOR THE LENTILS
1 cup cooked lentils
2 tbsp golden raisins
1 tsp sea salt
FOR THE EGGPLANT
3 small Japanese or fairy eggplant, diced into 1-inch pieces
1 small red onion, quartered
1 tbsp olive oil
1 tbsp Healthy On You® Here Comes the Yum Turmeric Ginger Spice Blend
4 cloves garlic, crushed
1 tsp sea salt
almond slivers and cilantro for garnish
MAKE THE MARINADE
In a shallow plate or bowl combine the yogurt, lemon juice, Turmeric Ginger Spice Blend, and sea salt. Mix well and add the tofu. Spoon the mixture all over and place inthe fridge to marinate for 30 minutes or more.
MAKE THE EGGPLANT
Preheat the oven to 375˚F and prepare a 9x13 baking sheet with parchment paper.
In a large bowl, add the eggplant, garlic, Turmeric Ginger Spice Blend, and sea salt and stir well.
Pour the contents onto the baking sheet. In the same bowl, add the red onion and coat with any remaining oil in the bowl. Add to the baking sheet, keeping it separate from the eggplant.
Bake in the oven for 20 minutes until the vegetables are tender. Meanwhile, make the tofu.
COOK THE TOFU
When the tofu has marinated, heat a large skillet with olive oil.
Gently wipe the excess yogurt marinade from each slice of tofu and place it in the hot skillet. For ease, work in two batches of 4 pieces at a time.
Cook 5 minutes on each side, gently turning. Remove from the pan and set aside.
MAKE THE LENTIL SALAD
In a bowl, add the lentils, raisins, sea salt, and the roasted red onions only. Stir well and set aside,
BUILD THE BOWL
In each bowl: Place a handful of salad greens in the bottom as your base. Spread a ¼ cup of the lentil salad in the middle of the bowl. Add the eggplant on one side and the desired amount of tofu on the other. Sprinkle with the almond slivers and cilantro and serve hot.
NOTE*
Extract the maximum amount of water from the tofu before marinating: Place the block of tofu between two small plates and press together, squeezing out the water. For extra measure, wrap in a paper towel and place in the fridge for up to 24 hours before use.
Grilled Teriyaki Tofu Bowl
We are loving this delicious and healthy bowl using our Spice Spice Baby Asian 6 Spice spice blend. It's so nutritious on a bed of steamed kale and with sides of ginger-garlic mixed mushroom, ramen noodles, carrots and cabbage.
View Recipe
dairy
dinner
Gluten-Free
vegan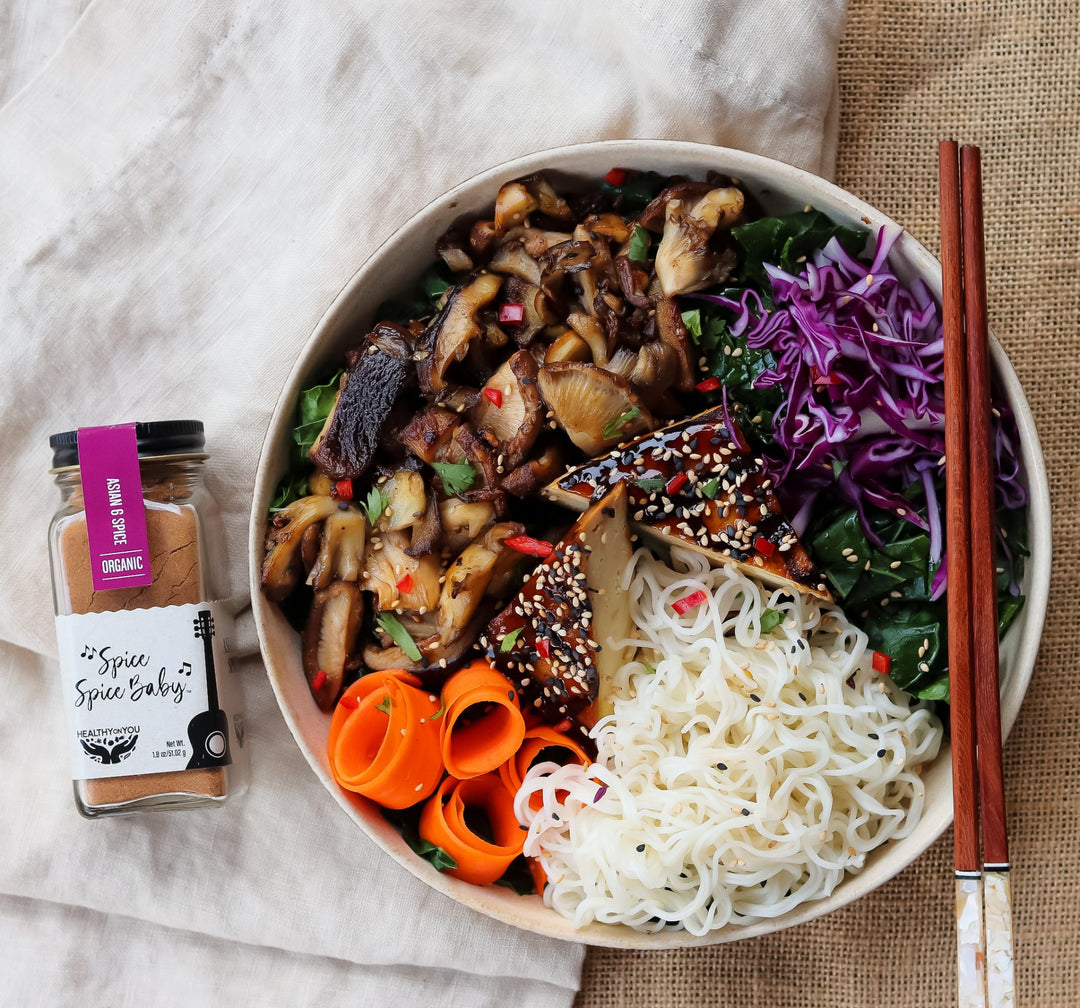 Jerk Chicken And Plantain Nacho Bowl
What a way to spice it up?! This INCREDIBLE Jerk chicken bowl is just what we need to start our week off on a spicy note. If you can't tell already, we really love plantains. Plantains are a trusted and most loved side in many Jamaican and Caribbean recipes, so we thought it was a perfect pairing with the jerked chicken-pairing spicy and sweet is always a good idea.
View Recipe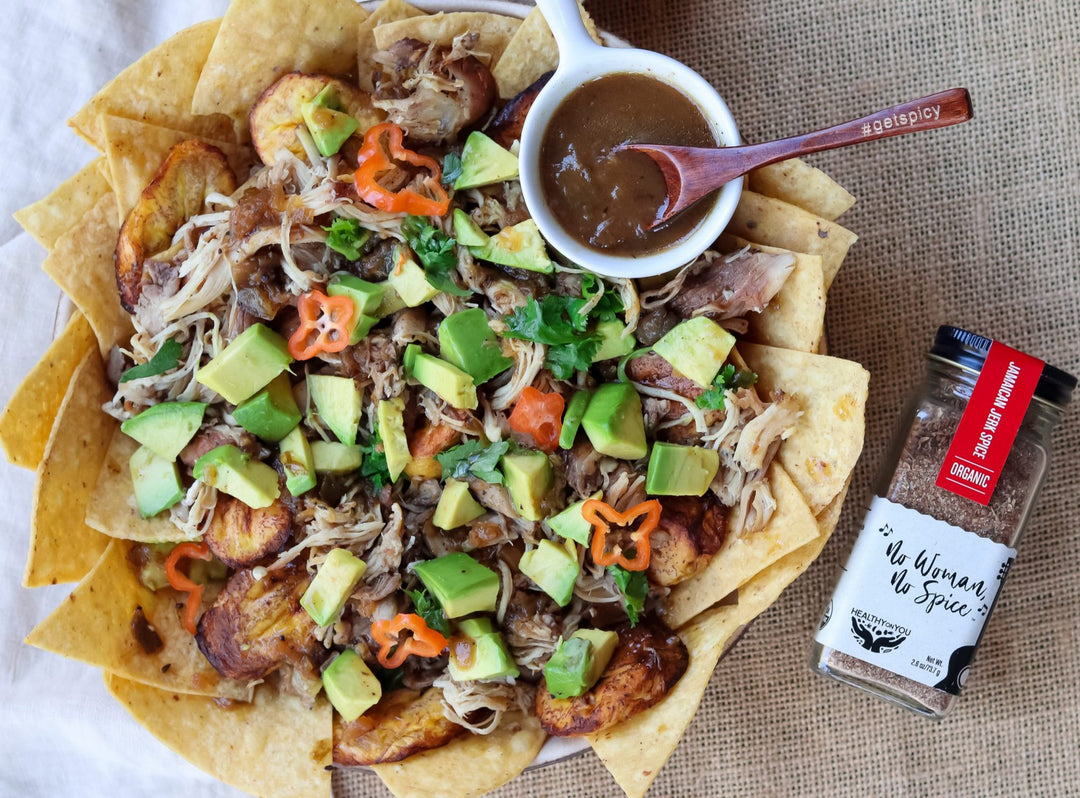 Apple Fennel & Turmeric Soup
Looking for the perfect fall soup for Thanksgiving and beyond? Look no further than our Apple Fennel and Turmeric Soup! This recipe is great to make in batches for meal prep. It can be fancy if you want to add it into a roasted pumpkin bowl or paired with a salad and it's a delicious starter at your Thanksgiving table.
View Recipe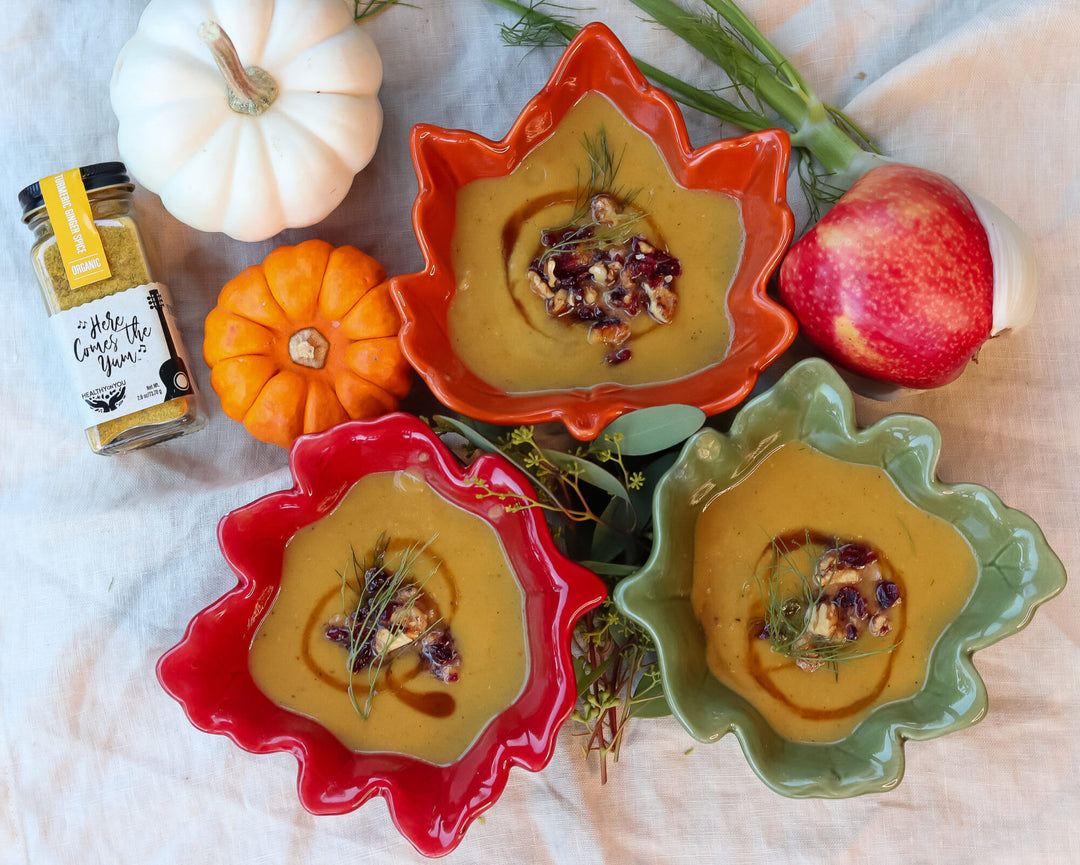 Learn How to Cook
With Our Blends

At Healthy On You®, we feel it is integral to give back to our communities and those in need. We have carried out this mission by offering donation-based cooking classes, we call our Cooking for a Cause series. All proceeds are donated to that classes's charity of choice, typically a cause fighting for social justice and equality. Join us to learn how to cook with your favorite Healthy On You® blends, support a great cause, and meet others who share a similar passion for flavorful, nutritious food!