Featured product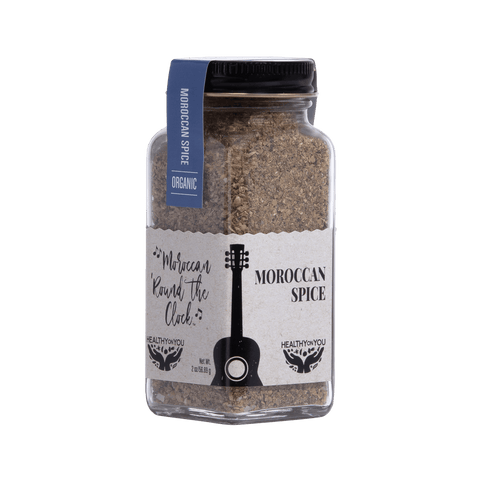 Moroccan 'Round the Clock
Moroccan Spice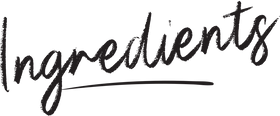 1 lb baby Brussels sprouts, washed, trimmed and split in half
2 tbsp olive oil
1½ tbsp Healthy On You® Moroccan 'Round the Clock spice Blend
½ cup pomegranate vinegar (I use a local brand from the Temecula Olive Oil Company)
2 tbsp maple syrup
½ cup pomegranate seeds
1 tsp sea salt
fresh cracked pepper
Pre-heat oven to 400°F
Line a 9x13 baking sheet with parchment paper and set aside.
In a large bowl, add the Brussels sprouts, olive oil and, Moroccan 'Round the Clock spice blend and sea salt. Mix well so every Brussels sprout is coated with the olive oil and spices.
Place the Brussels sprouts on the prepared baking sheet and bake for 30 minutes. Shake the pan and toss the Brussels sprouts halfway through so they cook evenly. They will be browned and tender when done.
While the Brussels sprouts cook, make the dressing by adding the pomegranate vinegar and the maple syrup to a small saucepan and bring to a boil.
lower the heat and allow the dressing to reduce by half.
Remove from heat and set aside to cool.
When the Brussels sprouts are cooked, remove from the oven, return to the large bowl and pour the dressing over them and toss.
Sprinkle with the pomegranate seeds and serve. This recipe is just as delicious served at room temperature!
Crispy Kalette Salad with Garlic and Pomegranate
Years ago I had a few Kalette plants that outlasted every other vegetable in my garden and grew like trees. It's been difficult to find that particular variety these days, but I am lucky enough to have a great organic farm nearby and when I stopped in, they had kalettes. Kalettes are also known as kale sprouts and they are delicious when seasoned and roasted.
View Recipe
dinner
low-crab
Side
vegetarian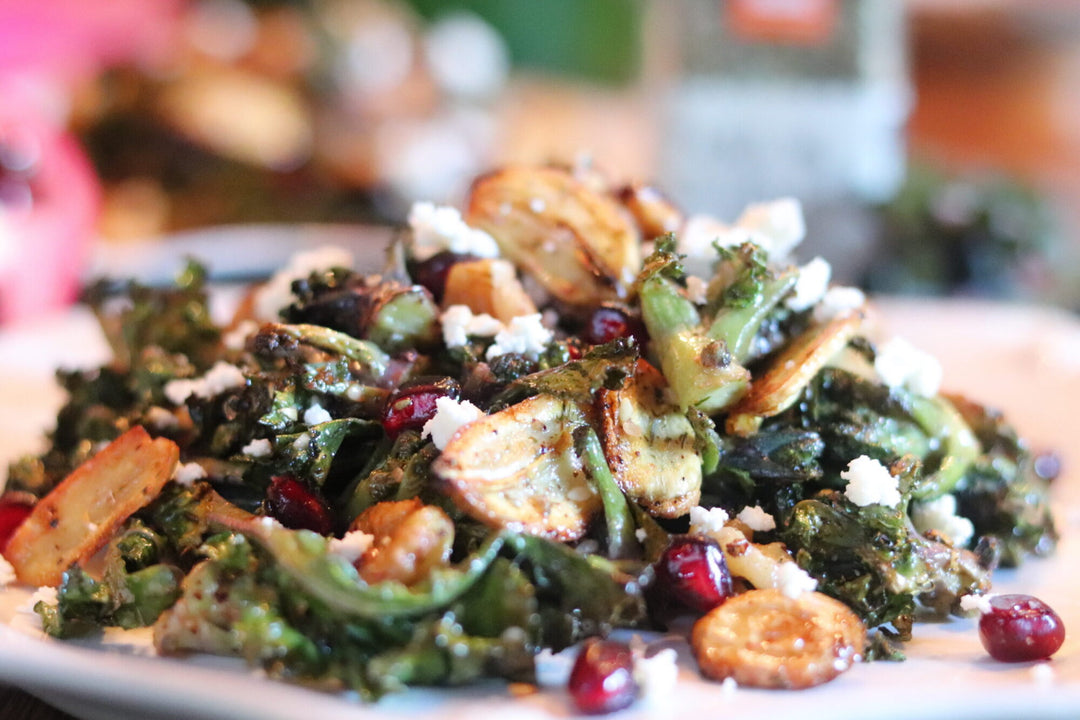 Saffron and Tomato Risotto with Roasted Vegetables
This Saffron Risotto is inspired by the Milanese versions that are lighter, omitting the heavy cream. It's simple, luxurious, brightly colored and rich in flavor. The vegetable topping is versatile so use whatever fresh seasonal vegetables you have on hand to great this delicious topping.
View Recipe
dinner
Gluten-Free
Side
vegan
vegetarian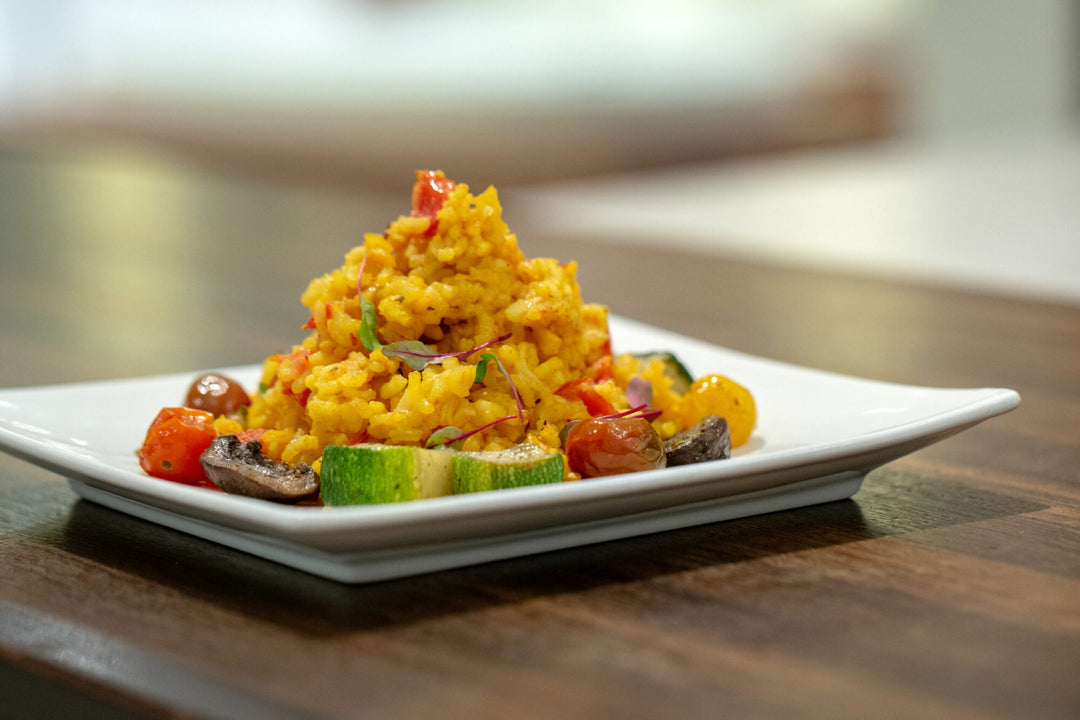 Flavorful Fish Bake with Roasted Vegetables
We are taking your average fish dinner to an all-new level! This delicious sheet pan-roasted fish and vegetables is just what the doctor ordered for busy families who are keeping it healthy on a weeknight timeline! This sheet pan is full of flavor with red onions, garlic, fennel, potatoes and leeks-all of our favorite savory veggies in one meal. We used rockfish fillets in this photo. Rockfish is very similar to snapper fish. Any skinless white fish fillet will work well in this recipe.
View Recipe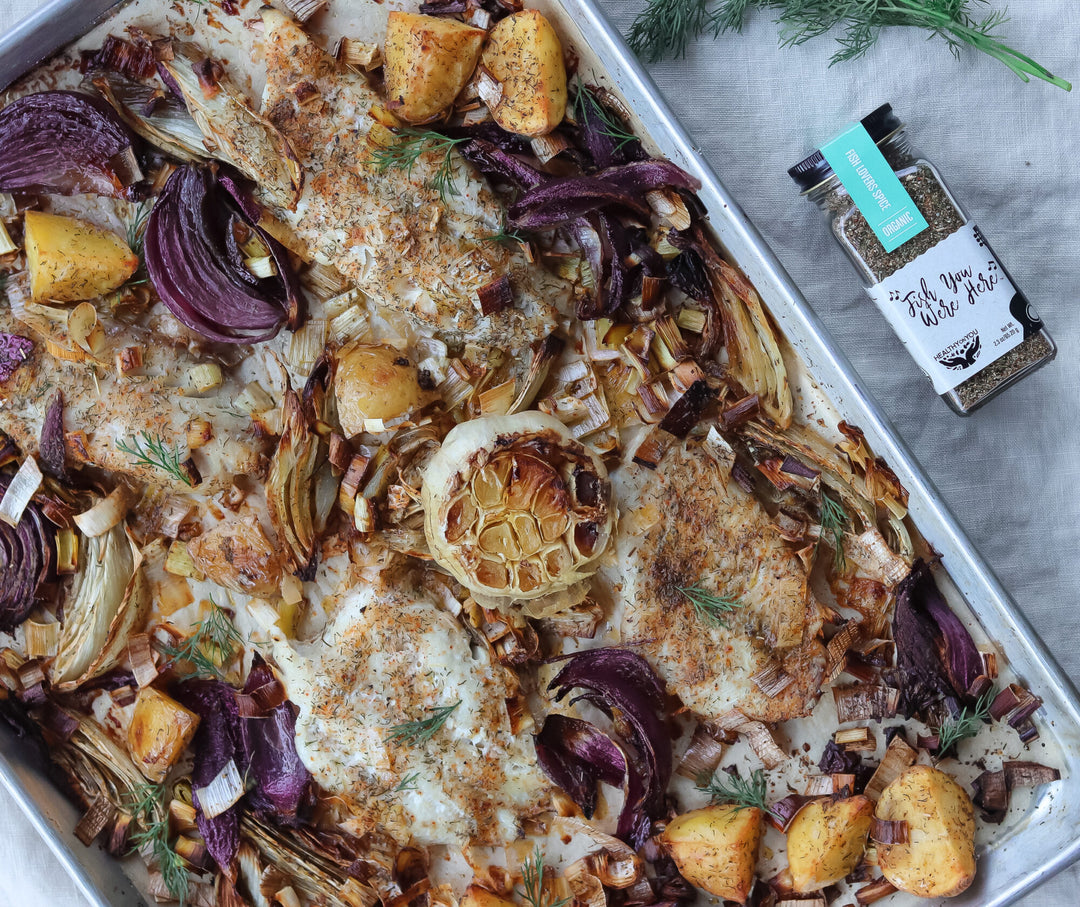 Learn How to Cook
With Our Blends

At Healthy On You®, we feel it is integral to give back to our communities and those in need. We have carried out this mission by offering donation-based cooking classes, we call our Cooking for a Cause series. All proceeds are donated to that classes's charity of choice, typically a cause fighting for social justice and equality. Join us to learn how to cook with your favorite Healthy On You® blends, support a great cause, and meet others who share a similar passion for flavorful, nutritious food!