Featured product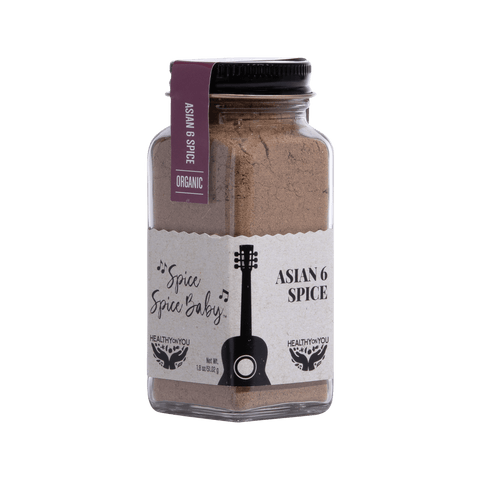 Spice Spice Baby
Asian 6 Spice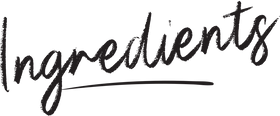 FOR THE SALAD
1 medium-sized delicata squash, halved, seeds removed and sliced into half-moon pieces
1 bunch Italian kale (also called dinosaur or lucinato kale), washed and spines removed
2 tbsp extra virgin olive oil
2 tsp Healthy On You® Spice Spice Baby Spice Blend
2 cups fingerling potatoes, sliced in half lengthwise
6 cloves, garlic, peeled
1 red onion, sliced into eighths
1 tsp sea salt
¼ cup candied walnuts
¼ cup dried cranberries
sea salt and pepper to taste
FOR THE DRESSING
1 small shallot, minced
½ cup extra virgin olive oil
¼ cup balsamic vinegar
1 tbsp honey
ROAST THE VEGETABLES
Preheat the oven to 375°F and prepare a large baking sheet with foil or parchment paper
In a large bowl, add the squash pieces, sliced potatoes, onions, garlic. Add the Spice Spice Baby Spice Blend and 1 tsp sea salt.
Drizzle the olive oil on top and stir to combine all the ingredients.
Spread the vegetables out on a baking sheet and bake for 25-30 minutes.
Meanwhile, blanch the kale: Fill a medium saute pan with water halfway and bring to a boil.
To remove the ribs from the kale: hold the kale leaf by the base of the stem and run a sharp knife away from you on either side of the rib. The green leafy part should cut away, leaving the stem in your hand to toss away.
Roughly chop the leafy part. Add the entire amount to the boiling water for 20-30 seconds only.
Drain the kale into a colander and run under cold water.
Spin in a salad spinner to remove excess water(optional) or simply shake in the colander and allow to dry while the vegetables continue to roast
MAKE THE DRESSING
Combine all the indredients in a small bowl and wisk together
PUT IT TOGETHER
In a serving bowl, add the dried kale first and toss with 2 tbsp of the dressing.
Add the roasted vegetables on top and add another 2 tbsps of the dressing.
Sprinkle the nuts and the cranberries on top and add another tbsp of the dressing. Serve warm or at room temp.
Coffee Spiced Corn Salad
This delicious easy side dish will be your new summer favorite! Our Healthy On You® Hit the Roast Jack Coffee Roast Rub is truly versatile giving a whole new dimension to this tasty, sweet and savory corn salad. This goes beautifully with our Coffee Rubbed Grilled Steak recipe for a delicious summer dinner.
View Recipe
dinner
featured recipe
lunch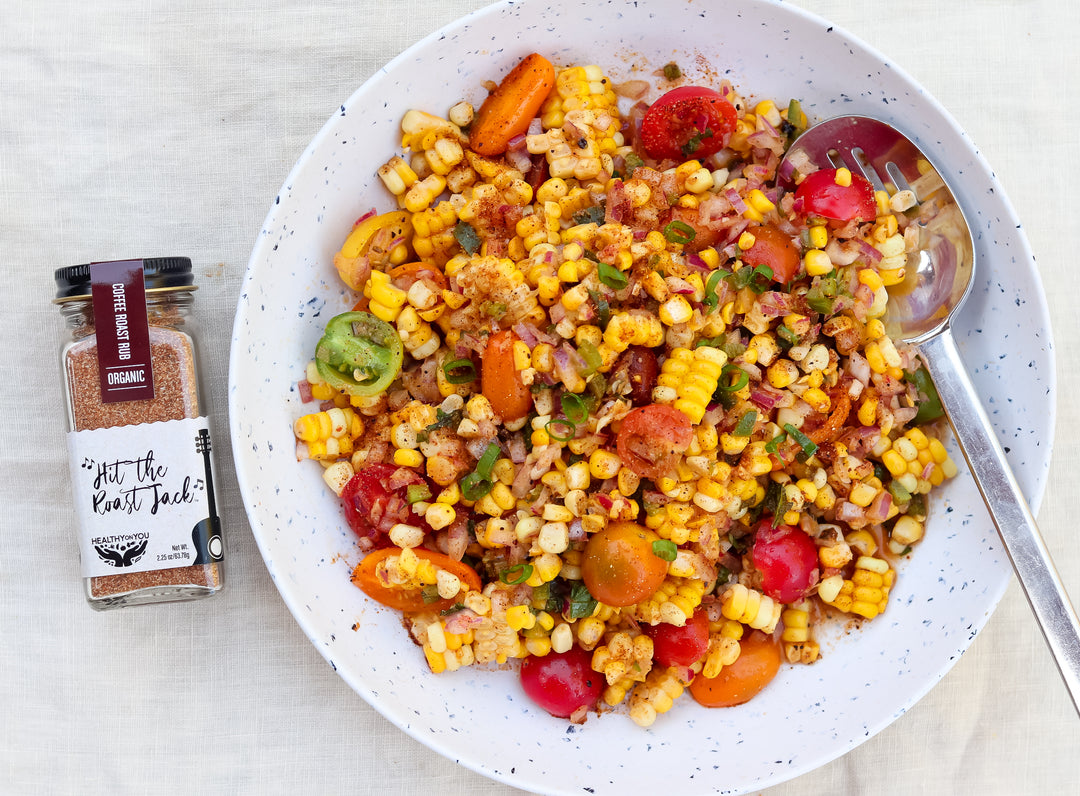 Crispy Kalette Salad with Garlic and Pomegranate
Years ago I had a few Kalette plants that outlasted every other vegetable in my garden and grew like trees. It's been difficult to find that particular variety these days, but I am lucky enough to have a great organic farm nearby and when I stopped in, they had kalettes. Kalettes are also known as kale sprouts and they are delicious when seasoned and roasted.
View Recipe
dinner
low-crab
Side
vegetarian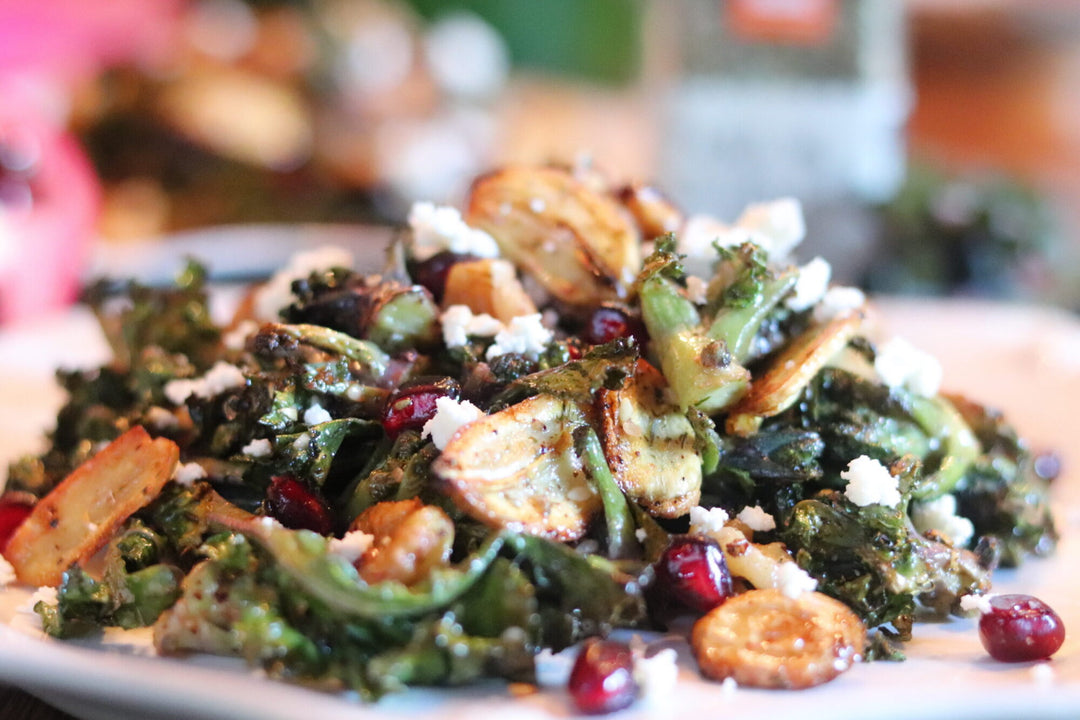 Grilled Stone Fruit & Halloumi Salad with Za'atar Spiced Vinaigrette
Happy Memorial Day! BBQs and cookouts in big groups are not happening where we are but we are thankful that in the year of a pandemic, we can still quietly acknowledge and be grateful for the service of our veterans.
View Recipe
Dairy-Free
dinner
Gluten-Free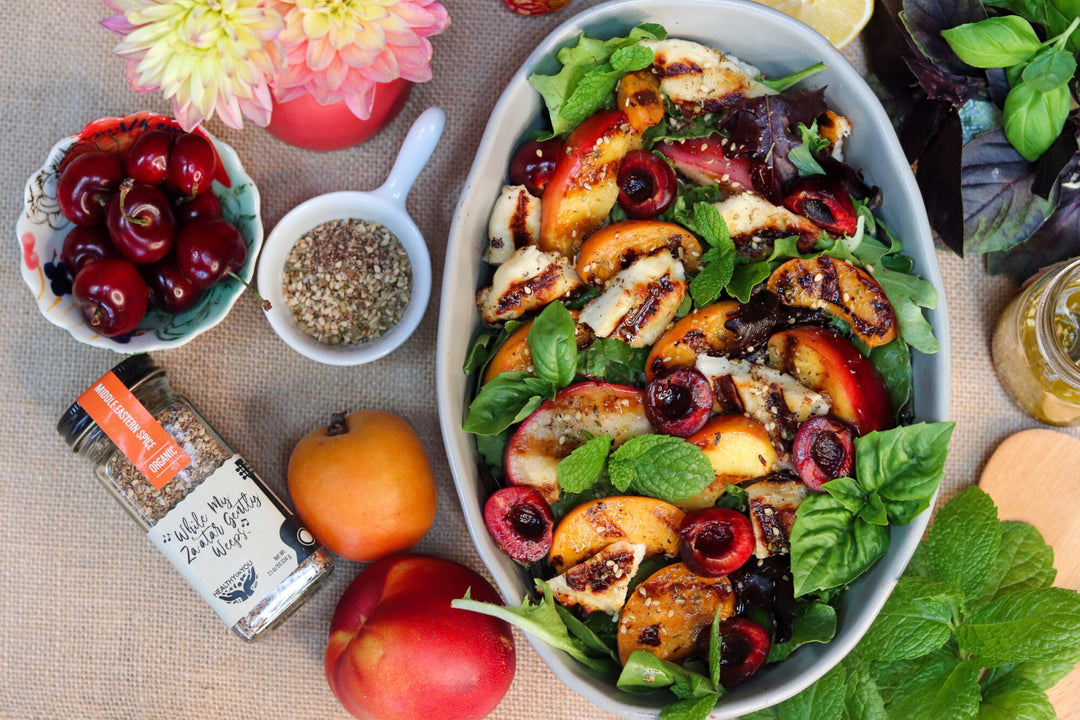 Learn How to Cook
With Our Blends

At Healthy On You®, we feel it is integral to give back to our communities and those in need. We have carried out this mission by offering donation-based cooking classes, we call our Cooking for a Cause series. All proceeds are donated to that classes's charity of choice, typically a cause fighting for social justice and equality. Join us to learn how to cook with your favorite Healthy On You® blends, support a great cause, and meet others who share a similar passion for flavorful, nutritious food!