Featured product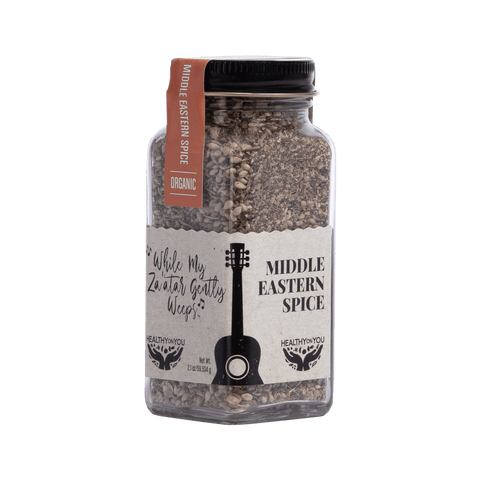 While My Za'atar Gently Weeps
Middle Eastern Spice
While My Za'atar Gently Weeps Refill
Middle Eastern Spice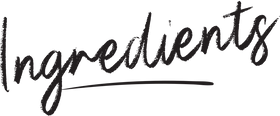 4 (5–6-ounce) skinless salmon fillets
2 tbsp Healthy OnYou While My Za'atar Gently Weeps Middle Eastern Spice, plus more for serving
5 ears corn on the cob, husked
3 tbsp lemon juice
1 clove garlic, crushed
½ cup extra-virgin olive oil + 2 tbsp separated
2 medium heirloom tomatoes, cut into wedges
½ small red onion, thinly sliced
2 cups baby arugula or other baby greens
Preheat your grill or stovetop grill pan to low heat
Set a pot filled halfway with water or steamer large enough contain the corn on the stove under medium heat.
Wash and pat dry the salmon. In a small bowl, whisk together 2 tbsp of the olive oil and add ¼ tsp sea salt and pepper
Massage the mixture onto the salmon fillets and set aside
Meanwhile, whisk the remaining ½ cup of oil, 3 tbsp of lemon juice, 2 tbsp While My Za'atar Gently Weeps, garlic, and 1 tsp salt in a small bowl.
Add corn to boiling water and cook until bright yellow and tender, about 6 minutes. Transfer to a plate.
Increase the heat on your grill to high and add the salmon. After 2 minutes, reduce the heat to low
Meanwhile, slice corn off cob into a large bowl. Add tomatoes and onion, then toss with ½ cup dressing
Turn the salmon after 5 minutes and cook for another 5 minutes on the grill-about 10 minutes total depending on thickness.
Remove from the grill and flake into small chunks. Add the salmon to corn mixture and toss very gently just to coat with dressing.
Transfer to a serving platter or divide among plates. Top with arugula, then drizzle with remaining dressing. Serve with additional za'atar alongside.
Jamaican Jerk Grilled Salmon With Island Salsa
This recipe screams summer and we love a good summer recipe especially one that's fresh and healthy! This salmon is true perfection. Our No Woman No Spice Jamaican Jerk spice blend is absolutely hands down a star in this one. It imparts the key island flavors we love: allspice, cinnamon, garlic, habanero (scotch bonnet) and much more blended just right to give that authentic flavor.
View Recipe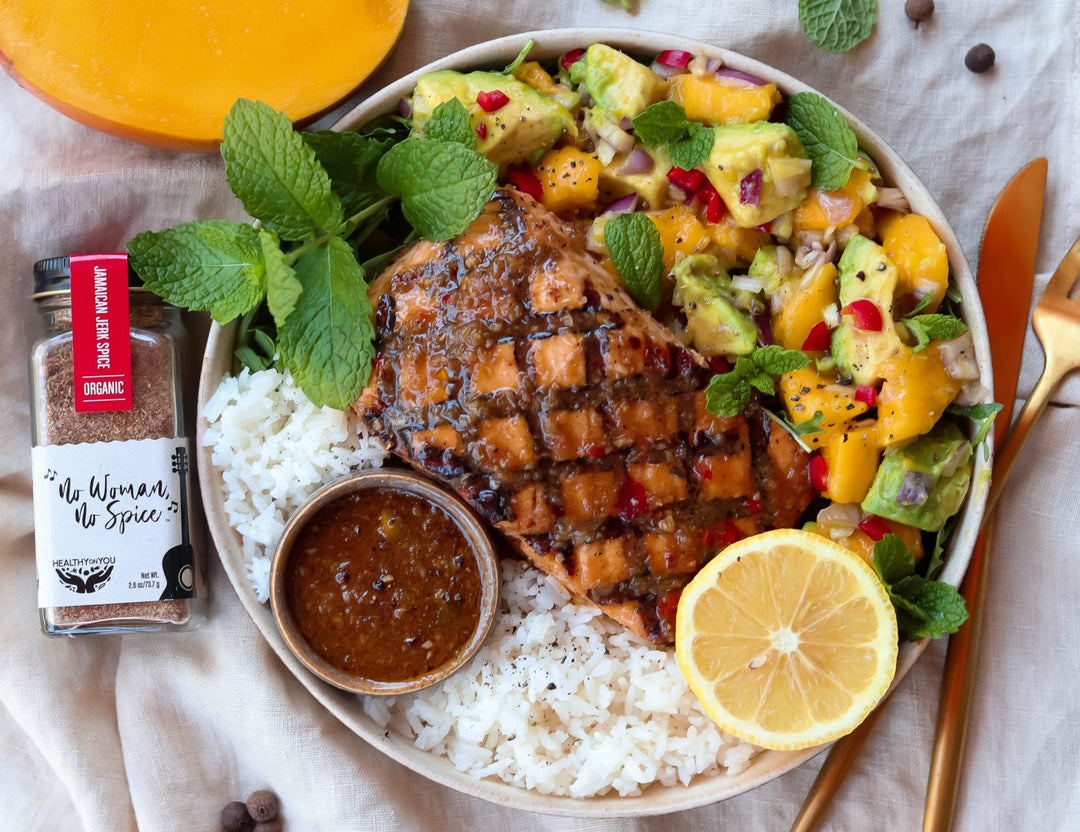 Savory Smoky Salmon on a bed of Leeks and Fennel
Salmon is one of the easiest, healthy meals to prepare on a weeknight but sometimes we need to put a new spin on it. This week I made a delicious salmon with my Fish You Were Here and You're So Spain spice blends. The spices added a nice smoky flavor and paired wonderfully with the tried and true favorite herby vegetable mix of leeks and fennel. The leeks and fennel help to cut the richness of the salmon and is a perfect compliment.
View Recipe
Spring Charred Vegetables with Roasted Salmon
This delicious and nutritious recipe is perfect for brunch, lunch, or dinner using the Herby Melodies Edible Playlist spice blends. Here you have all you're favorites in one dish! This recipe was a winner for the Tone it Community! Check out the live cooking class @toneitup and get inspired!
View Recipe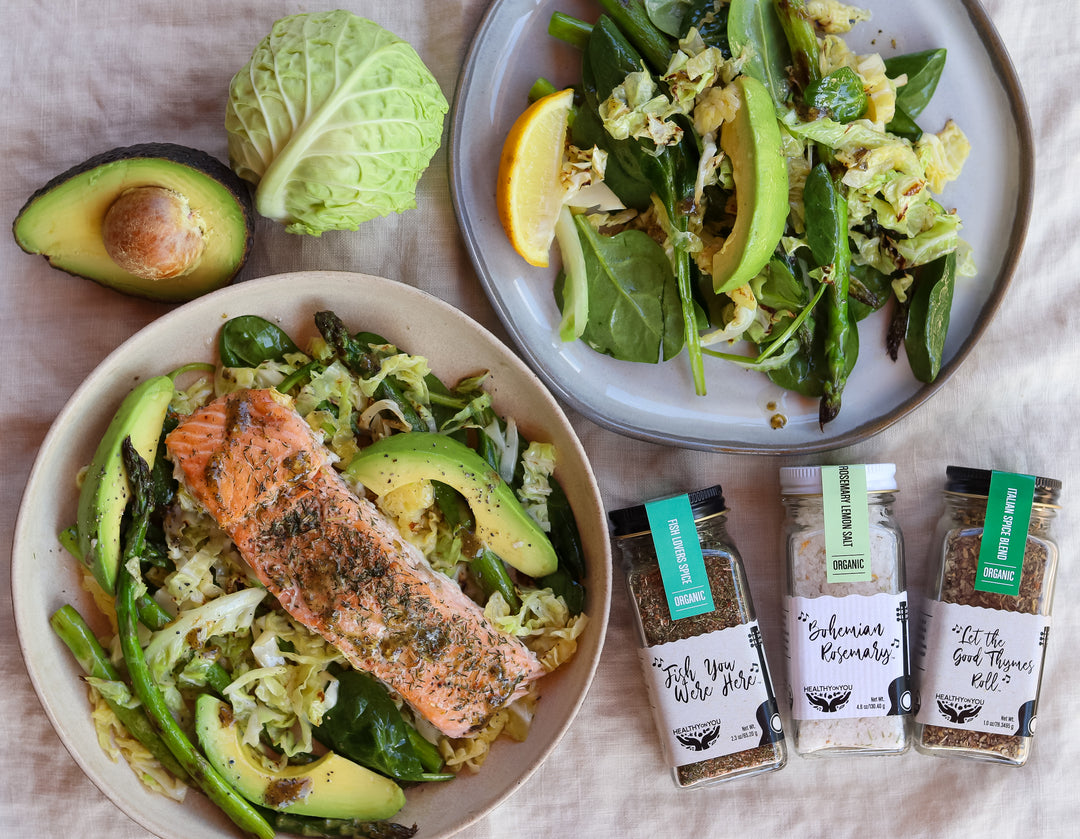 Learn How to Cook
With Our Blends

At Healthy On You®, we feel it is integral to give back to our communities and those in need. We have carried out this mission by offering donation-based cooking classes, we call our Cooking for a Cause series. All proceeds are donated to that classes's charity of choice, typically a cause fighting for social justice and equality. Join us to learn how to cook with your favorite Healthy On You® blends, support a great cause, and meet others who share a similar passion for flavorful, nutritious food!