Featured product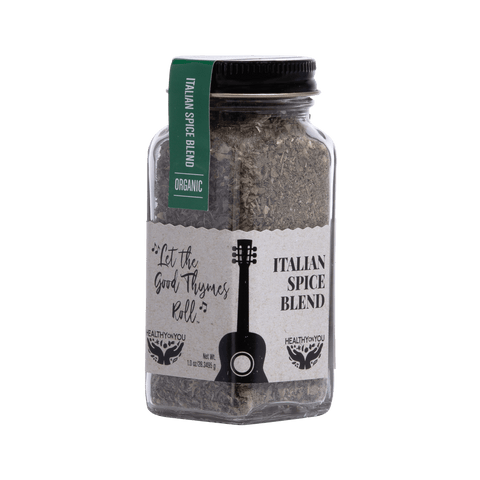 Let The Good Thymes Roll
Italian Spice Blend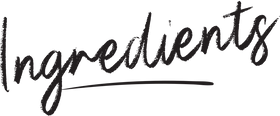 FOR THE DOUGH
1¼ cup all-purpose flour
2 tsp Healthy On You® Let the Good Thymes Roll spice blend
1 stick unsalted butter (8 tbsp)
4 to 6 tbsp Iced water
Kosher salt and pepper
FOR THE FILLING
1½ lbs. heirloom tomatoes, sliced ¼ thick
2 tbsp olive oil
1 cup ricotta cheese
1 tbsp Healthy On You® Let the Good Thymes Roll spice blend + more for sprinkling
1 cup diced onion
2 cloves garlic, minced
¼ cup shredded Parmesan cheese
MAKE THE DOUGH
In a large bowl, whisk the flour with ¾ tsp each of salt and pepper and the Let the Good Thymes Roll spice blend.
Working over the bowl, grate the frozen butter on the large holes of a box grater.
Gently toss the grated butter in the flour. Stir in the iced water one tbsp at a time until the dough is evenly moistened.
Work the dough until it starts to come together. Scrape out onto a work surface, gather up any crumbs and knead gently into a ball.
Pat into a disk, wrap in plastic and refrigerate until chilled, about 1 hour.
MEANWHILE, MAKE THE FILLING
Add the olive oil to a sauté pan under medium heat.
Add the onions, garlic and the Let the Good Thymes Roll spice blend. Cook for 5-7 minutes until fragrant and the onions are transparent.
Add the ricotta cheese to a medium-sized bowl. Add in the cooked onion and garlic mixture and stir well. Set aside.
PUT IT ALL TOGETHER
Preheat the oven to 400°F.
On a lightly floured work surface, roll out the dough to a 14-inch round.
Carefully transfer to a parchment paper-lined baking sheet.
Spread the ricotta and onion, garlic mixture over the dough, leaving a 1½ -inch border.
Sprinkle ¼ cup of the parmesan cheese on top of the ricotta.
Arrange the tomatoes on top of the Parmesan cheese. Sprinkle with the Let the Good Thymes Roll spice blend.
Fold the pastry edge up and over the tomatoes to create a 1½ -inch border.
Bake the tomato galette for 30 to 35 minutes, until the crust is browned; let cool slightly. Cut into wedges and serve warm.
Make-Ahead: The galette can be made a few hours early and rewarmed before serving.
Heirloom Cherry Tomato and Plum Salad
This is how I use my late season produce, all picked fresh from the garden at peak freshness-Italian plums, Asian Pears, Bosc pears and cherry tomatoes. With the pears, I made the Carrot and Asian Pear Soup, but the plums are special and I wanted to eat them fresh in a salad.
View Recipe
appetizer
dinner
Gluten-Free
lunch
Side
snack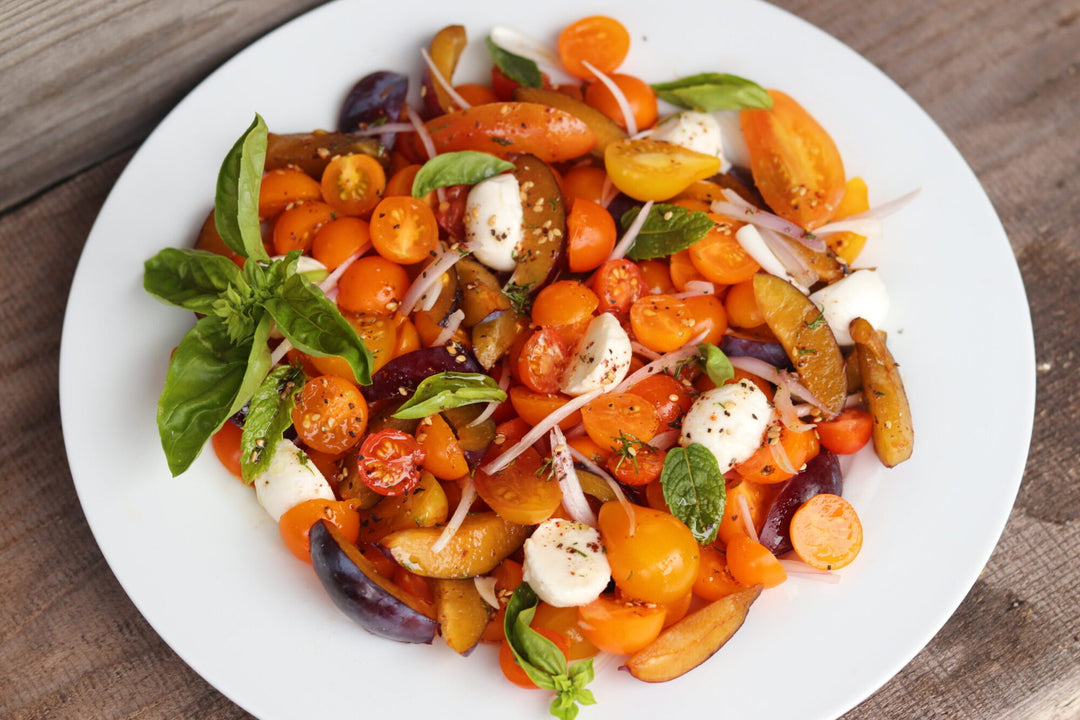 Heirloom Tomato And Leek Tart
It's tomato season! If you have a garden, growing tomatoes are a test of patience that can sometimes make you want to pull your hair out. Luckily, local farmer's markets are overflowing with tomatoes so sweet ripe tomatoes should be easy to come by. This tart is perfect for a main course at brunch and also works well with a side salad for a light dinner -with a glass of vino (wink, wink!)
View Recipe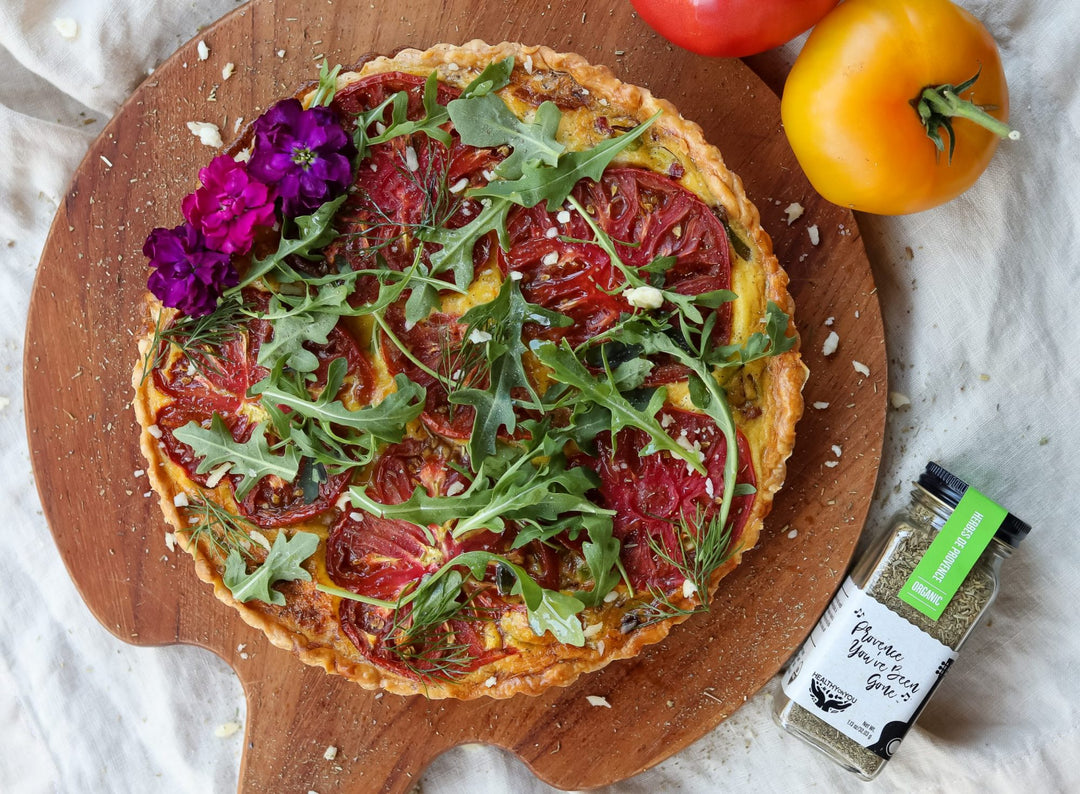 Heirloom Tomato and Watermelon Gazpacho Soup
This rendition of gazpacho is truly a gazpacho-like no other! I taught this recipe in the March cooking class and it was a hit. It is so fresh and flavorful with hints of cucumber and jalapeño. With spring upon us and summer ahead, this can be a starter or a full meal when you add fresh crab or grilled shrimp to your soup at the end. To be honest, until I tried this version of cold tomato soup, I was never a huge fan. Adding fresh heirloom tomatoes, watermelon, cilantro, and jalapeño bring this dish alive.
View Recipe
appetizer
Dairy-Free
dinner
Gluten-Free
low-crab
lunch
vegan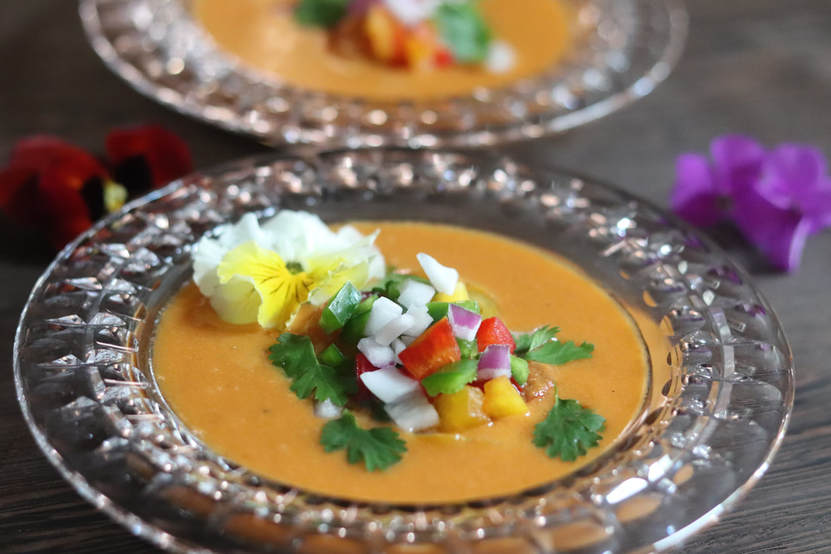 Learn How to Cook
With Our Blends

At Healthy On You®, we feel it is integral to give back to our communities and those in need. We have carried out this mission by offering donation-based cooking classes, we call our Cooking for a Cause series. All proceeds are donated to that classes's charity of choice, typically a cause fighting for social justice and equality. Join us to learn how to cook with your favorite Healthy On You® blends, support a great cause, and meet others who share a similar passion for flavorful, nutritious food!