Featured product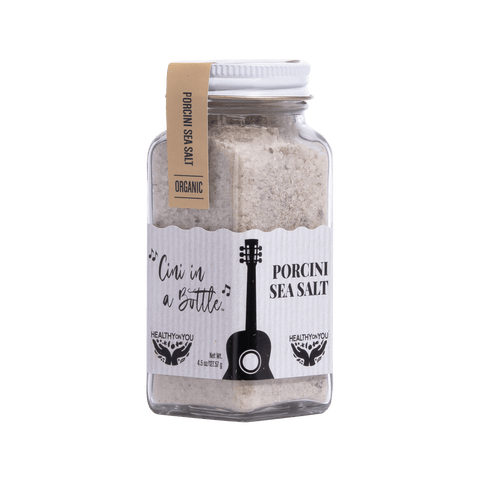 Cini in a Bottle
Poricni Sea Salt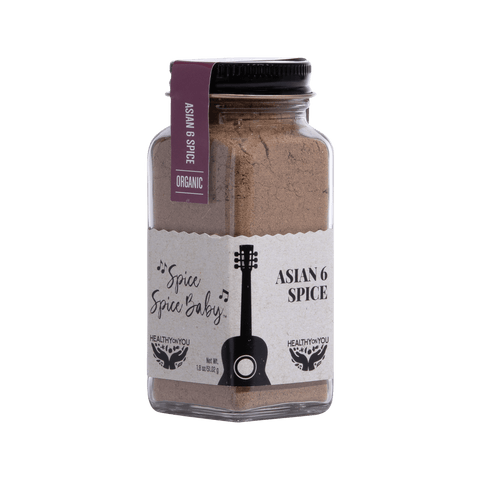 Spice Spice Baby
Asian 6 Spice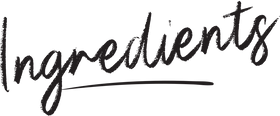 FOR THE SQUASH BOWLS
4 medium-sized acorn or carnival squash
4 tbsp extra virgin olive oil
4 tsp Healthy On You® Spice Spice Baby Spice Blend
2 tsp Healthy On You® Cini in a Bottle Sea Salt
pepper for taste
FOR THE SOUP
16 oz mushrooms (portobello, crimini, halved or quartered)
2 large sweet onions, quartered
3 cloves garlic, slightly crushed
1-2 tbsp etxra virgin olive oil
2 tsp Healthy On You® Cini in a Bottle Sea Salt, divided
4 cups chicken broth/vegetable broth
2 15oz cans cannellini white beans
4 sprigs fresh thyme
1 tsp pepper, divided
pepitas (pumpkin seeds) and chopped parsley for garnish
Additional Cini in a Bottle and pepper to taste
FOR THE SQUASH BOWLS
Preheat oven to 375°F and line a baking sheet with parchment paper.
Begin by thoroughly rinsing and drying your beautiful squash.
Cut the top third of the squash off and remove the seeds with a spoon. Cut a flat spot on the bottom of each squash so they sit flat. Place squash bowls on the prepared baking sheet, cut side up.
Brush the inside and rim of squash with olive oil. Sprinkle with Spice Spice Baby, Cini in a Bottle, and pepper.
Transfer to the oven. Roast squash until very tender (just before the sides begin to collapse), approximately 1 hour.
FOR THE SOUP
Preheat oven to 400°F. Line an extra-large baking sheet or two large baking sheets with foil (you will need to keep your vegetables divided when roasting).
Toss mushrooms, 1 tbsp olive oil, 1 tsp Cini in a Bottle Sea Salt, and 1/2 tsp pepper in a bowl.
Separately, toss the garlic, onion, thyme, remaining olive oil, Cini in a Bottle Sea Salt, and pepper. Keep the ingredients divided and place on your extra-large baking sheet or two separate ones.
Transfer to the oven and roast for 10 minutes. Toss and then roast for additional 10 minutes.
While vegetables are roasting, add broth, beans, and fresh thyme to a large stockpot over medium heat. Begin to simmer.
When vegetables are finished roasting, let them cool slightly. If your mushrooms overlapped with other vegetables, separate.
Retrieve 2 cups of the white beans and 1 cup of broth from the stockpot. Add to a blender along with the roasted onions, garlic, and thyme. Cover and blend until smooth.
Add pureed bean mixture back to the stockpot, whisking in until smooth.
Alternately, if you have an immersion blender, add the roasted onion/garlic/thyme mixture to the soup pot and carefully blend inside the pot until smooth.
Add the roasted mushrooms to the soup. Warm over low heat until ready to serve.
Add additional salt and pepper if needed. Ladle the soup inside pre-roasted Acorn Squash Bowls.
Pasta With Sausage, Squash, And Sage
Looking for a quick weeknight meal? Well look no further! This recipe will soon be in your fall recipe rotation. There are certain foods I always try to keep in the fridge or freezer to help me create delicious, healthy and flavorful meals all week long. The key ones are frozen shrimp, corn, peas and chicken apple sausages. I never have a specific recipe for them at the time I buy them, but find they are just great with everything.
View Recipe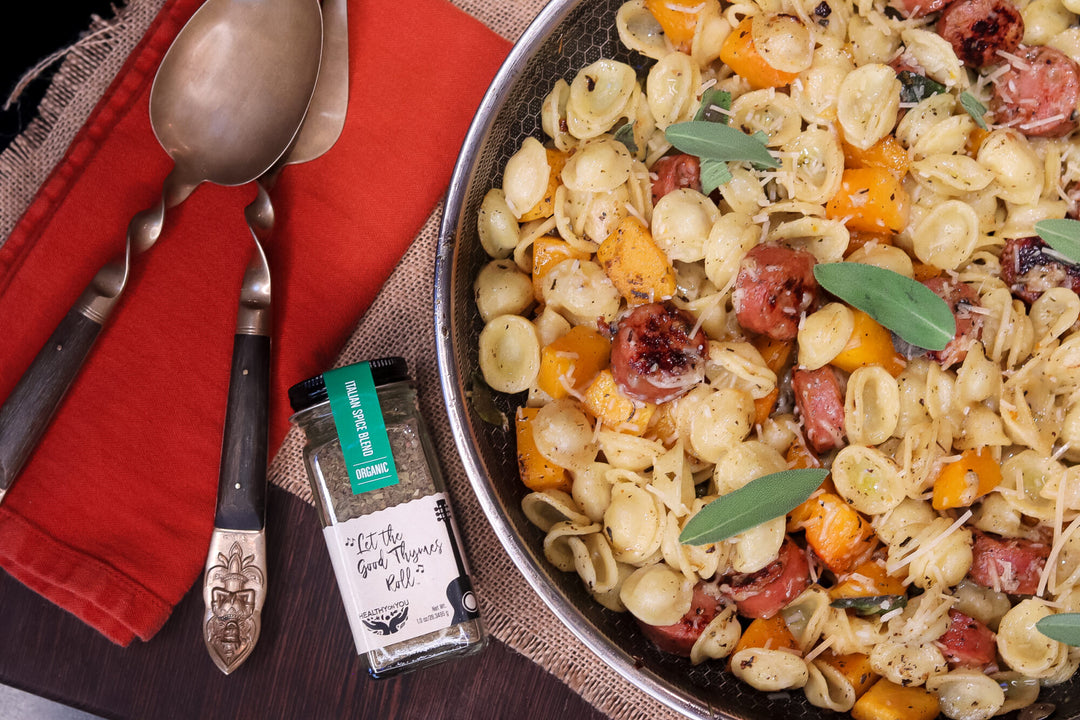 Roasted Delicata Squash Salad
I really love the fall if you haven't noticed! But not for the reasons you may think. I enjoy sweater weather and pumpkin-scented things as much as the next person, but I love the fall for the produce and colors that come along with it. The oranges, deep greens and reds that are present in our foliage, but also in the foods we eat, makes my year…every year.
View Recipe
Dairy-Free
dinner
Gluten-Free
low-crab
Side
vegan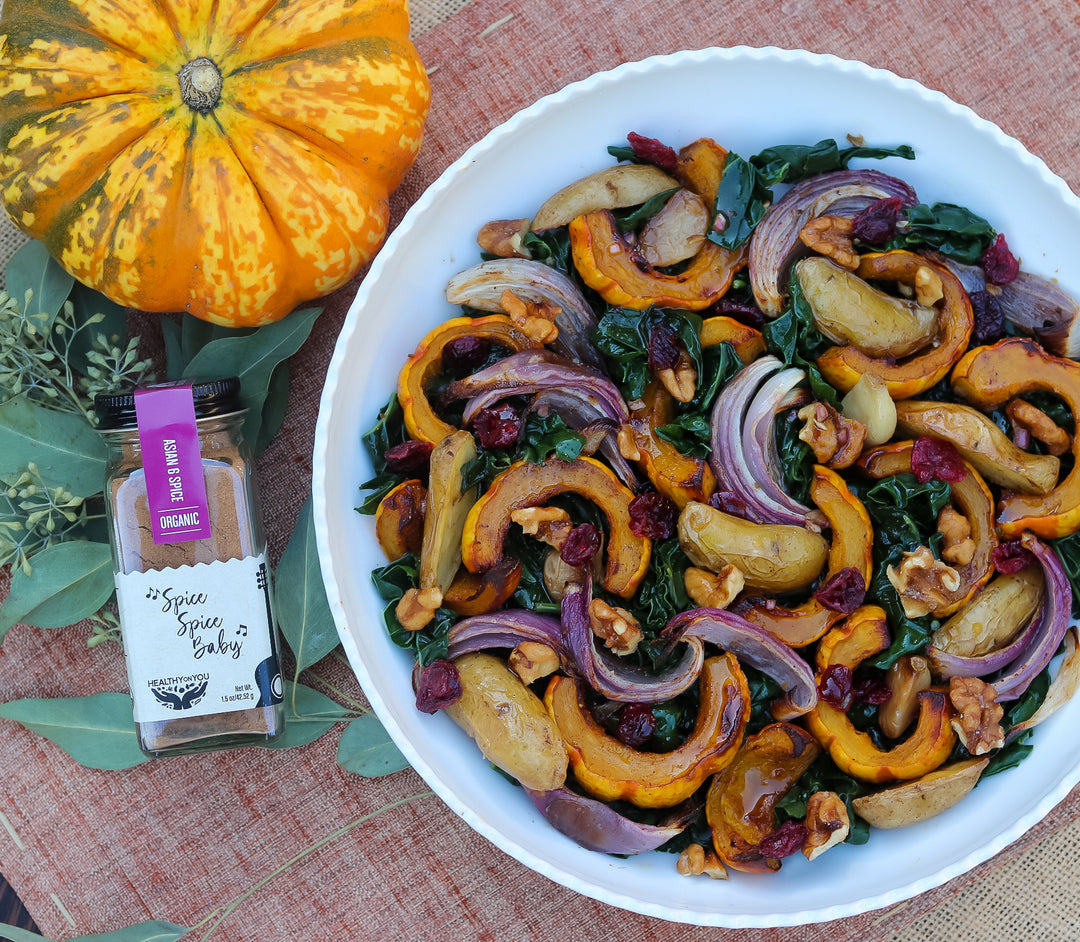 Quinoa Stuffed Honeynut Squash
We just can't get enough of Butternut squash these days and as fall begins to set in look no further for great recipes with our flavorful spice blends.
View Recipe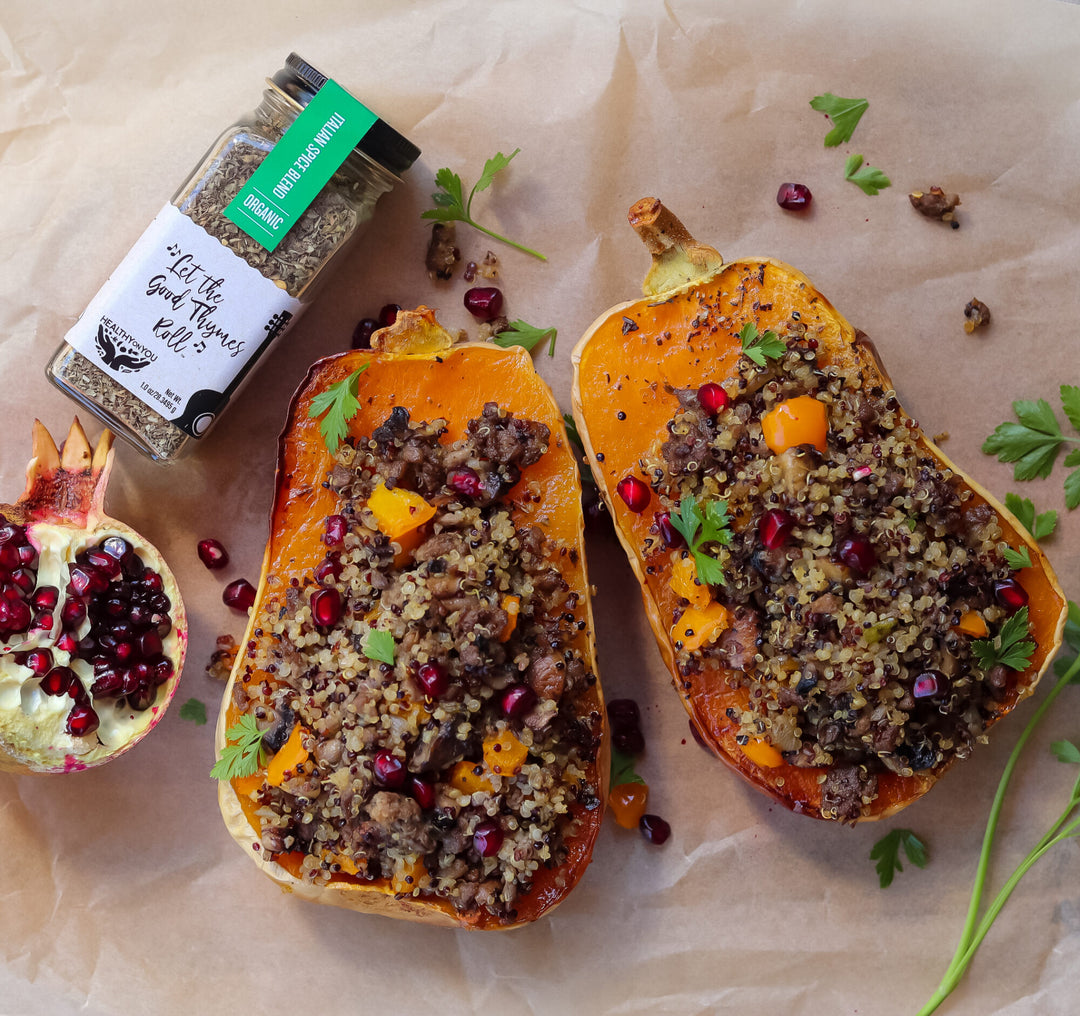 Learn How to Cook
With Our Blends

At Healthy On You®, we feel it is integral to give back to our communities and those in need. We have carried out this mission by offering donation-based cooking classes, we call our Cooking for a Cause series. All proceeds are donated to that classes's charity of choice, typically a cause fighting for social justice and equality. Join us to learn how to cook with your favorite Healthy On You® blends, support a great cause, and meet others who share a similar passion for flavorful, nutritious food!