Featured product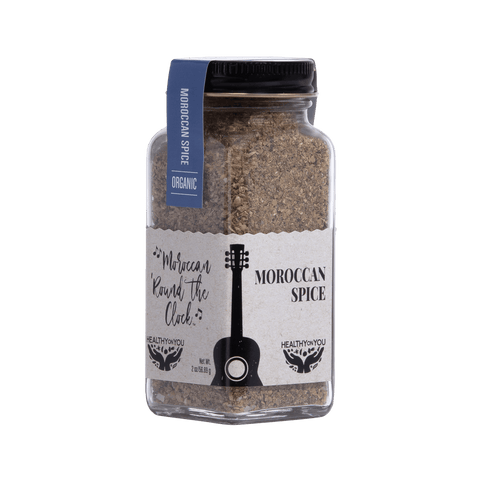 Moroccan 'Round the Clock
Moroccan Spice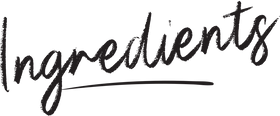 6 organic eggs
1 lbs grass fed ground lamb
2 14.5 oz cans Fire Roasted Tomatoes
1 tbsp olive oil
1 large onion, diced
4 cloves garlic, minced
1 sweet bell pepper, chopped
1 cup mushrooms (baby bellas),washed and sliced
2 tbsp Healthy On You® Moroccan 'Round the Clock spice blend, separated
1 tsp Healthy On You® Saffron and Winding Road Sea Salt
Fresh cracked pepper
5 threads saffron
¼ cup feta cheese
chopped Parsley for garnish
In a large cast iron skillet, heat the olive oil over medium heat and add the ground lamb, stirring and breaking up the pieces. Add 1 tsp "Saffron and Winding Road" sea salt and stir
Add the 2 tbsp. Moroccan 'Round the Clock spice blend and stir well.
Add in the onions, chopped pepper, mushrooms and garlic and continue to cook for another 2 minutes.
Add the fire-roasted tomatoes and reduce the heat to low.
Cover and cook for 30 minutes until the mixture is reduced by a ⅓
Gently crack the eggs into skillet over the tomato sauce.
Season with the Healthy On You® Saffron and Winding Road sea salt and cracked pepper.
Cover and continue to cook for 5 minutes until the egg whites are opaque but the yolk is still runny
Sprinkle with crumbled feta cheese and chopped parsley and serve.
Spring Mexican Green Shakshuka
Can't think of a more fun dish for Cinco de Mayo than this one! We love this recipe because it's great for any time of day: breakfast, lunch, or dinner. Here this green version is paired with tortillas for the ultimate Taco Tuesday. Our Healthy On You salt-free Something to Taco 'Bout ensures that great chile flavor, without the excess salt. Add just what you need!
View Recipe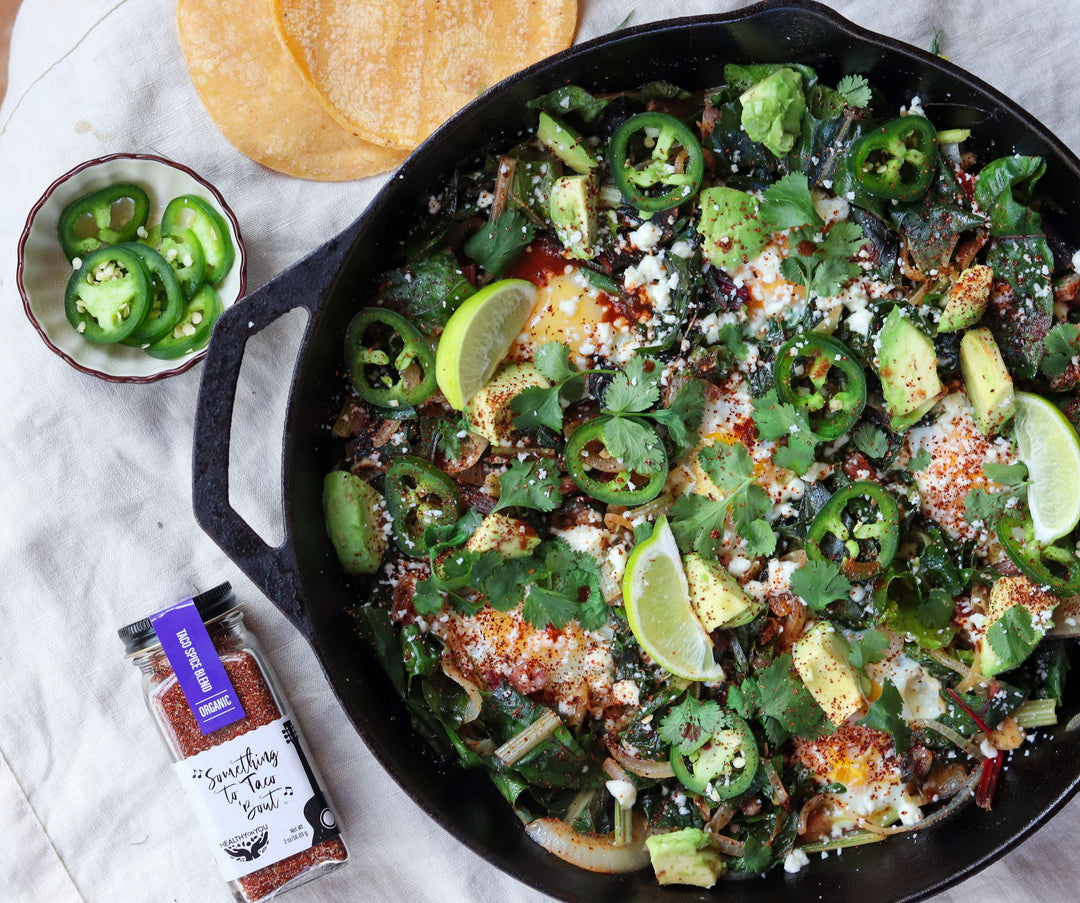 Honey Moroccan Spiced Ribs
This is the second batch of ribs we smoked with a completely different flavor profile. The infusion of Moroccan flavors paired with the sweetness of the honey was so unique! I loved these ribs and the harissa dipping sauce added a little heat, which was subtle and tasty. Healthy On You® Moroccan Round the Clock spice blend went to work adding the bold flavors of coriander, mustard seed, cumin to brighten up the mix and make this smoked rib dinner memorable.
View Recipe
dinner
Gluten-Free
low-crab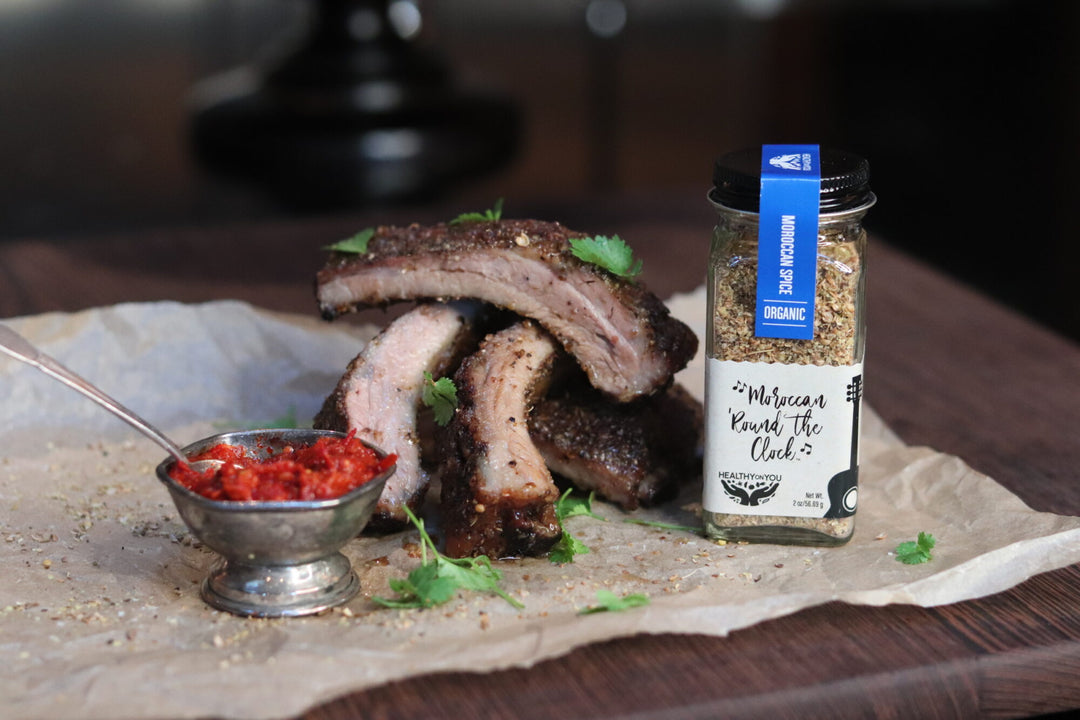 Moroccan Spiced Baked Sweet Potato Chips
You've asked for it and here it is! These baked sweet potato chips are a huge hit in my cooking classes. They are light, a great alternative to fried potatoes and are super tasty. I find the white sweet potatoes to be less sweet so I often use them, but any color sweet potato will do.
View Recipe
appetizer
Dairy-Free
Gluten-Free
snack
vegan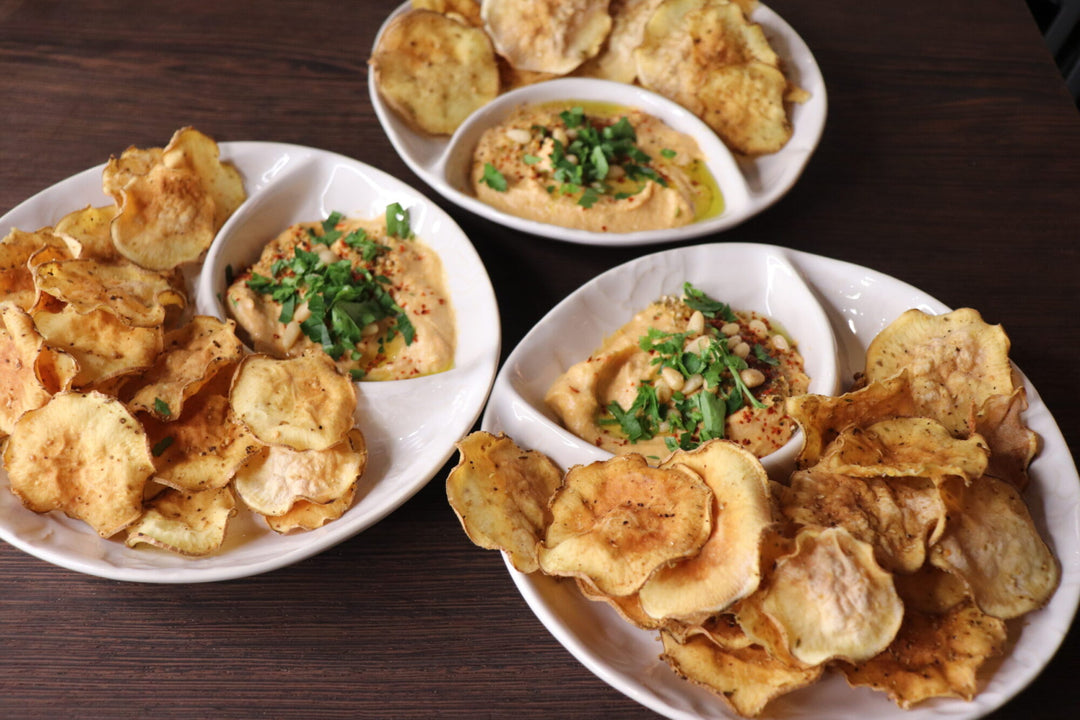 Learn How to Cook
With Our Blends

At Healthy On You®, we feel it is integral to give back to our communities and those in need. We have carried out this mission by offering donation-based cooking classes, we call our Cooking for a Cause series. All proceeds are donated to that classes's charity of choice, typically a cause fighting for social justice and equality. Join us to learn how to cook with your favorite Healthy On You® blends, support a great cause, and meet others who share a similar passion for flavorful, nutritious food!