Featured product
Here Comes The Yum
Turmeric Ginger Spice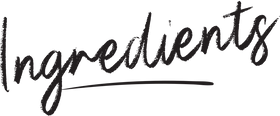 1 3-4 b Whole Organic Chicken
2 tbsp Healthy On You® "Here Comes the Yum" spice blend
1 tbsp coconut or canola oil
2 14 oz. cans coconut milk
½ cup Shredded unsweetened coconut ( I use Bob's Red Mill)
2 tbsp fish sauce
2 cups water
4 small carrots washed and peeled and cut in half
2 cups shiitake mushrooms washed, stems removed and diced
½ cup frozen peas
1 tsp kosher salt
Zest of a small lime
Juice of one small lime
Optional garnishes: chopped cilantro, cashews, Thai chiles
Pre-heat oven to 400°F. Prep a baking sheet with parchment paper and set aside.
Wash the chicken and pat dry. Then rub with oil, salt and one tbsp of the "Here Comes the Yum" spice blend. Make sure to rub as much of the spice blend under the skin as possible.
Place the chicken on the baking sheet and place in oven. Bake for 15 mins.
In the meantime, prep the coconut curry sauce: In a large dutch oven, add the two cans of coconut milk and bring to gentle boil over medium heat.
Add the curry paste, the remaining one tbsp of the "Here Comes the Yum" spice blend, water, shredded coconut, fish sauce, shiitake mushrooms, and lime juice and zest.
Reduce the heat and cover.
After 15 minutes, removed the chicken from the oven and using large serving forks, gently transfer the chicken to the dutch oven and into the curry sauce.
Reduce the oven temperature to 375°F.
Put the lid on the pot and transfer to the oven. Bake for 45 minutes.
Remove the lid and bake for another 15 minutes.
Remove from the oven and allow to rest for 10 minutes. Remove the lid and with a large flat spoon, skim the oil from the chicken, as much as possible before plating.
Garnish with fresh chopped cilantro, chopped cashews and chopped and seeded Thai chiles.
Skillet Chicken with Green Curry Sauce
This is a winner chicken dinner if I ever tasted one. Its great for a weeknight meal and you can make it for two, four or six easily. I often get bored with chicken, repeating the same recipe over and over again. This recipe is different, mainly because the chicken is not cooked in the sauce, so the curry flavor is not all consuming. The fresh carrots and broccolini are steamed and then added to the pan. They add color and nutrients to the dish.
View Recipe
dinner
Paleo Poultry
Seasoning Beneath My Wings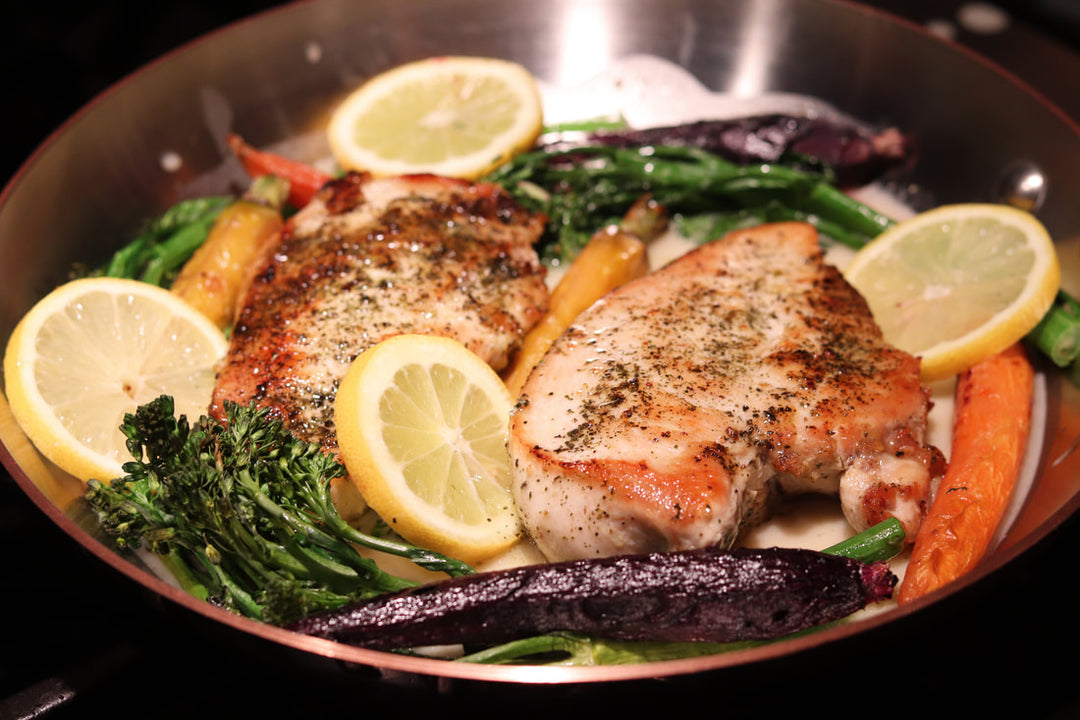 Roasted Chicken Thighs with Tomato and Eggplant
This dish is a crowd-pleaser and great for a dinner party. Freeze the leftovers and have the perfect meal at the ready on weeknights when time is of the essence. I always peruse the fridge for vegetables and foods that should be used up, honoring my pledge this year of reducing our food waste. So, eggplant and tomatoes were plenty and needed to be used. That's how this delicious recipe came about.
View Recipe
Dairy-Free
dinner
Gluten-Free
Italian Spice Blend
Let the Good Thyme Roll
Low Carb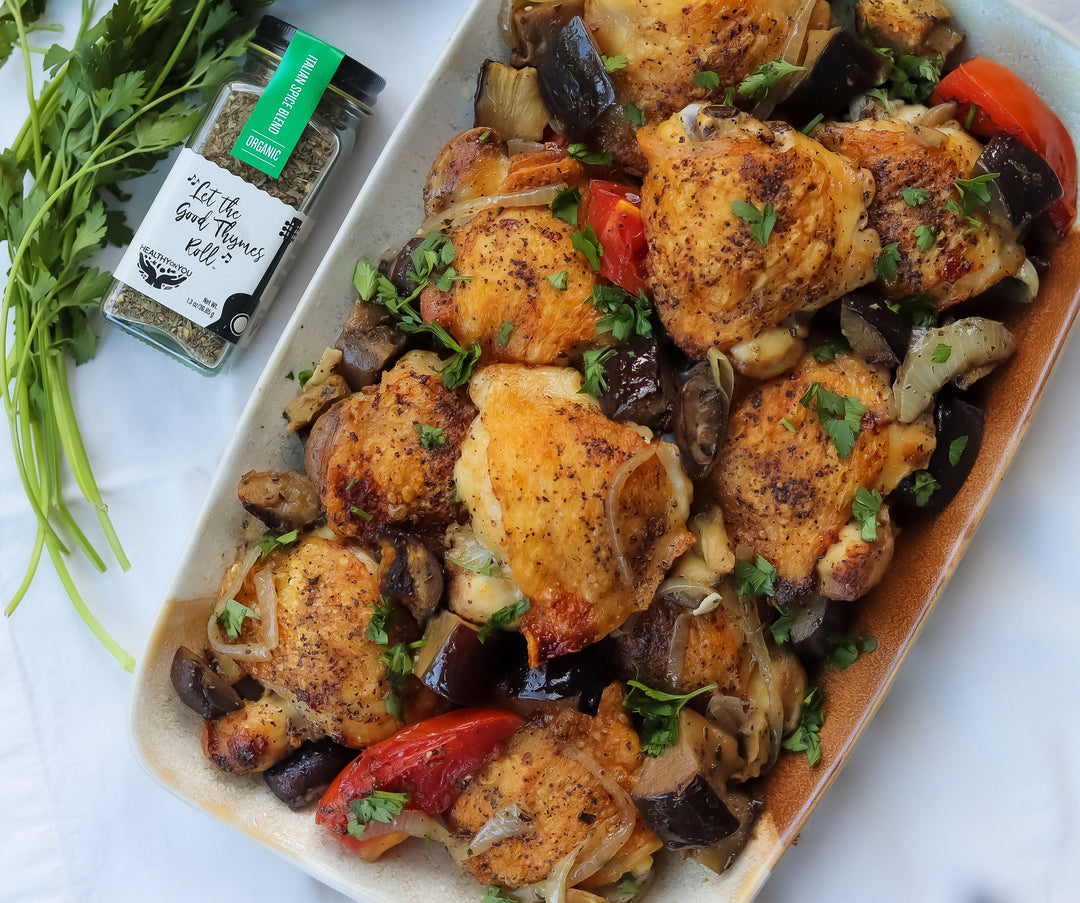 Herb-roasted Chicken With Citrus
Looking for another winner-winner chicken dinner? Well, search no more! This version of roast chicken is SPECIAL and relatively easy every time with Healthy On You® Seasoning Beneath my Wings or Provence You've Been Gone spice blends. Both spices create a beautiful herb bouquet that makes your home smell absolutely delightful while it's baking. Add in garlic bulbs that roast to perfection, lemons, and kumquats which are in season. ⁠You can also substitute oranges or tangerines, skin on, and quartered in lieu of the kumquats. You will still get that fragrant citrus vibe throughout the recipe.
View Recipe
dinner
Paleo Poultry
Provence You've Been Gone
Seasoning Beneath My Wings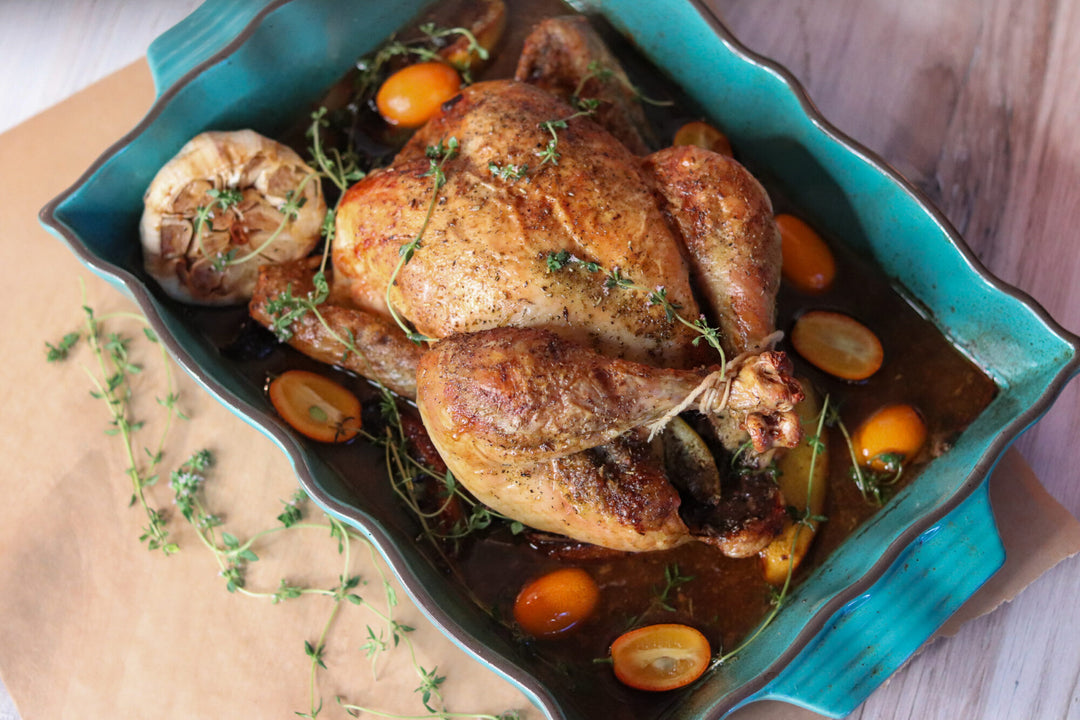 Learn How to Cook
With Our Blends

At Healthy On You®, we feel it is integral to give back to our communities and those in need. We have carried out this mission by offering donation-based cooking classes, we call our Cooking for a Cause series. All proceeds are donated to that classes's charity of choice, typically a cause fighting for social justice and equality. Join us to learn how to cook with your favorite Healthy On You® blends, support a great cause, and meet others who share a similar passion for flavorful, nutritious food!