Featured product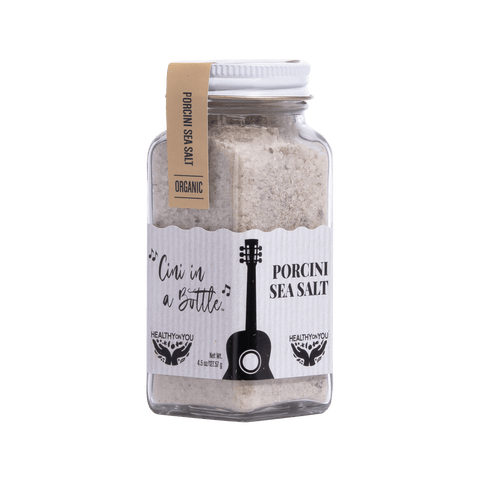 Cini in a Bottle
Poricni Sea Salt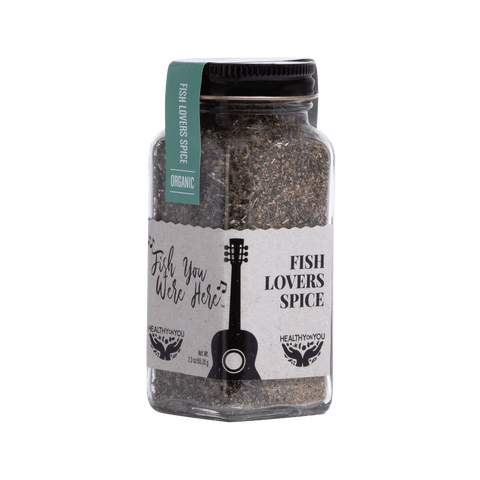 Fish You Were Here
Fish Lover Spice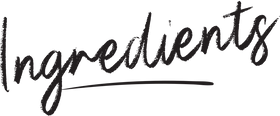 6 king oyster mushrooms washed and thick stems cut into 1" slices
1 tbsp Healthy OnYou® Fish You Were Here Fish Lovers Spice Blend
3 tbsp vegan butter or olive oil, separated
8 oz. cooked gluten-free or regular spaghetti pasta (about 4 cups)
2 cloves garlic, minced
1 cup cherry tomatoes, halved
1 cup fire-roasted corn, (freshly grilled or frozen, ok)
¼ cup pitted green olives, halved
¼ cup dry white wine
¼ cup vegetable or mushroom broth
¼ cup shaved parmesan cheese
Fresh basil leaves
sea salt and pepper
MAKE THE VEGAN "SCALLOPS"
With a sharp knife, score the tops and bottoms of the "scallops" with a crisscross pattern. This will help them absorb more flavor.
Season each "scollop," front and back with the Fish You Were Here seasoning and sea salt.
Heat a large skillet over medium-high heat. When hot, add 2 tbsps of the vegan butter or olive oil. When the oil shimmers, add the "scallops," one by one, and pan sear for 5-6 minutes per side.
Remove from pan and set aside.
MAKE THE PASTA
Heat a large cast iron or large saucepan over medium heat, add the remaining tablespoon of olive oil or vegan butter. When hot, add the garlic and stir well for one minute.
add the wine and stir in with the garlic allowing the alcohol to burn off for 2 minutes.
Add the stock, tomatoes, corn and olives. Stir well and cook for additional 2 minutes. Taste and season with sea salt and pepper.
Stir in ½ the pre-cooked pasta and combine well before adding the rest. Stir well making sure the pasta is heated through.
Add the "scallops" back in and toss well. Sprinkle with the shaved parmesan cheese and garnish with the fresh basil leaves.
Sheet Pan Veggie Nachos
This recipe is not just for the kids-everyone will love it! It's fresh, loaded with vegetables and substitutes meat with Beyond Meat Ground Beef. The Beyond Meat makes this version guilt-free 100%, so there's no reason not to give it a go. Plus, we use our Something to Taco 'Bout Taco spice blend to pack this recipe with lots of south-of-the-border flavors.
View Recipe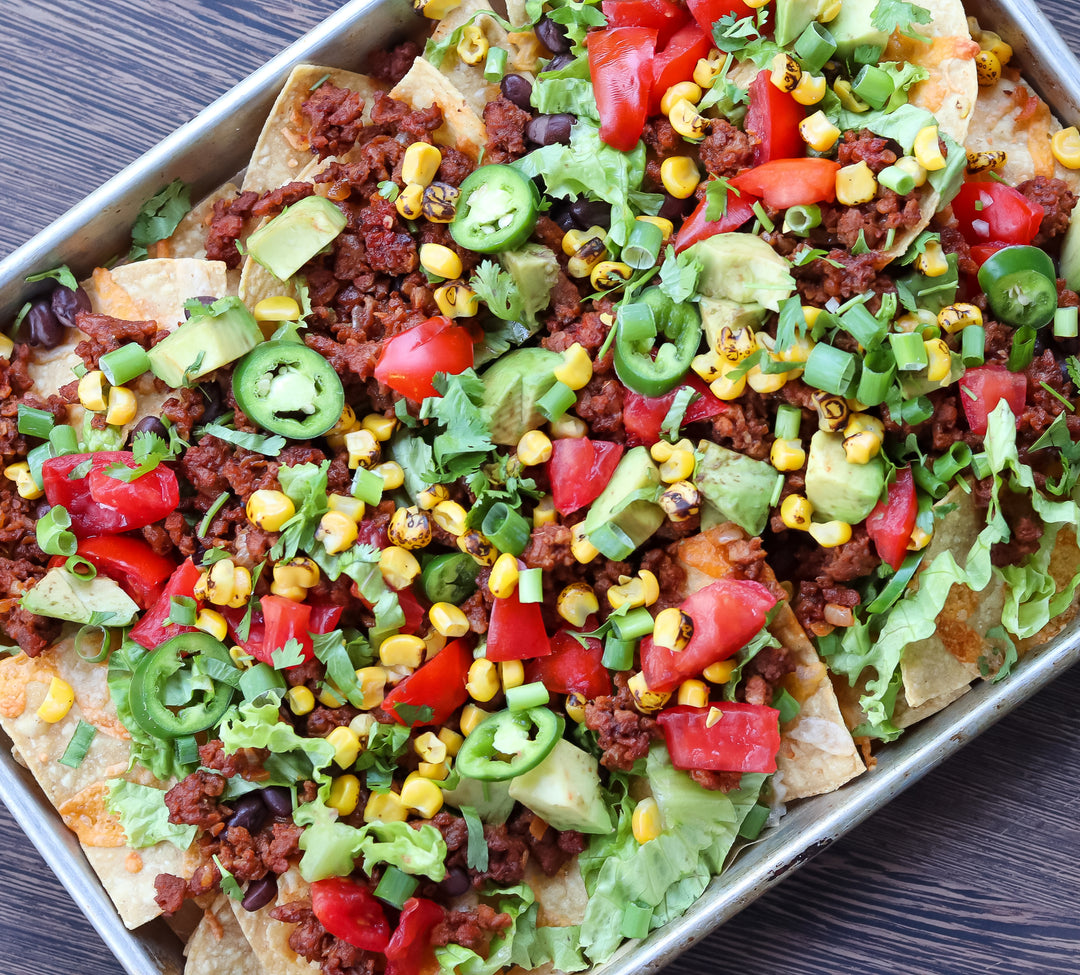 Herby Popovers
These popovers are easy, yummy and simple! They make the perfect snack or appetizer. You can also get creative with the flavors, since the popovers themselves are a blank slate for experimentation. In this version, we used our Healthy On You® Bohemian Rosemary Sea Salt and Let the Good Thymes Roll Spice Blend. We have so much fun making this recipe as a family, you'll want to give this a try!
View Recipe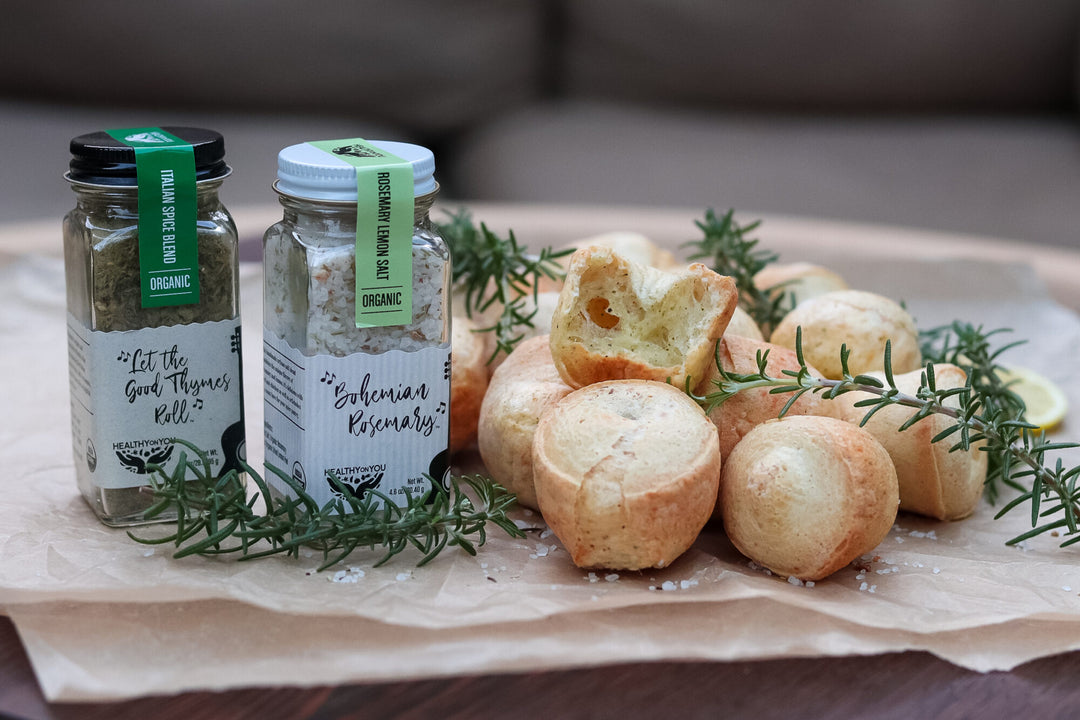 Spring Charred Vegetables with Roasted Salmon
This delicious and nutritious recipe is perfect for brunch, lunch, or dinner using the Herby Melodies Edible Playlist spice blends. Here you have all you're favorites in one dish! This recipe was a winner for the Tone it Community! Check out the live cooking class @toneitup and get inspired!
View Recipe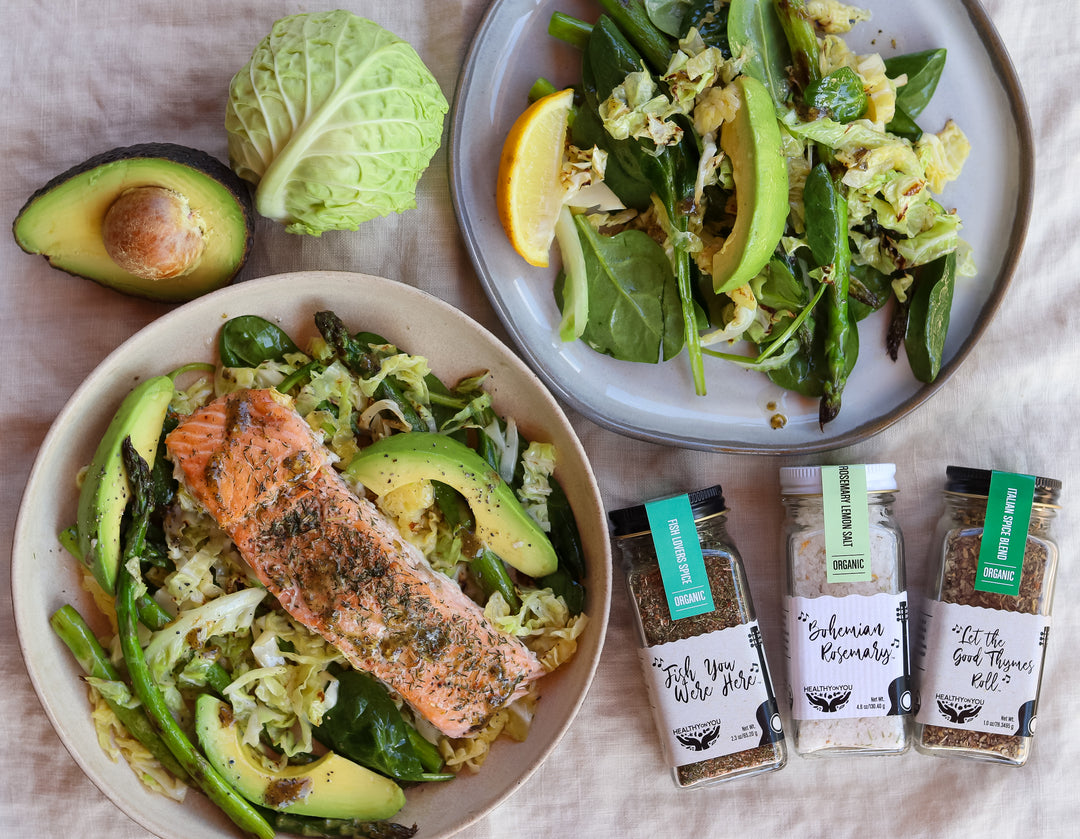 Learn How to Cook
With Our Blends

At Healthy On You®, we feel it is integral to give back to our communities and those in need. We have carried out this mission by offering donation-based cooking classes, we call our Cooking for a Cause series. All proceeds are donated to that classes's charity of choice, typically a cause fighting for social justice and equality. Join us to learn how to cook with your favorite Healthy On You® blends, support a great cause, and meet others who share a similar passion for flavorful, nutritious food!