Featured product
Here Comes The Yum
Turmeric Ginger Spice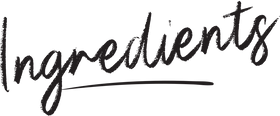 2 tbsp grapeseed oil
1 small onion, diced
4 garlic cloves, minced
1 tbsp fresh ginger, grated
½ medium cauliflower, broken up into florets
½ small kabocha squash, peeled and diced
1 15 oz. can chickpeas, drained
1 cup spinach
1 large tomato, diced
1 cup coconut milk
1 cup vegetable broth
1 tbsp tomato paste
2 tbsp Healthy On You® Here Comes the Yum Turmeric Ginger Spice
1 tsp smoked paprika
⅛ tsp cayenne pepper
2 cups cooked brown rice (optional)
cilantro for garnish
sea salt and fresh ground pepper to taste
In a cast iron pan, heat the grapeseed oil and add the diced onions and cook over medium heat for 2 minutes until the onion is translucent.
Add the garlic and ginger to the pan and cook together with the onion for one minute, continuing to stir.
Add the Healthy On You® Here Comes the Yum/Turmeric Ginger spice blend and smoked paprika and saute for one minute until fragrant.
Add the tomato paste, chopped tomatoes, broth, coconut milk, kabocha squash, cauliflower, and the cayenne pepper.
Bring the stew to a low boil, reduce the heat and let simmer for 35 minutes.
Add the spinach, stir until wilted.
Top the cooked brown rice with the curry and garnish with cilantro and serve hot.
Skillet Chicken with Green Curry Sauce
This is a winner chicken dinner if I ever tasted one. Its great for a weeknight meal and you can make it for two, four or six easily. I often get bored with chicken, repeating the same recipe over and over again. This recipe is different, mainly because the chicken is not cooked in the sauce, so the curry flavor is not all consuming. The fresh carrots and broccolini are steamed and then added to the pan. They add color and nutrients to the dish.
View Recipe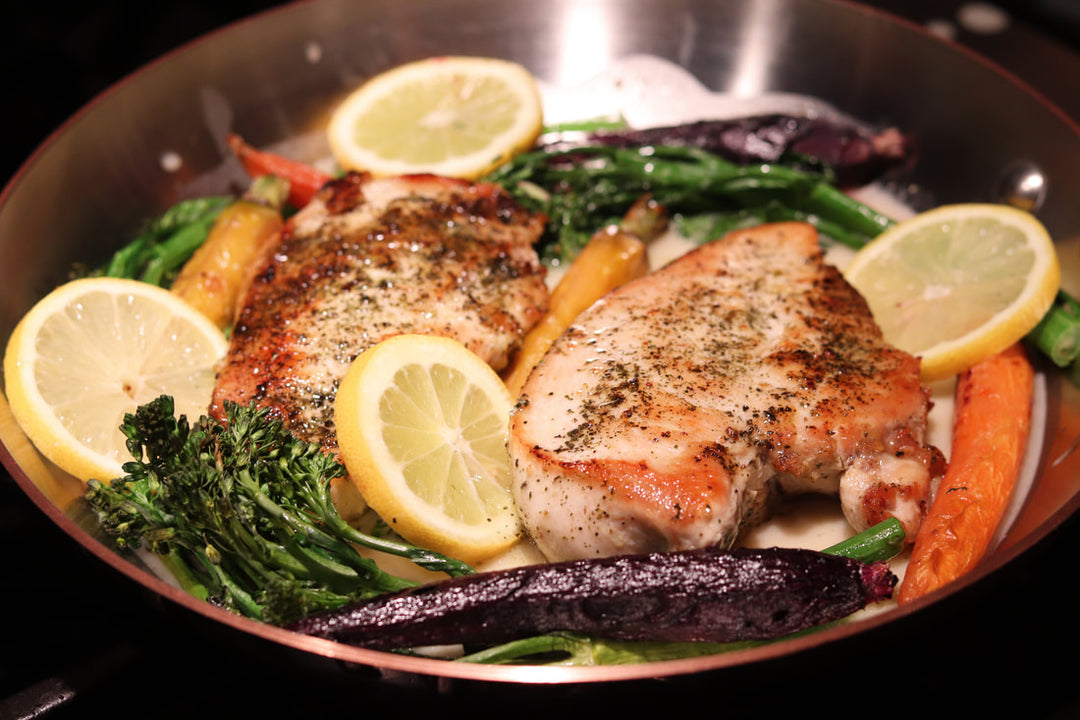 Sunsational Roasted Curry Chicken
This bright yellow coconut curry sauce reminds me of the sun, so I call it "sunsational!" Seriously though…what's better than a whole roasted chicken? Well, chicken that's roasted in a coconut curry sauce with turmeric and ginger spices, for sure. Not to mention coconut milk, dried coconut, fish sauce, and fresh vegetables. Sounds "sunsational" and to me!
View Recipe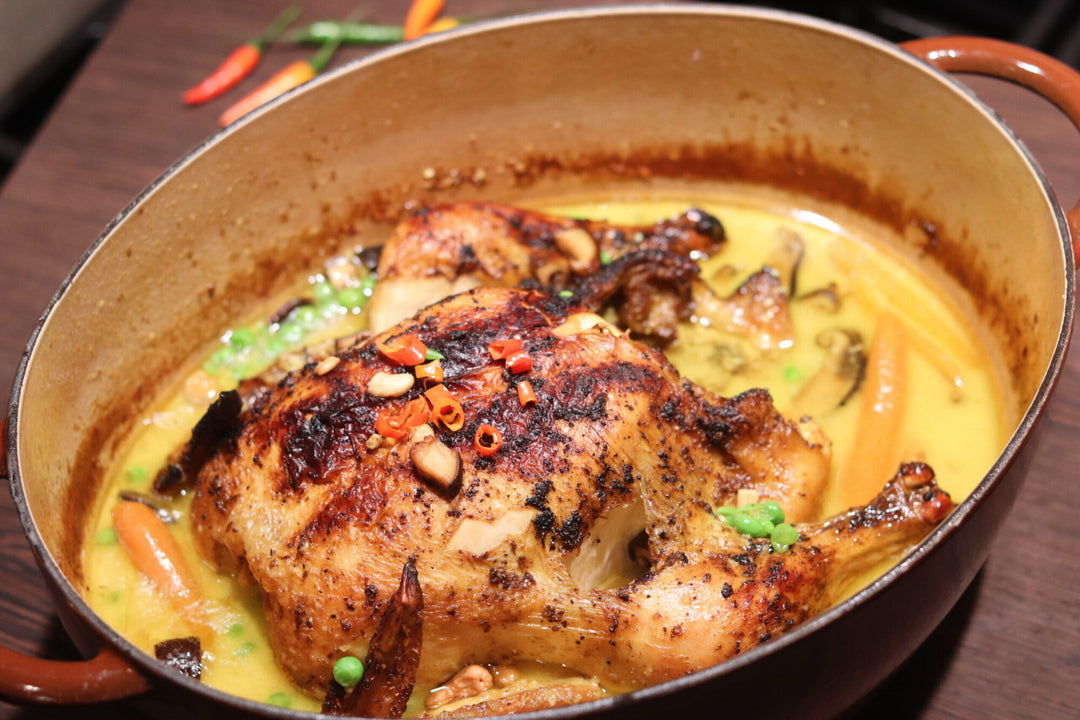 Flavorful Fish Bake with Roasted Vegetables
We are taking your average fish dinner to an all-new level! This delicious sheet pan-roasted fish and vegetables is just what the doctor ordered for busy families who are keeping it healthy on a weeknight timeline! This sheet pan is full of flavor with red onions, garlic, fennel, potatoes and leeks-all of our favorite savory veggies in one meal. We used rockfish fillets in this photo. Rockfish is very similar to snapper fish. Any skinless white fish fillet will work well in this recipe.
View Recipe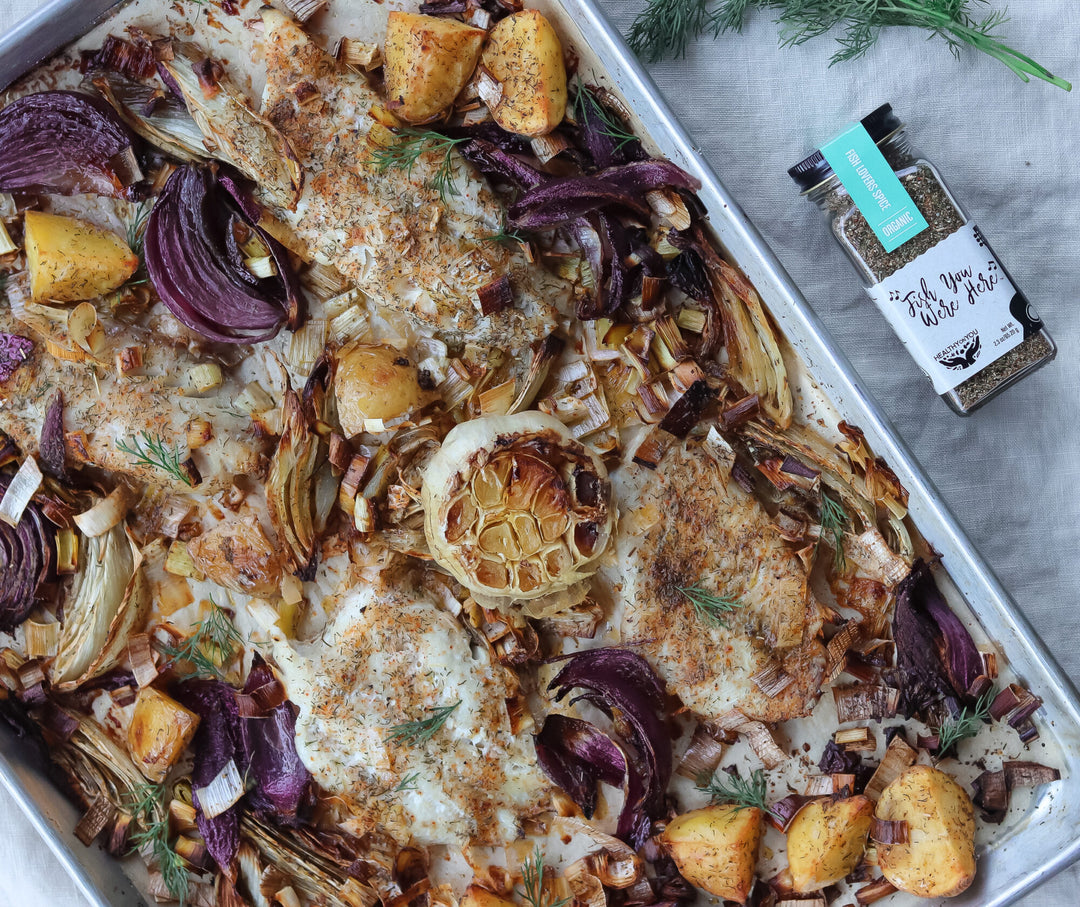 Learn How to Cook
With Our Blends

At Healthy On You®, we feel it is integral to give back to our communities and those in need. We have carried out this mission by offering donation-based cooking classes, we call our Cooking for a Cause series. All proceeds are donated to that classes's charity of choice, typically a cause fighting for social justice and equality. Join us to learn how to cook with your favorite Healthy On You® blends, support a great cause, and meet others who share a similar passion for flavorful, nutritious food!