Featured product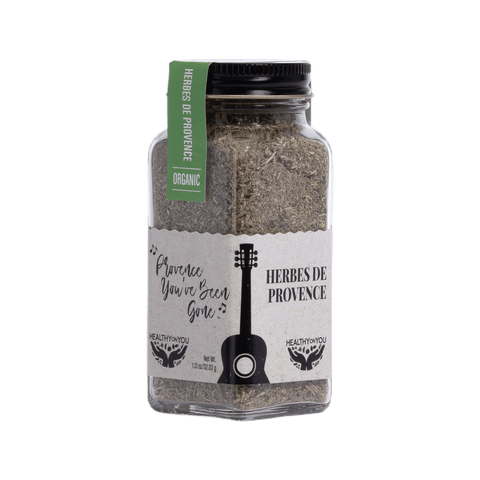 Provence You've Been Gone
Herbes de provence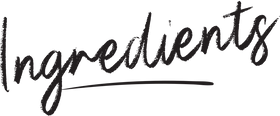 2 tbsp olive oil
2 tbsp unsalted butter
4 cups torn watercress, rinsed and drained
¼ cup chopped fresh parsley
1½ tsp Healthy On You® Provence You've Been Gone spice blend
1 sweet onion chopped
2 small russet potatoes peeled and chopped
2 cups celery ribs, chopped
4 cups low-sodium chicken or vegetable broth, plus more for thinning soup
1 cup coconut milk
4 small eggs
1½ tsp Healthy On You ® Bohemian Rosemary sea salt
½ tsp freshly ground pepper
TO MAKE THE SOUP
Melt the butter and oil in a large saucepan over medium heat.
Add onion; reduce heat to medium-low, and sauté, occasionally stirring, 8 minutes or until onion is tender.
Add potatoes and celery. Cook, occasionally stirring, 5 minutes.
Add broth, coconut milk, salt, and pepper; bring to a low boil over medium-high heat. Reduce heat and simmer 25 to 30 minutes or until potatoes are tender.
Remove from heat and stir in watercress and parsley. Let cool slightly.
TO POACH THE EGGS
Fill a medium saucepan about ⅔ full with water and bring to a boil. Reduce the heat, so the water is at a gentle simmer. Crack eggs one at a time into a small measuring cup with a handle. Gently swirl the egg so the egg white coats the yolk.
Crack eggs one at a time into a small measuring cup with a handle. Gently swirl the egg so the egg white coats the yolk. Then pour the egg into the simmering water.
Swirl the loose white parts around the yolk with a spoon. Let sit for 4 minutes and remove with a slotted spoon (two at a time is manageable.)
FINISH THE SOUP
Using an immersion blender, puree the soup in the pot until smooth. If you don't have one, pour the soup in two batches into the bowl of a food processor or blender, and puree until very smooth.
Pour soup back into the pot to warm. If the soup is too thick, add more coconut milk or stock.
In individual bowls, add the poached egg to the center of the soup. Keep in mind if the soup is too thin, the egg will sink to the bottom. Garnish with additional parsley and watercress if you like.
Savory Roasted Cauliflower Soup
This soup is warming to the soul. The Healthy On You® Here Come's the Yum turmeric ginger spice blend really makes this recipe come alive with warm flavors that include coriander and cumin notes. This soup is perfect for a large group as a starter or for a delicious weeknight meal. Enjoy it with a wedge of crispy whole grain bread for a hearty meal.
View Recipe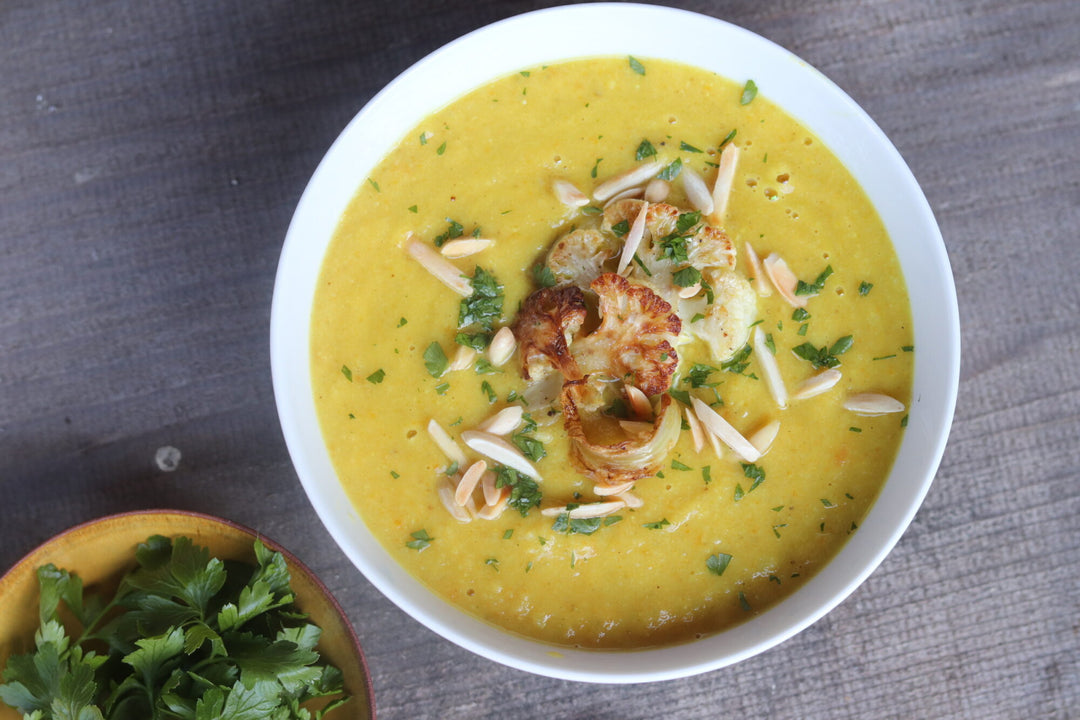 White Asparagus Soup
Nothing, and I mean nothing is more satisfying and soothing than a bowl of white asparagus soup. Especially when they come into season in the springtime. I have such fond memories of enjoying this amazing soup on my last trip to Germany a couple of years ago. White asparagus has a milder flavor than the green ones.
View Recipe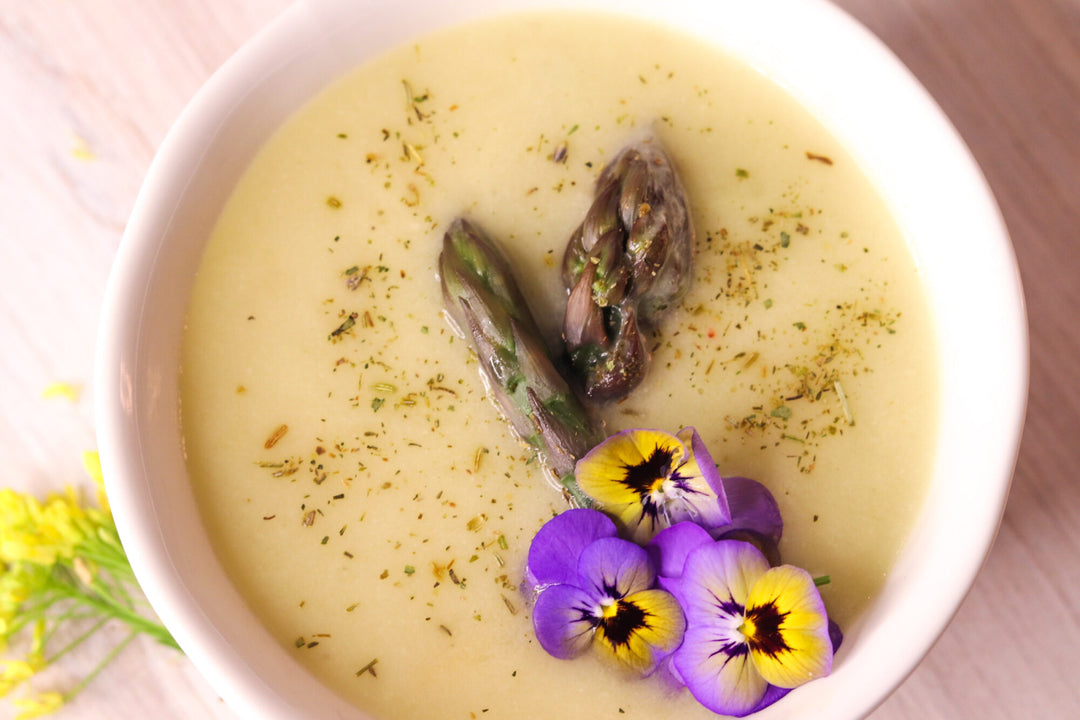 Tuscan White Bean Tomato and Farro Soup
So I was having guests over for dinner last night and want to keep it simple. A good hearty bowl of soup, a salad, and a blackberry crumble. Nothing too crazy, right? After searching through my pantry and refrigerator, I discovered I had all the ingredients for a Tuscan White Bean Soup. I like this version using fresh Tuscan kale from my garden and healthy nutritious farro. Farro is an ancient grain that is high in fiber, protein and rich in B vitamins.
View Recipe
Learn How to Cook
With Our Blends

At Healthy On You®, we feel it is integral to give back to our communities and those in need. We have carried out this mission by offering donation-based cooking classes, we call our Cooking for a Cause series. All proceeds are donated to that classes's charity of choice, typically a cause fighting for social justice and equality. Join us to learn how to cook with your favorite Healthy On You® blends, support a great cause, and meet others who share a similar passion for flavorful, nutritious food!