Featured product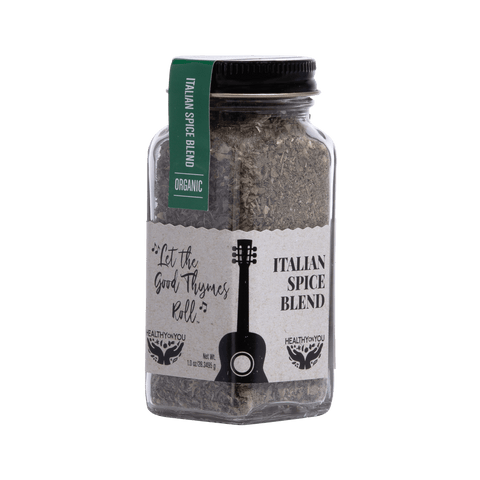 Let The Good Thymes Roll
Italian Spice Blend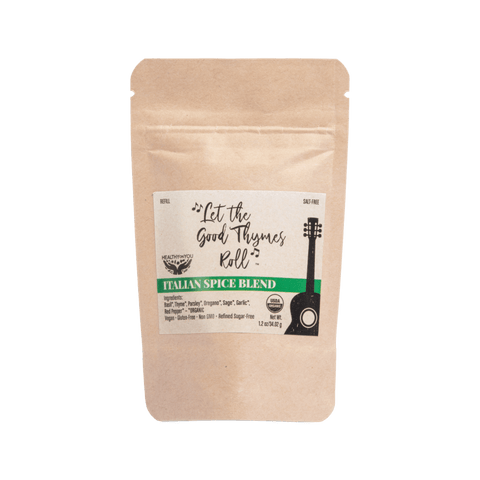 Let The Good Thymes Roll Refill
Italian Spice Blend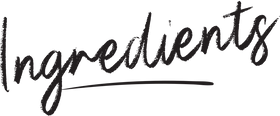 1 lb. pre-made pizza dough
1 tbsp Let the Good Thymes Roll Italian Spice Blend
1 cup + homemade or store bought pesto sauce
2 cups arugula
2 balls, fresh burrata cheese
6-8 slices of prosciutto di parma
high quality olive oil for drizzling
balsamic vinegar for drizzling
Make the grilled flat bread pizza dough
Preheat the grill to 500 F˚
On a floured surface knead and stretch the dough to a rectangular shape. This is rustic so perfection is the enemy of the good here!
Sprinkle the Let the Good Thymes Roll Italian Spice Blend all over one side of the dough and work it in.
Quickly flip onto a hot grill and let sit for 1 -2 minutes then using a spatula gently release the dough from the grill-you should see nice grill marks.
Quickly flip the dough and allow to cook for another 2 minutes. If the dough begins to burn at any time, lower the heat or turn off the heat and let the dough continue to cook.
When the dough is cooked through, remove from the grill.
Add the toppings
Start with adding a thin layer of pesto on the grilled dough, then sprinkle on the arugula; break the cheese into chunks and add on top; add the prosciutto in between.
Sprinkle with more Let the Good Thymes Roll Italian Spice Blend. Drizzle with balsamic vinegar and olive oil.

Your browser does not support the video tag.
Learn How to Cook
With Our Blends

At Healthy On You®, we feel it is integral to give back to our communities and those in need. We have carried out this mission by offering donation-based cooking classes, we call our Cooking for a Cause series. All proceeds are donated to that classes's charity of choice, typically a cause fighting for social justice and equality. Join us to learn how to cook with your favorite Healthy On You® blends, support a great cause, and meet others who share a similar passion for flavorful, nutritious food!