Featured product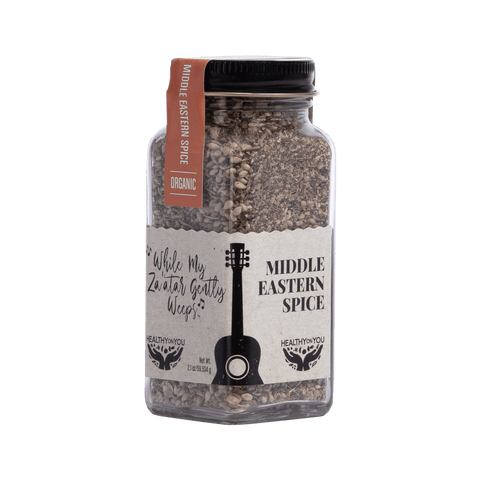 While My Za'atar Gently Weeps
Middle Eastern Spice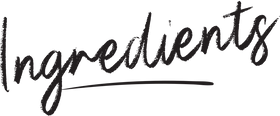 FOR THE EGGPLANT NESTS:
4 medium round eggplants
1 tbsp olive oil
pinch of sea salt and pepper
CAULIFLOWER RICE STUFFING:
1 bag of frozen cauliflower rice (12 oz)
1 tbsp olive oil
2 cloves garlic, minced
½ yellow onion finely chopped
⅓ cup chopped fresh parsley
1 tbsp Healthy On You® While My Za'atar Gently Weeps Middle Eastern Spice Blend
Mint leaves chopped for garnish
crumbled feta cheese for garnish
LEMON TAHINI DRESSING:
2 tbsp tahini
1 tsp honey or other sweetener
1 clove garlic, minced
juice from ½ of a lemon
1 tbsp water
Preheat oven to 375 °F.
Slice the top and bottom off of each eggplant.
Brush the outside and inside of each eggplant with olive oil and sprinkle with salt and pepper.
Place on a parchment-lined baking sheet and move to the oven. Set your timer for 30 minutes.
While the eggplant nests bake, begin your stuffing: Heat the olive oil, minced garlic, and chopped onion in a skillet over medium heat.
Add in the cauliflower rice and the While My Za'atar Spice Blend and sauté until softened. Add in the parsley and stir for another minute. Remove from heat.
Next, make your lemon tahini dressing: whisk together the tahini, lemon juice, honey, and minced garlic until a smooth sauce forms.
Once the eggplants are done cooking, remove them from the oven and carefully scoop out the insides. Add the cooked insides of the eggplant to the cauliflower rice stuffing and mix thoroughly.
Divide the cauliflower rice stuffing and fill the eggplant nests before returning them to the oven. Cook for 5 more minutes.
Remove from the oven. Top with feta crumbles, chopped mint, and drizzle with lemon tahini dressing.
Learn How to Cook
With Our Blends

At Healthy On You®, we feel it is integral to give back to our communities and those in need. We have carried out this mission by offering donation-based cooking classes, we call our Cooking for a Cause series. All proceeds are donated to that classes's charity of choice, typically a cause fighting for social justice and equality. Join us to learn how to cook with your favorite Healthy On You® blends, support a great cause, and meet others who share a similar passion for flavorful, nutritious food!